I have just opened a box of pretzels – no ordinary pretzels, mind you – and my weekend is suddenly full of sparkles and fun!
One of almost every flavour from The Bite CBR's pretzel menu is inside: Original, Lotus Biscoff, Jalapeno Cheese, Chocolate, Almond and Oreo. Each is big as my hand, and they're colourful, sticky and messy-pretty.
I cannot wait to get home and devour each one.
The Bite CBR's pretzel creator, Wonyoung Lim, brings an impressive pedigree to his creations.
"I worked at Ottoman for many years as a dessert chef. Later, I moved on to become head chef at patisserie and cafe Passiontree Velvet. People in my country [South Korea] are crazy for pretzels. I am a big pretzel fan too, but they are difficult to find in Canberra," he explains.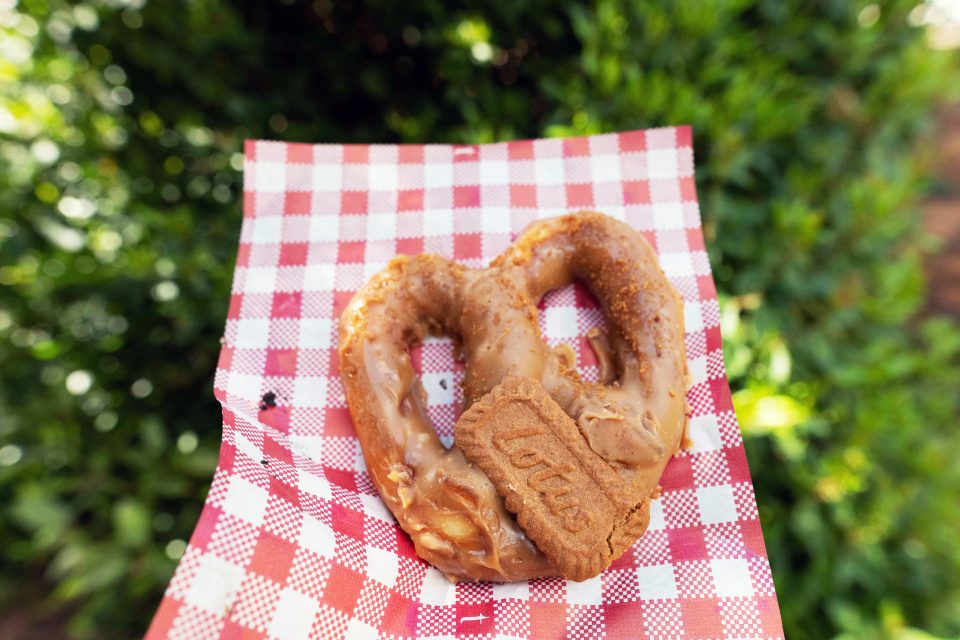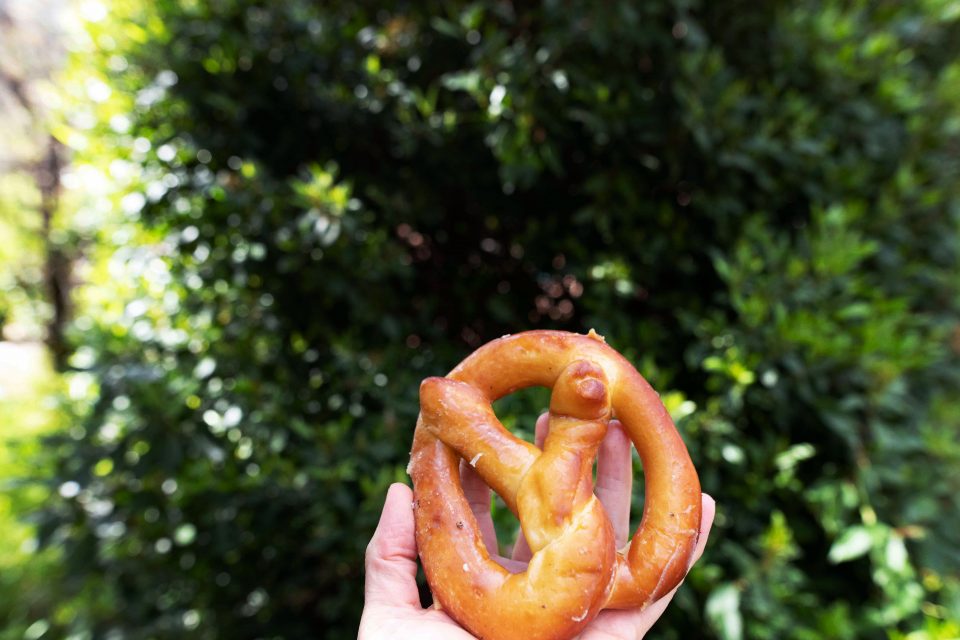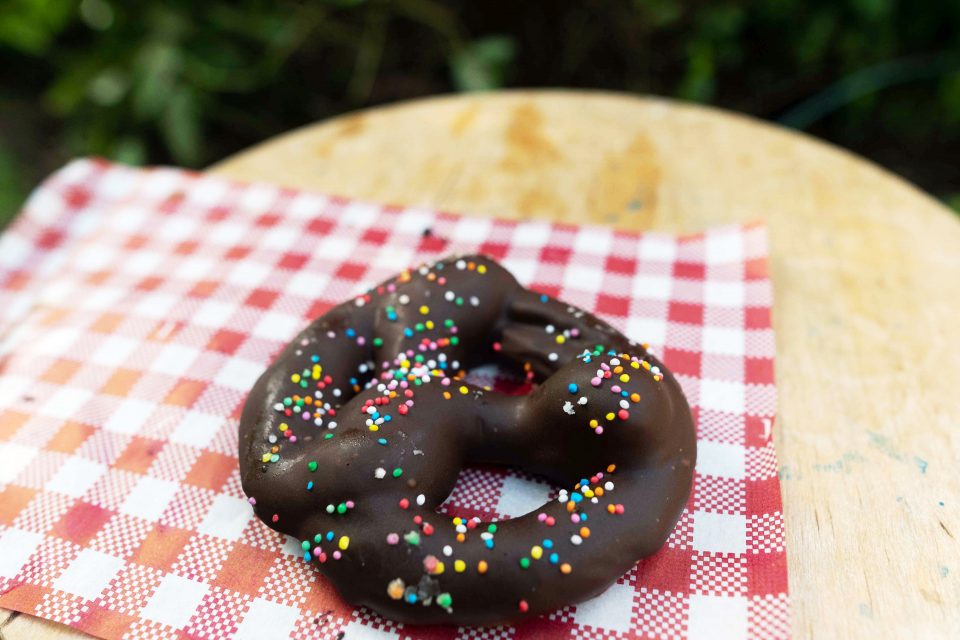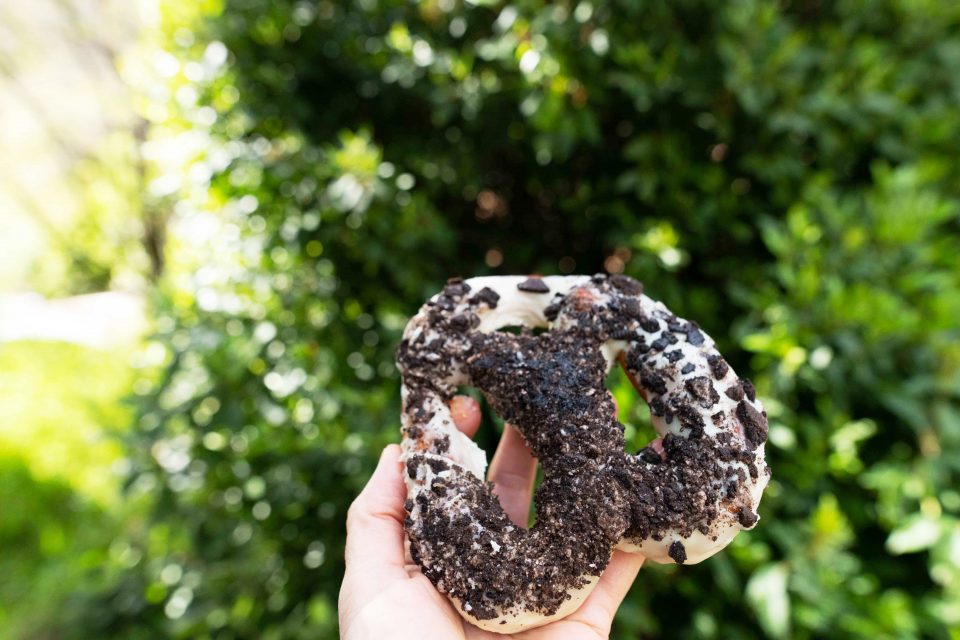 The answer to his pretzel cravings came during Canberra's first COVID-19 lockdown. It turns out that Wonyoung's pretzel solution was Wonyoung himself!
"I have always wanted to run my own business," he says, "and when COVID-19 restrictions hit, the entire hospitality industry was in jeopardy. That was when I decided to use my skills differently."
Launching his new pretzel business, The Bite CBR online, Wonyoung soon realised that his pretzels were filling a niche for Canberrans.
When the lockdown lifted, he began to sell his pretzels in person at Haig markets. Until he finds the right space to make pretzels, Wonyoung is grateful to Highroad Cafe for the use of their massive ovens that can pump out the quantity he needs to meet demand.
"Highroad's philosophy is all about helping locals," he says.
As well as pretzels, The Bite CBR's stall in Haig Market also serves up their house-made Yuzu-iced tea (called yuja cha in Korea). Based on a concentrate of the aromatic citrus Yuja, expect a refreshing and fragrant drink with a tart tang. Yuja cha is caffeine-free.
Wonyoung wants Canberra to try his New York-style pretzels.
"A New York-style pretzel is soft and buttery, with many different flavours. I have sweet and savoury options. My best sellers are the original and the Lotus Biscoff."
Let's taste!
While nothing beats a hot pretzel, steaming and soft, straight from the oven, Wonyoung's pretzels have a satisfyingly chewy texture. After five or so seconds in the microwave, they are even more amazing!
I dive in for a taste of each before sharing them with the family.
The standout pretzels for me?
First is the Lotus Biscoff one, for sure. I have jumped on the Biscoff bandwagon and never want to fall off. Drizzled with Biscoff icing, sprinkled with Biscoff crumbs, and with a Lotus biscuit wedged on top, this pretzel is soft, chewy and mouthfuls of yum.
They are all delicious, but my other favourite pretzel has to be the Jalapeno cheese for its comfort factor and the added bite of jalapeno.
Next time, I will be looking to have the apple crumble pretzel that is in the works. The pretzels come with small containers of pink salt, a smooth luxurious cheese sauce and fabulous mustard!
How do you get your own pretzel party in a box? The Bite CBR can be found every Sunday at Haigh Park Village Markets in Braddon from 9 am to 2 pm. You can also place your pretzel orders through the online shop throughout the week for a Sunday delivery. Basque burnt cheesecake is also available for pre-order.
Follow The Bite CBR on Facebook and Instagram to see where they are popping up and what their flavours are.
Original Article published by Michelle Taylor on Riotact.