It is a glorious sun-dappled Sunday morning and my day has started decadently at the Farmers Markets in Woden, specifically, at Stephanie's Donuts stall.
Stephanie breaks the mould of what we expect from a donut. She is a genius at incorporating our favourite desserts into tender, golden-fried balls of sweet dough.
Stephanie has had a long love affair with baking, but she says the concept for Stephanie's Donuts began in 2020.
"I was not in a good state of mind. I had bills to pay and needed to support my children. I tried a lot of different jobs; at one stage, juggling three at the same time. But it wasn't enough. I needed to do something for myself. I am a pastry chef by trade and began experimenting with making donuts during lockdown. My son said these are so good! Why can't we sell them? And that was the start."
After four months, lots of paperwork and flavour experimenting, she debuted her donuts at the Haig Park Village Markets.
"The response was just overwhelming!"
Stephanie says that her most popular donuts are the hot cinnamon and hot jam donuts. Hot donuts sell at The Haig Markets, but they are about to debut at the Farmers Market.
Big on playing with new flavour combinations, Stephanie creates new donut options regularly while crowd favourites remain on the menu.
Today there is a beguiling selection on offer! I take several home to share.
The crème brûlée donut emulates the famed dessert enchantingly. Filled with a luscious custard filling, the iconic brûlée topping, crisp and caramelised, coats the donut's top layer. Similarly, the lemon meringue pie donut is easily recognisable in its resemblance to the citrus dessert. Topped with toasted meringue, the donut is stuffed with tangy lemon curd.
I am particularly thrilled that my always favourite dessert ingredient – peanut butter – has its very own donut. Stephanie's peanut butter donut is spongy, golden and chocolate-drenched with a delicate whipped peanut butter cream topping. The maple donut is delicately flavoured and fluffy. The pistachio donut tastes like she made it from actual pistachios rather than from a bottle. I can understand why it is so well loved.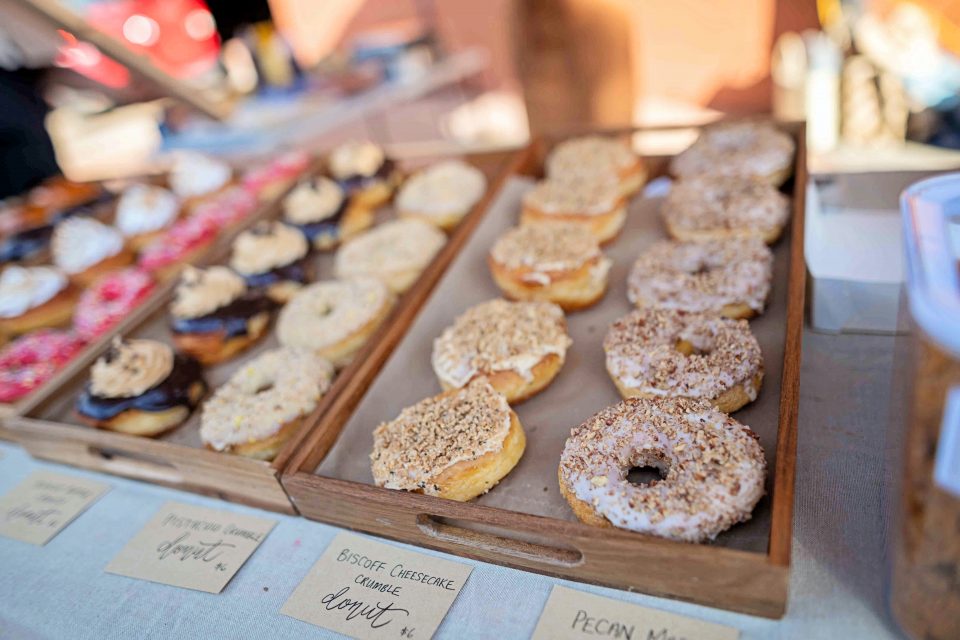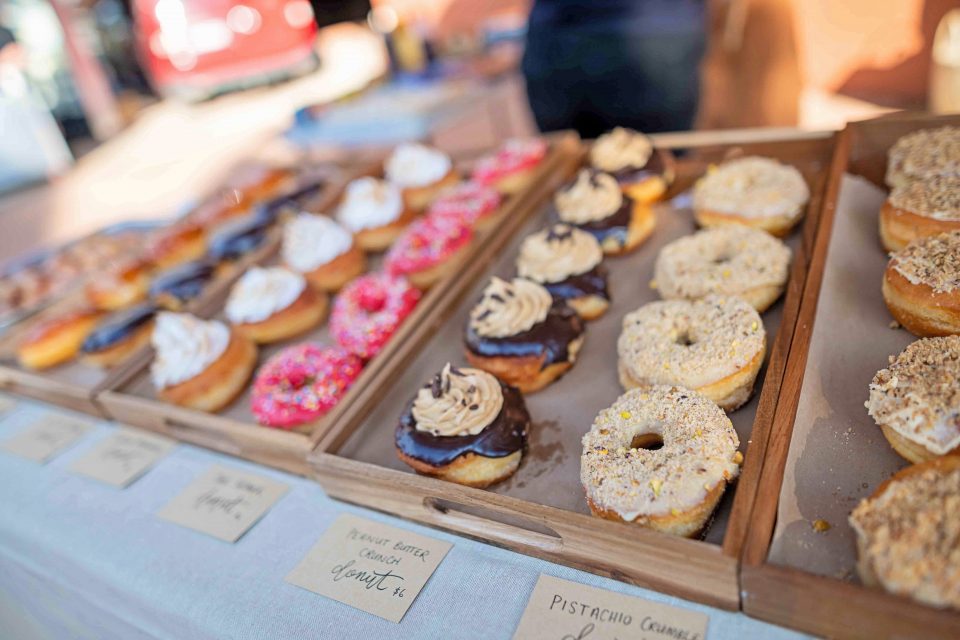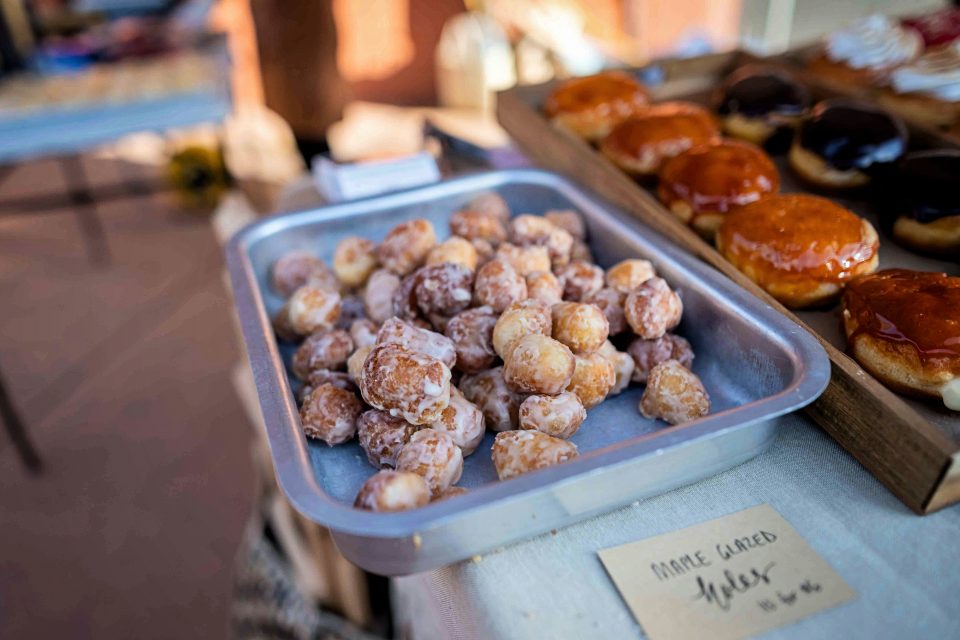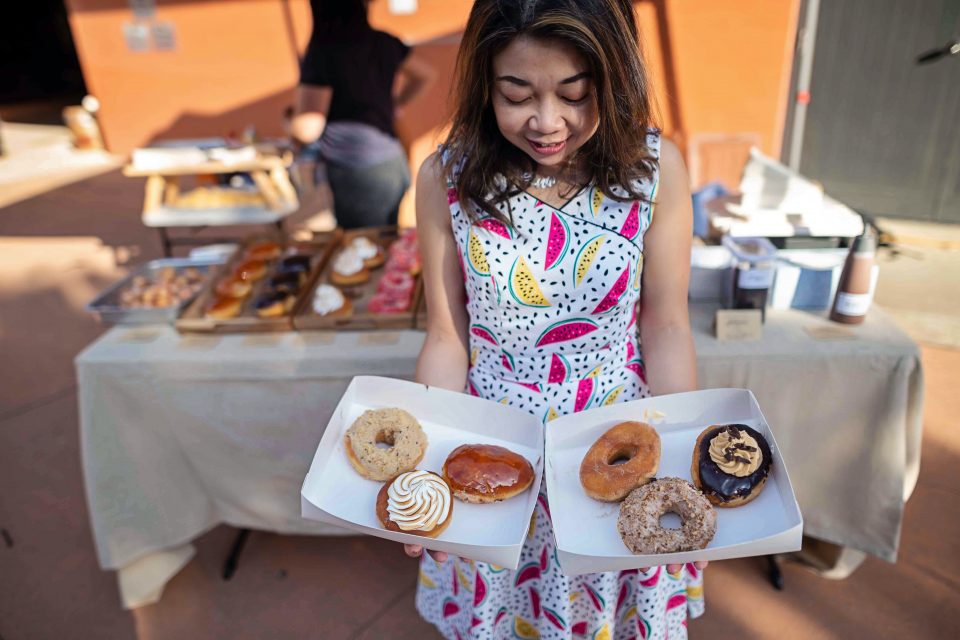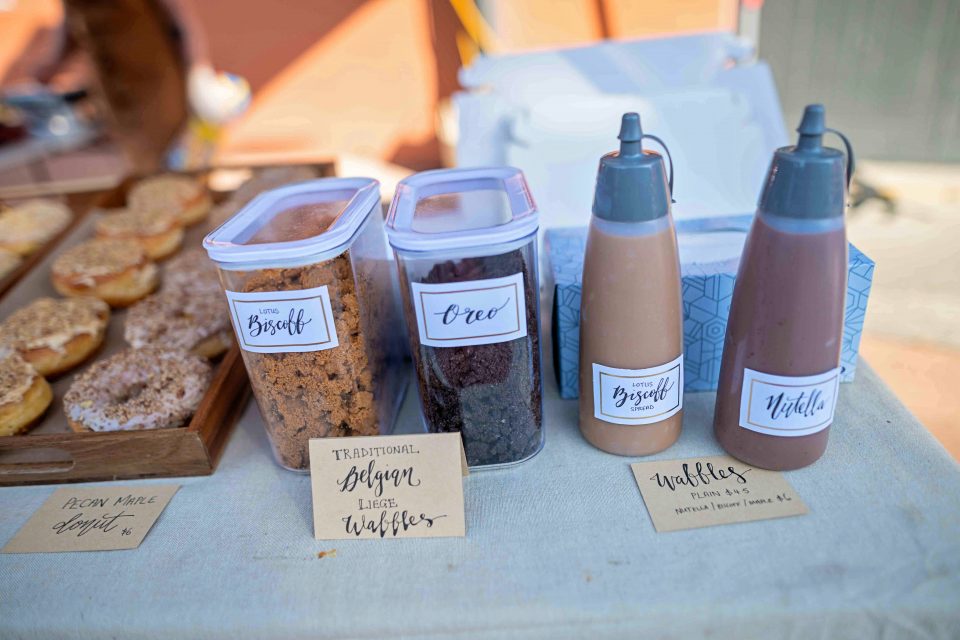 Stephanie also makes Belgian liege waffles. I take one to go. Made with traditional yeast-based dough, with pearl sugar incorporated into it that caramelises in the cooking process, the waffle has that golden sugary crunch that is so addictive. Waffle toppings include maple syrup, ganache, strawberries, bananas and oreo crumbs.
Stephanie loves interacting with everyone who visits her market stalls.
"I feel genuine happiness when I watch people bite into my food and see their reaction. I love chatting with my customers and there are a lot of regular customers that I get to talk to each week," she says.
Stephanie's Donuts are available at the Haig Park Village Markets in Braddon and the Southside Farmers Markets in Woden. Her stall at the Southside Farmers Market on 2 Launceston Street in Phillip begins selling donut deliciousness from 7 am to 11 am. Her van in Braddon sells donuts from 9 am to 2 pm every Sunday.
Follow Stephanie's Donuts on Instagram to keep up with new flavour combos and see drool-inducing donut images.
Original Article published by Michelle Taylor on Riotact.