Quality ice cream can enter the realms of the sublime. Fact!
The scent of stellar ice cream has dictated the direction of my travel itinerary more than once.
I am always seeking the sublime. Addictive flavour combinations, rich, smooth and salty. Ice cream that is chock full of different textures, big crunch mixed with some subtle crunch and definitely with salty elements thrown in. If the ice cream has caramelised nuts, praline bits, and crunchy cookie crumbs all at the same time, I am there.
That's why I'm at Spilt Milk Bar.
This genius gelato joint is the new kid on the block at Dickson, and they are already wowing Canberrans with quality ingredients that are bursting out from their flavours.
Owner Sarah first launched the gelato bar in her hometown of Orange.
"We have a passion for real food and cooking using great produce," she explains.
"Spilt Milk Bar was born out of a desire to bring a great, locally made produce to our regional town of Orange that didn't already exist. It's a simple concept to make great-tasting, all-natural gelato using proper ingredients. We source local when we can and have found some wonderful producers close to all three of our stores."
Sarah says their flavour ideas come from what's in season and how the weather feels.
"In summer, it's all about fresh fruit and lighter-tasting flavours like Greek yoghurt, berries, olive oil and lemons.
"In winter, we focus more on rich combos using caramel, chocolate, nuts and fresh, free-range eggs. Our gelato is different because we use no fake flavours. Ever."
Spilt Milk's all-time best sellers are the salted caramel, using litres of fresh caramel sauce made with Pepe Saya butter. Their pistachio ice cream is also a big hit, created using freshly roasted and ground Australian pistachio nuts.
With Easter approaching, look out for Spilt Milk's Easter egg smash!
"It is a fun flavour that we only do at Easter. It breaks a few of our rules, but we don't mind for this one! It's our milk gelato full of our Pepe Saya caramel, heaps of chocolate and smashed Cadbury Easter eggs. It flies out the door. We can't churn it fast enough!"
When I arrive at the pretty little shopfront, I join the queue and purchase the biggest tub available – the Full House – which can hold four flavours. None of the current menu items has crunchy elements incorporated into their creamy goodness, but I spy the most enticing-looking tubs of crunch: salted caramel pretzel nuggets. It's love at first sight.
I choose four flavours for my tub and order a cup of the Salted caramel drizzled with chocolate lava from their chocolate fountain and generously topped with pretzel crunch (its official name). We will revisit this experience a little later. But first, my four tub flavours.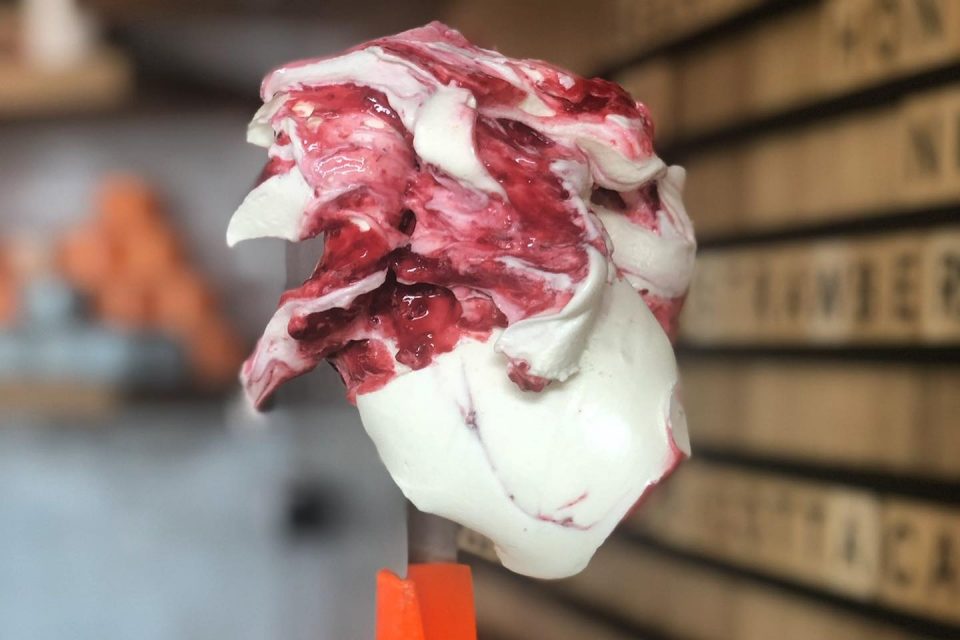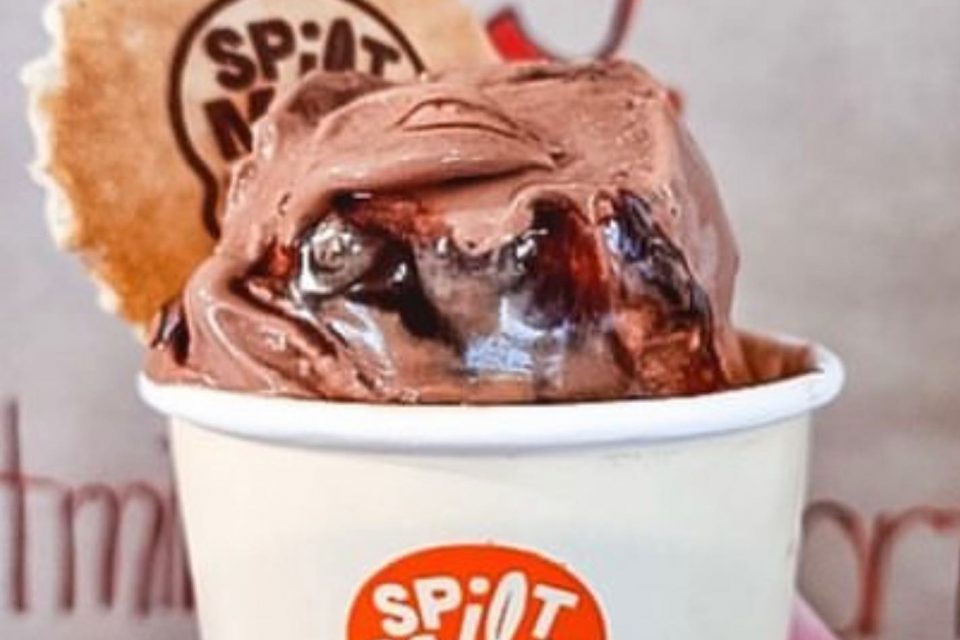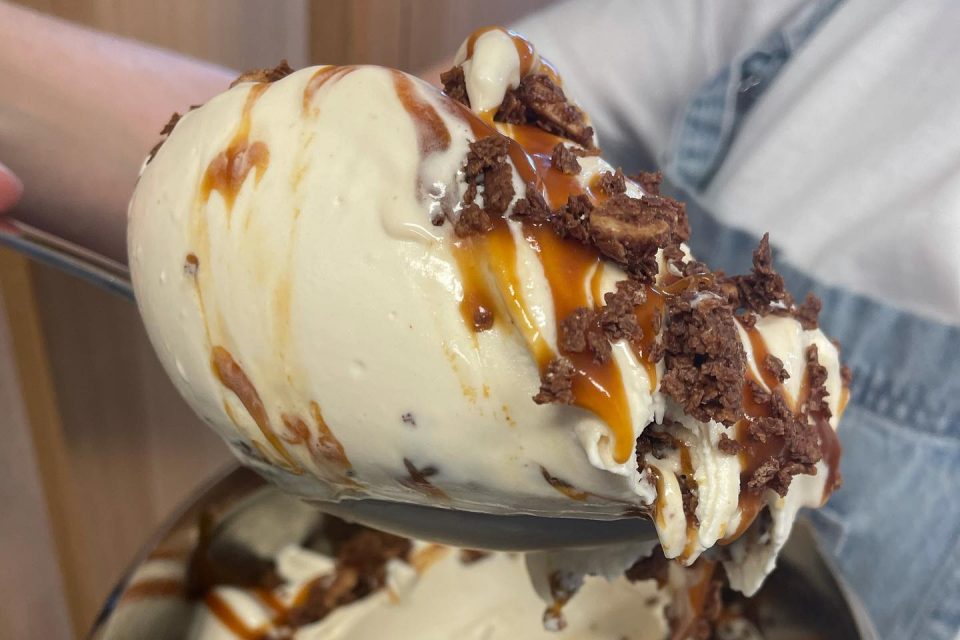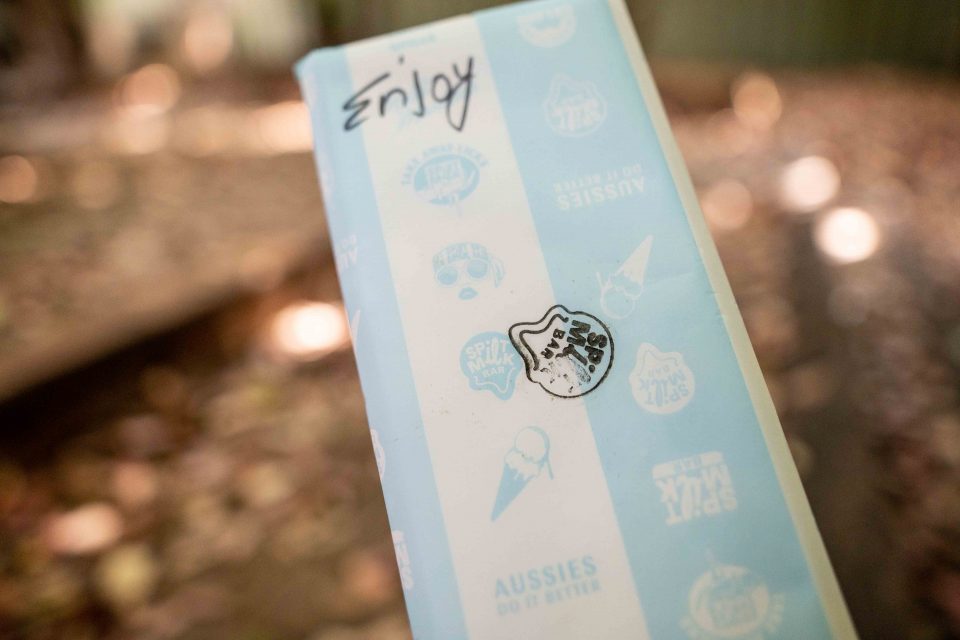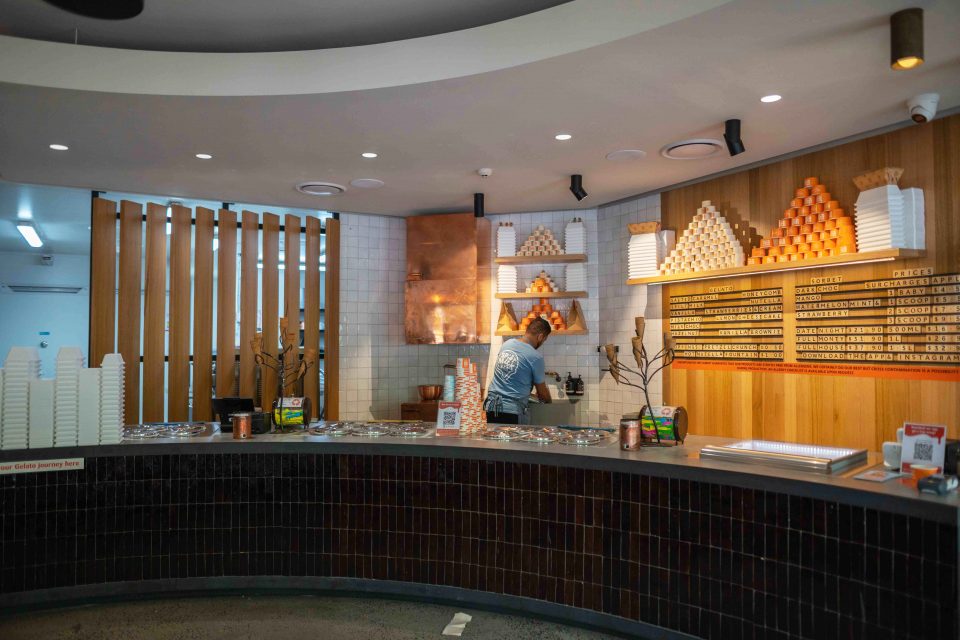 The chocolate gelato is deep and silky and pure. I am not a big chocolate ice cream fan, but this one is gorgeous.
The strawberry and cream gelato bewilders my tastebuds. It is like eating fresh strawberries picked that day mixed with cream. How that is possible boggles my brain. Truly gelato wizardry. There is not a skerrick of fake flavour present. It is incredible. Strawberry ice cream was always my least favourite ice cream flavour, and I only tried this one on a recommendation from a friend. I am so glad I did.
The lemon gelato tastes like the best lemon butter and luxurious cream got married and had an ice cream baby. It is smoother, richer and creamier than a lemon sorbet and has a lovely tang to it.
The salted caramel is my favourite flavour from the tub. Smooth and lush with a generous dash of salt!
My absolute favourite Spilt Milk Bar ice cream experience is the salted caramel cup, topped with chocolate lava from the chocolate fountain and the best thing ever – salted caramel pretzel crunch. These salted caramel nuggets add a pop that elevate the cup to (you guessed it) sublime!
Spilt Milk Bar is located at shop 70/2 Cape St in Dickson. It is open from 2 pm to 9 pm Monday through Wednesday, from 2 pm to 10 pm Thursday and Friday, and from 12 pm until late on Saturday and Sunday.
Follow Spilt Milk Bar on Facebook and Instagram to see the latest flavours. Visit their website to download their app and receive notifications when hot (er, cold) new flavours arrive.
Original Article published by Michelle Taylor on Riotact.