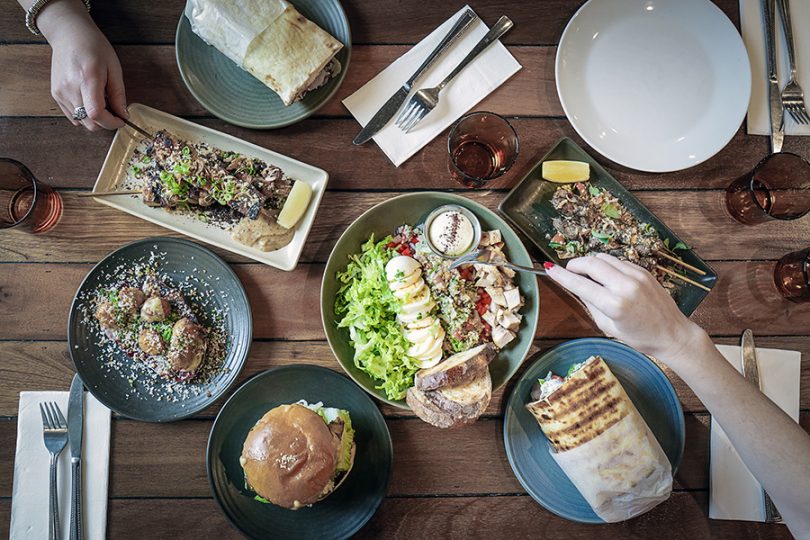 Let's be honest. The business lunch as it once existed has become a thing of the past. Taking a client out to lunch and doing your best to impress while sliding in the perfect pitch just doesn't seem honest any more. Best to leave the pitching for the office, the boardroom, or even over a coffee.
While doing business in a café and getting pitched over coffee is totally okay, lunch has become a less common place of business than it was back in the day.
Doing lunch with a client is like gifting them tickets to the corporate box at Canberra Stadium. It says more than 'I want your business.' It implies 'I want to get to know you.' And the client that wants to be your friend in this social age of 'collaboration' and 'story sharing' will feel that a pitch over lunch means you just want their money.
As you make your way through your perfectly worded pitch, they will be zoned out thinking 'why can't we just be friends?' This may lead to indigestion (the client's) or heartburn (yours when you lose them).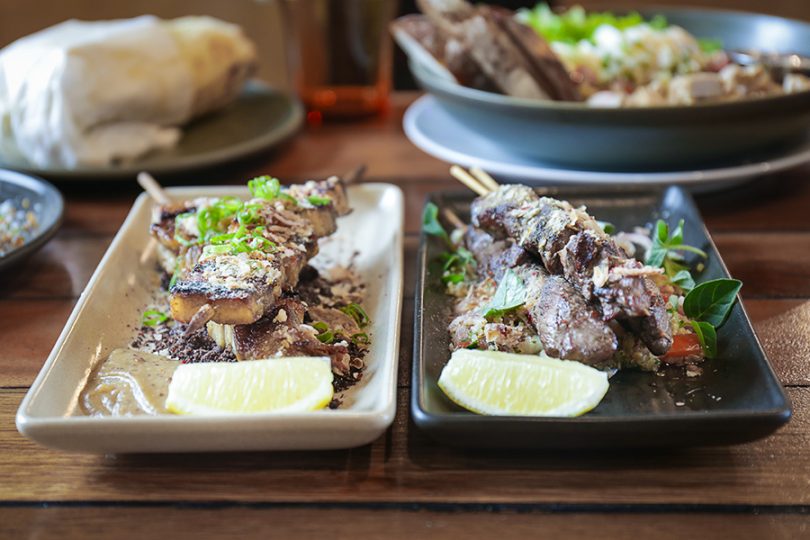 So here's my pitch to you. Don't do business over lunch. By all means take your client to lunch; they will love you for it. But keep it casual and let your Lunch Pitch be this seriously good lunch menu at Bunda Street's meat loving Wood & Coal.
Now Wood & Coal may be known more for its mighty meaty dinners than its lunches; but in case you missed the memo, its relatively new lunch menu is nailing it for a quick, well-priced and delicious restaurant lunch with a bunch of great options.
The first thing to know is that the well loved lunch tray is back on as a special, and will probably end up on the regular menu. Spit-roasted pork loin and chicken thigh, pitta breads, cos lettuce, iceberg salad, condiments and three loukoumades for dessert, all compartmentalised for you (just like in those American high school movies), this is quick, delicious and great value at 20 dollars with a Young Henry's tinny thrown in.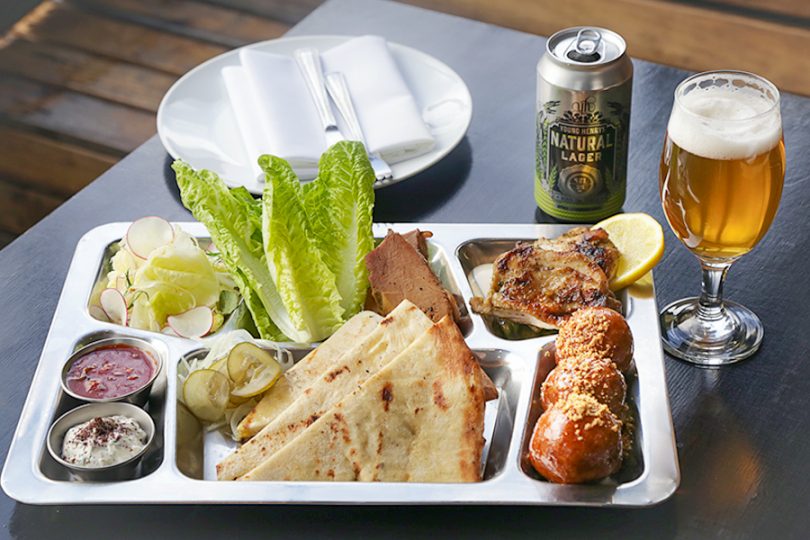 The second thing to know is that, yes, the main lunch menu is actually called The Lunch Pitch (why do you think I've been banging on about pitching?) Somebody at Wood & Coal thought it was a clever name, and I agree.
Then somebody (else) thought it would be even cleverer to stretch the pun once more, so it is football (somebody say pitch?) themed. Broken into Warm up, Kick off, Call the shot, Off side and Cool down, as follows:
Warm Up….
A bunch of quick and inexpensive bites, just to open your appetite, or if you aren't seriously hungry, they include items like fried mozzarella balls with hazelnut praline, cherry jell and sourdough; or zucchini pancakes with gribiche sauce and parmesan cheese. All these come in at under ten bucks.
Kick Off…
Things get serious here. Lamb, chicken or pork skewers, grilled octopus or snapper fillets all around the mid teens in price and a couple of super sized salads typified by a Cobb salad with seasonal vegetables, boiled eggs, quinoa, anchovy mayo and sourdough at just 12 dollars. Float around here if you want to cut carbs or are subscribing to the Paleo thing.
Call the Shot…
Pretty sure they should have just called this section Goooooaaaaalllllll! This is the stuff that is bang on lunch territory: Wraps of either slow cooked pork with sriracha mayo, parmesan and salad or spit-roasted lamb with tzatziki and salad; a mouth watering jaffle stuffed with braised brisket, pickles and melted cheese and a mighty spit-roasted chicken burger. Best part? All between 10 and 12 bucks!
Off Side and Cool down…
Okay you guessed it, sides and desserts. Chips, salads et al here but really, just go for the ridiculous fried cauliflower with togarashi salt, ssam sauce and crispy onions; and finish with the Nutty Professor: chocolate crumbs, salted peanut caramel, peanut butter cream cheese and mandarin sorbet.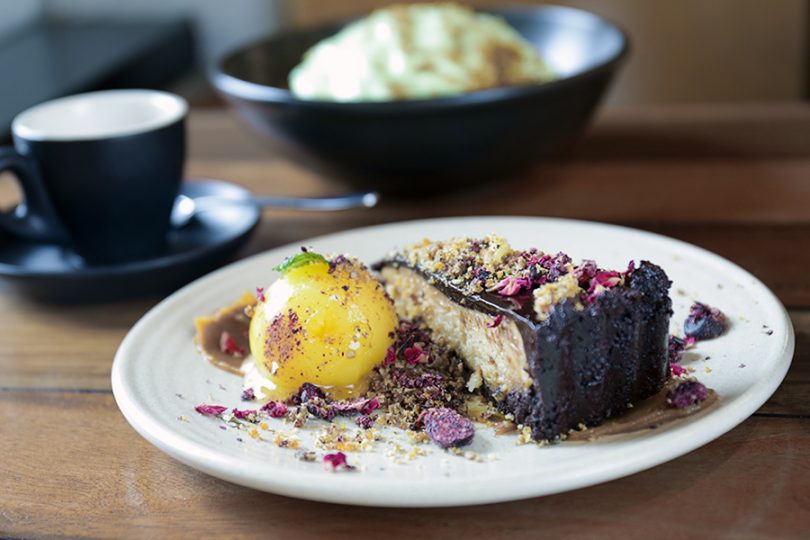 Post Match report:
Okay, now I've caught the sports bug… This lunch menu is well thought out and gives a mountain of options for diners in the CBD that want a proper sit down restaurant lunch but still expect quick service (only got an hour, right?), delicious food and something that doesn't break the bank.
At the lower end, it will cost you not much more than a food court meal, and even at its most expensive, is still cheaper than what most CBD cafe's are offering. Definitely better than a similarly priced sad and soggy hot dog and chips at Canberra Stadium, and cheaper than corporate seats for the clients.
I think I've mixed too many metaphors and slightly confused myself, but nonetheless, don't you be confused; this is great food and great value and a must do for lunch in the CBD.
Wood & Coal is open for lunch from 12pm Tuesday to Sunday
(Closed for Lunch Mondays)
See website
See Facebook