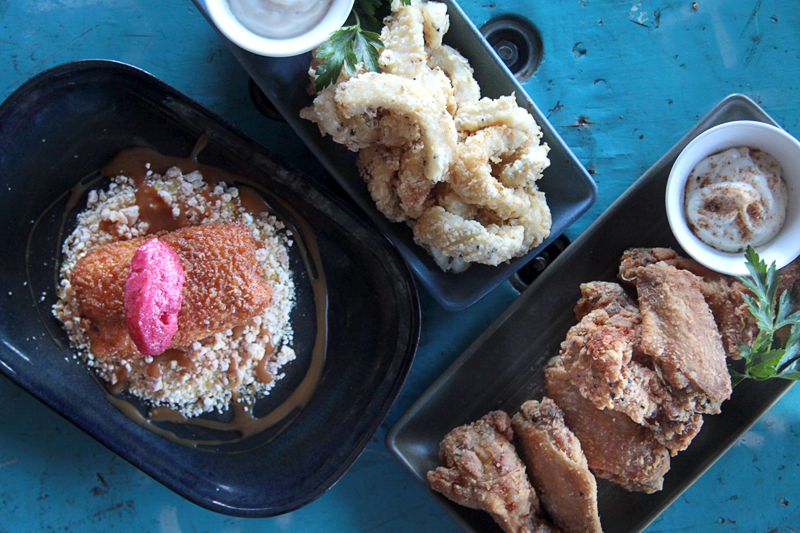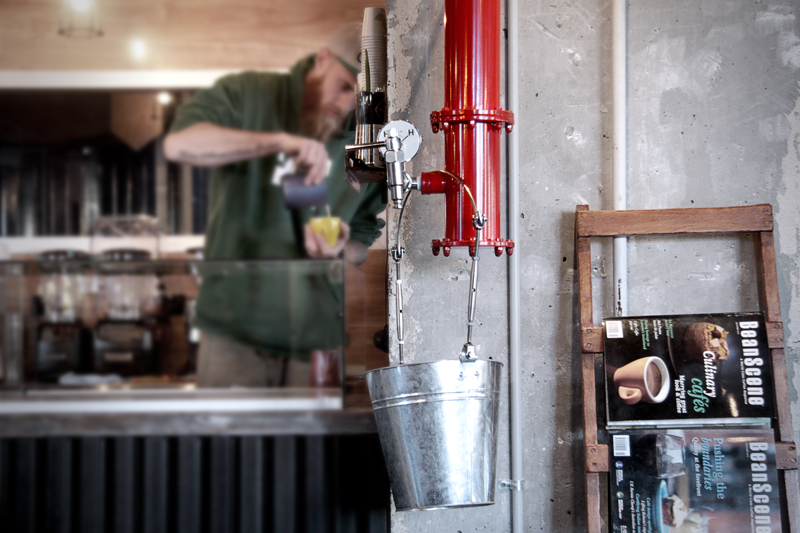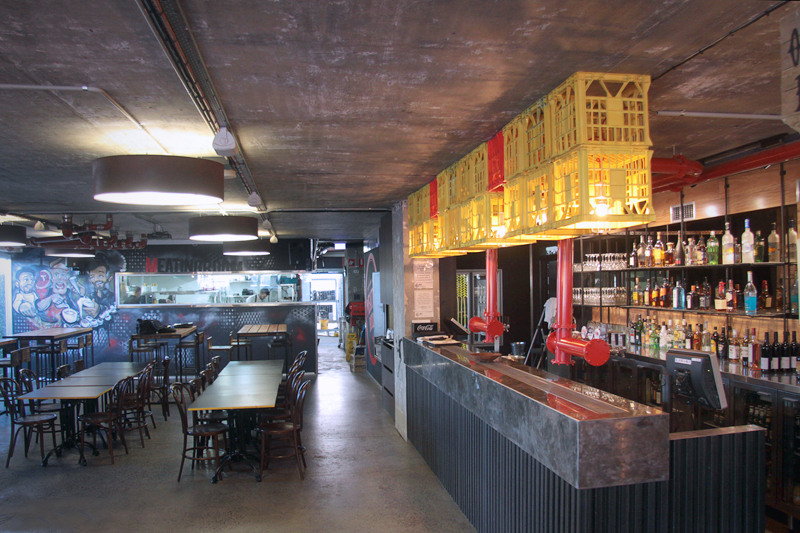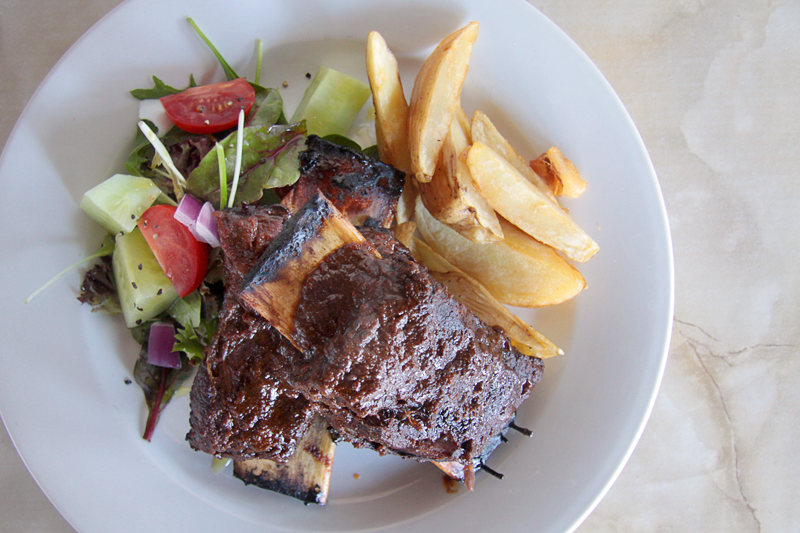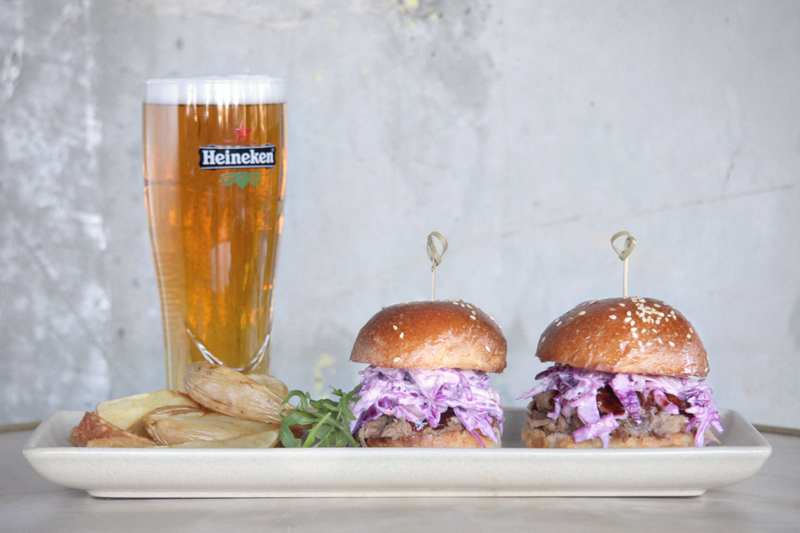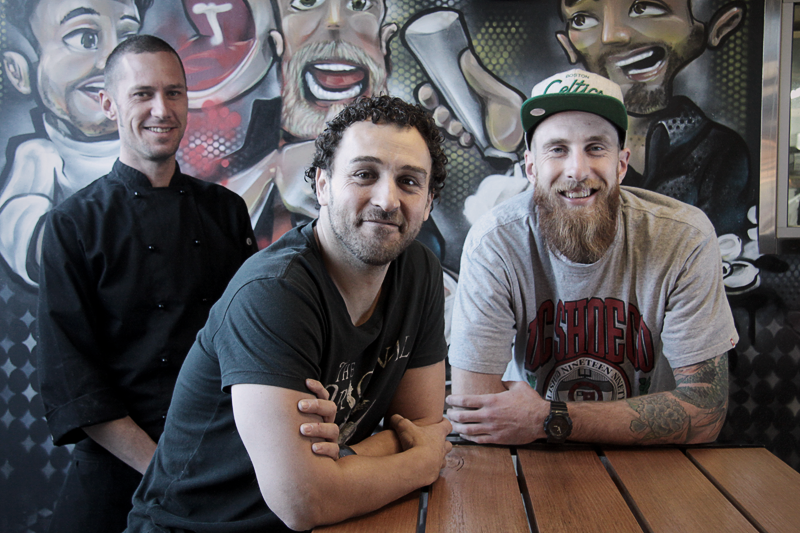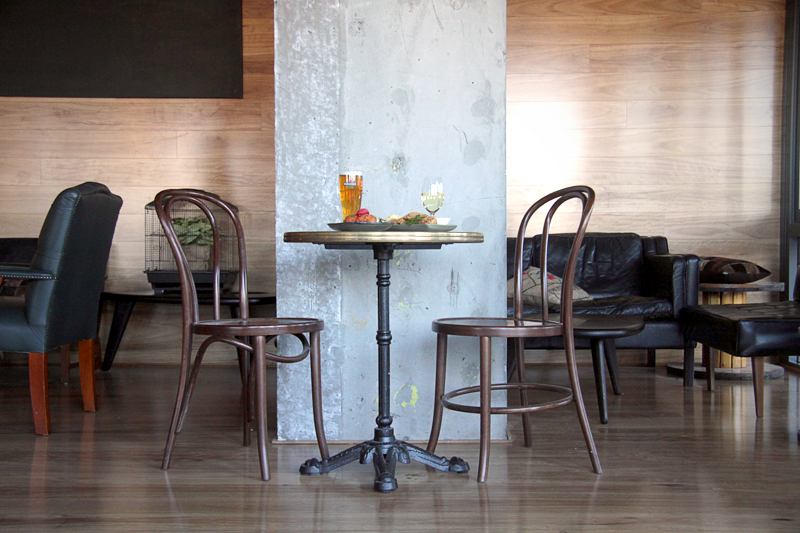 Weston Creek residents rejoice! Meating Room has opened today, and is determined to lift the dining and bar game in your neighbourhood. This brand spanking new establishment is not only turning a noun into a verb, but offering dining from breakfast through to dinner, quality coffee, craft beers on tap and a family friendly environment to an area whose locals have mostly had to make do with clubland style service over the years if they wanted something other than 'ethnic eats'.
Co-owners Robbie Khalil, Hamish Walker and Phillip Sacksady have teamed up to breathe new life into the space previously occupied by Western Basement. I got in for a look yesterday as they were preparing for their opening. In the last few months, they have really finessed the overall fit-out in this very large semi-basement space with an earthy contemporary look punctuated by bold primary colours and the odd splash of graffiti and stencil art.
Khalil has years of experience as a café owner and is a qualified chef who has worked in a number of notable Canberra restaurants including Mezzalirra and Ottoman, but has delegated chef duties to Brendan Sedaitis.
Sedaitis has grown up around the hospitality industry–his uncle is Canberra hospitality legend Alby Sedaitis. He has been working in commercial kitchens since the age of 16 and up until recently owned Fish Shack in the city.
The menu he has put together is comprehensive–perhaps even expansive–but not overly complicated. "People know what good food is today," he says. "You can glorify it and be artistic, or you can deliver good honest flavours. We aren't in the city or Kingston Foreshore, and we want people to feel comfortable."
"Hamish is a magician with smoked meats," says Sedaitis of one of his three bosses, who incidentally is the coffee expert of the team. "We will be introducing smoked meats and house made sausages once we settle in, but right now we want to do great steaks and ribs and deliver a well balanced menu." But there is more to this menu than meat. A lot more.
The dishes they presented when I visited included a melt-in-your-mouth salt and pepper calamari, well seasoned and crispy chicken wings, an achingly tender braised beef rib that surprisingly does not appear on the menu (perhaps it's a special) and a rich and decadent deep fried cheesecake with caramel popcorn and house-made sorbet. All dishes display a real understanding of balance and flavour from a mature team that is well prepared to deliver a quality gastropub experience.
Khalil says the offer here is not all about food, and the bar is well stocked to cater for after work and after dinner drinkers. "There hasn't really been a place in Weston Creek or Woden offering the type of suburban pub experience that you can get with places like Duxton in O'Connor or Gryphon's in Griffith. We hope to fill that gap." That said, they want encourage a family friendly and casual outlook, and Meating Room has kept the kids room that was popular with the previous business here.
Meating Room is open seven days for breakfast and lunch, and Tuesday to Sunday for dinner. Bar service until midnight on Friday and Saturday evenings.
For more info, check out their Facebook page and website.