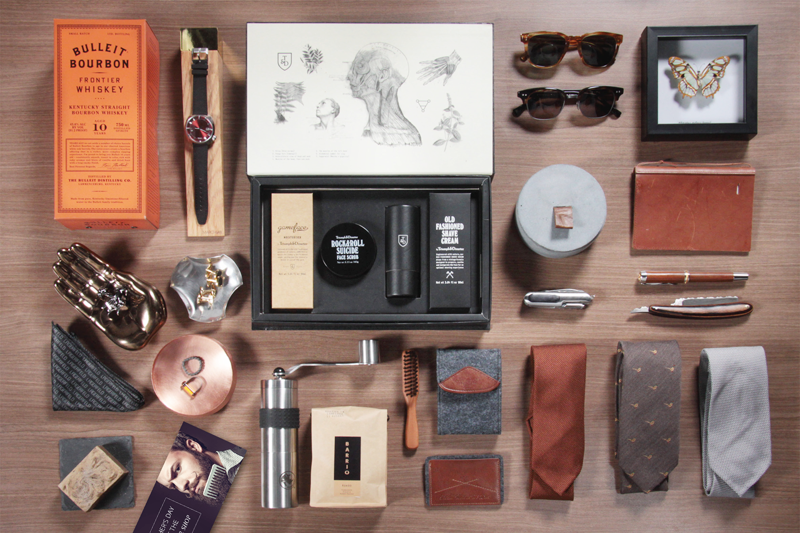 We admit it. We've been slack. Sure, we mean't well–you know… run around and put together a comprehensive guide to Father's Day gifts with plenty of time to spare. Sure, there was some discussion about this gift guide over the past month. What gifts we would like to feature, etc etc…
In the end, we ran out of time and had to put this together literally in a couple of hours. Because it really was a last minute thing, we kind of walked out of our office in the Ori Building on Lonsdale Street (picking things up as we went) and down to Bunda Street–just because, conveniently, there are a few menswear stores within walking distance of each other, including Ministry and Blades.
Oh, we also had a meeting at the NMA, so we decided to check out their shop while we were there and discovered a very cool section devoted to Father's Day, which included the Triumph and Disaster Stash Box featured in our assortment of carefully–albeit lazily–selected gifts for the cool Dad in your life. And did I mention, we also downloaded a gift certificate from QT's Barbershop? Boom!
So, if you guys are as slack as we were putting this gift guide together, you have probably thought lots about Fathers day, but haven't done much about it. It's okay, we understand. If you haven't bought anything yet don't fret! We managed to do it, and we needed a bunch of gifts, not just one (yeah, you guys have it easy). So please, spare us the drama, 'its raining blah blah blah' and show the old boy some love.

1. Triumph & Disaster Stash Box $169.00
The Museum Shop
National Museum Australia
Lawson Cres, Acton ACT 2601
(02) 6208 5222
Website
2. Bulleit Bourbon Frontier Whiskey $59.99
Cellarbrations (Independently owned)
21 Lonsdale St Braddon
02 6262 8599
Website
Facebook
3. Dita Sunglasses $685.00
and Shauns Shades $370.00
Eye Candy Optical
Canberra's Sweetest Eyewear
Shop 136, Mode 3, Lonsdale St Braddon
02 6188 4466
Website
Facebook
4. Fathers Day at The Barber Shop $100.00
QT Hotel Canberra
1 London Cct Canberra City
02 6247 6244
Online purchase
Facebook

5. Custom made fountain pen $360.00
Diamond Boutique
Custom handmade jewellery
Shop 141, Mode 3, 22 Lonsdale St Braddon
02 6249 6997
Website
Facebook
6. Custom made cutthroat razor $380.00
Emile notepad $90.00
March Lab wrist watch $1,200.00
Groomed / The Gentleman's General Store
Ori Building, 30 Lonsdale St Braddon
02 6181 4310
Website
Facebook
7. Casa Pavone Knitted Silk Ties in Rust & Silver $129.95
Casa Pavone Italian Wool Tie $139.95
Braddon Tailors
Ori Building, 30 Lonsdale St Braddon
02 6181 6442
Website
Facebook
8. Gentlemans Hardware 'Cut Above The Rest' Manicure Set $39.00
Gentlemans Hardware 'Credit Where Credit is Due' Card Holder $29.00
Gentlemans Hardware 'Many Hands Make Light Work' Trusty Penknife $29.00
Unit Concepts
Ori, 30 Lonsdale St Braddon
02 6230 0943
Facebook

9. Cudworth Collection Assorted Cufflinks $59.00ea
Ministry Menswear
6/70-86 Bunda St Canberra City
02 6262 5528
Website
Facebook
10. Karl Lagerfeld Pocket Square $20.00
Blades Menswear
120 Bunda St, Canberra ACT 2601
(02) 6249 7088
Website
Facebook
11. Tomkins & People 'COMPANY DISH' $72.50
Blanche Tilden 'U RING' – Amber $180.00
Blanche Tilden 'BIKE CHAIN RING' $95
Alison Jackson 'COPPER VESSEL MED' $120.00
Agency by Craft ACT (All pieces designed and made in Canberra)
Ori Building, 30 Lonsdale St Braddon
02 6262 9333
Website
Facebook
12. Adado Coffee Beans $16.00
Hand Coffee Grinder $60.00
Barrio Collective Coffee
(Roaster, Coffee Bar, Eats, Drinks)
59/28 Lonsdale St Braddon
Website
Facebook

13. Victorina Stelenes (verso) moth specimen $49.00
14. Raw Leather coffee exfoliating soap $9.50
Slate plate $9.00
Handsomepretty
Ori Building, 30 Lonsdale St Braddon
0429 533 338
Website
Facebook
15. Grifter Dish 'Hand' $20.00
16. Concrete Jar $62.00
Beard Brush $13.50
Hive
Ori Building, 30 Lonsdale St Braddon
02 6247 5166
Facebook