There's a new hotel in Canberra and it's like nothing else.
For starters, it's tucked away up the fire stairs in an abandoned office block on London Circuit. There is only one room. All of the furniture and fittings are donated or salvaged. Much of the art on the walls is for sale, and there is a makeshift art gallery in the open-plan space next door. And in about six months' time, the whole setup will move to another location.
Hotel Mottainai is the brainchild of local artist and architect Ronan Moss. His work at Cox Architecture drew his attention to the number of vacant office blocks scattered throughout the ACT. He came up with a plan to put them to use for a good cause.
"As architects, we're always interested in different ways to reinvent the city and reusing space, especially in a time when there are environmental issues and homelessness," he says.
"We're not suggesting that homeless people should live in these empty office buildings, but we want to raise awareness and help for them."
However, many of these office blocks are only empty for six to 12 months so they needed something that can easily be remodelled.
The prototype Hotel Mottainai opened on Friday (2 September). Here's how it works.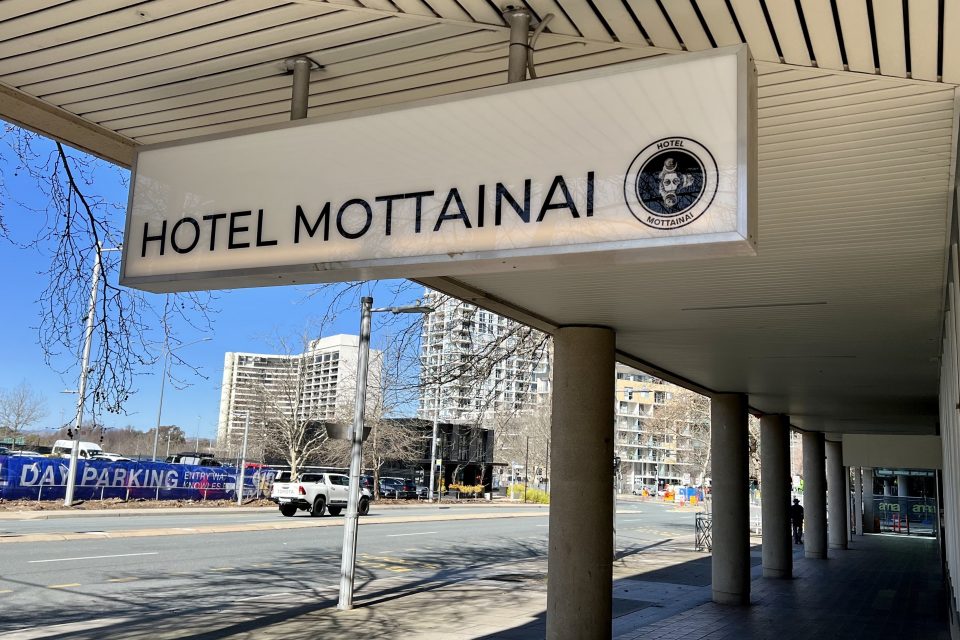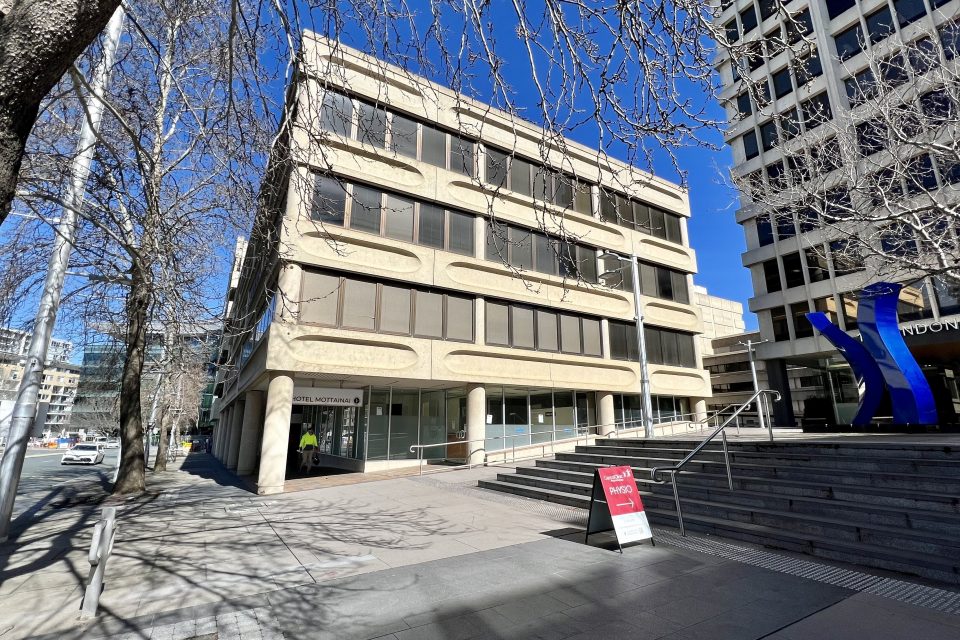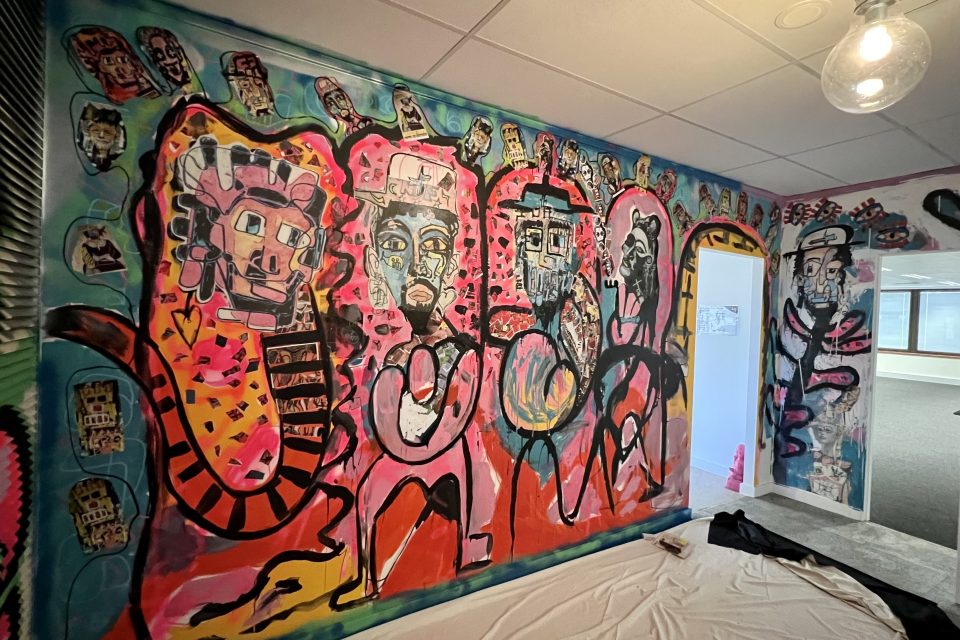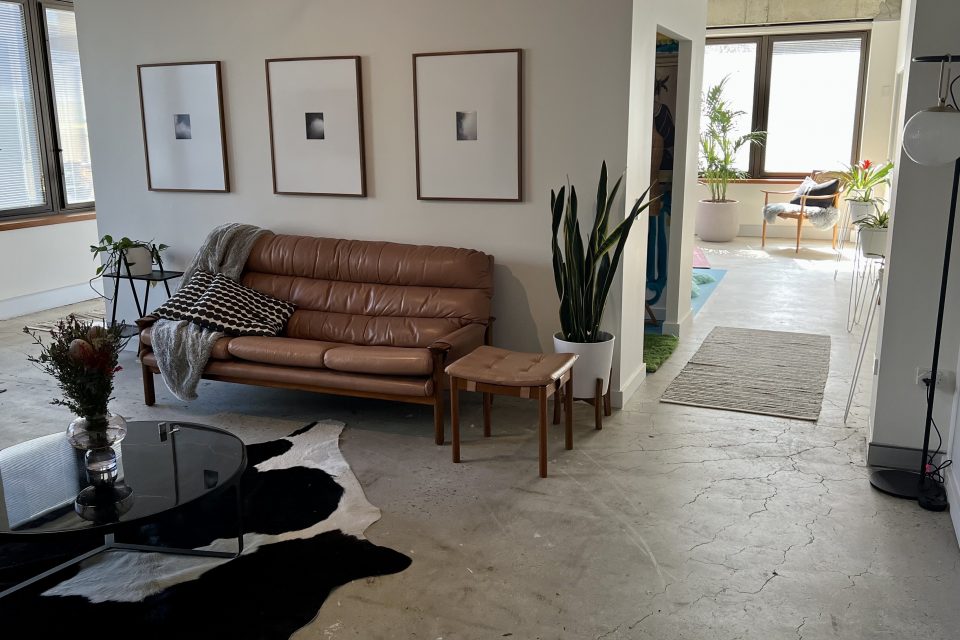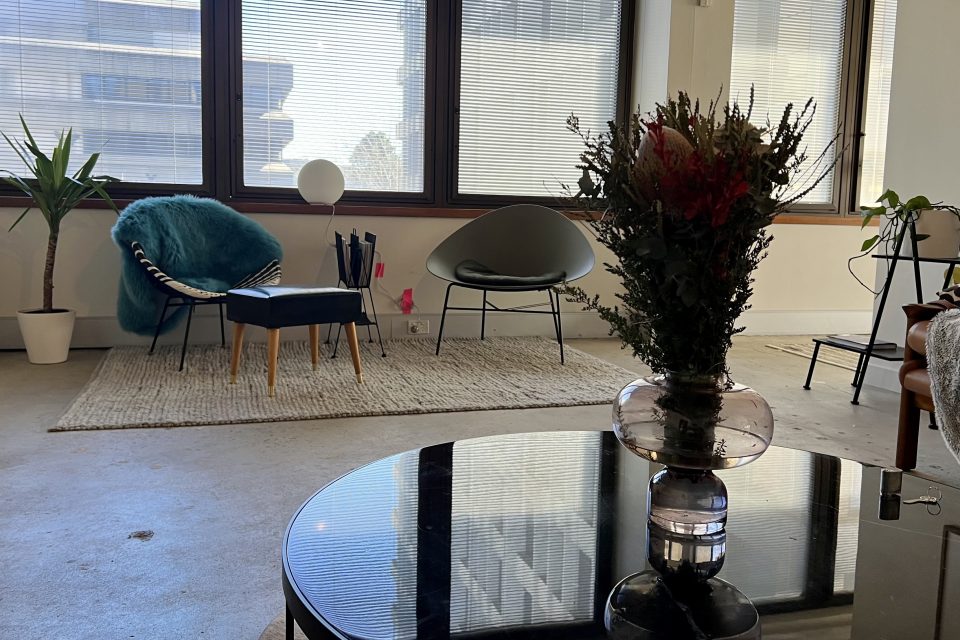 First up, Ronan approached the Young Women's Christian Association (YWCA) for a partnership, a charity that does a lot of work to address women's issues in the ACT.
"According to the YWCA, up to 70 per cent of homeless people in Canberra are women, many of them middle aged and older women," Ronan explains.
"So when you stay in the hotel, every dollar you spend on the room rate goes to the homeless charity at YWCA, to help these women who find themselves on the street. And if you would like to give more, you can scan the QR codes on the wall to donate."
Then there is how to attract visitors.
"I'm an artist myself and I love using the power of art to create this change," Ronan says.
"We created this hotel as an artistic piece to generate interest for people who want to stay somewhere unique in Canberra."
Not only does graffiti-style art consume the bathroom and foyer, but several framed and canvas pieces are scattered throughout the living and bedroom spaces. The art gallery takes over a large space adjacent to the accommodation quarters and opens to the public once a month.
The rest of the time, several large windows between the two spaces allow visitors to enjoy an interpretation of moving clouds from the bed, projected onto two large canvas frames hanging from the roof.
As for the artworks hanging on the walls, many of these are for sale.
"The artists received a commission so it's supporting them as well," Ronan says.
'Mottainai' is a Japanese word used to express a feeling of regret when something is wasted, and nothing is wasted here.
"It's a recycled and very simple space and all the materials inside have been gifted, donated or recycled," Ronan says.
"No money has exchanged hands in the creation of this."
There might not be a kitchen, but there is a mini bar with a kettle and toaster, and the original bathroom has been made over with new fittings. A TV hangs above the bed "so you can watch the footy".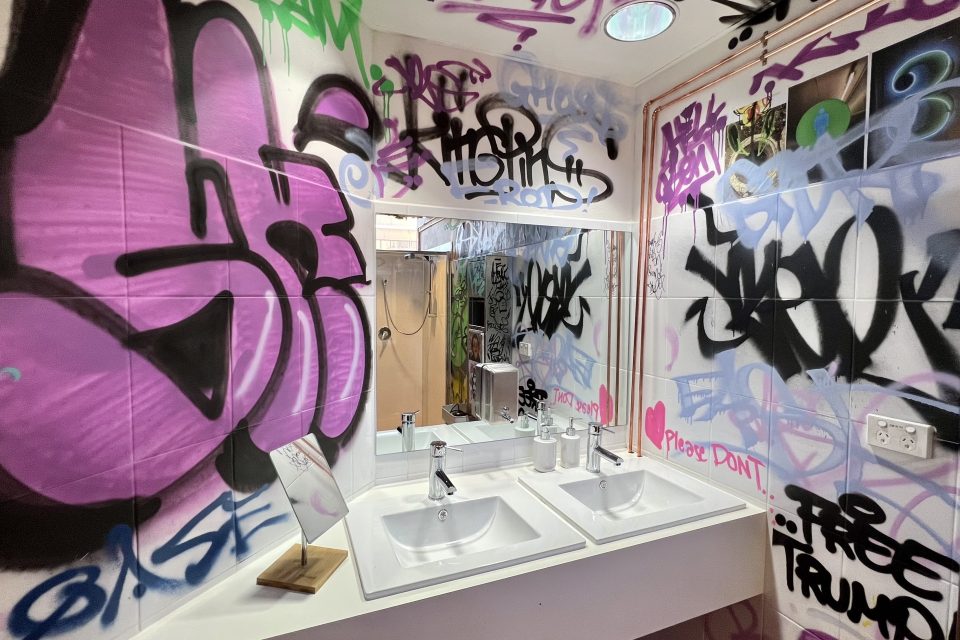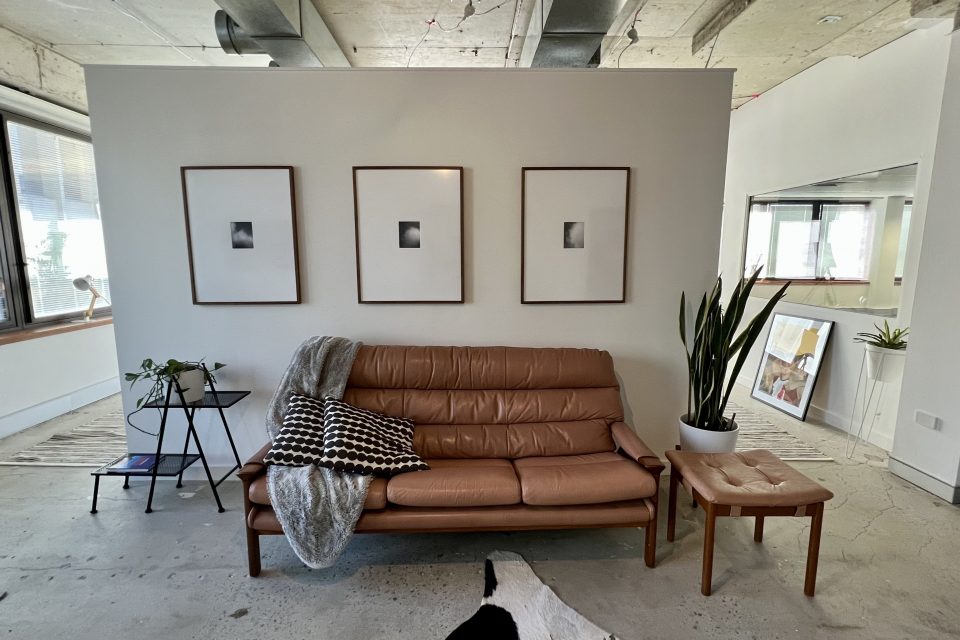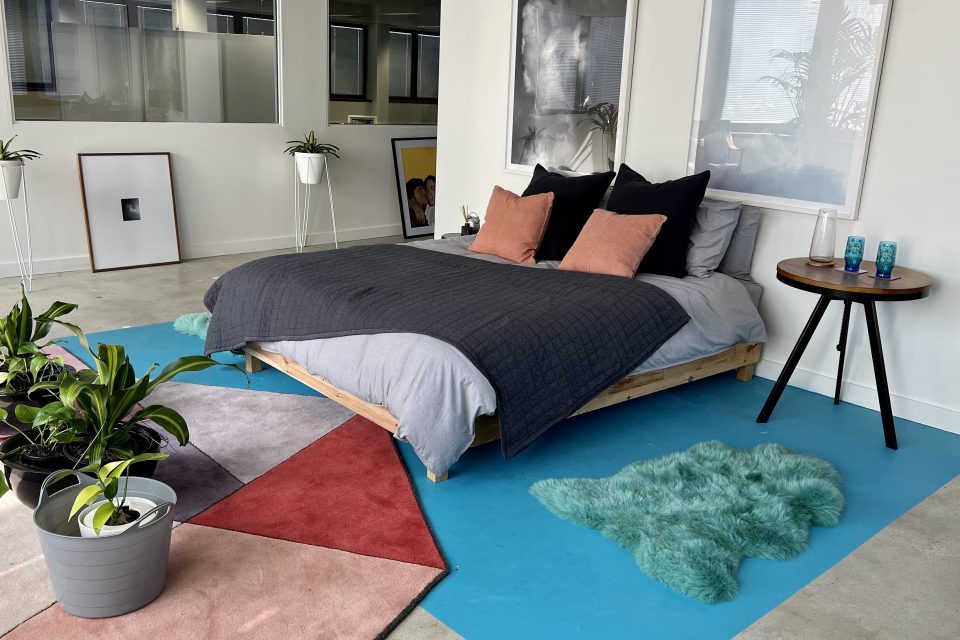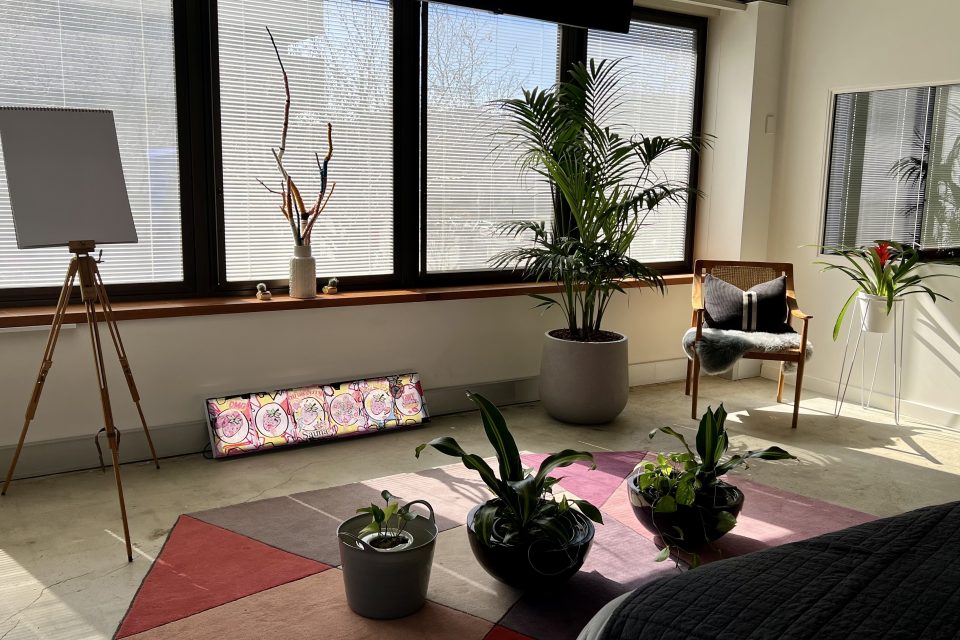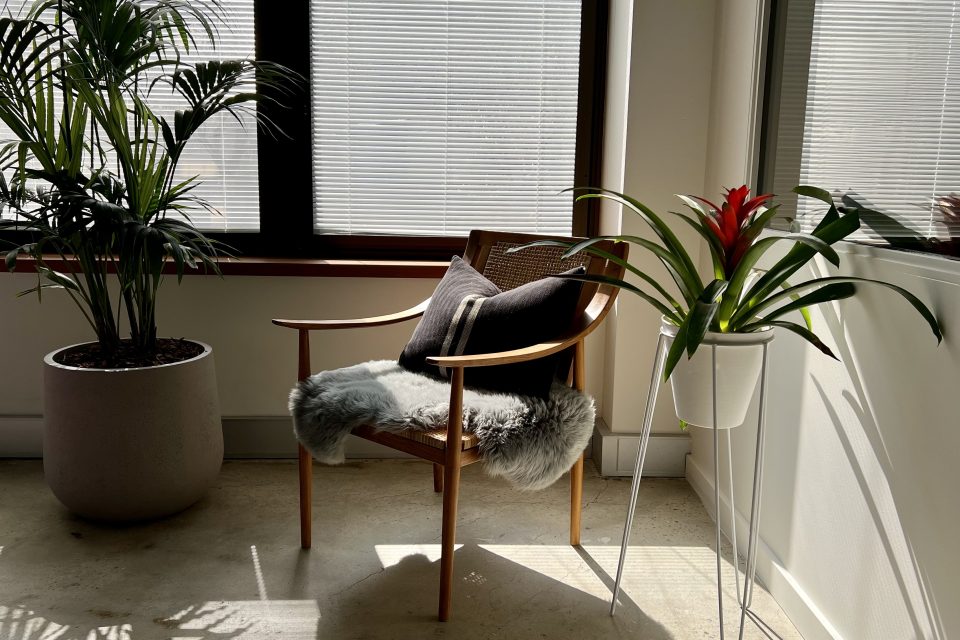 Ronan describes the hotel as the product of a Canberra-wide team effort.
"My partner Clare and I have spearheaded the whole process, but really only because we're a regular point of contact," Ronan says.
"It's been a long process because there were lots of things to pull together, but it's incredibly amazing how many people and businesses have contributed to it. It's been a true collaborative process."
Hotel Mottainai is available to book on the Airbnb website for $288 per night, including the cleaning and service fees.
Original Article published by James Coleman on Riotact.