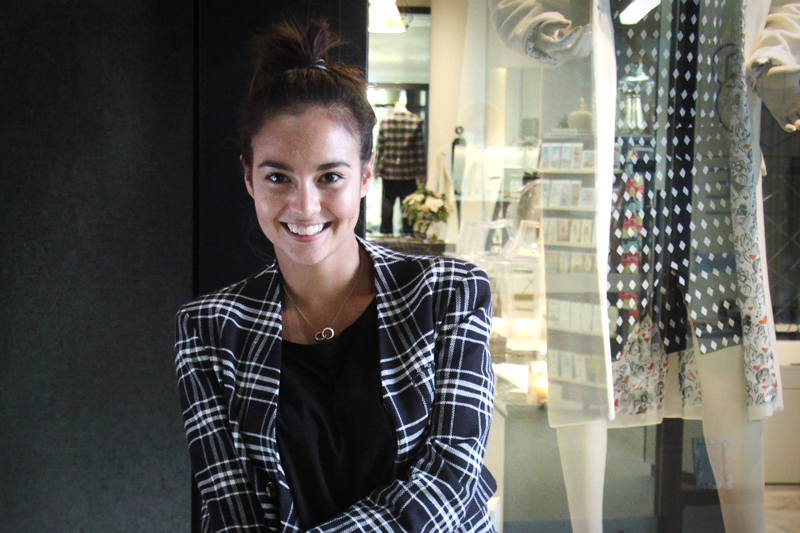 Here's a little girl who has used Daddy's money to play shops.You could be forgiven for thinking that. On the surface, Alicia Xyrakis looks like a little girl. I understand what it's like to have a baby face and the kind of bone structure that doesn't start popping out until your 30s. You have to work a lot harder to get credibility, to be heard. While Daddy may have been the catalyst for bringing Alicia home, at 27 Alicia is anything but a little girl.
Fashion, as an industry, can be summed up in four core areas: Designers–the visionaries, where it all begins; Promoters–sales, PR, they get the product out there; Observers–the fashion writers and photographers who report on fashion and show it to us; Curators–the buyers and stylists who put it all together and translate fashion for us into wearable 'looks'.
Alicia is definitely a curator. Her passion has always been in putting it all together. From a young age she would tote around a scrapbook with cuttings from her mum's high fashion magazines. Playing dress-ups in her mum's amazing wardrobe and later 'shopping' in it. These instinctual beginnings all naturally progressed to the ultimate goal of owning a fashion boutique.
"It has always been a dream of mine to own a boutique. I knew the experience I needed to get in order to have the skills to do that." Alicia's career path has been a considered one right from the beginning.
In the past there hasn't been a lot to offer Canberra's young creatives in the way of career progression. Traditionally you would set off for the big city lights of Melbourne or Sydney and the promise of something more. The few that returned did so when values changed–it was time to settle down and start a family or in my case, sickness prevailed and you needed to fall into the support networks of home. Canberra is fast evolving however and now more than ever before our youth are returning for different reasons.
After doing a stint in London and returning home to find there still wasn't much on offer in the way of any real fashion experience, Alicia left again–this time for Sydney–and methodically set about getting the experience she needed to understand running a fashion boutique from the inside. After completing her studies in Business Management at FBI Fashion College, she worked her way up through Paddington's boutique scene, ultimately landing a management role with Australian fashion label White Suede.
"I was managing this great boutique in Paddington, which I loved. It was the same sort of vibe as here in Braddon. Everyone knew each other, all the people who lived there would come in and we'd have coffee. It was just so chilled."
At this point moving back to Canberra to live out her fashion dreams was like a galaxy far, far away. "I remember being on the phone to my dad six months into living there. I was telling him some story and he says, you're never moving back are you? And I was like, no."
Three years later, Alicia was working full time in a merch planning role and moonlighting at Hugo's doing bottle service–Hugo's has indirectly supported many of Sydney's budding fashion talent over the years. A friend of mine, Kym, once worked the door of Hugo's by night, while working at Paddington's Scanlen & Theodore by day. Kym went on to create the internationally acclaimed label Ellery. Alicia was on the right path, saving every penny towards her dream of opening her own business, but she was exhausted. It was at this point, on a well-deserved family holiday in Greece, that Alicia's father seized the moment.
"Dad told me of a really good spot in Braddon, and said I should just come and have a look. I was still saying no. But then, after sitting on the beach day after day with nothing to distract me, this thought of moving back started to form."
Eventually she agreed to have a look. A lot had changed in the three years Alicia had been away. Braddon was pumping and she started to grasp what her father had been trying to tell her. This wasn't just a ploy to get her back home; this was a real business opportunity. As she looked into it further, she noticed a gap in the market.
"I thought there was really something here that I could bring in the way of customer service and merchandising."
On the surface, running a boutique may look easy enough, right? Kind of… But not really. Cramming your racks with all the labels of the moment and 'what's in' is one thing. Merchandising a concise, fluid collection that sells is another thing entirely, and something only a few do successfully. Understanding fabrics, colour, print and texture and curating them in a way the average shopper can understand is a skill.
This is something that has been successfully delivered by Alicia through Rebel Muse. Walking into the store there is instant rack appeal. Pieces are arranged in stories, so a full outfit can be realised. Colours, prints and textures flow. It makes sense. From a general shopping perspective there is a sense of ease, an effortless simplicity that is a refreshing change to the Canberra retail landscape. If you are in the industry, you will appreciate the effort and consideration that has been applied to deliver such a tight collection and seamless shopping experience.
In Alicia's words "Fashion can be a bit wanky." That may come off as a flippant comment, but refreshingly, Alicia's most influential fashion idol is her mother. It takes confidence and a certain level of self-assuredness to speak your truth, to come from a place of humble honesty because you are following your passion, not what you think sounds good in fashion. Lots of people try to 'do' fashion. Few actually understand it. It's in the understanding that the doing is part of the process, not the end result.