Inka burst onto the scene in 2021 with their blend of Japanese and Peruvian cultures, known traditionally as Nikkei. The combination has proven to be a success, with customers returning for their new and updated tasting menu.
Walking into Inka, I'm immediately struck by how different it looks from other restaurants in Canberra. Textured walls stacked with quirky sculptures, colourful light fixtures and bold artworks continuously draw the eye. Upstairs has a more natural feeling with plants and well-placed mirrors giving the illusion of an endless jungle.

We start our journey at the bar, checking out the selection of cocktails and drinks. We opt for high-top stools, although there are plenty of comfy low-slung lounges as well. I start with an Aki Toniku, a fruity play on a classic G&T made with house-infused strawberry gin, rhubarb and Fever Tree Mediterranean tonic. My friend was nobly committed to dry July so she opted for the Sakura, a refreshing lychee and grapefruit mocktail.
We were there to try the 10-course tasting menu, which showcases the best of what Inka has to offer. Japanese and Peruvian cuisines rely heavily on seafood, which is reflected in the dishes on the menu.
We started with beautiful fresh oysters topped with wakame seaweed and finger lime pearls. This refined yet simple combination brings out the natural flavour of the oyster.
The second course is taro chips with a macadamia aji panca salsa. Hot, smokey chilli flavours dominated this dish, but a dusting of dried mint powder undercut the heat from the salsa and cooled our palates.
The subsequent two courses showed off more seafood, starting with a selection of beautiful nigiri. Each piece of nigiri has its garnish designed to pair with the flavours of the fish: the thinly sliced kingfish has a yuzu and fermented chilli mayo, grilled unagi eel comes with crispy truffled leek, and the slightly scorched scallop is topped with chilli jam and fish roe. Each bite has been meticulously constructed with painstaking attention to detail.
The mixed seafood ceviche changes depending on what's available in the market. Ceviche is raw fish that is transformed by the addition of acid, which begins to 'cook' the fish without any heat. It's incredibly fresh and citrusy, and the addition of fennel fronds and crisp slices of radish add another element of raw freshness.
My favourite dish of the night was the scallop: beautifully caramelised and served on the half shell. A bed of buttery pureed onion underneath and black Peruvian mint on top resulted in a simultaneous and involuntary 'mmm' from everyone at the table.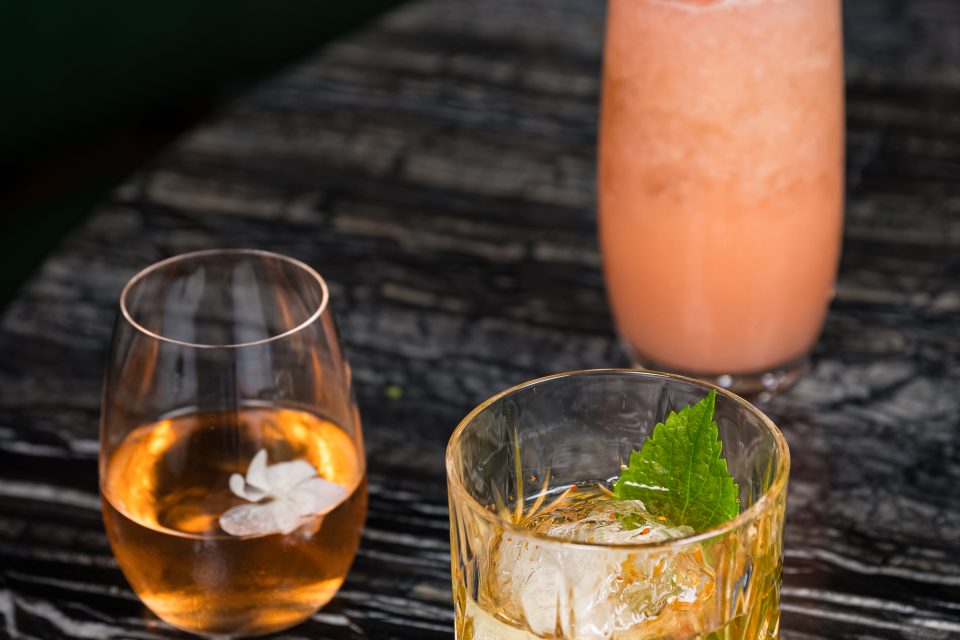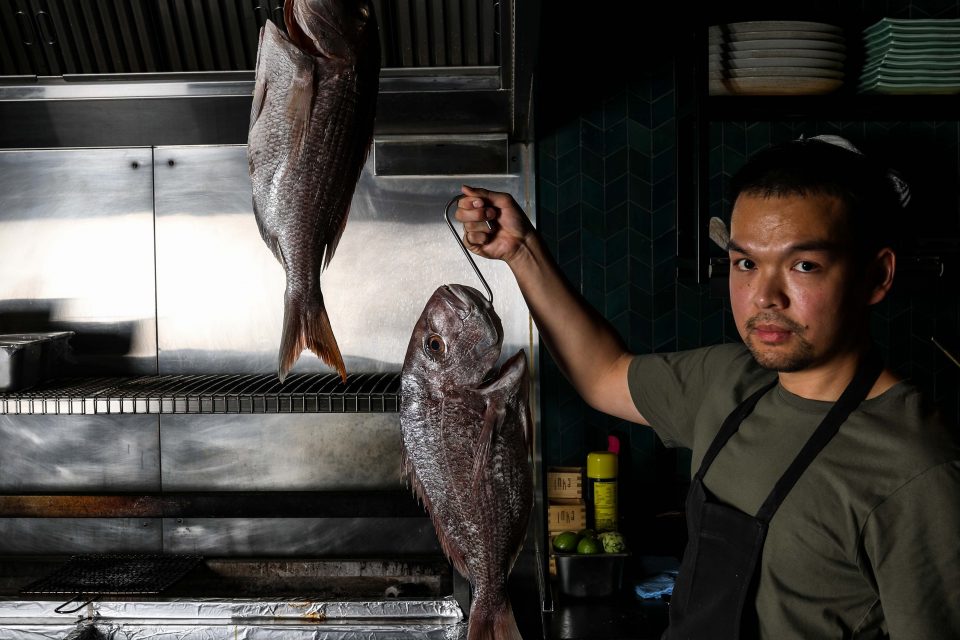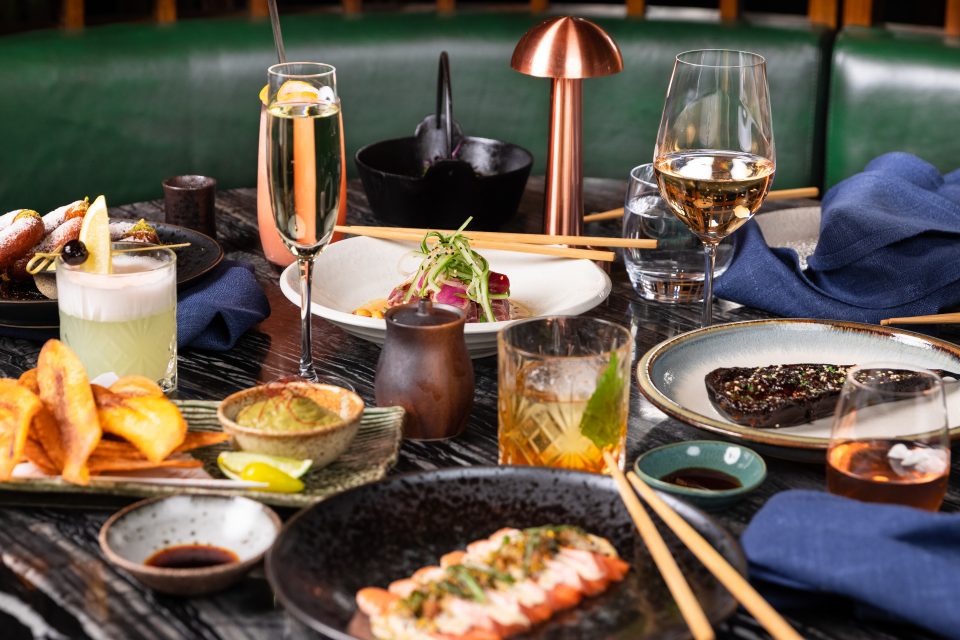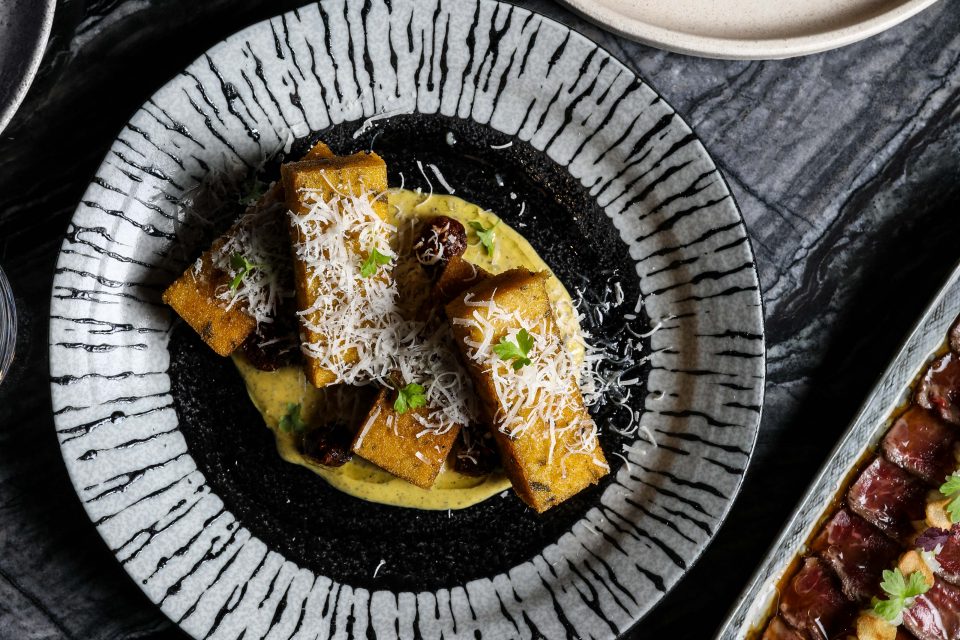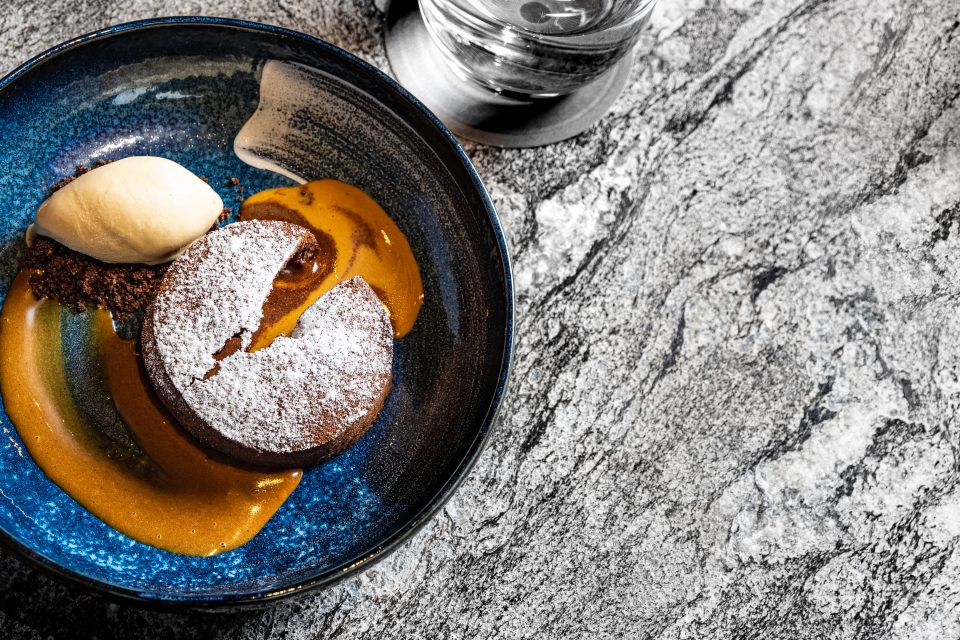 The next three courses came out at the same time. Like the seafood courses, the meat is dependent on market availability. We had a seared Angus beef scotch fillet, sliced thinly and served with an umami-rich black garlic sauce and deliciously zingy chimichurri, a fresh salsa made across South America from herbs, chilli, garlic and vinegar.
Served alongside was a dish of fried brussels sprouts which were super crispy and sticky with a moreish yuzu glaze. Polenta chips with a truffled Peruvian cheese sauce and smoked chipotle made up the most substantial dish of the evening. Hearty eaters might be worried they'd leave hungry after five courses of dainty seafood portions, but mopping up two very tasty sauces with chunky polenta chips will fill you up.
Then came a palate cleanser, which saw the Japanese method of boshi – drying and preserving fruit, usually plums – applied to small, juicy tomatoes. A sliver of pickled green tomato, a bed of almond puree, and a couple of edible flowers placed with tweezer-ed precision rounded out this delicate dish.
Finally, dessert: warm chocolate fondant with a miso caramel filling and ice cream – delicious and comforting. And what else does a dessert really need to be?
The tasting menu at Inka is a journey. It's not quick, so allow yourself enough time to fully enjoy it. It's fun to examine each element in the dishes and think about how it relates to Japanese and Peruvian cuisines and how it has come to be a part of Nikkei traditions. And don't forget to ask the wait staff for their drink recommendations. Choosing wine to go with a multi-course meal like this is a bit of a challenge, but they steered us in the right direction.
At $130, this certainly isn't a cheap'n'cheerful night out, but it's more than reasonably priced for 10-courses of high-quality ingredients prepared by absolute masters of their craft.
Inka is open for dinner on Monday, and lunch and dinner all other days of the week. Find Inka at B11A, 148 Bunda Street, Civic, and follow them on Instagram.
Original Article published by Lucy Ridge on Riotact.