The Metrosexual, that hair-salon-loving girly man and style icon of the past couple of decades, is dead. But this is not news. The Metrosexual has been dead for quite some time. Murdered–most probably with a vintage axe sharpened by hand in an old wooden shed, buried in the backyard and toasted to with a craft beer–a little after the turn of the century for those who are 'in the know' and around five years ago for the rest of us. The culprit, dare I say it, the Hipster. And his enablers? The Hipster barbers of Canberra…
Let me start by apologising for writing this piece to all those who, by their own refusal to publicly acknowledge their Hipsterdom, actually self-identify with this particular sub-culture. Any Hipster worth their salt should not even utter the word out loud. After all, the first rule of being a Hipster is that you don't talk about being a Hipster and the second rule of being a Hipster is that you don't talk about being a Hipster.
The third rule though, is that the Hipster scene belongs to men. While not necessarily gender specific, it is mostly a response to the Metrosexual by a generation of young urban men who wish to embrace their masculinity through nostalgia for an age they never actually experienced. An age when gender lines were presumably less blurred; hence the love of all things retro, handmade, vintage and reclaimed. Hence the beard, the classic side part, and the barber shop.
Let's be clear, I'm not talking about the type of barbershop that is run by a couple of wiseguys that hung out at the top bar of The Private Bin in the 80s (not that there is anything wrong with that, as wiseguys that hung out at the top bar of The Private Bin in the 80s really know their stuff) but the new wave of re-invented, re-imagined, retro-branded barbershop, replete with all the trappings of a bygone era.
Hipsterdom demands a tribute to that simpler time of manly camaraderie. It demands a space more American than Australian–heck, more Hollywood than real life. A space where men can be men, and get their hair cut by other men who also can be men. A romantic hyper-real fantasy of old school masculinity: The Hipster barbershop.
Make of this what you will, but there is no denying the barbershop is back and it is providing a real service for men that has been lacking for quite some time. No doubt, men's styles have swung back to the classic, and barbers insist that they know classic men's cuts better than unisex hairdressers, but this is not just about hair.
The barbershop offers men a place to get the most up-to-date style, cut and products for men's hair without the girl talk, the flipping through copies of Cosmopolitan and the complementary glass of bubbly. A place to talk about sport, about business, about women, about politics. Throw in a shoeshine and a shave and the scene is complete. In Canberra, a number have opened in recent times. Here are four of barbers of Canberra that fit the mould:
The Barbershop / Braddon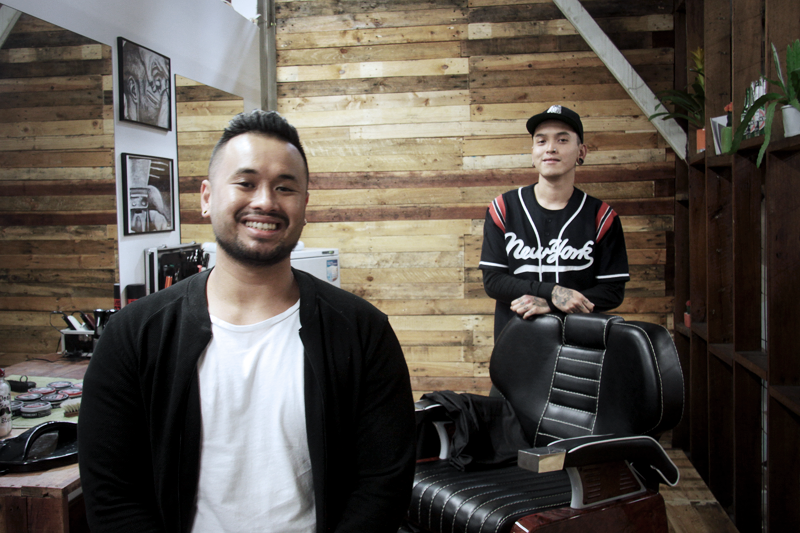 Adi Putra says that he was the guy who was cutting his mates' hair when he should have been studying. "I was no good at school," he says with a laugh. "I've been cutting hair from the age of 13, so I'm doing what I've always loved."
He and cousin Satya Pratama are the owners and resident barbers at The Barbershop, a manly barnlike space located at the back of The Hamlet on Lonsdale Street. Patya is a graphic designer who has decided to cut hair and is learning the trade under the tutelage of his cousin. He came up with the brand of the shop, based on a particular aesthetic the boys wanted to achieve. "It's nostalgic," he says, referencing Mad Men and Gatsby.
The cousins agree that the look is hipster, and Adi goes further. "The hipster look is a white guy look. It's like the days when black guys wanted to get their hair straightened–it's been a long time since white guys have been this cool!" He says the fashion is based on 1930s to 1950s. "You'll see a lot of comb overs, parts, pompadours, fades. That's really barber territory."
On the experience, Satya says that men want to go to a men's barbershop, not a salon. "It's like therapy. You can talk to other men. When you come here you get that feeling and everybody has a good laugh. He may have his man cave at home, but outside, it's the barbershop."
Check out The Barbershop's facebook
Casper the Barber / Mawson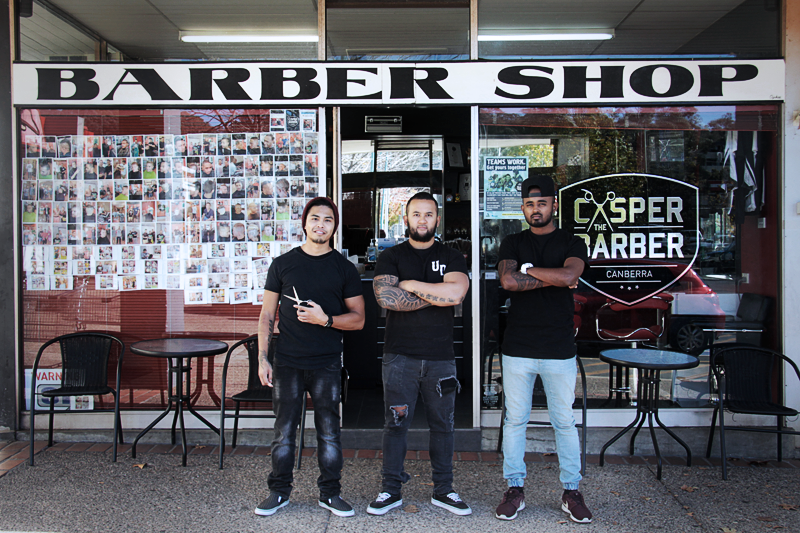 This barbershop isn't new. Owner Casper Aniversario took over about a year ago from an older gent named Kerry, who passed away recently. It wasn't a fashionable place then. Old Kerry had a limp and he would spin clients around in the chair rather than move around them. I thought it was because of the limp, but according to Casper, that's the traditional way. "Barbers would spin you around so you can talk to the other customers," he says.
Once, this shop attracted men who were in their sixties and older. Today, it's not uncommon to see groups of twentysomething men hanging out here. This is a barbershop for the sports-mad man. Photographs of famous footballers getting their 'fresh cut' by Casper–from a number of codes and from as far away as New Zealand–adorn the walls and windows. Local tennis hero Nick Kyrgios gets his cut here, and there is even a shot of Anthony Mundine, one of many sports celebrities that have made their way to this barbershop.
Casper used to cut Josh Dugan's hair when Dugan was still a teenager. By the time Casper bought his own barbershop, Dugan's well-documented instagram activity had played its part in spreading his fame throughout the football world. Now he is the go-to barber for NRL and Rugby players everywhere.
"Barbershops used to be a social place and that has come back," he says. "You can hang out with your mates, talk about guy things." Casper agrees that a few years ago, barbering was a dying trade, but says men's fashion has shifted. "With current styles, it's not unusual for a guy to get his haircut twice a week," he says. "And guys are more comfortable getting their hair cut by guys."
Does he think this is just a fad? "No. There are so many younger boys coming here to get a haircut. They are out of the car and in here before their dad can park the car." As I leave the shop, a couple of boys, perhaps 11 or 12 years of age, approach me collecting for a charity. One of them excitedly tells me he gets his haircut at Casper's. When I ask him why, he says that it's where all the famous sports stars go.
Check out Casper the Barber's facebook
JB The Gentleman's Barber / Belconnen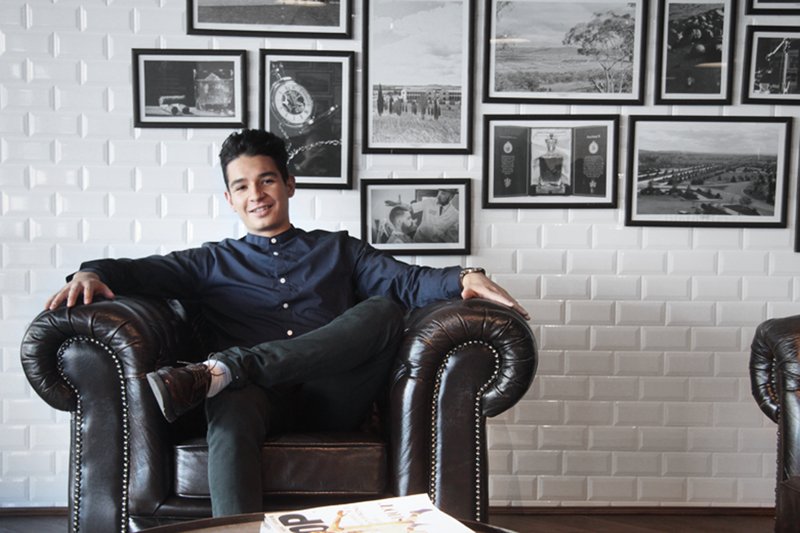 My first thought when I meet JB Edwards is that he looks too young to own his own business, but this baby faced barber of Belconnen has been cutting hair for over eight years. Starting out experimenting on his own hair with a clipper his mother gave him as a present, he then moved on to cutting his brother's and friends' hair before doing his traineeship once he left school.
"I never really liked school, but I always loved cutting hair," he says. "As soon as I finished school, I started a traineeship at Roger David and then worked in Gungahlin, but I was always planning to open my own shop."
A plush leather lounge setting takes up one end of the shop. Around it, subway tiles, old world furniture, bookshelves and black and white framed photos add a touch of classic masculinity to the barbershop. JB says has always kept a keen eye on style. "It's a culture in itself, the way we want to look." On his own preferences, he says he likes the classic look and wants to bring that to his shop. "I want to take the barbershop back to where it all started, very classic and classy. That's the way I like to dress as well."
JB wants his place to be somewhere guys can come and hang out with their friends. "They can just pop in and sit on the couch, I'll offer a beer… it's like a man cave," he says. "When girls go to hair salons, they have that place they can share with other girls, but guys going to salons don't feel as comfortable."
He agrees that the hipster thing is very masculine, and says barbers are definitely a part of the culture. "There's Hipster vibe in here," he says. "Gentlemen's is a bit more sophisticated, but nothing too uptight."
Check out JB The Gentleman Barber's facebook
Groomed. The Gentleman's General Store / Braddon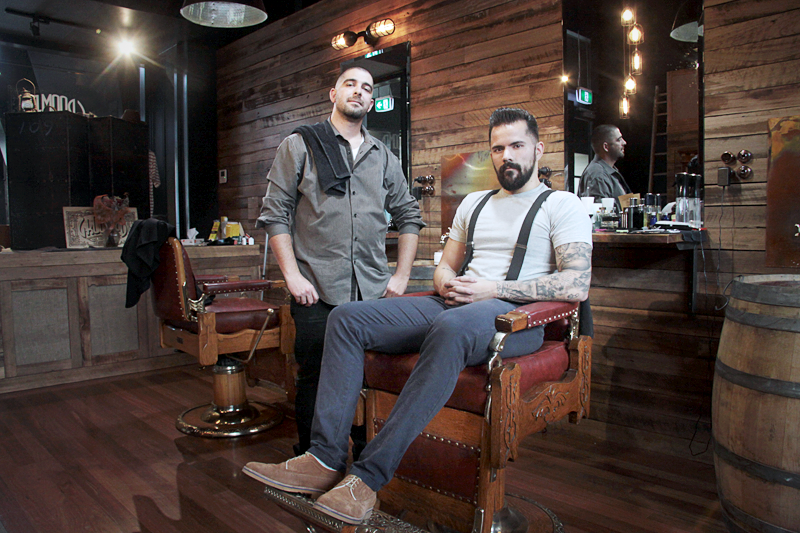 Steve Gamarra is sitting on a barber chair that is over one hundred years old. It is one of two antique chairs that he found by luck or destiny on Gumtree when he was planning to open Groomed, A Gentleman's General Store. The store, located at Braddon's Ori building, looks as if it was built around these two pieces.
Walls are clad in reclaimed timber, wine barrels have been converted into basins, and a bluetooth-enabled gramophone plays jazz classics from the likes of Ella Fitzgerald and Louis Armstrong. "I always tell people I was born in the wrong era," he says. "I love all things nostalgic. Old black and white photos, vintage typography, classic cars…"
Groomed is more than a barbershop. A collection of men's clothes hangs along one wall, and sunglasses, watches and various men's accessories are displayed in a glass cabinet. "We like to think of ourselves as a one stop shop for men, he says.
When I tell him he looks like a poster boy for the Hipster scene, he cringes right on cue, "I don't think I'm a Hipster." Steve Carbone, the man he has employed to cut hair and to teach him the trade, laughs out loud, "He's the king of the Hipsters!" At that point, he grudgingly accepts that maybe he's on the Hipster spectrum.
Carbone, looking more wise guy than anything, admits he's definitely no hipster, but as a veteran barber of 19 years, he has the skill to pull off the current retro styles. I ask him why men are returning to the barbershop after years of going to salons. "Yeah, that was a bit sissy," he jokes. "The fade and the part are classic men's style, and that is big at the moment. We use different techniques than hairdressers."
"Barbering almost died during the seventies as longer styles came in," says Gamarra. He agrees that popular culture has swung back to classic ideals, but adds that this symbolism is not what the business is about. "We want this place to be a sanctuary where men can go and be themselves and literally just relax. Women get that pampering at a salon, and this is the male equivalent."
During our conversation, Frank–a new customer–comes in. Gamarra guides him to another chair for a shoeshine. We talk while he works. Frank is a business broker and he and I start talking. About business, about local politics, about a few people we just discover we are mutually acquainted with. At some point, we swap chairs and I am getting my shoes shined. The conversation continues. This is starting to feel like luxury–like a man's version of being pampered. I think to myself I could hang out here all day. Now if only I could light up a stogie…