When it comes to making an entrance, Jessica Cartwright could give most people a run for their money. With a boa constrictor draped around her neck, she welcomes the small group assembled at the National Zoo & Aquarium as if she's simply wearing a winter scarf.
Our faces are a mixture of fascination and horror as tour guide Jess informs us that Betty the boa constrictor is not in the people eating (or squeezing) business – "Boas are actually very chilled creatures," she tells us – before inviting us over for a pat.
It's the first of many unusual experiences early on this Friday morning, well before the zoo's creatures begin to stir and visitors start flowing through the gates. We're here for the new 90-minute Awesome Roarsome tour, a rare chance to meet the most fierce and frightening members of the zoo population. Even better, we're going to feed them.
Jess is a fount of knowledge on the handsome specimens we'll be mingling with, and sets off with food bucket in hand to introduce us to our first breakfast companion.
As we approach a frosted window, the silhouette of a most unusual creature comes into view. It's slightly stocky, with a black snout, panda-like ears, and a hint of a ginger mohawk. The closer we get, the cuter it becomes as it awaits our arrival with puppy dog eyes.
But this is no puppy, nor is it a bear. It's Pinduli, a hyena who knows full well that because he's low on the totem pole he won't be getting any food from us this morning.
Hyenas are a hierarchical bunch and Pinduli must take a back seat to Zuberi, who gets to eat the raw meat offered by our tour group.
"We can't mess with the order of things, or Zuberi will beat him up," says Jess.
Thoughts of slipping poor Pinduli a wafer thin slice of deer meat when nobody's watching evaporate upon hearing that the hyena is capable of biting off a limb without breaking a sweat.
There is a strict routine during the tour. Definitely no hands near the wire enclosures, lest sharp-eyed 'class one' animals spy a quick opportunity to nibble on some 'finger food'. You must offer the food via a pair of steel tongs, and should you become unsteady, Jess suggests to "grab me for support, or roll".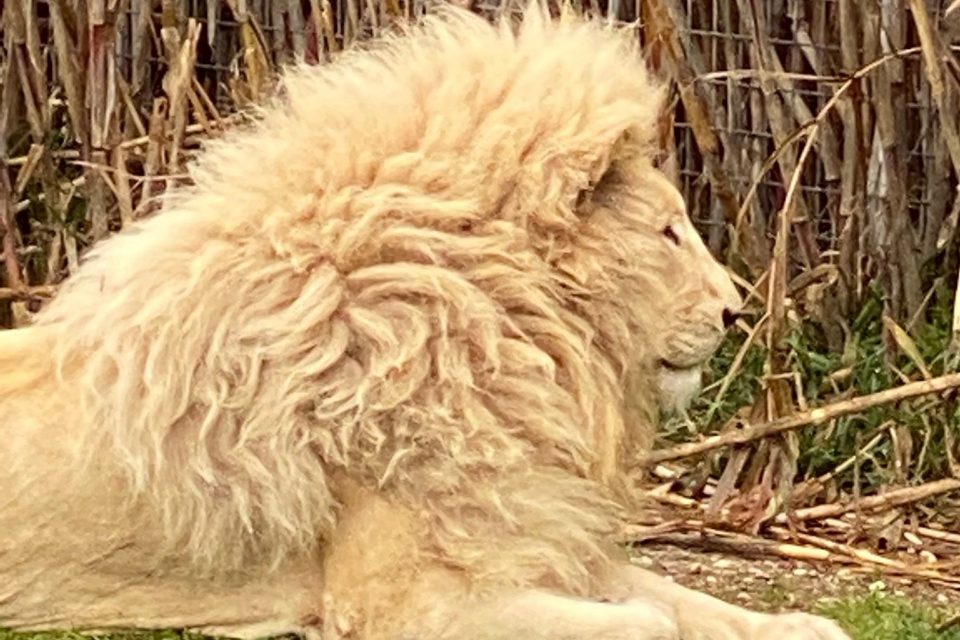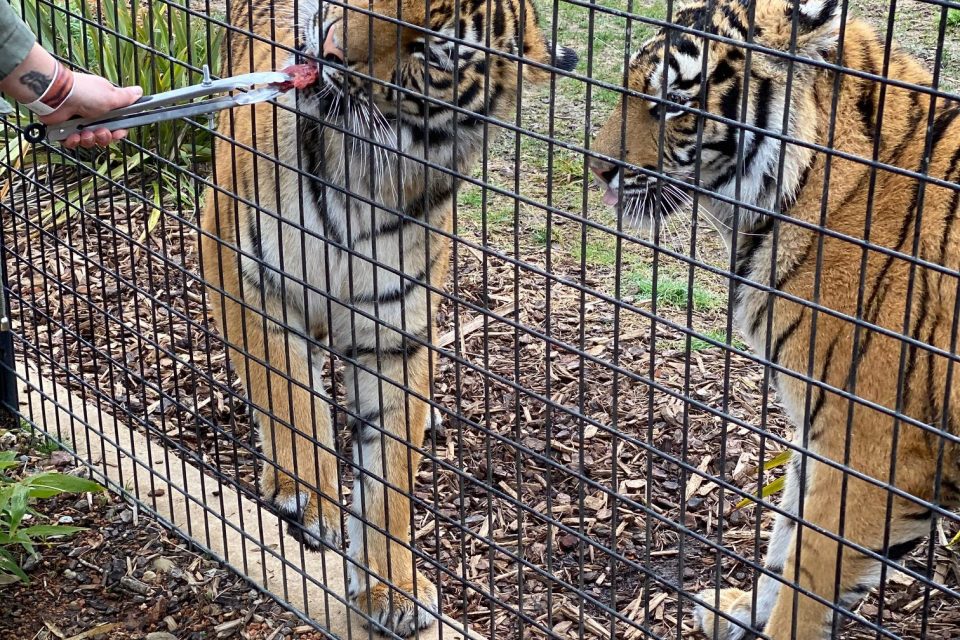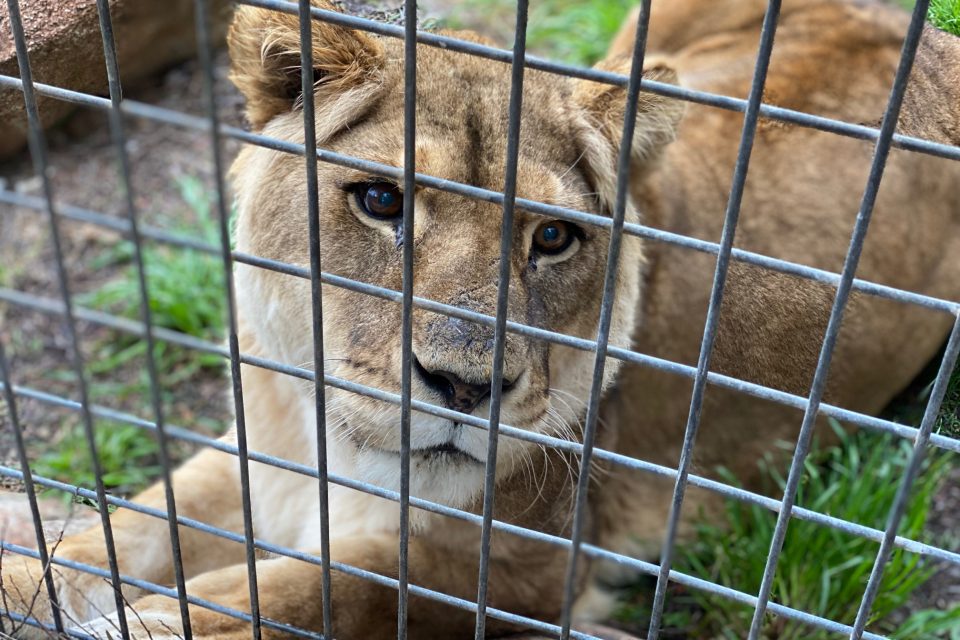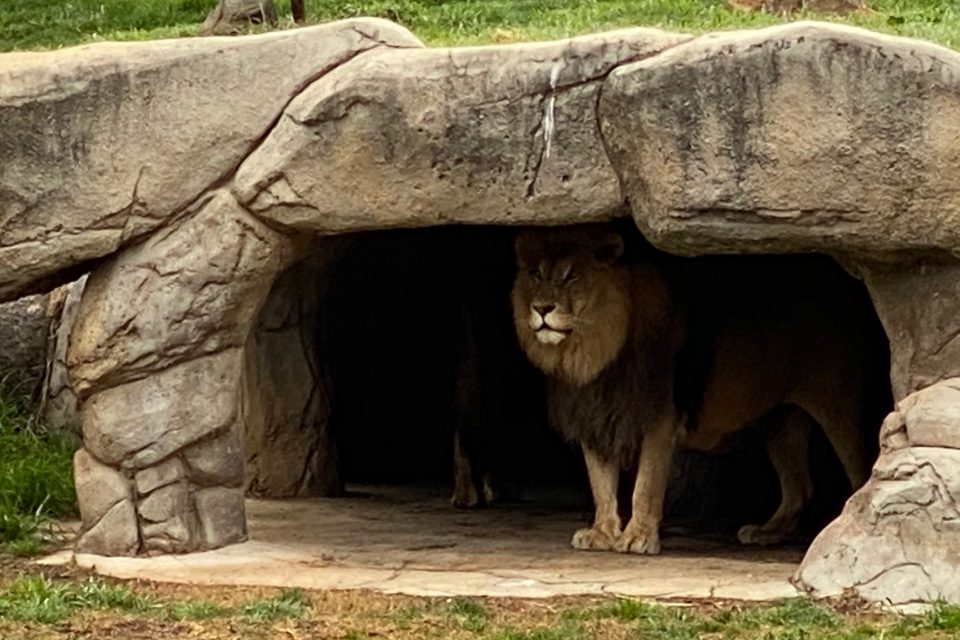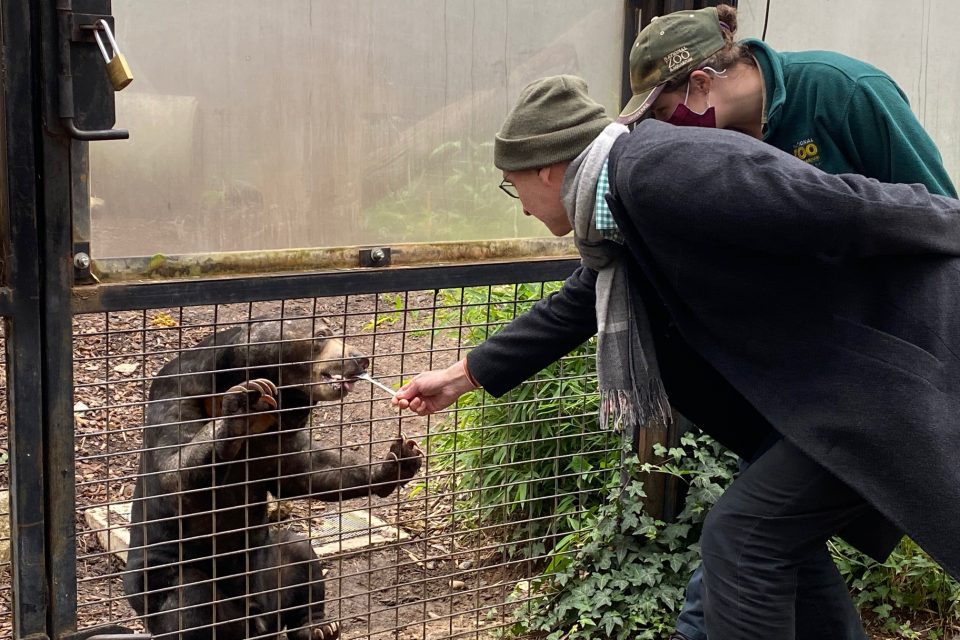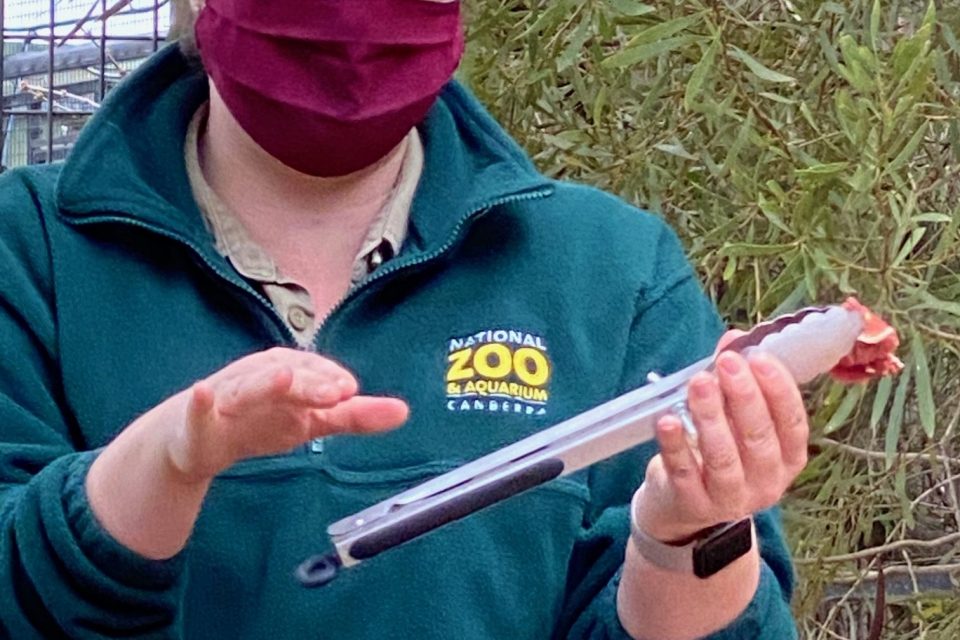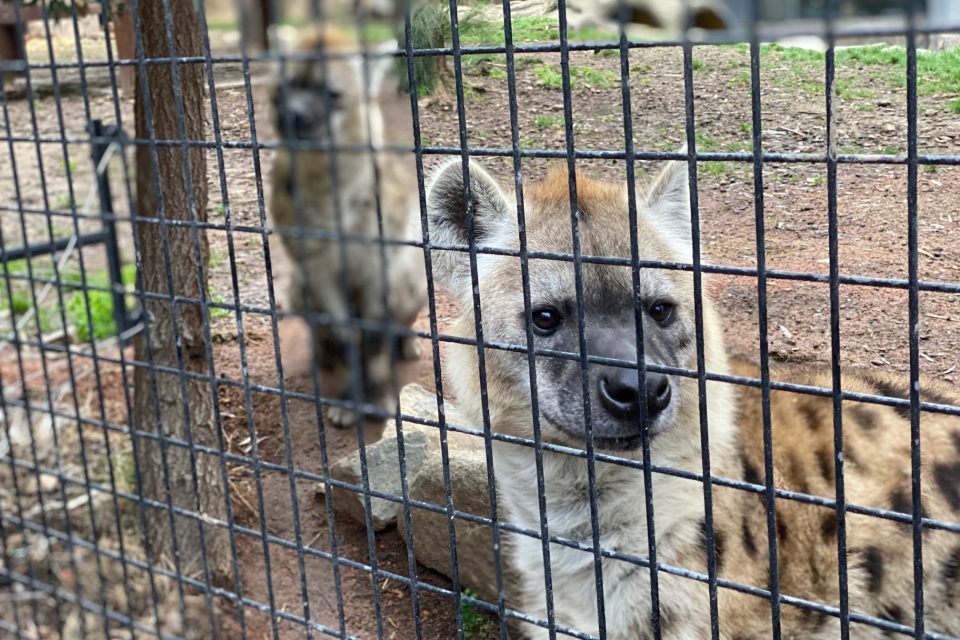 Hands must be sanitised before and after every feed.
"We take the threat of COVID-19 very seriously," says Jess. "We've got to protect our staff, as well as our animals. Primates can catch it; as can meerkats and otters. In New York's Bronx Zoo, their tigers got COVID-19."
Next stop is the leopard enclosure. Or two enclosures, born of an ill-fated love match between Ankesh and Yakalla. "They're time-sharing," says Jess, who reveals that the male, Ankesh, was so terrified of his proposed new love interest they had to separate them. It appears he's still in hiding.
Brother and sister Jake and Mischka are more sociable. The magnificent white lions are incredibly rare – sadly hunted almost to extinction – and are housed next to an enclosure of tawny lions that includes mum Millie and sons Majan and Sabi.
As we gaze at these beautiful creatures, an amazing thing happens. Majan begins a deep and throaty roar and soon the other lions join the chorus. There is nobody else in the zoo apart from our group of seven and we have a front-row seat to a spellbinding performance.
It's hard to move on, but we have a lion to feed. In a rare role reversal for these big cats, Millie takes precedence, simply because her 'boys' never moved out of home. I am just centimetres away from her majestic face as I feed her a sliver of steak. She is absolutely beautiful.
Along the way we meet sun bear Arataki, whose penchant for sweet things means he has the dubious privilege of being the only zoo animal to have his teeth cleaned regularly with an electric toothbrush.
We also feed tiger sisters Mya and Melati – pity the poor fool who approaches them with a tube of Colgate.
As we finish the tour, I can't help thinking of Pinduli the hopeful hyena and his heart-rending morning ritual. It seems Jess has a soft spot for this endearing character, too.
"The Lion King has done hyenas a great disservice," she says. "They are portrayed as cackling, evil and slightly stupid creatures and that's just not the case at all. Hyenas only laugh when they're nervous. The only time I heard them make that sound was when they caught sight of the lions."
Rumour has it that a biologist was so incensed by the portrayal of these misunderstood creatures in The Lion King that he sued Disney for defamation of character.
Here's hoping Pinduli and his clan had the last laugh.
The Awesome Roarsome tour begins at 7:30 am every Saturday, Sunday, Monday, Wednesday and Friday (daily during school holidays).
The minimum age to participate is 12.
Fees are $125 per person on weekdays and $155 per person on weekends and public holidays.
Original Article published by Michelle Rowe on The RiotACT.