There's nothing more surreal than being woken up by a lion's roar.
Well, a close second would have to be having a tea of cup on your balcony while a giraffe wanders past.
But you can do all this, and more, without getting a passport or even leaving Canberra.
Jamala Wildlife Lodge at the National Zoo and Aquarium offers a chance to sleep alongside a range of animals – giraffes, lions, tigers, cheetahs, sun bears, hyenas, meerkats, Capuchin monkeys and sharks.
But – be it for a romantic getaway, a unique family experience or a staycation with mates like no other – it's much more than just staying the night.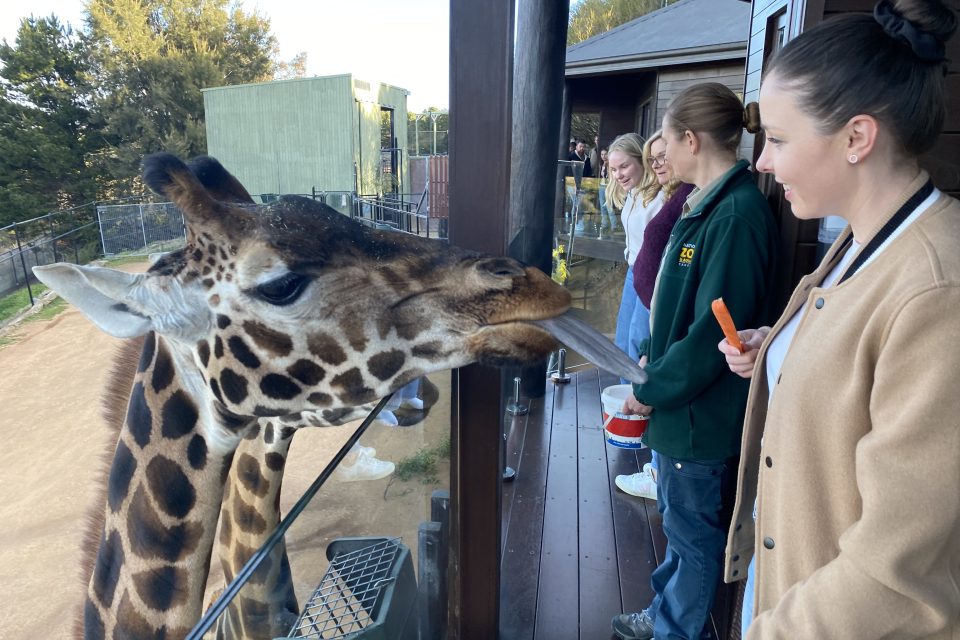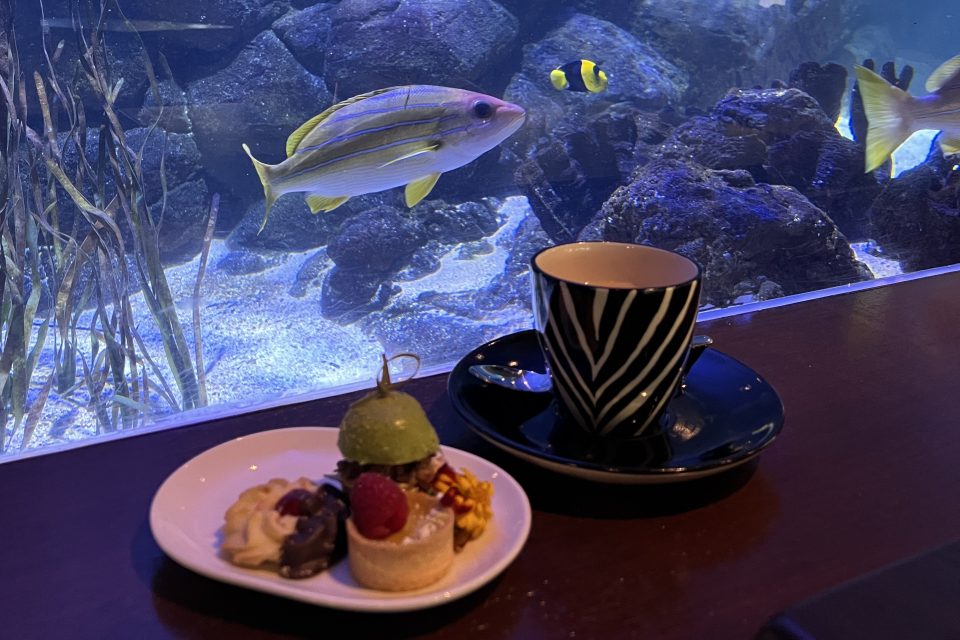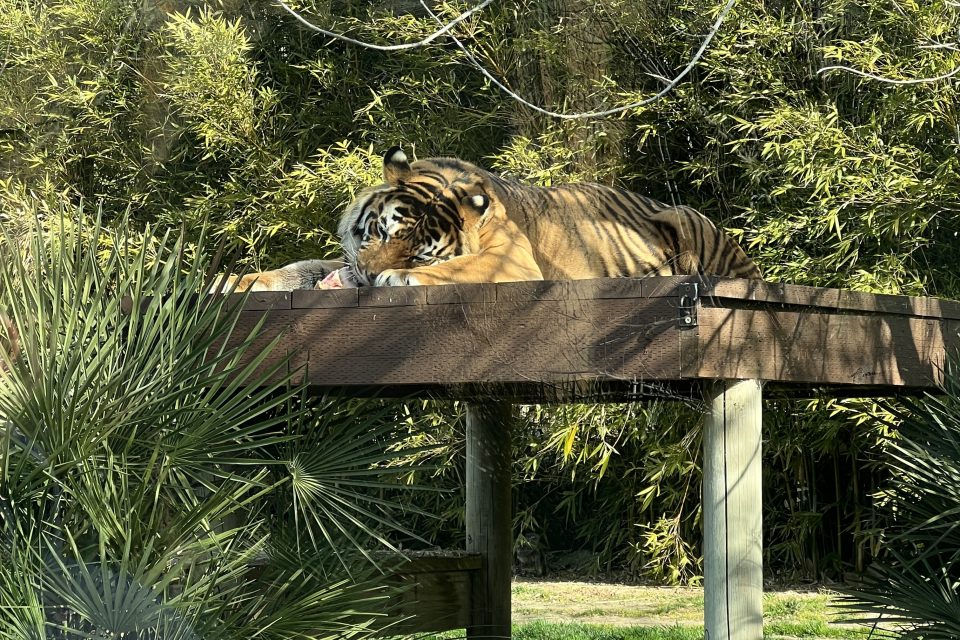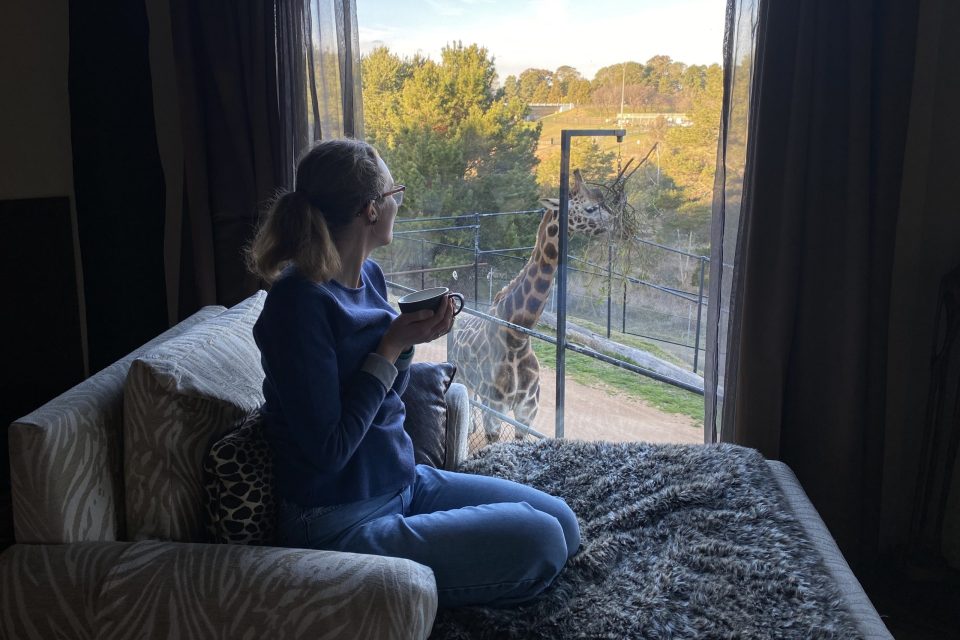 A friend and I took the chance to leave our husbands and kids behind to have our own 'girls gone wild' catch up among the rhinos and zebras.
It started with a lavish afternoon tea next to the Colobus monkeys and aquarium, having pastries and coffee as sharks swam past.
Zookeepers also brought in a blue-tongued lizard and Burmese python for those of us game enough to have a little pat.
We took the option to have an afternoon guided tour through the zoo, learning more about select animals' personalities, breeding programs and conservation efforts, and giving a few of the residents a snack as we went.
Fun facts included that cheetahs often need a little nap after those intense bursts of speed to catch their prey, which means their hard-fought meal is sometimes stolen by scavengers while they recover!
One golden moment was when we met Ubuntu, the 'extrovert' of the zoo's two rhinos.
Our guide Angela tempted him up to the fence, and we had the chance to give Ubuntu a little pat.
(Side note: rhinos' skin feels nothing like I expected: not quite supple like leather, not hardened, but not rough either – let's just say it's something you have to try for yourself!)
We checked into one of the Giraffe Treehouses, which featured a gorgeous king-sized bed (what's a girls' night out without a sleepover?) and a balcony where we could greet our neighbours, sisters Skye and Khamisi.
Then came an opportunity neither of us thought we'd have: feeding a giraffe their afternoon snack of carrot sticks.
It all happens quite quickly, as the girls are keen to wrap their tongues around their treats, and if you're lucky you might get a slimy lick as the carrot is whipped from your fingers.
Hay buckets hang from your balcony and leafy treats are hoisted outside your window, so you can choose to wander about the zoo for the rest of the afternoon or relax in the day bed and read a book as Skye and Khamisi walk past.
I decided on the latter, and the novelty of having a giraffe take a leisurely stroll past your window never got old.
Then it's time to get ready for the next animal experience over drinks and dinner.
We're picked up and taken to the Rainforest Cave Restaurant, which is located inside the aquarium. The fully kitted bar is out on the deck, where the options range from Moet to soft drinks for the kids.
Hyena brothers Pinduli and Zuberi are fed off the deck and chatter as we look on.
But the moment that took my breath away was when white lions Jake and Mischka were invited inside for a tasty treat.
Jake came first, emitting a low growl/purr from the base of his throat as he grabbed some meat and perched himself on a platform to eat.
Mischka decided to have her treat in a separate area away from the deck, but viewable from our dinner tables.
(Pro tip: apparently winter can be a better time to see the animals when you stay at Jamala, as the inside of the enclosures are warmed for their comfort.)
We certainly lucked out, with Jake and Mischka choosing to stay in the area next to the dining tables rather than going to their private den, meaning we could watch them groom each other and settle in for a nap while we had our meal.
And what a meal! Some of the other guests commented they expected they would be served large plates with a small amount of food, but there was no way we were going hungry.
My favourite moment was cracking open the chocolate sphere to discover the mousse and berries hidden inside.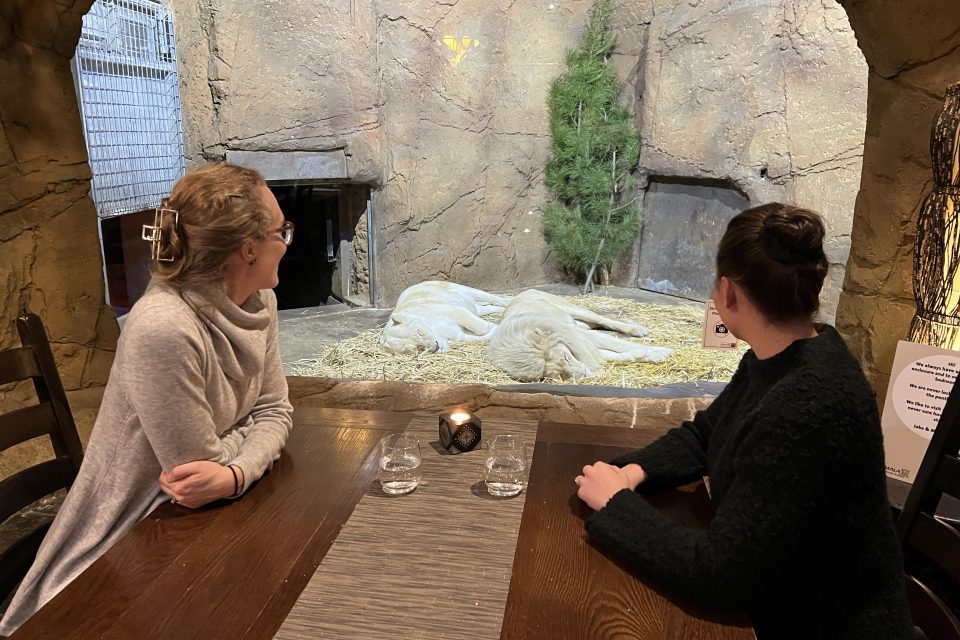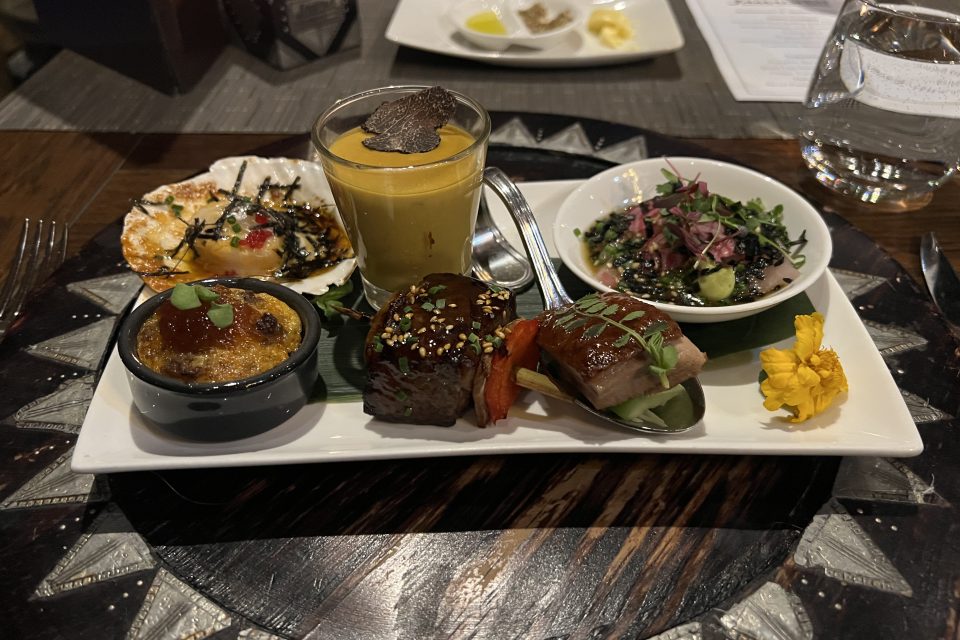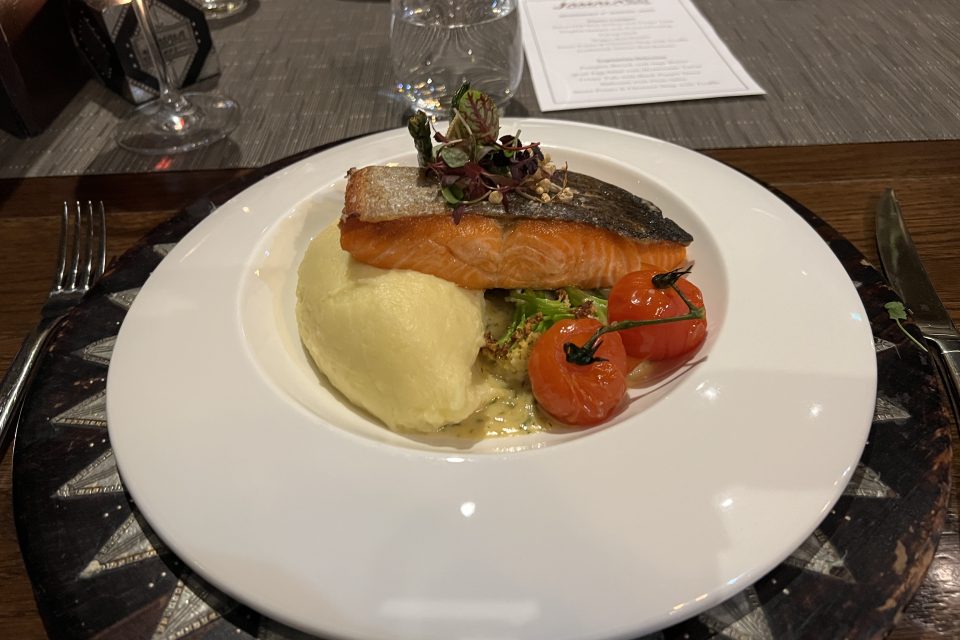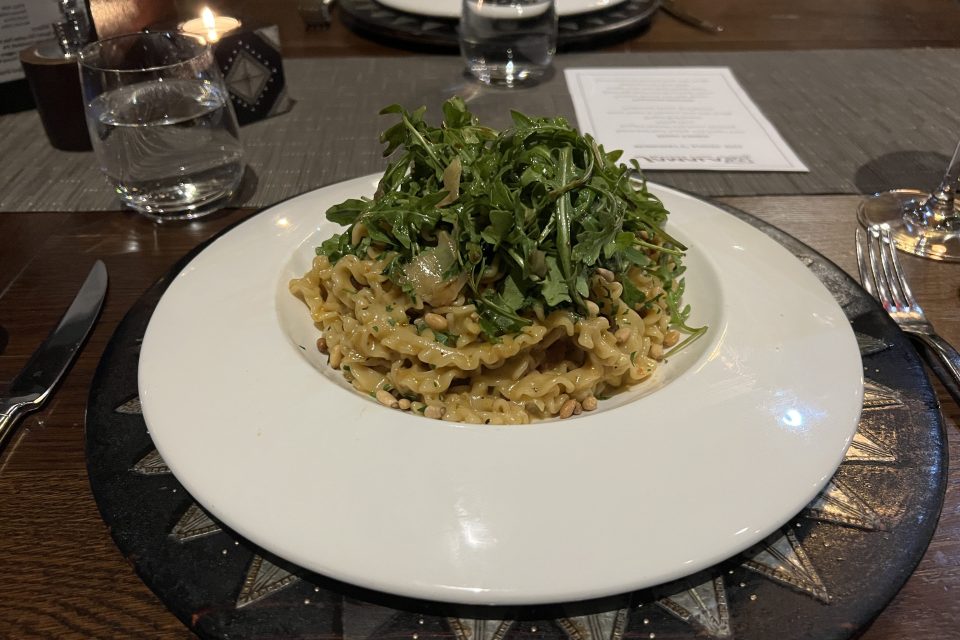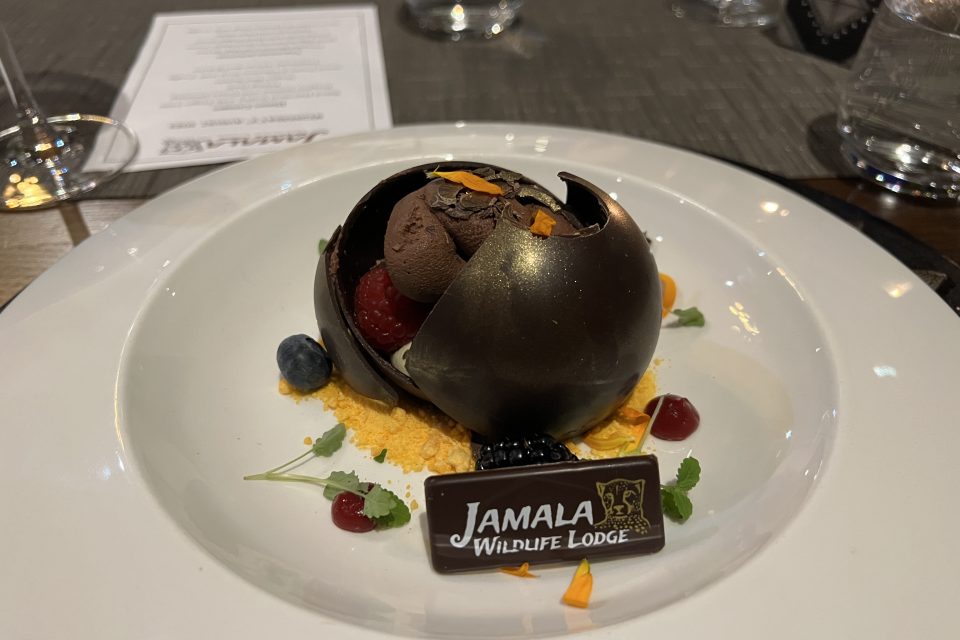 Once dinner finished up – and we bid Jake and Mischka goodnight – we were escorted back to our Giraffe Treehouse to settle in for the night.
We were woken up by a pair of lions roaring to greet the day and took our cups of tea out onto the balcony to say good morning to Skye and Khamisi as the sun rose past the Telstra Tower.
Guests have the option to take themselves on a self-guided tour (with a supplied suggested route and information about each animal) as the zoo wakes up, listening to the meerkats woof as they begin scavenging for bugs and watching the African painted dogs conduct their morning ritual of having a group huddle.
Hot and cold breakfast options are served back at the Rainforest Cave, where each meal option is individually prepared.
Animal-themed touches have been scattered throughout this whole experience, but one of my favourites was receiving a giraffe-decorated cappuccino (it's the little things).
Then it's time to check out and take as long as you like exploring the zoo once you've handed back your keys.
This entire experience was incredibly amazing, but one of my favourite aspects was actually speaking with all of the staff and finding out about their favourite animals and their quirks.
It's clear everyone cares about the work they're doing at the zoo, and staying with the animals also contributes to those efforts.
So if you're searching for a unique Canberra experience like no other, look no further than Jamala Wildlife Lodge at the National Zoo and Aquarium.
Original Article published by Claire Fenwicke on Riotact.