I am standing on the veranda of Kynefin, feeling conflicted. Meeting friends to experience the café's pint-sized picnic table feast, I have just spotted some Welsh deliciousness on the blackboard menu. My mouth is watering, so I decide to save tummy room for a taste of Wales.
Welsh-born chef and owner of Kynefin, Geoff Whittall, actually planned an entirely different career. He studied maths at university but knew it wasn't for him at the end of his degree.
"I began cheffing and did work experience at some really good restaurants," he says. "But I always knew it was just to get the experience I needed so I could have my own place. I always wanted to start my own café. It took coming over here and growing up a bit for it all to fall into place though."
Geoff met his Canberran partner, Kate, in Scotland, and they soon moved to the capital. His first Canberran food gig was creating the dreamy and much-loved Bombolini doughnuts.
"Bombolini was a great business for one person, but it required working through the night. In the end, my heart was not in the effort needed to scale the Bombolini business up. I still really wanted to start a café."
Geoff and Kate wanted to find a special location for their new venture. In 2018, they went to have a look at the space in Hall. The couple fell in love with Hall village, with its open, rural surroundings and their Kynefin adventure began. Geoff says the cafe is gradually evolving into its Welsh roots as he and Kate's baby allows them to sleep more.
Kynefin (pronounced kin-eff-in, rhymes with Kevin) is a Welsh word that means "to feel at home".
Whether you sit inside Kynefin or out on its sprawling verandah, its atmosphere is certainly homely. The sweeping views of the peaceful countryside are a world away from the rat race. It is the perfect location to indulge in a high tea piled on a miniature picnic table.
Our picnic table arrives, laden with a colourful array of deliciousness. The 'seats' hold the savoury food, while the table itself bears the sweet items as well as the drinks.
This afternoon tea is much more than just a novelty meal for Instagram. There are many highlights.
Let's start with the savoury layer …
Hot and well-seasoned, the french fries in metal baskets are delightfully crunchy. We bite through our crisp, buttery croissants into the splendid ooze of melted cheese and ham within. The flaky pastry of our mini meat pies encases tender chunks of succulent beef.
The sweet highlights? First and foremost, must be the Bombolini doughnut.
Seriously, if the delectable Netflix hit Bridgerton were a dessert, it would be a Bombolini doughnut. In this instance, it is a ruby-red beetroot and chocolate ganache Bombolini doughnut. Oh, my word, this is the best doughnut I have EVER tasted and I have had my share!
Encrusted in sugar, the doughnut is dense, soft and moist with a luxurious ganache filling curling out from its centre. Geoff is still the king of doughnuts and you can only get them here at Kynefin.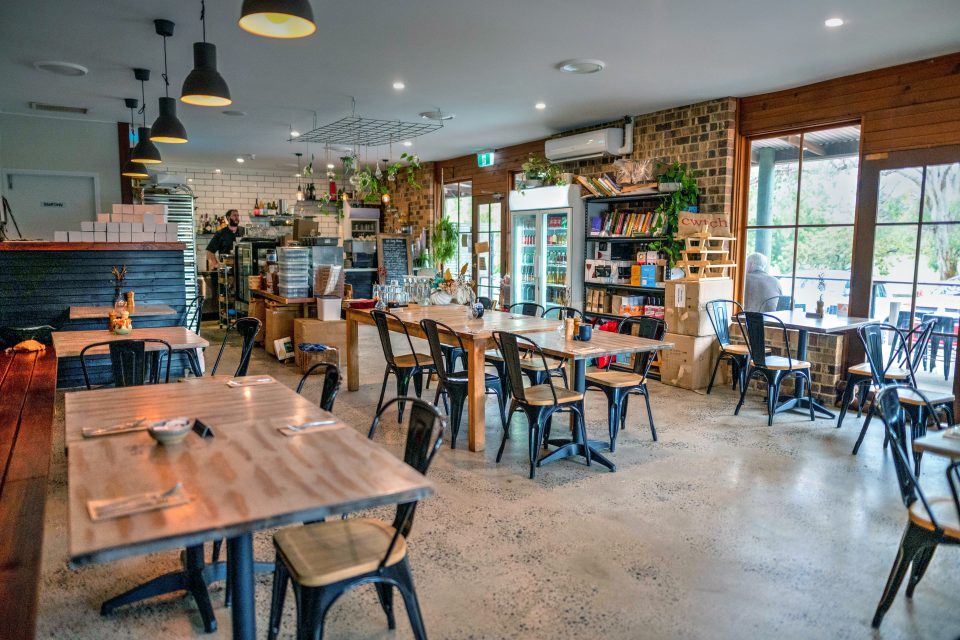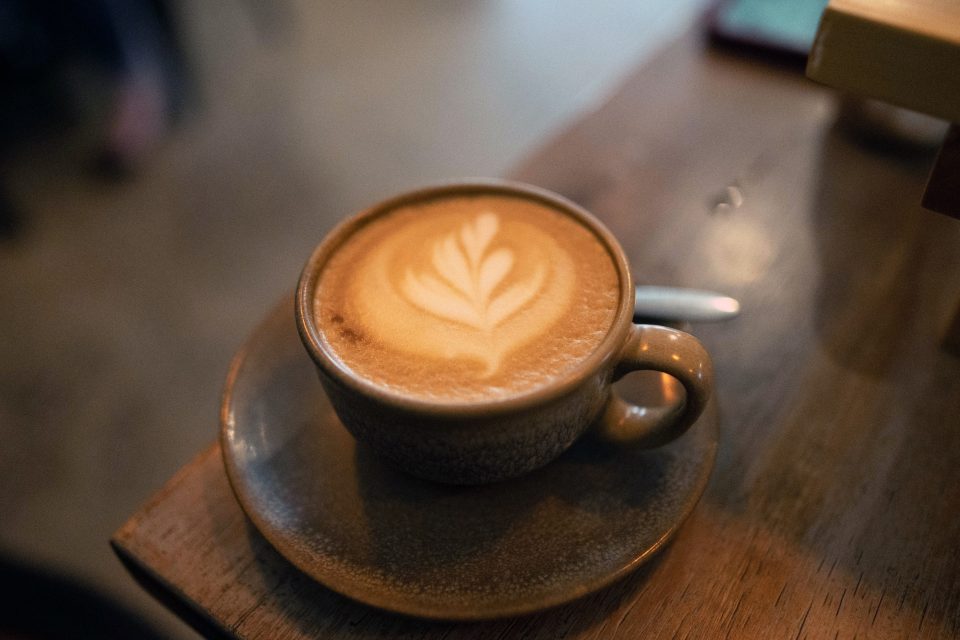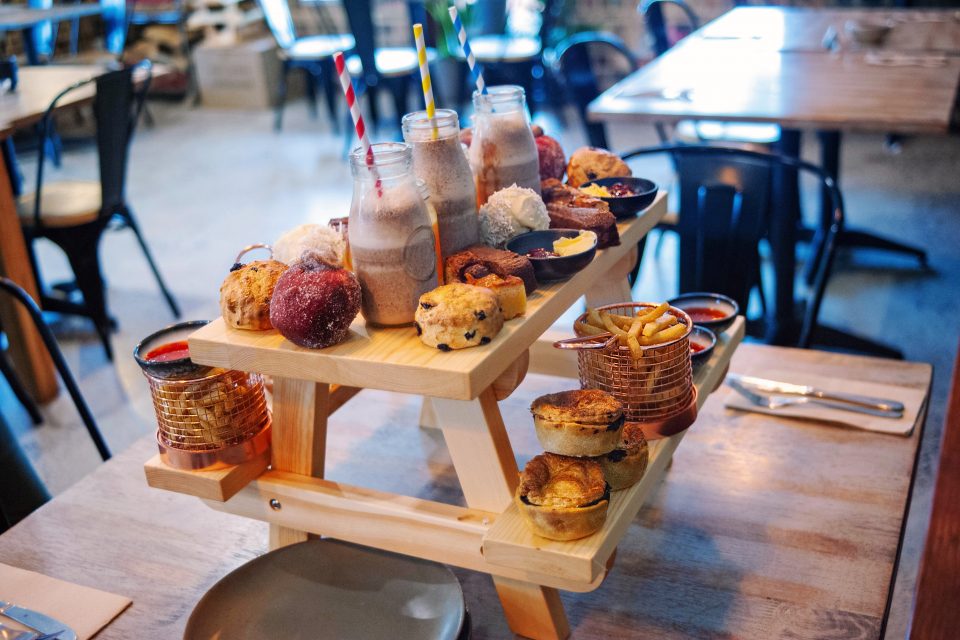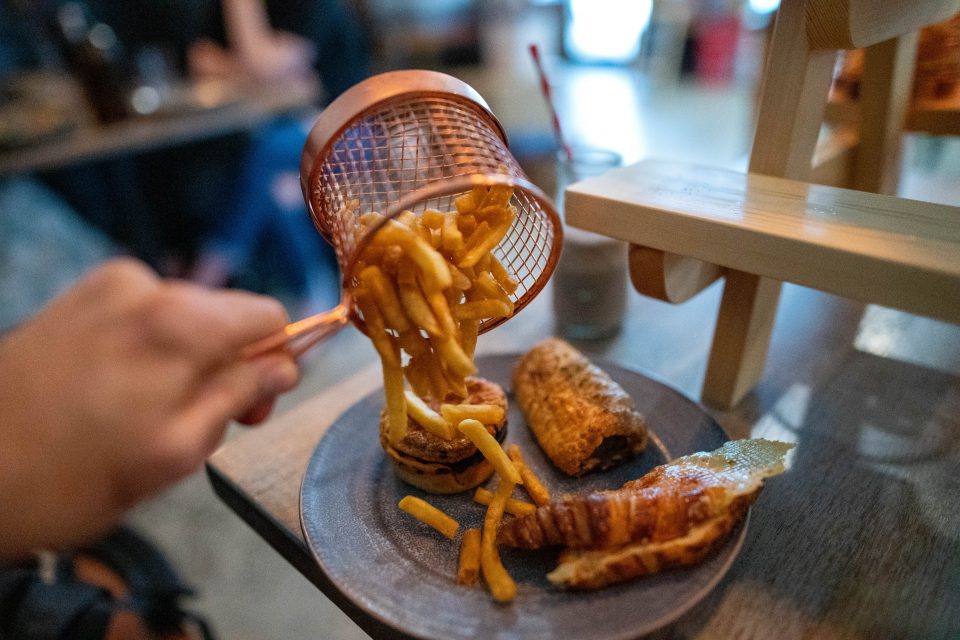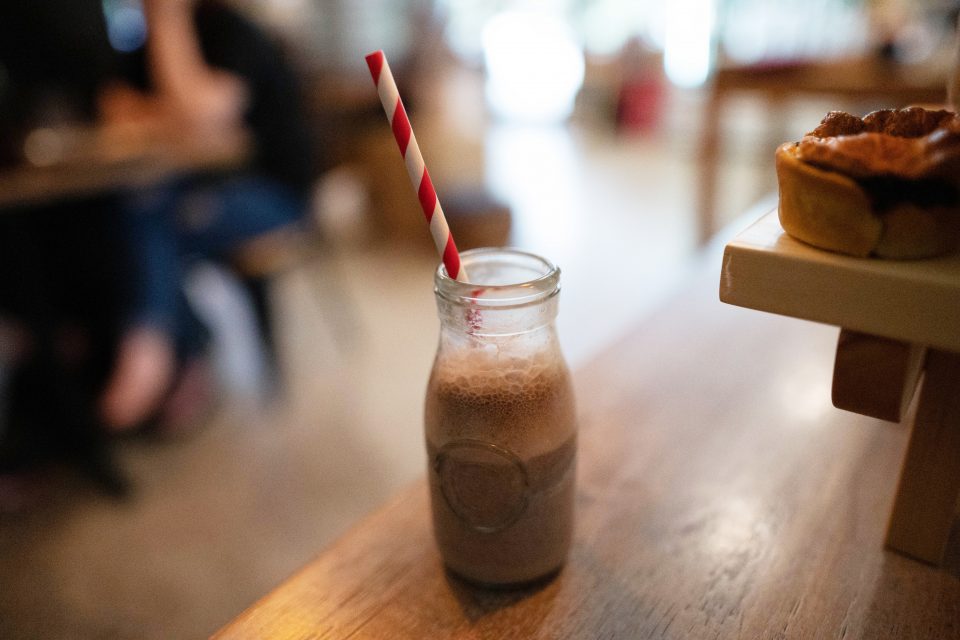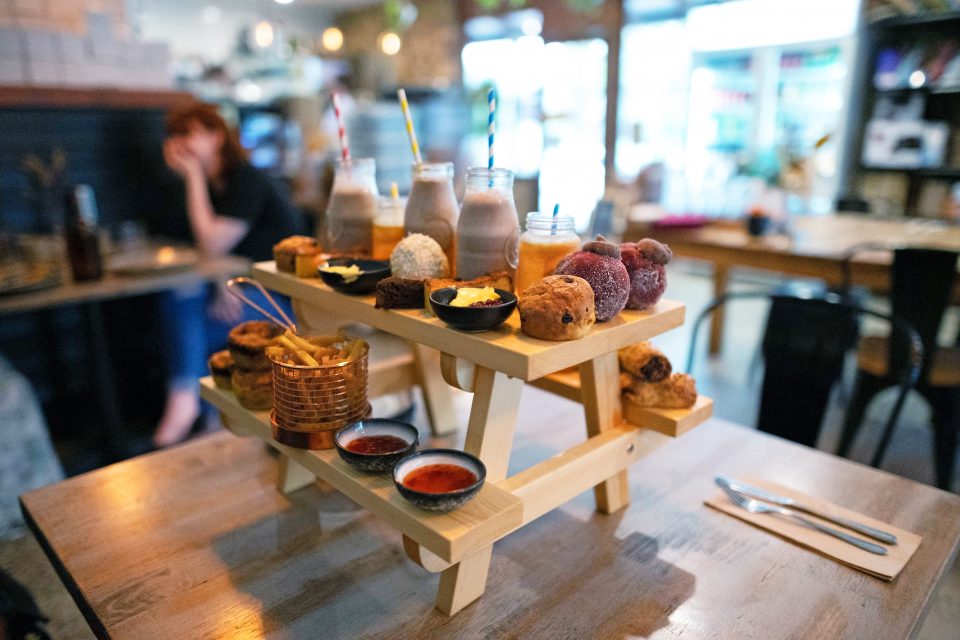 Today's picnic table drinks are mini chocolate milkshakes and fresh glasses of apple and strawberry juice. Delicious and refreshing!
Lemon is my soft spot when it comes to desserts, and Geoff's lemon and strawberry slice offers dense and chewy lemony perfection with a crunchy base.
There are large white-chocolate-covered rum and raisin banana bread balls that melt in your mouth and you cannot stop eating. Who even dreams up, let alone creates these amazing combinations? Geoff, that's who!
Kate clarifies that no two picnic table experiences will be the same. It all depends what Geoff has created and baked on the day, but there will always be a sweet and savoury selection, and there will always be Bombolini doughnuts.
I eat way too much and realise I forgot to save room for any of the Welsh menu items. Dishes like rarebit – the Welsh staple that is a souped-up version of cheese on toast, and the Welsh spiced tea loaf, Bara Brith – will have to wait until my next visit. Make sure you ask about the Welsh Chicken sausage; Geoff describes them as a lot like crispy dumplings.
Kynefin hopes to extend their creative menu to include dinner service this year, so keep an ear out for that. In the meantime, come and explore some Welsh deliciousness for yourself or indulge in your own mini picnic table. Or just savour a Bombolini. Then you can explore Hall by taking the National Trust's self-guided heritage walk, which takes about 90 minutes,
Kynefin is located at 2/4 Victoria St in Hall. It is open seven days a week from 8:00 am to 3:00 pm on the weekend, and from 9:00 am on weekdays. Follow Kynefin on Facebook and Instagram. You can place bulk Bombolini doughnut orders at the cafe.
Original Article published by Michelle Taylor on The RiotACT.