Does Canberra do food trucks better than Melbourne? Our guest blogger, Anita from prettydelicoustravels.com says she considers both Canberra and Melbourne as hometowns, so who better to give us an impartial view on which city does it better!
Every country indulges in it regularly: The city versus city rivalry. Sometimes, the debate extends beyond national boundaries–heard much about the 'is London or Manhattan better' argument? I have! Australia boasts its very own with the Sydney versus Melbourne saga. This debate, my friends, is as much a national sport in this nation as are the AFL, NRL, rugby, cricket, tennis, fishing, soccer and swimming. There are many pages on the interwebs dedicated to this topic, often appearing on a slow news day.
Being voted into 'most liveable cities' lists has become a norm for these two cities, although Melbourne often wins out with Sydney not too far behind. More Australian cities have started featuring in these lists of late, much to the delight of locals. Even little Canberra has got in on the action.
Yes, a city without an international airport, or a high-speed rail link to one (the choices are an overpriced airfare or a four hour bus ride), was voted the best place to live in the world by the OECD. As expected, the Canberra bashing soon followed. Which was quickly answered by "but-we-love-our-public-servant-filled-city-and-you-are-all-just-jealous-of-our-arboretum-and-free-gallaries-which-are-located-here-by-default-even-if-we-don't-care-enough-to-visit-them-ourselves."
While it's great being at the top of multiple liveability lists, one question remains unanswered, perhaps because it has never been asked: "Which Australian city has the better food trucks?" So let's begin to answer that unasked question, starting with my two hometowns, Melbourne and Canberra:
MELBOURNE FOOD TRUCKS AT YARRAVILLE GARDENS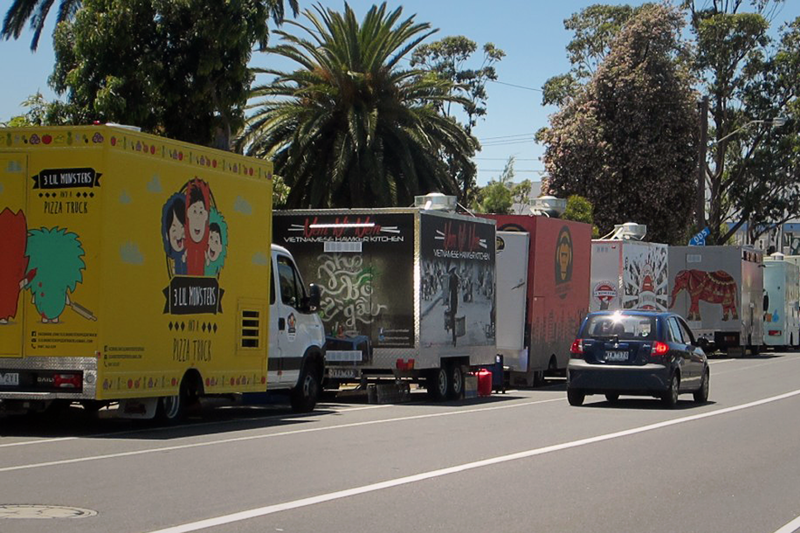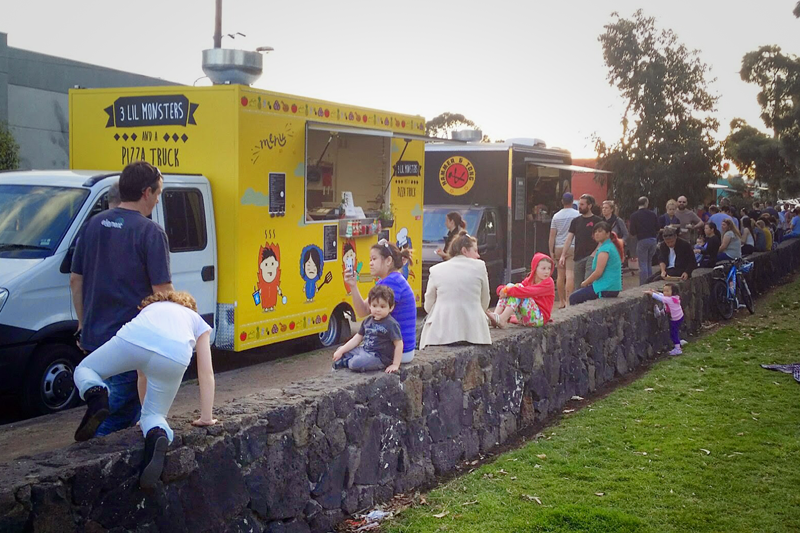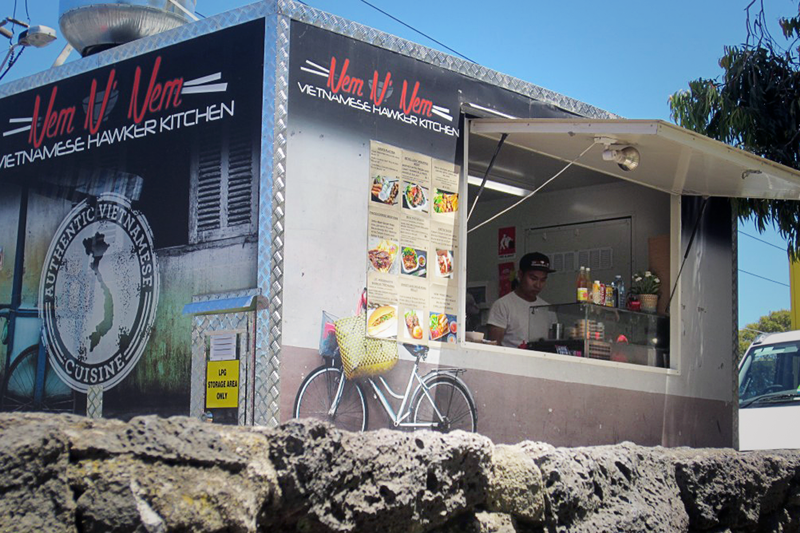 Melbourne is a food lover's dream. You don't have to go very far to find great eateries at prices that won't break the bank. It only costs a little bit more to feed a group of four in Melbourne compared to a meal for two in Canberra, so it was with great enthusiasm that I trekked (OK, maybe drove) to north of the city to Yarraville Gardens to find me some food trucks.
I skipped breakfast to ensure that I could make the most of my lunchtime trip. When I got there I was rather disappointed to find only a handful of trucks lined up outside the park. I have since learned that the local council has put restrictions on the number of trucks allowed to trade due to hassles (read: excuses) caused by overflowing bins and dumping of cooking oil. These days, instead of the usual 18 trucks, you are more likely to find just 10 trucks, or less. Rather than doing their jobs and clearing out the bins on weekends, the council has simply imposed these restrictions, while at the same time admitting to having received very few complaints. Talk about lazy party poopers!
Anyway, back to the food and a very hungry food truck hunter. The trucks lined up were:
Three Lil Monsters and a Food Truck – Pizza and hot dogs
Nem N' Nem – Vietnamese street food
Monster Grill – Lots of pork, including pork on fries
Toasta: Toasties
Mr Burger – For the love of burgers
The Curry Truck – Curry, 'nuff said
La Revolucion – Hot dogs and steak sandwiches
The trucks are brightly coloured with yellow, orange, red and purple dotting the car park. As expected, each truck offers only a few food items and the owners are friendly and pleasant. Although it only took me a couple of minutes to decide what I was getting, I walked up and down the row of trucks a few times quietly wishing I was able to try something from each of them.
With a growling stomach I lined up at Nem N' Nem to try their bahn mi. I'd recently fallen in love with these delectable rolls and will not pass up an opportunity to indulge in one. While waiting in line, I noticed that they also did crispy chicken tacos with curry sauce and Asian slaw, so I got me one of those as well to make up for my skipped breakfast. I was excited and couldn't wait to dig in. And then it fell flat.
The things I love most about a bahn mi are the fresh salad and herbs that add so much flavour when combined with the beautifully marinated chicken. Nem N' Nem was completely lacking in all these–salad, herbs and freshness. The chicken was also marinated in a sickly sweet sauce that made it somewhat inedible. The roll, however, was nice and crunchy. Utterly disappointed.
I could barely finish half the roll and moved on to the tacos hoping for better results. No such luck. While the chicken was nice and crispy, it was slathered with a yellow sauce, heavily flavoured with curry powder and again, sugar. There was no balance in the flavours. The Asian slaw was nice but one of the two tacos ended up uneaten.
Still hungry, I headed to Gorilla Grill for some chips and kim chi. This usually comes served with pork meat as well, but I asked for it to be left out. This was delicious and made up for the previous missteps. I never would have thought that kim chi and deep fried potato would make such a a good combination.
Other food consumed–by others, I only have limited belly space–included a vege burger from Mr Burger with a chickpea patty. I tried a bit and declared it the winner of the afternoon. It was that good! The spring rolls from Nem N' Nem also went unfinished.
All items we purchased cost between $8-$10, with the burger being the most expensive at $10. This is pretty reasonable and is in line with what I'd expect to pay at a food truck.
Over all, I was greatly disappointed. I had hoped for more in terms of the number of trucks and the quality of food. Perhaps it was just one of those days. Perhaps not. I would have liked to have tried the Brûlée Cart, and I've heard that Toasta does a mean toastie as well, but maybe next time.
Find out more about Yarraville Gardens on their facebook
CANBERRA FOOD TRUCKS AT THE HAMLET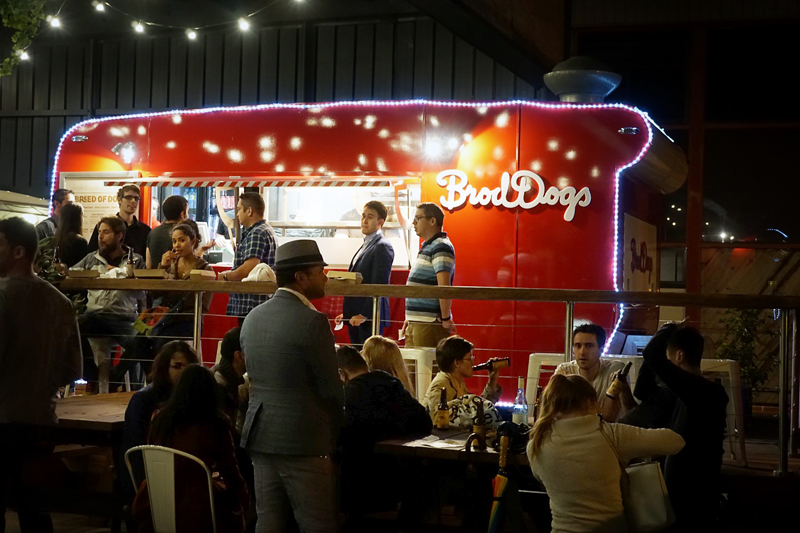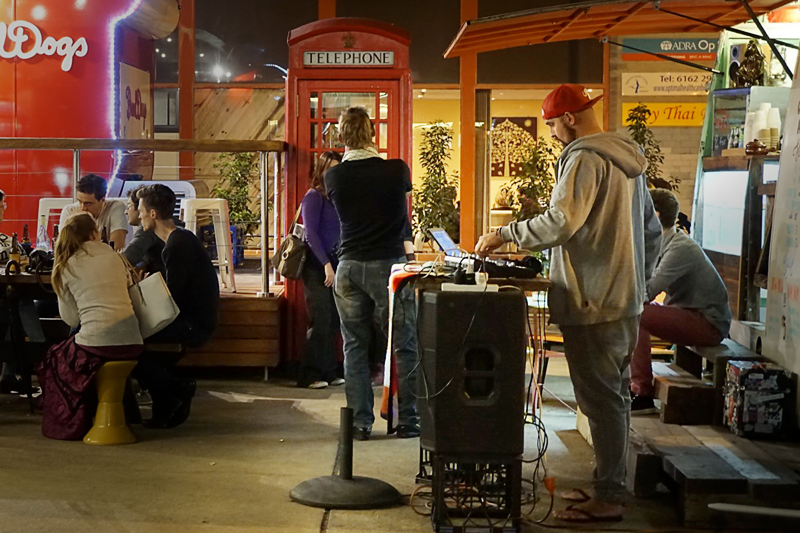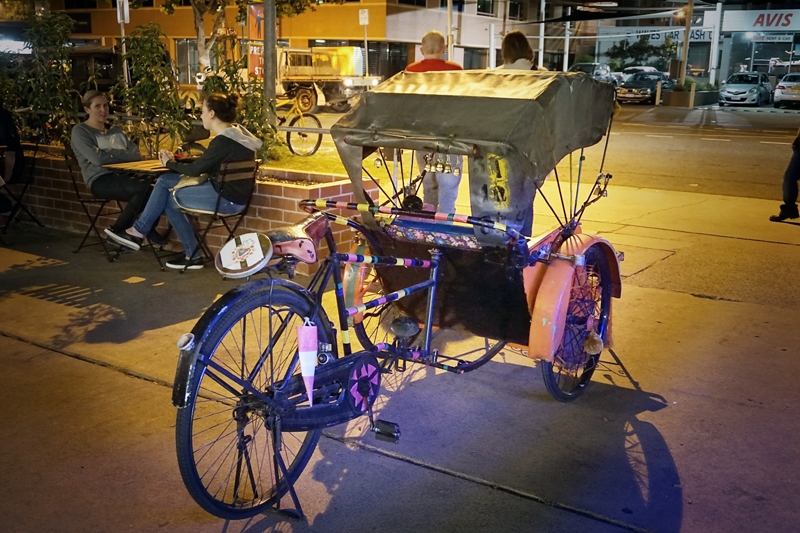 Canberra food trucks are located at the Hamlet in Braddon. The Hamlet was once a tyre shop and yard that now houses the food trucks. Although surrounded by numerous fine-dining establishments, the food trucks here attract a fair number of customers, often selling out of items on the menu before the end of the night. Communal tables are located in front of most of the trucks with a large seating area in the middle. There are more seats under a covered area, which will come in handy during the winter months. Unlike Melbourne, the food trucks here do not have to vie for a spot.
Canberrans enjoy a variety of food trucks at the Hamlet:
Brod dogs: Gourmet hot dogs
April's Caravan – Milkshakes and sweet treats
The Brathaus – Schnitzels and hot dogs
Burra Berkshires – Pulled meats and meat balls served with salads and rice
BMK – Indian style wraps
Chasing Mr Morris coffee – Coffee and cronuts
Spit shack – Rolls stuffed with meat from the spit, sausages, and egg and bacon
Mr Papa – Peruvian street food
Pie day – Hand made pies made with local sustainable produce
I've been to the Hamlet a couple of times now and just love the place. The food on offer is simply quality! From the coffee from Chasing Mr. Morris to the smoky flavoured, whole chicken wings at Mr. Papa or the couscous and pomegranate salad from Burra Berkshires, it's all pretty darn good stuff. Unsurprisingly though, the prices are higher when compared to Melbourne.
The rolls from Spit Shack are good, with the meats served in nice, crusty rolls ($12.90 for a foot long). The smell of the roasting meats wafting from the spit located right next to the truck certainly gets the appetite going.
Mr Papa offers up Peruvian food, street style. When I picked up my order of alitas (chimichurri and rocoto chilli chicken wings, $10) I was surprised to find that these were whole wings. There is a selection of sauces at the front to add to your meals. The wings were tender and juicy with a nice smoky flavour and a hint of chilli. Next on my list to try are the stuffed potatoes.
Burra Berkshires serves their pulled meats and meatballs (vege meatballs included) with a variety of salads and rice ($12 large). The citrus couscous and pomegranate salad is divine. I've tried both the pork and lamb and had mixed results. The pork served with mint sauce was great while the lamb and hummus was lacking a little bit, it just needed a wedge of lemon to bring out the flavours.
I noticed that The Brathaus next door served schnitzel served with chips and salad for $21 for a full plate. I think I will be passing on that one!
I'm looking forward to the next trip to finally try a Broddog. Looking at the menu, the dogs seem quite reasonably priced and I know the chips served here are yummy. Also, they have a pretty van, recycled from the Brodbuger days at the lake.
On weekends, you'll find a DJ spinning some tunes, which just lifts the atmosphere of the Hamlet. Quite a few people brought their own beer and wine, although I'm not sure whether that is actually permitted. And apparently, a rickshaw will be used for food tours around Braddon–definitely looking forward to that!
Find out more about the Hamlet on their facebook
VERDICT
Drumroll please… Sorry Melbourne, but Canberra well and truly beats you on this front, in terms of food, atmosphere and the support it enjoys from its local council. Now let the Canberra bashing begin…
Anita is a guest blogger. The views expressed in her article do not necessarily reflect the views of thisiscanberra.comCheck out her blog here