Most good cafes have a chai latte option these days. You might even stumble across sticky chai on soy on their menu. But is one chai option really enough?
Imagine a café devoted not to tea but specifically to chai. Afro/Punjabi chai if we are narrowing down to the nitty-gritty. If the very thought gets you all kinds of excited, you need to visit the brand-new Ambi's Chai in Kingston.
The Kingston store is only the third Ambi's Chai Cafe (Ambi himself heads up the other two in Sydney).
Having looked at the online menu, I have come to Kingston to taste some chai. Ambi's compact interior feels airy and spacious due to its floor-to-ceiling windows. With chalkboards notching up chai champion drinker of the week, eclectic African and modern décor pieces, and a young team of chai makers behind the counter, Ambi's is worlds away from owner Leonie Walker's previous job in school leadership.
"While I loved working in a school environment, I had an internal clock asking me, 'Have you done everything you want to do?'"
Her original business idea had been to start a coffee shop, but Leonie realised she needed to find something with a point of difference.
"I already knew and loved Ambi's because my family are from Sydney and we regularly enjoy a chai together. I am so grateful for Ambi. Kingston Ambi's Chai is unique and it's fun! We are expanding our menu. Our new menu will have plates of food beyond plain rotis. And since the weather has warmed up, we are trialling some iced chai lattes, too."
The menu offers 10 different chais. Cast your eyes to the bottom of the menu first to see the legend decoding the various symbols next to each chai. Beginners can start on a 'tame' chai, whereas seasoned chai drinkers may opt for 'strong', 'powerful' or 'exotic'. This menu provides an opportunity for one-upmanship with friends in the spicy stakes. My South African will love that you can order rusks to dip in your chai.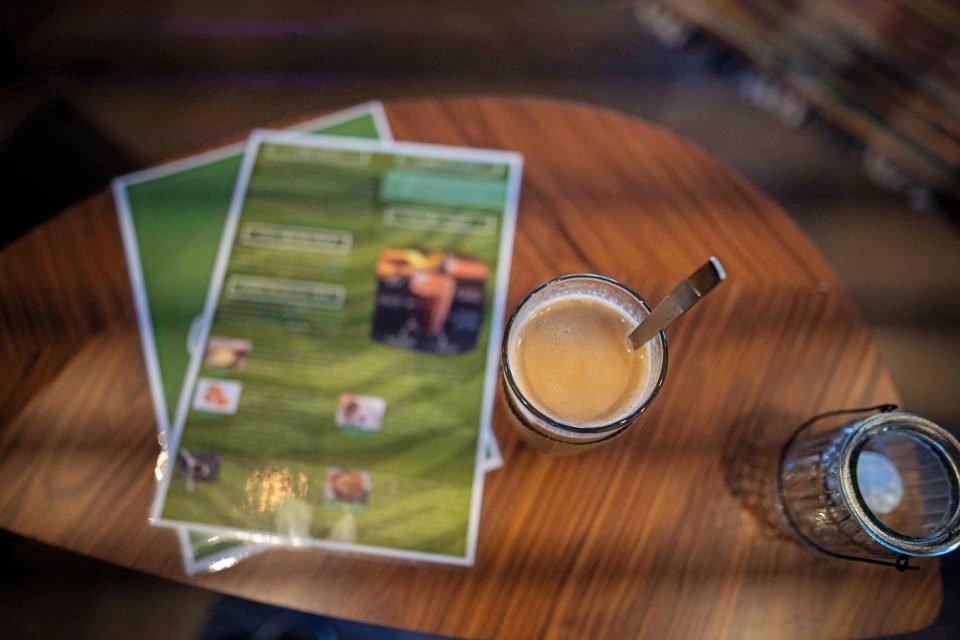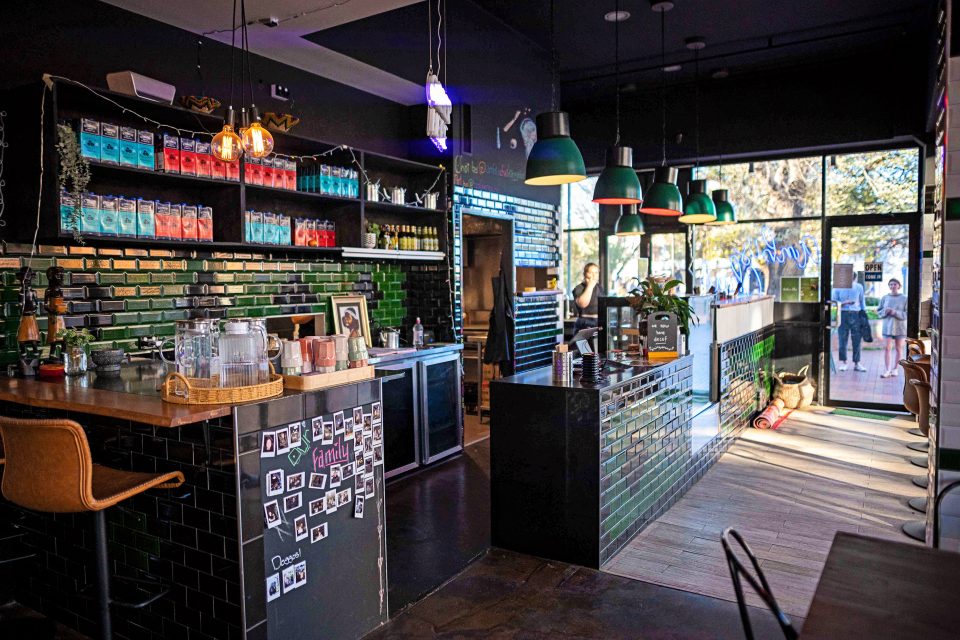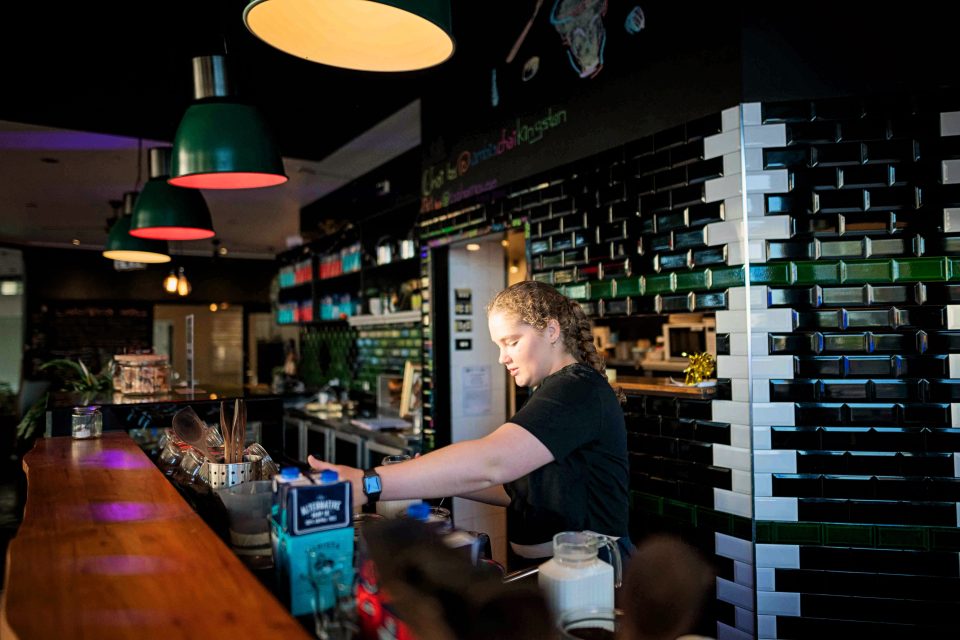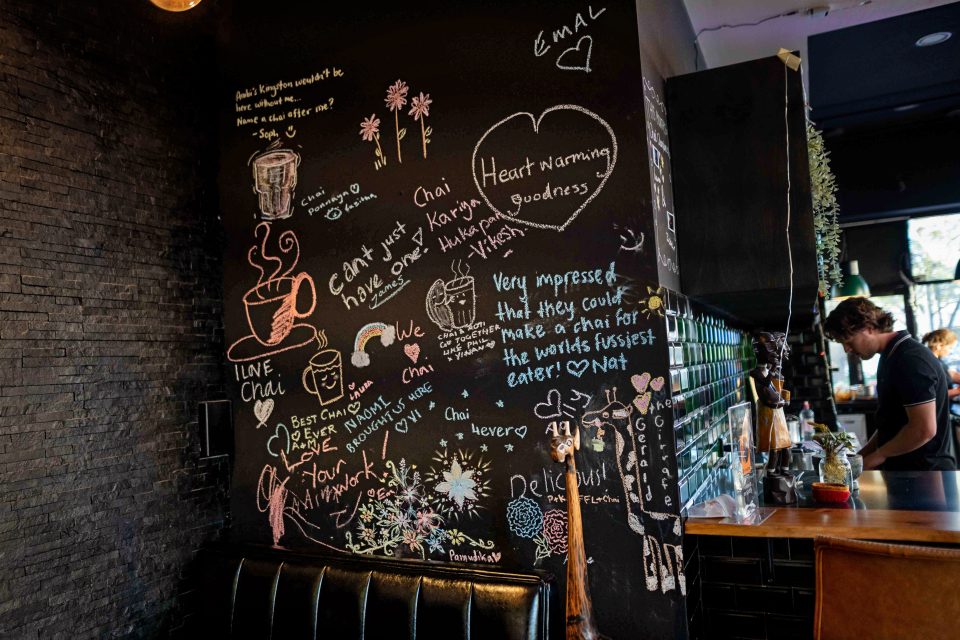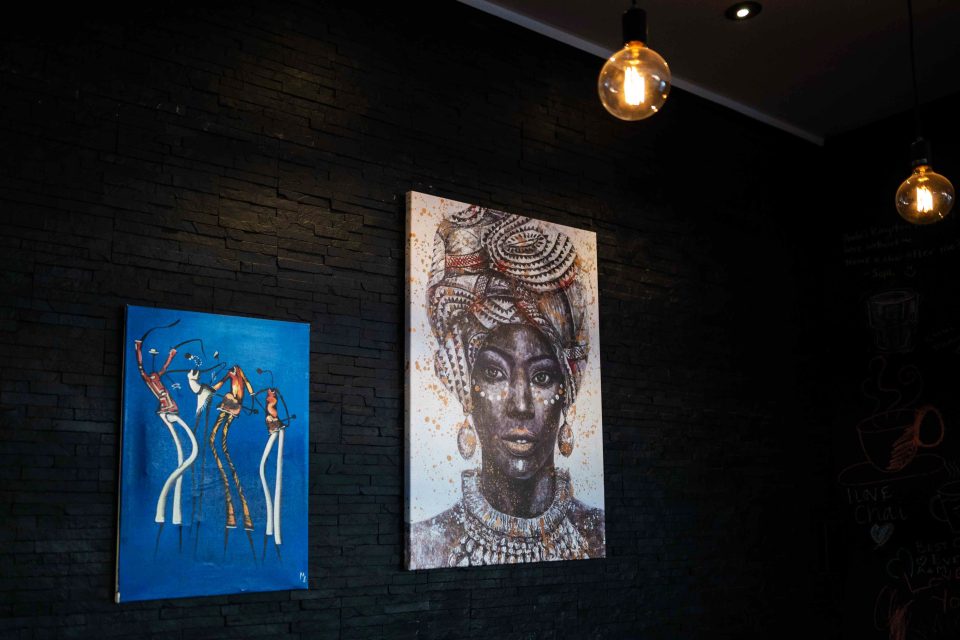 As I wait for my order, I overhear the guy behind me describing Ambi's food to his friend: "It is Afro-fusion and very fresh. I come here a lot." And no wonder …
My Jamila's spicy choc chai comes out in a tall glass with a cardboard heat protector around its middle.
The first few sips conjure up memories of the fragrant Somali tea my neighbour in northwest Kenya used to make. Cinnamon and cardamom infused, it would be too hot so she would pour it out of my mug and swish it around in a dish to cool it down. This steaming glass echoes those flavours, yet there is a creamy depth to it, a sweet hit of chocolate and a whisper of lemongrass. A peppery/chilli heat greets my tastebuds after each molten sip. Divine!
I have a plate of Nchanga roti and Nkoko (chicken) with chaull (rice). It is an east African chicken with seasonal accompaniments. Today, those are chickpeas, rice seasoned in a spice blend, natural yoghurt with a tamarind date sauce, red onion salsa with tomatoes, garlic, ginger and a shrunken green chilli sauce.
After mixing the rice with all the toppings, I dig in. The sweet/sour contrast of tamarind enhances each mouthful and even just a smidge of the green chilli sauce adds enough of a spicy kick to get my nose running. It is scrumptious and the roti is gloriously flaky (perfect for transporting chicken and rice to my tastebuds).
Ambi's chai menu is fun and unique with something for everyone. Just make sure you read the symbols correctly and you'll discover the perfect chai for you. And if you win the Chai Championship three times, you will be invited to help curate a new chai for the menu!
Next time, I will be trying The Smokey. Made with black cardamom, which gives off a smoky aroma, I am intrigued to know how this impacts chai's sweet, milky scent.
What chai would you try first? Look out for Ambi's super fresh iced chais!
Ambi's Chai is located at 27/29 Eyre St, Kingston. It is open Tuesday to Sunday (closed Monday) from 10 am to 2 pm then 5 pm to 9 pm on weekdays, and 9 am to 2 pm then 5 pm to 10 pm on weekends. Follow Ambi's Chai on Facebook and Instagram.
Original Article published by Michelle Taylor on Riotact.