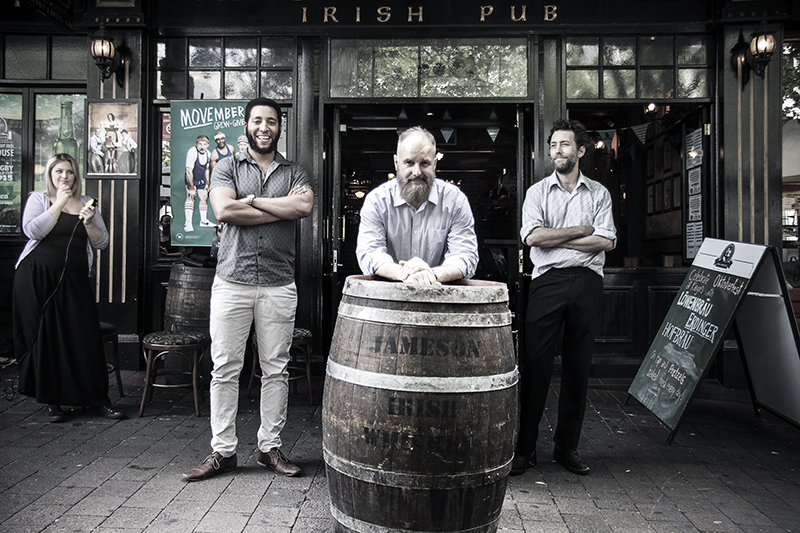 Over the last few months, King O'Malley's bossman and all-round good guy Peter Barclay has been quietly growing a luxurious beard to rival the most hard-core of hipster types. On Friday however, he had the whole damn thing shaved off in front of the cameras and in solidarity with a couple more bearded gentlemen, to launch Movember, the cause that has become synonymous with his pub.
The idea was to present freshly shaved canvasses in which to start the long and arduous task of growing a fine moustache and to throw down the gauntlet to the fashionably hirsute in order to get them on board at a time when man hair is not so much the novelty it was a decade ago when King O'Malleys first took up the cause.
Joining him was first time participant Rowan Mutandadzi, a man who has his reasons to take up the challenge. "I'm not an old man, but sadly I've already lost too many of my mates through suicide," he said. "That's why I'm doing Movember this year. I'm sure the wife will be happy to see the beard go, but at least it's going for good cause."
The third member of the trio was Nigel McCrae, local music facilitator and proprietor of the newly re-opened Smith's Bookshop–a friend of Rowan's who seemed quite happy to have his trademark face-hair buzzed off under one condition: That he gets to keep the cuttings. Nobody knows quite what he will do with them, and perhaps it is better we don't know, but this type of mate-to-mate call is typical of how this event has managed to grow over the years.
The take home message here is that men supporting men can do a lot to raise awareness. "Men just don't like to talk about their health. Nor do they want to talk about their emotions," said Rowan. "That's why I think supporting causes like Movember is so worthwhile. The great thing about the cause is not only that it raises funds but actively aims to get men talking about their issues."
As for the freshly shaved Peter Barclay, he is pleased to see how the Canberra community has gotten behind the cause every year. "Movember is one of those special events as it brings people together to share their stories," he said. "We've seen so many great people lend their faces to the cause. It's not just celebrities, sports people and politicians. We've had businesses, social groups and individuals really get behind Movember."
King O'Malley's Irish Pub will host an End of Movember Celebration on Friday 27 November starting at 7pm with food and drink discounts for anyone with a moustache.