It must have been hard to come up with a description for this car, but Tom Corra managed.
"The ultimate beer drinker's vehicle."
Meet the "VBeetle" – a 2001 Volkswagen Beetle with a hulking great Victoria Bitter (VB) can bolted to its roof. Since posting it for sale online earlier this month, Tom has received hundreds of messages about it.
"It's almost become a viral sensation overnight," he says.
"Even people who aren't interested in buying the car are sending me messages about how amazing it is."
In case it wasn't obvious, the VBeetle has a backstory.
Tom has lost two family members to cancer with several others still battling various forms of the disease. He has also been a massive car enthusiast since 16, when he "spent far too much" on a Datsun 1200 ute (which he later sold for "far too little").
So when he first heard of the Shitbox Rally, he was all in.
The rally involves driving cars worth $1500 or less across Australia via some of the country's most formidable roads over the course of a week, all to raise funds for Cancer Council Australia and cancer research.
Up to 250 teams take part in each event, held every three months from various start points. But at least 30 of the cars never finish, ending up as scrap along the way. A crew of mechanics is also on hand to help the strugglers.
"Not only are you raising money for a good cause, you also get to participate in an outrageous event and see Australia in an amazing way as well," Tom says.
That was six rallies ago, and he – with the help of girlfriend Juli Darduin and the not-so-trusty cars – have now raised more than $70,000. He's never used the same car twice, however, preferring a different theme each year.
The Beetle came on the scene earlier this year, bought "sight unseen" in Manly for $900. It was in "terrible condition", having already participated in the 10-year anniversary rally from Perth to Sydney with another team as "Herbie".
"They had bought if off a little old lady in Perth who was keen to get rid of it, before driving it to Sydney for a total of 7500 km, most of which was off-road."
Inspiration arrived when Tom and Juli, driving back to their Watson home, passed a Volkswagen Beetle with a large Red Bull can mounted to the roof.
With the help of a friend with some graffiti nous, the car was stripped and repainted in a rustic brown-green while Tom sourced a old can-shaped beer fridge for $40. VB stencils completed Aussie touch.
Tom has a preference for craft beer, but decided VB carried a stronger Australian angle. It also works with VW and Beetle. And attracts a lot of attention.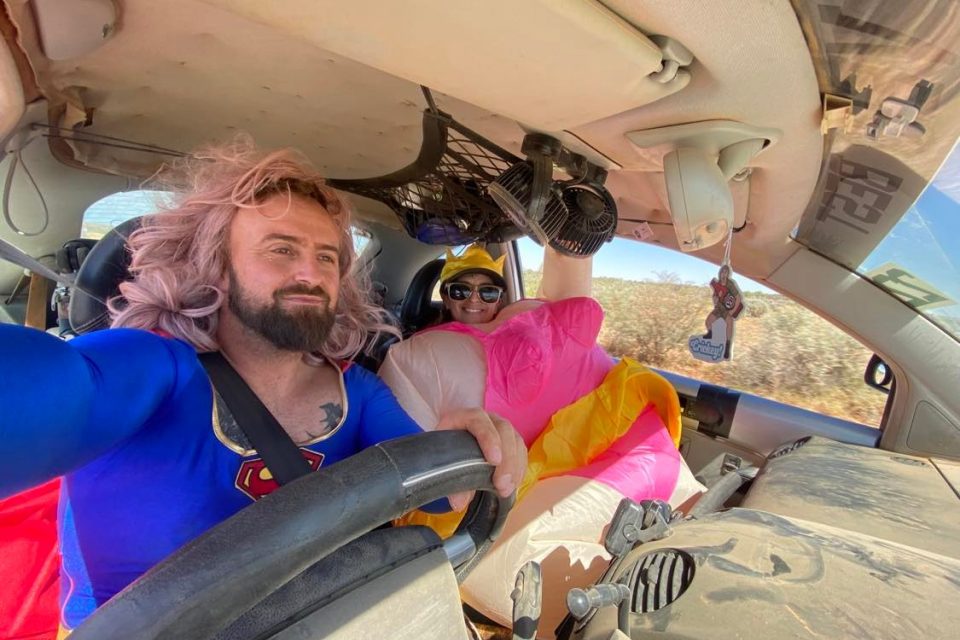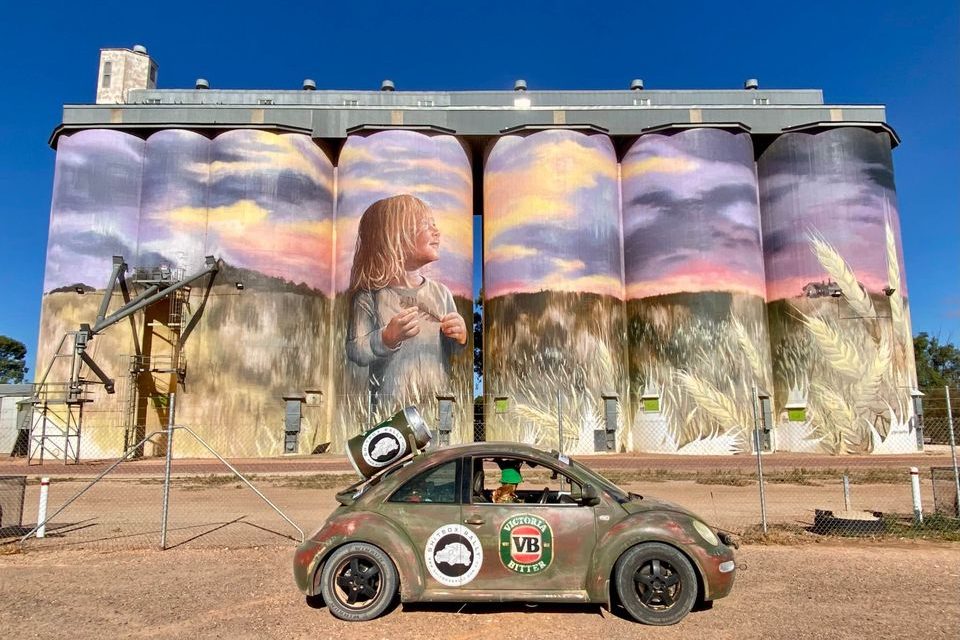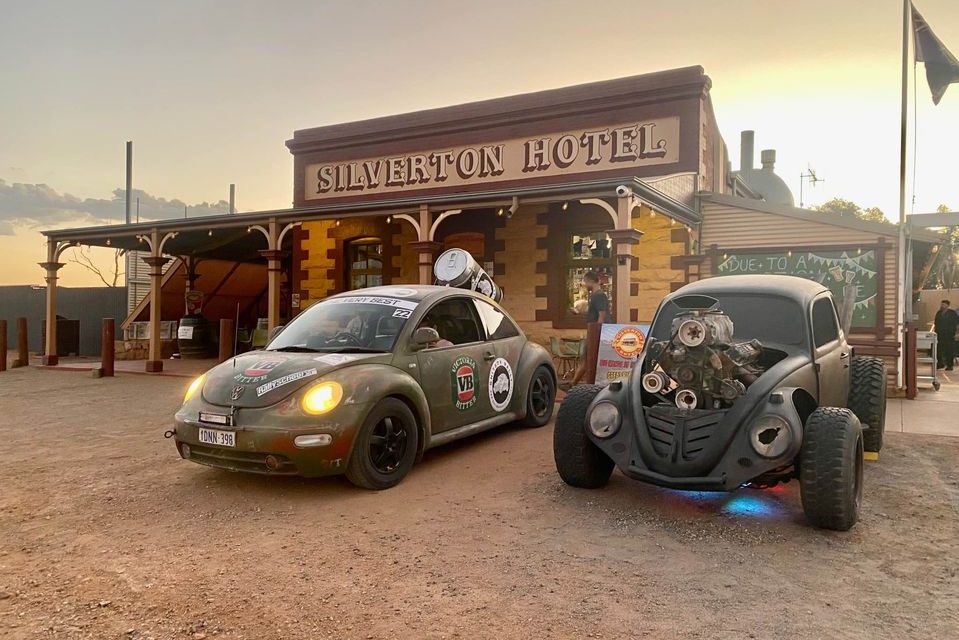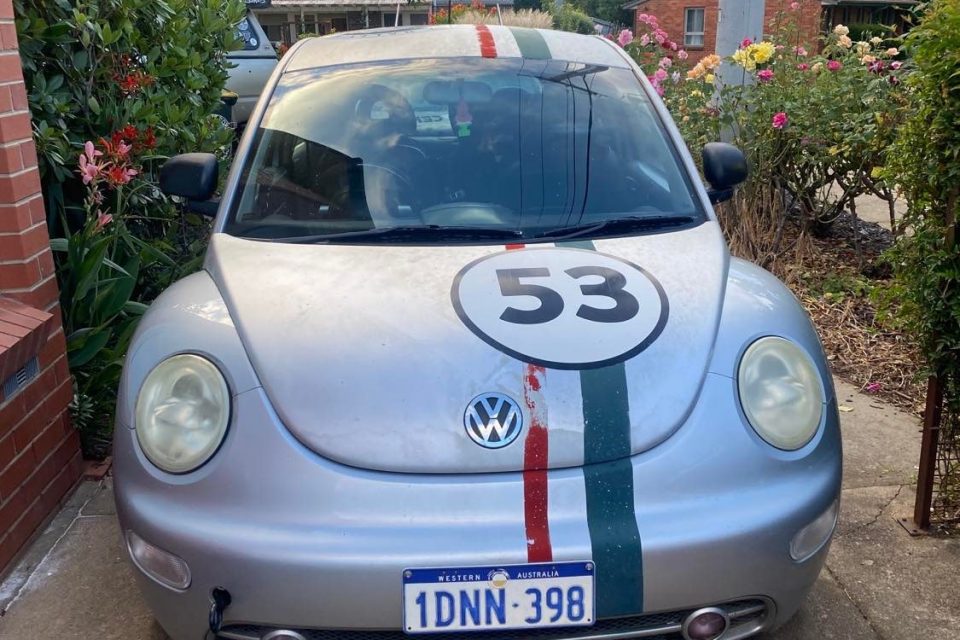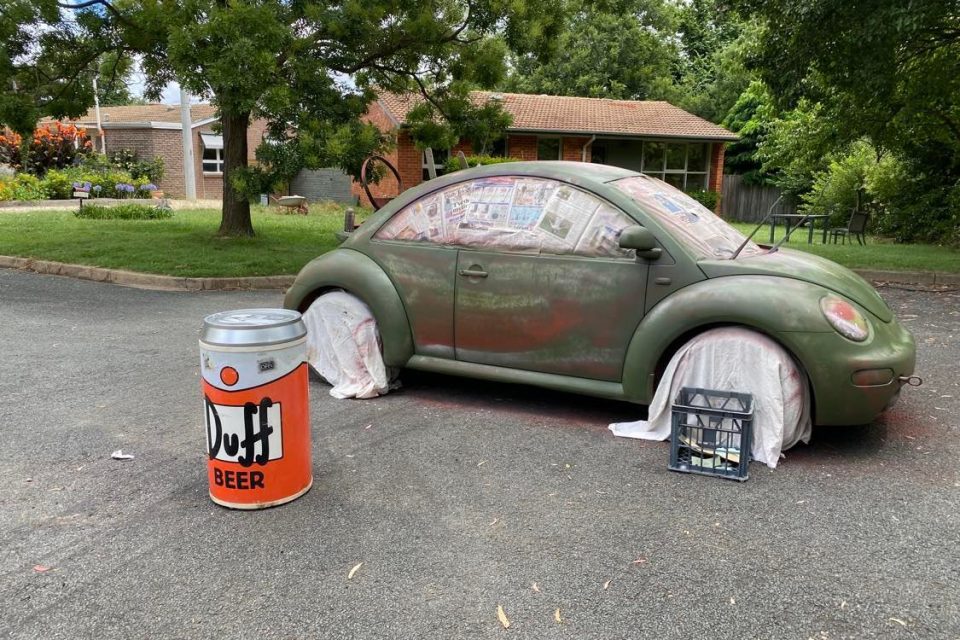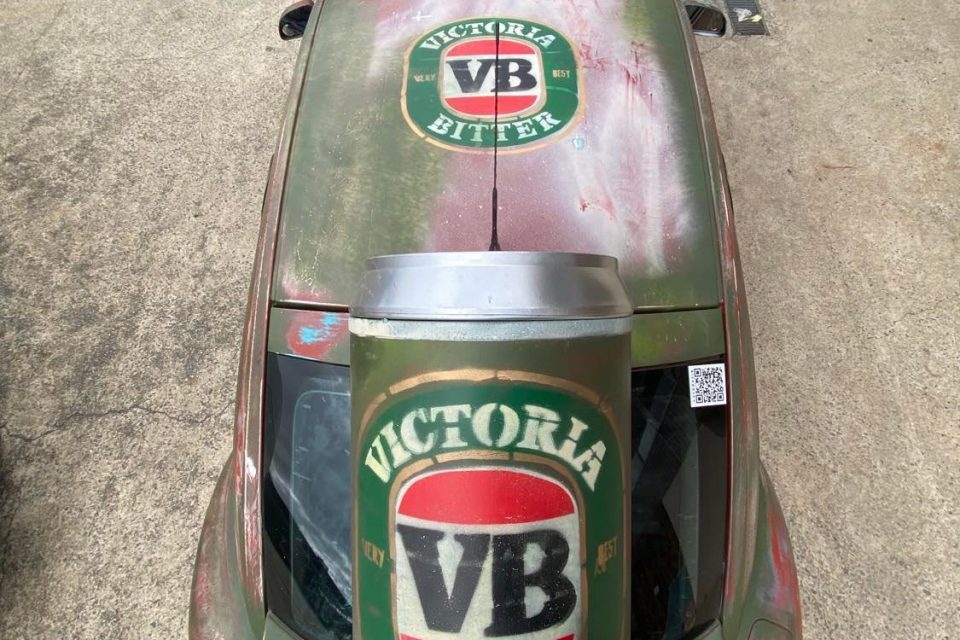 "We couldn't drive it around without people racing up next to us, taking photos and hanging out the windows giving us thumbs-up."
VB also shared photos of the car on its official social media accounts in the lead-up to the rally.
Tom and Juli also planned a different fancy-dress costume for every day.
"We didn't pack any other clothes. The worst turned out to be the VB-themed gangster velour suits, which were super uncomfortable in 35-degree heat."
From the start line in Hay, the convoy headed across the outback to Adelaide as the 10-day 5166 km journey began. The air-conditioning didn't work and the doors seized up, but the humble VBeetle "performed mechanically like a dream", with only two flat tyres along the way.
"By the end the only way in was through the boot, which then also seized up, so window access it was. It adds a bit of character."
Once home safely in Canberra, it was time for the VBeetle to go.
"It's a supercool car, and in one way, I kind of want to keep it," Tom says.
"But we have a neighbour who was diagnosed with very aggressive cancer last week, so it's fresh on our mind to move on from the car and donate the money from the sale."
Selling a car for less than $1000? Because Tom is now looking for next year's theme.
Original Article published by James Coleman on Riotact.