The National Portrait Gallery has issued two challenges with the launch of its latest exhibition, Portrait23: Identity.
The first is for audiences to rethink notions of identity outside of how they may perceive traditional portraiture.
The second is to itself – to present the full diversity of what portraiture can be. That means ensuring artworks created for the show are accessible to as diverse an audience as possible.
Diversity is a linchpin at the National Portrait Gallery (NPG), where not only some audience members but collectors and exhibiting artists might be working with disability, according to Gillian (Gill) Raymond.
"It's really important to ensure people of all abilities will have access to a range of ways to experience the gallery, including Portrait23," the NPG's digital manager says.
The gallery has an app allowing users to access the artwork labels in a large format by using their phone's text settings.
"This came in handy during the pandemic when we didn't want to force audiences into close quarters if they wanted to read a wall label," she says.
But the technological piece de resistance is the In Their Own Words app. A new take on an audio guide, it brings portraits to life through the words of the exhibiting artists themselves.
Users can download the app for free and, using native image recognition, can hold up their phone to an artwork and the artist's audio guide will play right then and there.
The gallery has collected as many first-person voices as possible to include in the archive, including the artworks in Portrait23.
"As part of the curatorial process, we interviewed the artists," Gill explains.
"We tapped into their thinking of their works at an early stage.
"It's delightful to stand there and have the artist speaking to you."
The interactivity continues in a special initiative by artist Kate Beynon, who likes to work with textiles and has created kids' spaces in places including the Gallery of Modern Art (GoMA).
"For her, it's important to provide immersive experiences for people," Gill says.
"She spent countless hours sewing the components of a special interactive space for the Portrait23 exhibition. Hundreds of lips, eyes and noses, and she has these felt walls where she's inviting audiences to arrange these pieces into portraits.
"It sounds like something meant for kids but we've seen adults interact in the space in fascinating ways. I watched someone create a portrait of their husband and they managed to capture quite a striking likeness with these components."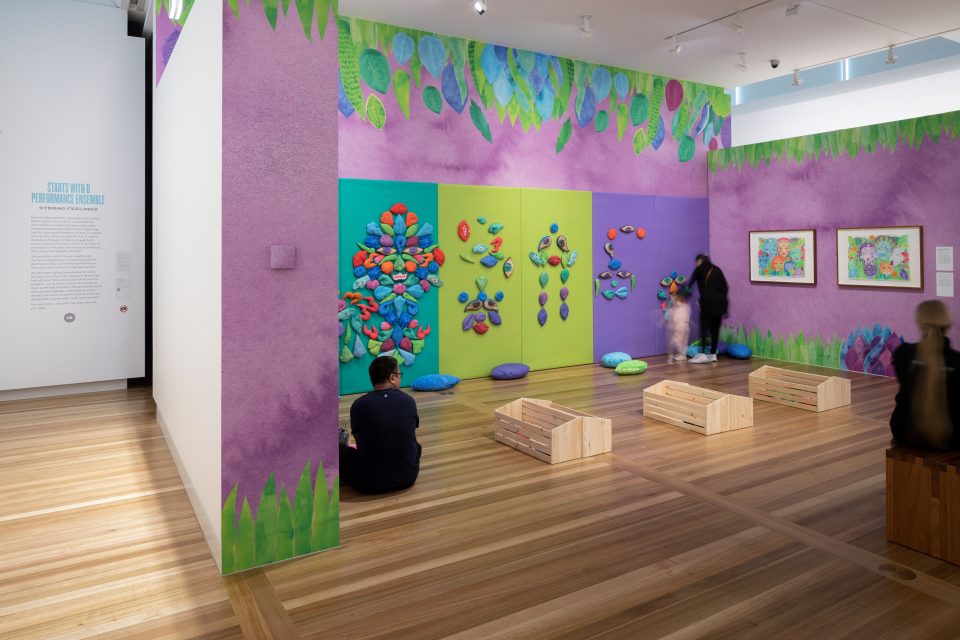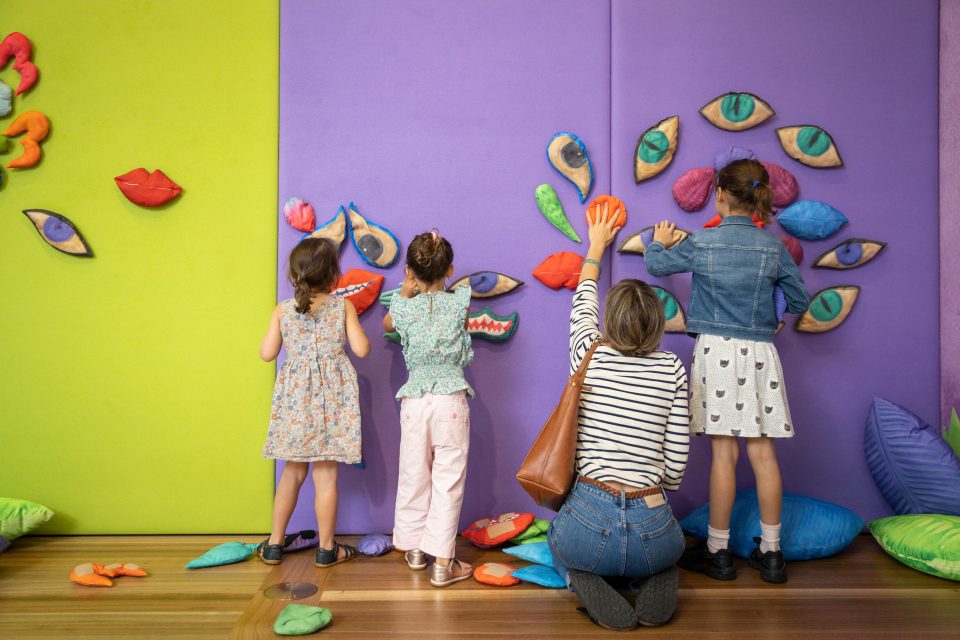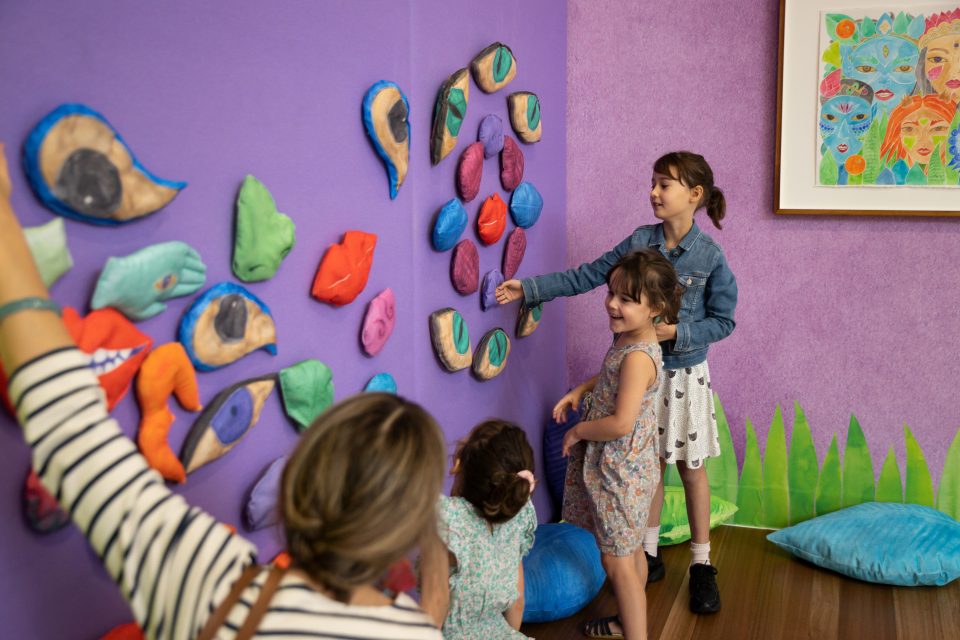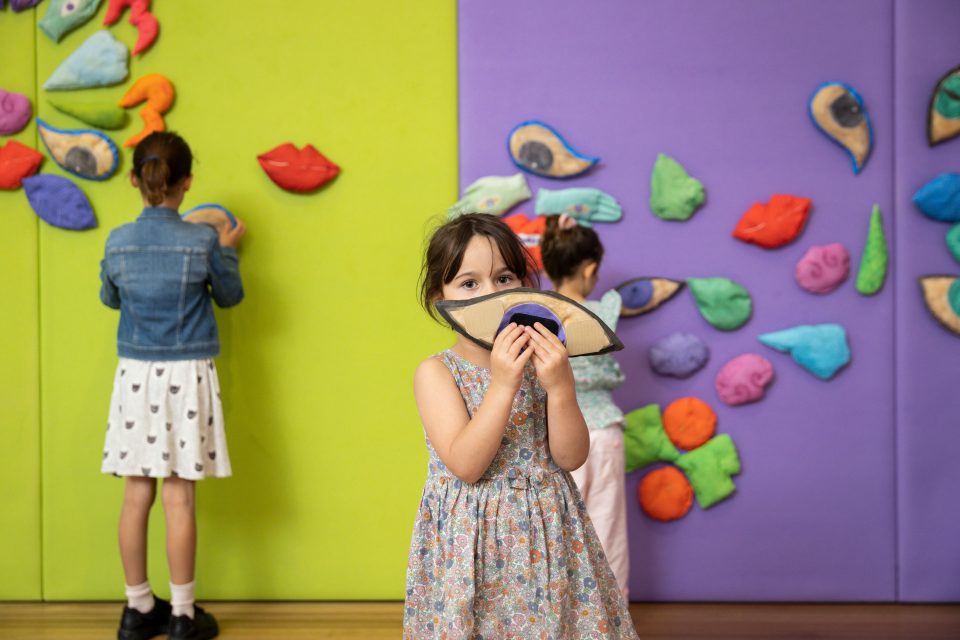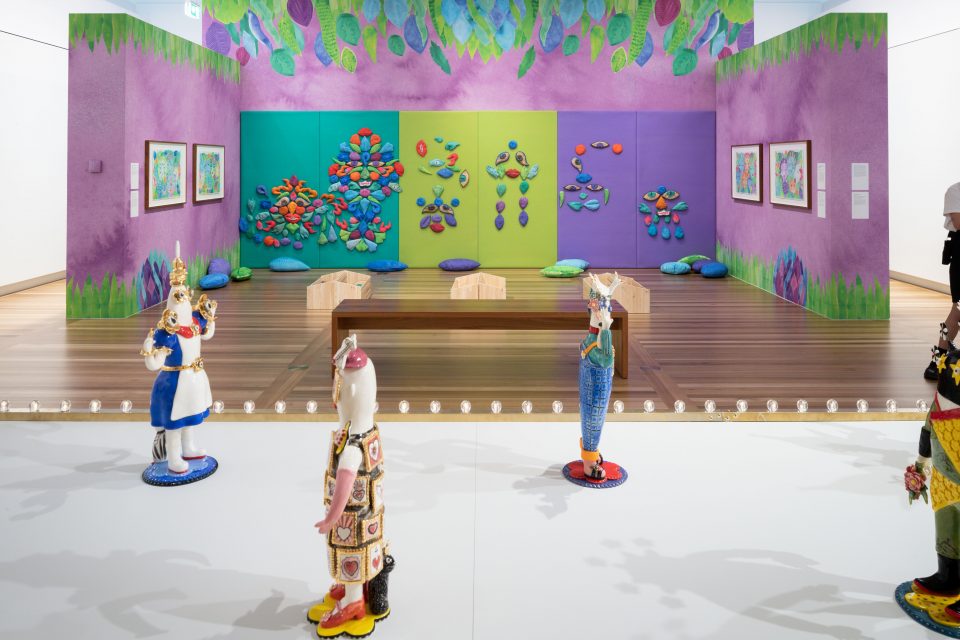 Alice Springs Indigenous disability performance ensemble Starts With D worked with the gallery to create daily audio-described screenings at 11 am and 2 pm.
Four artists from Arts Project Australia, a social enterprise supporting neurologically diverse artists, teamed up with photographers.
Their interpretations of identity for Portrait23 appear alongside more traditional photos of the artists themselves.
The NPG also has technology developed to assist people with vision difficulties.
A dedicated program of audio-described works takes people through the artworks aurally, detailing their appearance.
"This is a process our staff has been trained in for years, and it's available for about half the works in Portrait23," Gill says.
But it doesn't stop at artworks. The NPG is using technology to create a way for people to navigate the gallery itself.
It's created way-finding audio to encourage visitors to explore particular artworks through the gallery, starting from the front desk.
"This is not only beneficial for someone with vision impairment," Gill says.
"Regardless of your ability, it provides a slow, meditative look at the artworks.
"It takes you on a journey, further into the works than you expect to get."
Challenging the norm and pushing the envelope is an occupational hazard at a gallery many people tend to put into a box. But the challenge is part of the joy.
"We like to give audiences options at the NPG," Gill says.
"We like to give you experiences outside of your regular gallery visit."
For more information visit the National Portrait Gallery.
Original Article published by Dione David on Riotact.