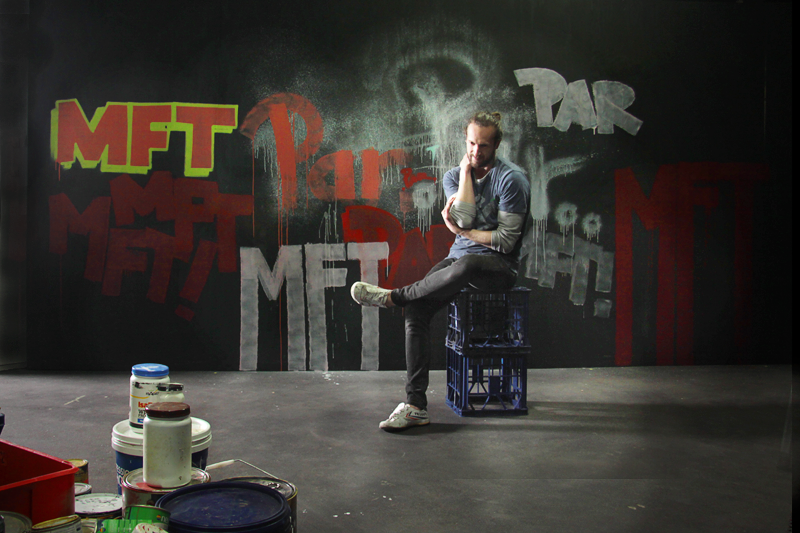 When the former Cornucopia bakery site in Braddon became temporarily available, one of Canberra's longest-standing street artists, Dai Cameron, jumped at the opportunity to launch a pop-up studio in Canberra's up-and-coming urban precinct.
Dai has partnered with Adam Howarth from Blackett Development Group for the duration of the project, which aims to engage the community in a street level arts event for eight weeks.
Fitting out the space and setting it up in a few days, Inside Out opened for business on July 24. Open seven days from 11am till 5pm, the studio is a great example of a purpose-built street art studio.
The space is open to the public to view and has areas for the public to make their mark. "The space is so great to work in, I'm very grateful to be able to use it, I'd like to extend that opportunity to others in the community," says Cameron. Inside Out Space is inviting expressions of interest for events and viewings in the space, for further information contact Dai Cameron or drop into the space.
The official opening is this Friday 31 July. The evening will showcase the week's work and other works in progress and also be an opportunity to talk about the artist's process over the next eight weeks while experiencing a street art studio in your local neighborhood.
Inside Out Space is located at 40 Mort St Braddon.
Open seven days 11am-5pm.
Check out:
Inside Out Space Facebook page
daicameron.com