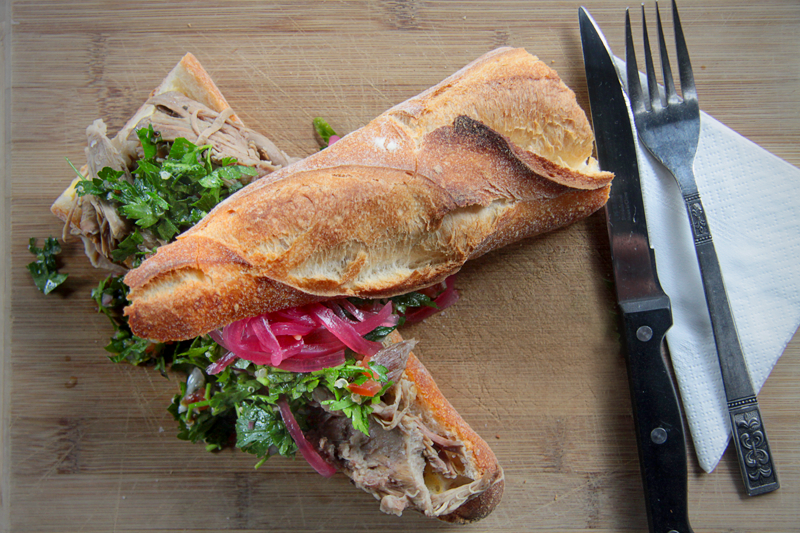 Sous vide is a cooking technique usually reserved for the more fancy fine dining places. The term is French for 'under vacuum' and a favourite of acclaimed chefs such as Heston Blumenthal, Ferran Adrià and Paul Bocuse to name a few. The method involves vacuum sealing food and then immersing it in a bath at a set temperature for an extended period of time.
Cooking like this gives the cook total control of temperature, allows the meat to retain its juices and nutrients and results in an intensity of flavour that is hard to beat with other methods.
At Autolyse Bakery in Braddon, the lamb shoulder sandwich is the most popular dish on the menu. Hardly surprising, since they have been giving the lamb shoulder the sous vide treatment since day one. Owner Mickey Gubas tells me he can't guess how many lamb shoulders they go through each week, but reckons it's in the hundreds.
On to the sandwich–seriously tender lamb is packed with flavour here. The lamb is only very lightly seasoned yet the flavour is amplified, no doubt a result of the nine hours it spends cooking under this technique. Add slightly sweet pickled onions and a sharp and tart quinoa and tabouli salad to cut through, place it all into one of their dense and chewy sourdough baguettes and this is a winner.
At $12.50, it is well priced for a lunch-time feed and not overly huge, but will easily keep the hunger pangs at bay until dinnertime.
Check out the Autolyse website here