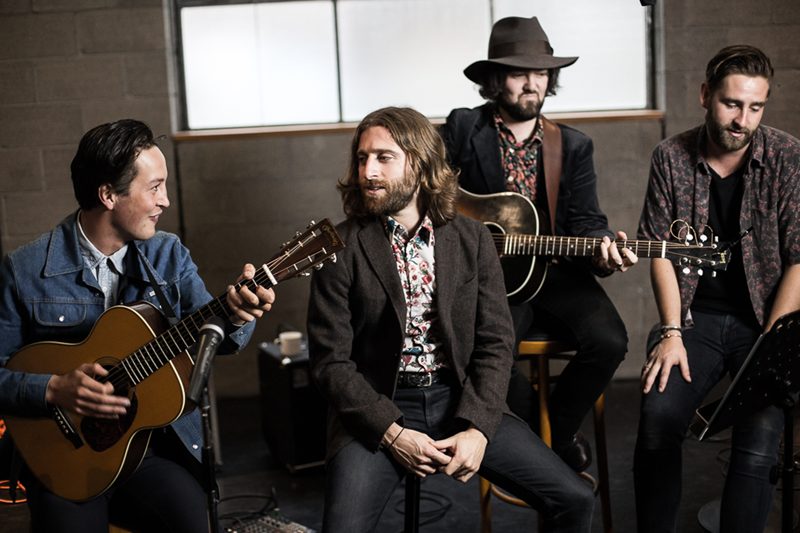 Few records match the timeless beauty, energy and musical imagination of Rubber Soul and Revolver, The Beatles' sixth and seventh albums. Often lauded as two of the greatest pop albums of all time, the inimitable studio masterpieces radically changed pop music. 50 years on, their influence is immeasurable and continues to influence and inspire contemporary songsters.
Four of Australia's most rapidly ascending musical talents take to the Canberra Theatre stage this August as part of a national tour taking in Melbourne, Sydney, Adelaide, Brisbane, Perth and Canberra, to present the world-first live performances of Rubber Soul and Revolver back to back, in track order.
Released in December 1965, Rubber Soul was the sound of John, Paul, George and Ringo rebelling against convention and making a dazzling leap into new musical territories. The album traverses folk-rock, psychedelic rock, and forays into world-music.
Revolver–rich in trippy sonic experimentation–brims with the band's love of Eastern mysticism, as well as the far-reaching influences of Dylan, American R&B and the Byrds. Its fourteen tracks explore pure, hallucinogenic pop, feel-good boogie-woogie and thoughtful, pathos-filled songwriting.
In 2012, Rolling Stone magazine rated Rubber Soul number five and Revolver number three in the Rolling Stone Top 500 Albums of All Time.
Bringing the two classics to life at The Beatles' Rubber Soul/Revolver Concert is a brilliant line-up of Australia and New Zealand's finest newly emerging musical stars: Husky Gawenda is the dazzling lead singer of indie-folk darlings Husky; Jordie Lane, described by Rhythms as "one of Australia's brightest new roots music stars; 24 year old alt-country troubadour, Marlon Williams; and the spirited Fergus Linacre, front-man of ballsy, rising rock'n'rollers Kingswood.
Backing them will be a dozen of Australia's finest musicians, who have to their credit the concerts Beatles Back2Back (Abbey Road and Sergeant Pepper), and The White Album Concert. They're led by musical director Paul Gray.
Rubber Soul / Revolver will be playing at The Canberra Theatre on August 6
Tickets now available online from the Canberra Theatre website