You may not have thought about it this way, but he's probably your most regular visitor. And in his bag, he could have the new shoes you ordered or the water bill you were dreading after forgetting to turn the garden sprinkler off.
It's Postie Peter, on his bright red motorbike. And he has a message for you.
"I've noticed people seem to love growing thorn bushes right by the letter box. In fact, I think a lot of my injuries on the job have been from these bite-y bushes. It's uncanny – I don't know who started the trend but I'd like to see it go."
Peter's full name is Peter Hanlon, although all his colleagues at the Australia Post warehouse in Mitchell know him as 'The Captain'.
"It's not because of any position of authority, but just because I live in Captain's Flat."
He's been waking up at 4:30 am and commuting two hours every day – listening to podcasts and dodging wildlife – before donning the helmet and delivering Belconnen and Gungahlin's mail since 2015.
But the story really starts in a band rehearsal studio in Sydney, where he was "the weird guy who set up the room" before each performance. That's where he met his wife.
"She was a cute little bass player who used to come in sometimes," he says.
It was when his wife fell pregnant with their first child that Peter knew it was time to take up a more reliable day job.
"The rock and roll lifestyle is great but doesn't pay the bills."
Australia Post looked promising, although that may have had something to do with the motorbikes.
"I get paid to ride legally on the footpath – that was part of the appeal."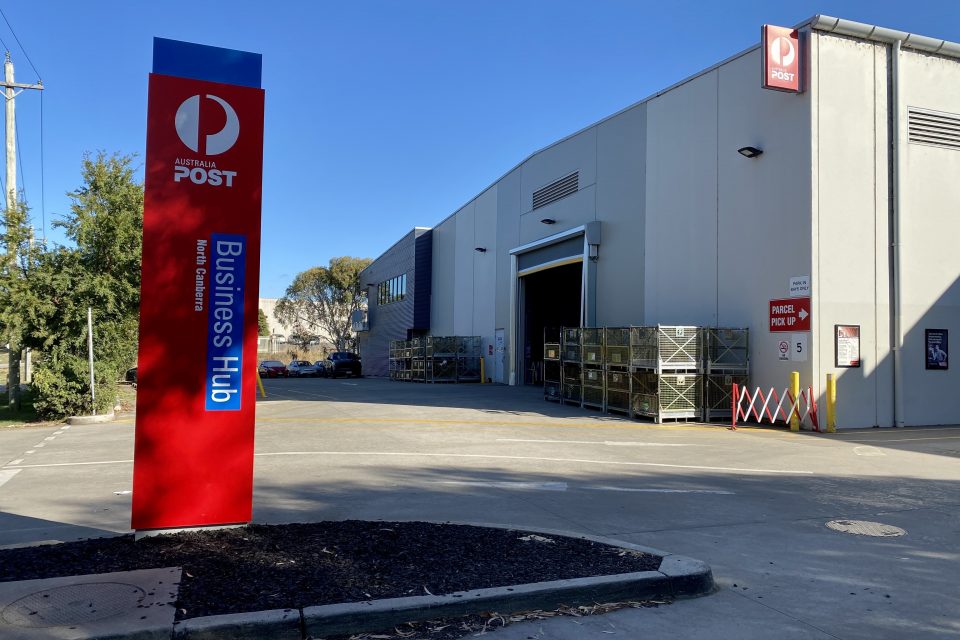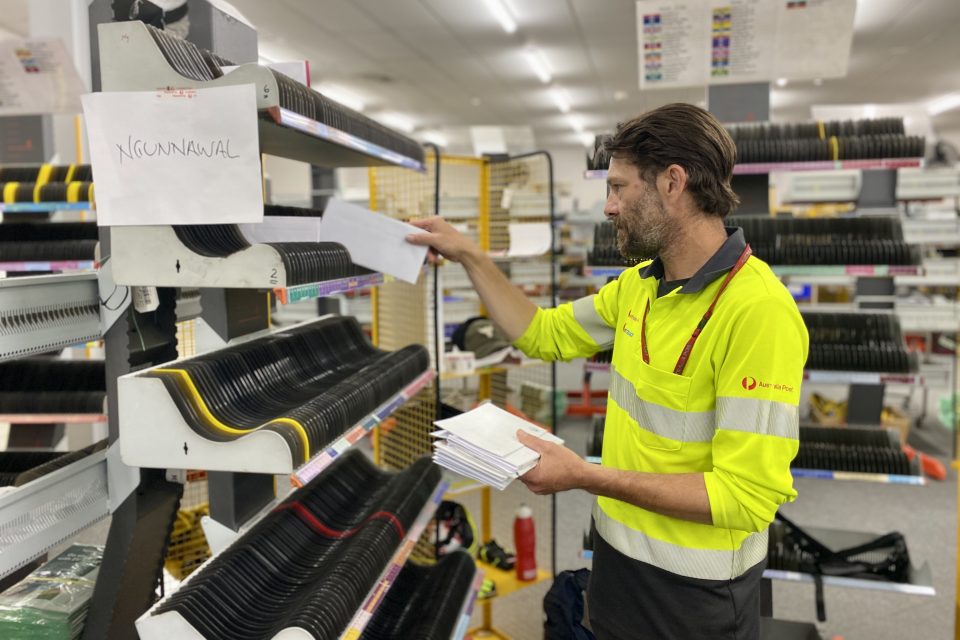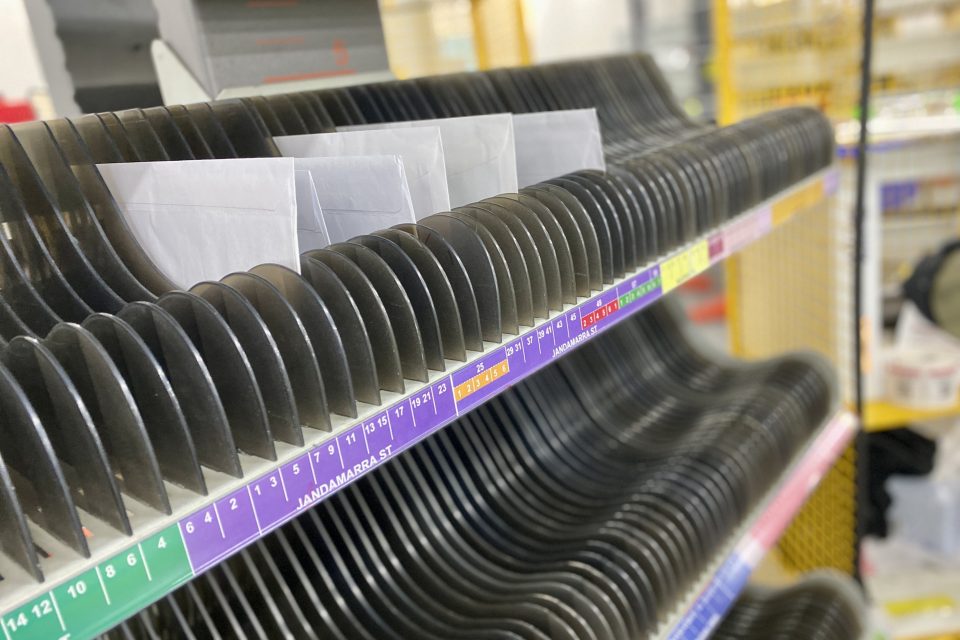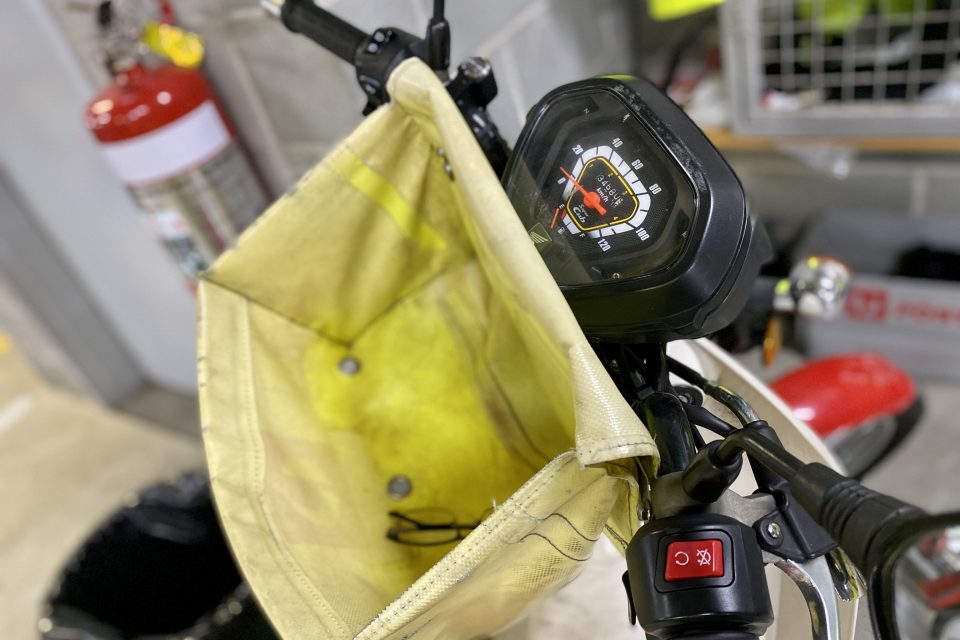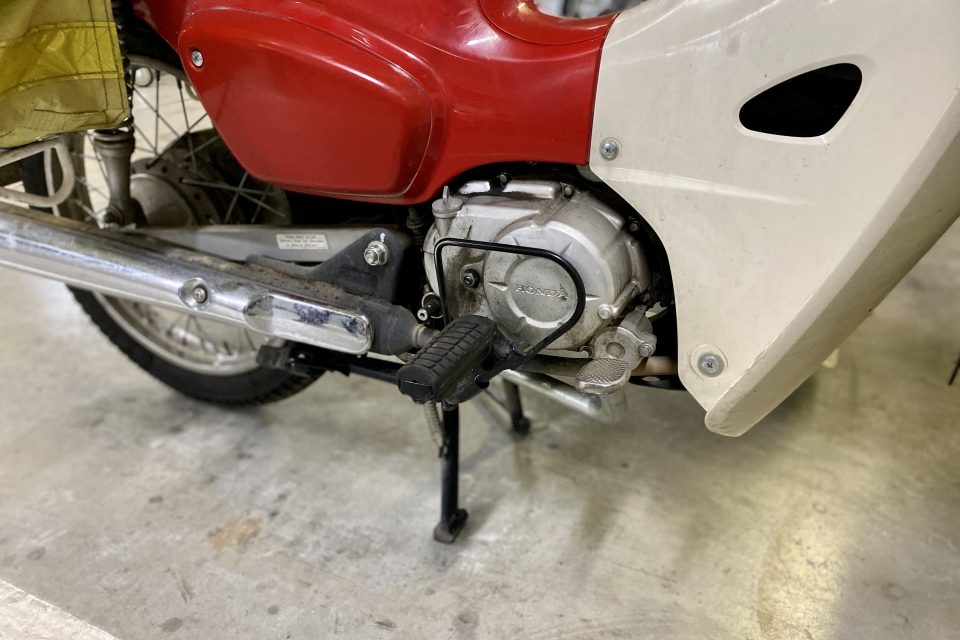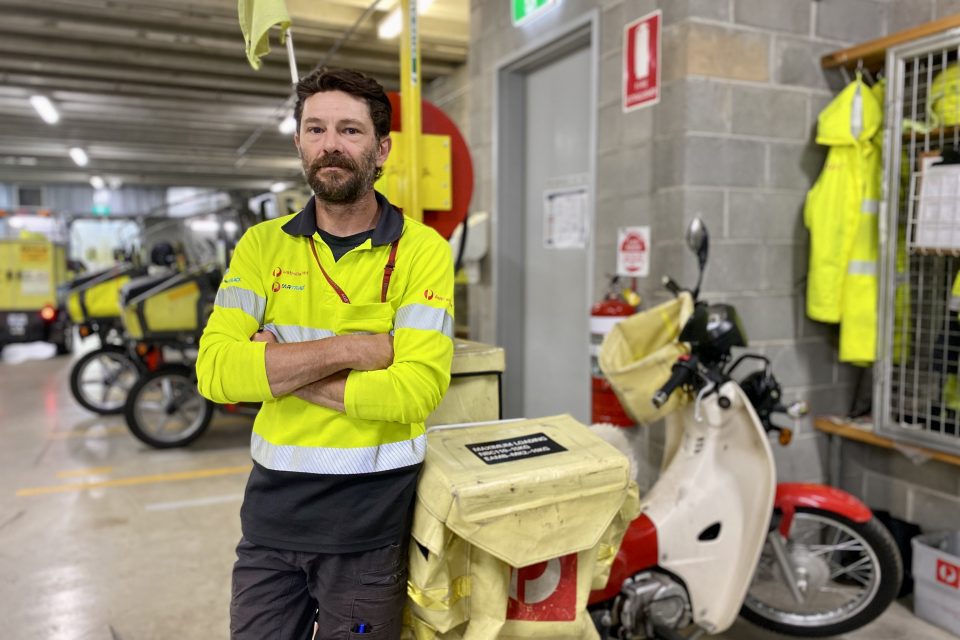 There are several Australia Post warehouses in Canberra, each covering different districts. The main 'business centre' is found on Vicar's Street in Mitchell. Every day, thousands of postcards, letters, parcels, and all manner of other bulky mail items are offloaded here and sorted for distribution across the northern suburbs by Peter and the other posties.
The letters are placed in metal frames with labels on each shelf for street names and house numbers. Parcels are next, in time for the vans to arrive at 7:30 am.
"We then bundle up the letters, load up the vehicles and hopefully get out by 8:30."
The vans drop their loads in nondescript green 'depot boxes' scattered around the suburbs. These essentially become relay points for the posties on their 'beats'.
"A beat, a route, a run, a round – it has a variety of names."
Under normal circumstances, posties are another form of the London cabbie in that they know each of Canberra's roads down to the bumps in the pavement. But Peter is working in a relief role now, taking different beats each day depending on need. This can get a little awkward at times.
"You quite often get people stopping you on the street, asking where a certain street or address is," he says.
"But if it's my first time in the area, I'm searching Google Maps to pass myself off as knowledgeable."
But either way, there's no way of knowing exactly how each day will turn out (apart from the compulsory prickle bush by the mailbox). Like the time Peter helped an older lady rearrange her living room.
"I handed her the letters and Reader's Digest as she stood at the gate of her property, when she asked if I could give her a hand inside with something," he recalls.
"Before I could answer, she'd walked off inside. Normally we're not allowed inside people's homes, but I thought, 'It's a little old lady – what's the harm?'."
It turned out her nephew was meant to help her move a TV and chest of drawers to the other side of the room but hadn't turned up. Peter was conscripted to help her clear a space, move the chest and lug the huge TV, "tripping over all her cats".
"She then looked around for somewhere to plug it in and realised the power point was on the other side of the room. 'That's why I didn't put it here'."
Normally, posties clock off anywhere between 2 and 5 pm each day, but it does depend on whether there was a public holiday the day before, or if Christmas is coming up.
"There is always lots of mail then," Peter says.
"Obviously no one sends love letters anymore, and a lot of bank statements and bills have moved online, but our parcels have gone through the roof. Everyone is ordering online. Even the older generation have clicked onto the internet now, especially after COVID when a lot had to learn."
At a time like this, Peter says it would make the job of a postie easier if homeowners scrapped their old brick wall-style letter boxes.
"Aesthetically they look great, but they just don't fit the mail."
But there are always those that bring a smile to his face.
"I've seen some fantastic mailboxes," he says.
"One of my favourites – and I love doing this round – is one with a little cutaway and Perspex window that looks into a diorama inside. The first time I went, there was a little campfire scene with a tent and a bear approaching the campers – all made with little figurines. The next time it was children flying a kite. I can't wait to see what they do next."
Peter certainly has no plans to change career, even if it means his favourite little Honda is eventually phased out in favour of an electric bike.
"Some areas are really rough and you need a small, agile vehicle. And Australia Post also needs to appease the motorcycle riders, who love the job for that reason."
Original Article published by James Coleman on Riotact.