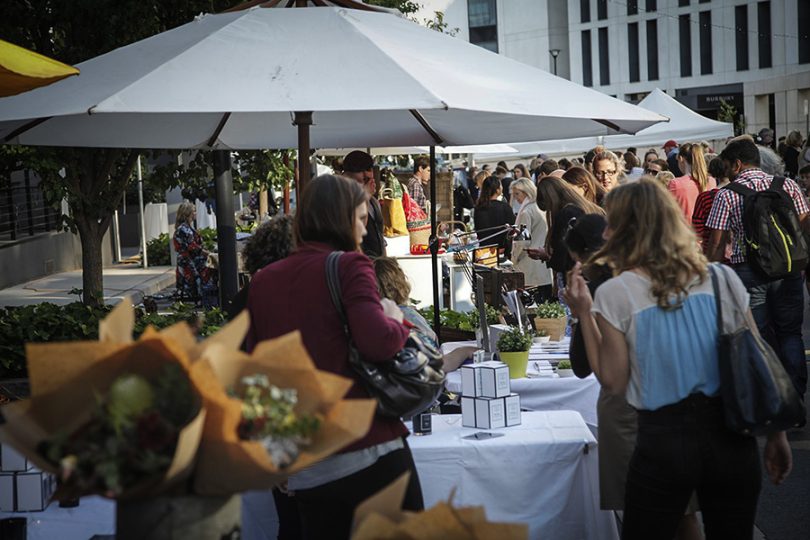 After a cruel washout a few weeks ago, Night Market Canberra returns for its Spring event on Friday 14 October 2016, from 4pm-9pm at Hotel Realm in Barton.
The urban setting of Realm Park provides the perfect backdrop for the evening under the stars where you can expect to enjoy a festival feel and mix of quality market stalls, street eats, live music and children's entertainment.
Now into its second year, this event has a strong following with locals shopping up a storm and enjoying the products from local and interstate stallholders.
Over 45 pop up stalls have been hand-picked to ensure the highest quality and range. There will be men's, ladies and children's fashion and accessories, jewellery, lifestyle products and homewares as well as delicious street food and a licensed bar.
With children's entertainment, free face painting, live music and a licensed bar, Maple+Clove will provide a vantage point for those wishing to enjoy something from the sit-down menu, or from the BBQ out the front and a cold beverage whilst taking in the atmosphere and entertainment.
A variety of street food will be available from popular Westside Village The One Food Van as well as Crunch-N-Sip (chips on a stick) and Kransky Brothers. Let's not forget sweets: Loose Gourmet Churros, Dessert Quartets and long standing favourite Babic Biscuiteers will be keeping sweet-tooths sated!
There is plenty of parking available at Little National Hotel and on Sydney Avenue, Macquarie Street and New South Wales Crescent.
For more information on the exciting Night Market Canberra event, head to the website or Facebook Page.