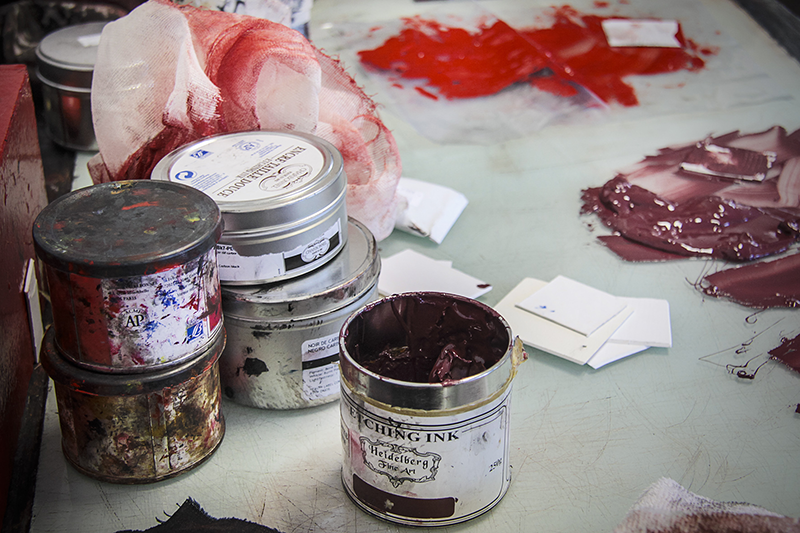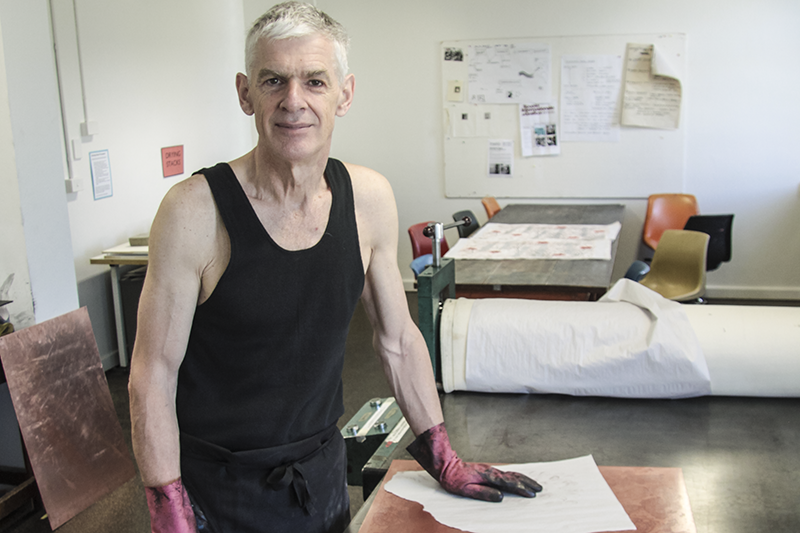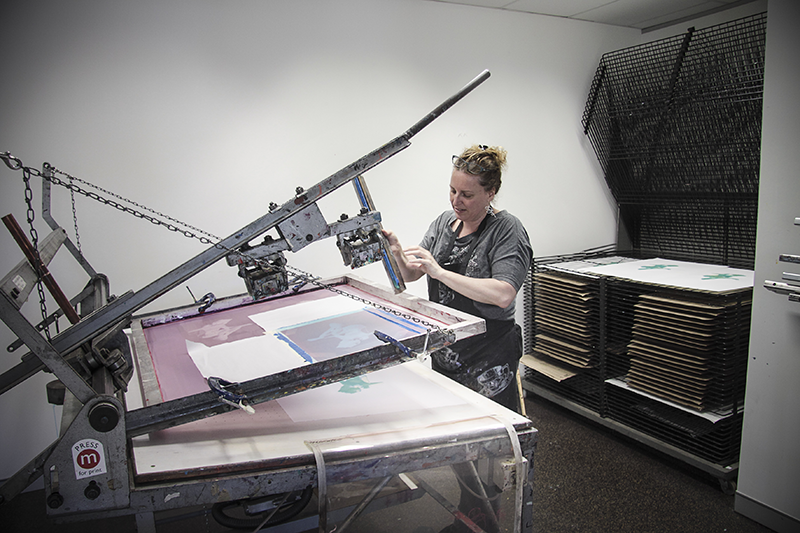 In a bright and sunlit corner of Megalo Print Studio and Gallery, master printer John Loane is busy working on an etching for New Zealand artist John Reynolds. The work is part of the Australian War Memorial's Centenary of World War One print portfolio, a long-term project that has been running since early last year. It is bringing together five Australian and five New Zealand artists, selected by the curators at the War Memorial. He is wiping ink from a large copper plate–perhaps a metre square–that has had a sweeping design etched into it by the New Zealand artist. Once the surface is clean, all that will remain is the ink in the etched pattern. He will then press the plate with a hand-operated printing press onto a sheet of treated paper, on a number of occasions and with different inks, until the artist's vision is realised.
This form of printing has been around for over 500 years; and in an increasingly automated and digitalised world, it is comforting to know that artisan skills of this calibre are being nurtured at places like Megalo, a member based organisation that is providing open access for its members to use its facilities. The studio offers a space for established artists to work and to collaborate with other artists, and also has a substantial program of classes for beginners and hobbyists. Megalo Print Studio has been in its current location at Kingston Foreshore for the last 18 months, and before that, operated out of different venues since its beginnings in 1980.
Without a doubt, it is perfectly suited to be an anchor tenant–along with Canberra Glassworks–at the soon to be realised Kingston Arts precinct. As a kind of one stop shop for artisan printing, Megalo is unique in Australia. "It is the only working studio and gallery of its kind that offers facilities for etching, lithography, relief printing and screen-printing for fabric and paper," says acting Artistic Director Megan Jackson. "It's really great to have the different mediums working under one roof–to see how others are working and maybe to be inspired or to consider how some processes may be shared".
Of course, it is worth noting that due to its local aspect, Megalo has built a strong working relationship with a number of Canberra's national cultural institutions. As well as the current project being undertaken for the AWM, Megalo get commissioned annually by the National Library to produce keepsakes such as screen printed tea towels for their major exhibitions, and they have also done substantial work for the National Portrait Gallery. "Many times, those institutions are looking for things that are made locally," says Megan. "It's great to be able to work with them to come up with a design, and while a lot of this can be mass produced, we offer them a small run production with an artisan process, which really resonates with them."
As for the future of the planned arts precinct which Megalo finds itself squarely in the middle of, Megan admits that it's a work in progress, so they will just have to wait and see. In the meantime, the studio is making its own connections with other art facilities in the area, and has recently come together with Canberra Glassworks, Photoaccess, Bilk Gallery, Gallery of Australian Design, M16 Artspace, Canberra Contemporary Art Space and Artsound to form the Inner South Arts Hub. The group hosted a weeklong launch event in December to create a sense of camaraderie and collaboration that will only be enhanced once the arts precinct becomes a reality.
This article is an excerpt from the published original in By the Water magazine.