It is a busy, upbeat Friday night at ANU's Kambri precinct, despite a bitterly cold wind that cuts through winter layers. After a brisk walk through the village, I am very grateful to be sitting in the warm, cheery interior of Yori Fusion Bento, holding a steaming cup of miso soup between my icy hands.
We are here to indulge in some fusion bento!
There are so many food terms floating around my brain that I needed to be reminded what a bento actually is. And in case you cannot remember either – Bento is a convenient ready-to-go meal in a box. Served on a carb base of rice or noodles, with at least one protein and the addition of pickled or cooked vegetables, it provides a tasty, well-balanced lunch or dinner.
Yori Fusion's owner Jayden explains that the idea behind Yori and its fusion theme has been slowly percolating since he was an accounting student.
"When I was studying, I was able to hang out with some international students and we would often travel interstate just to get good food," he says.
This student experience kickstarted the dream of creating a local casual dining place that provided those tastes he and his friends had previously travelled for.
Jayden met Derek who had been a Japanese chef for several years and has also worked at Inka. Three years into his accountancy career, Jayden's friendship with chef Derek expanded to become a business partnership.
"We were friends with a shared Korean background and we were keen to step out into business together."
Jayden says that Yori Fusion is about trendy food – fusion food that is outside the box.
"I really like unique fusions. Fusion food in Australia is often unique; restaurants here combine cuisines that you won't see anywhere else in the world. We have a lot of fun with our fusion meals here at Yori. You can guess the fusions from some of the titles on our menu. We don't want to be specific to any particular kind of cuisine."
Let's get into the food we love the most. I will refer to the main dishes by the number they appear on the gleaming menu above the kitchen.
Every dish we eat is a splash of bright colour, dressed with rainbow vegetables, pickled cucumber, edamame and radish slices to name a few. All meals come with a substantial serving of rice. I especially enjoy the white rice, which is slightly sticky with sweet/sour notes.
#1 Chicken Karaage Don. Crispy chicken marinated in soy sauce, sake and ginger, then dipped in gluten-free cornflour and deep-fried. Yes, please! The chicken pieces are crisp and spongy with a sweet zing.
#2 Flamed Unagi. Tonight is my first time eating eel. It has a smoky, non-fishy flavour. The texture is lush like a tender baked salmon and the skin reminds me of salmon skin too.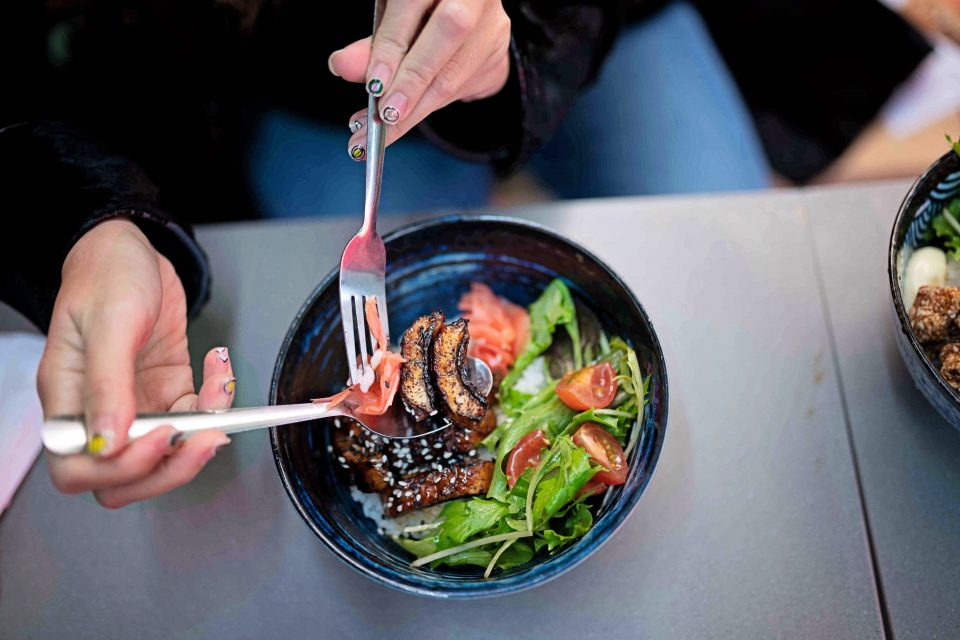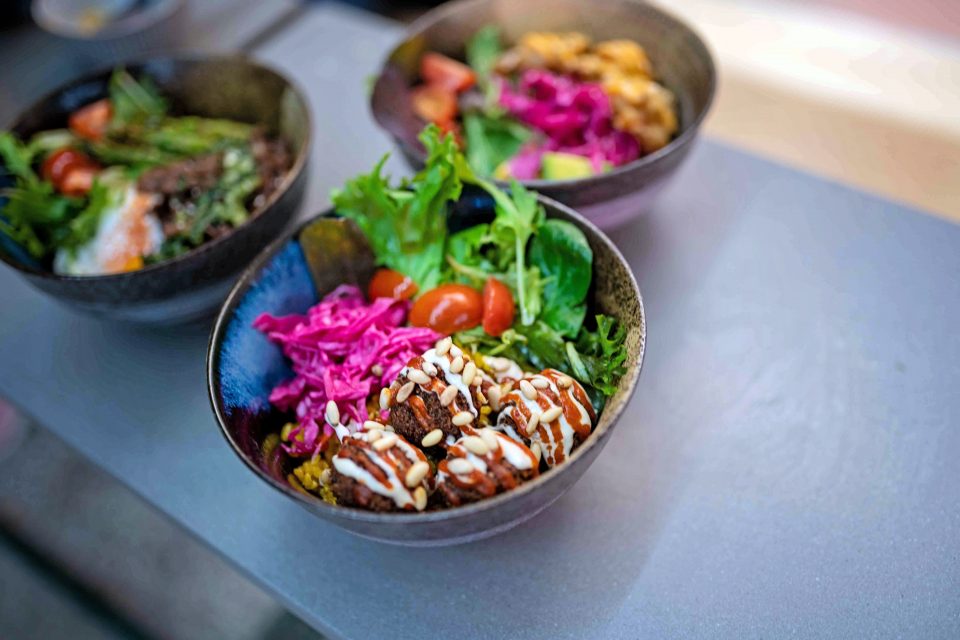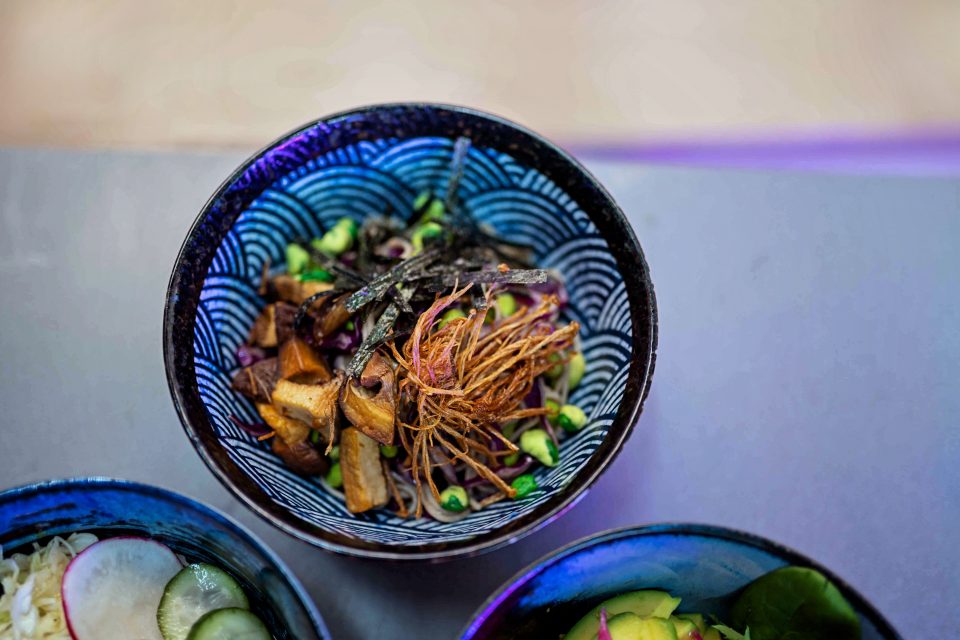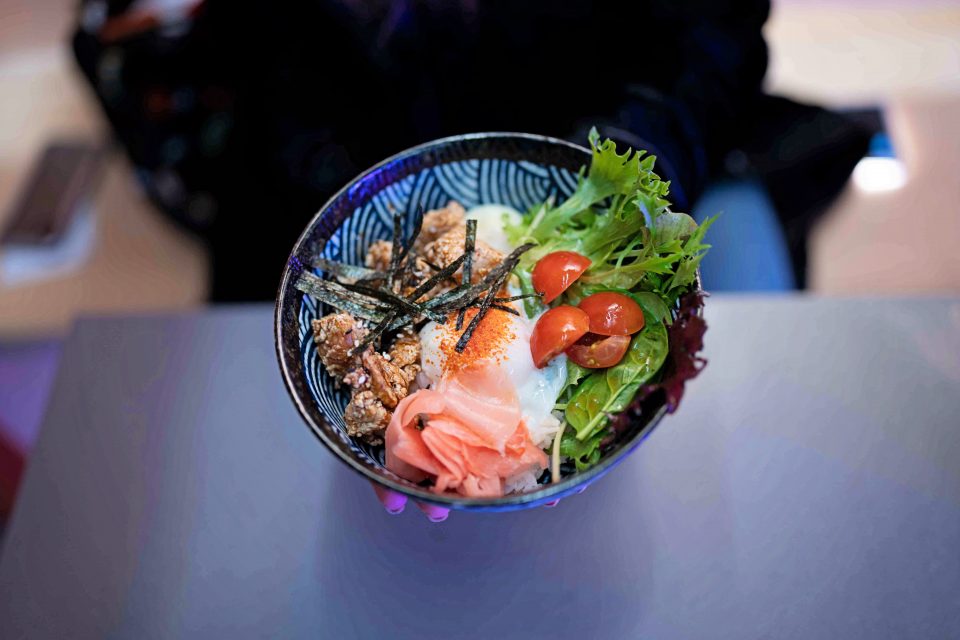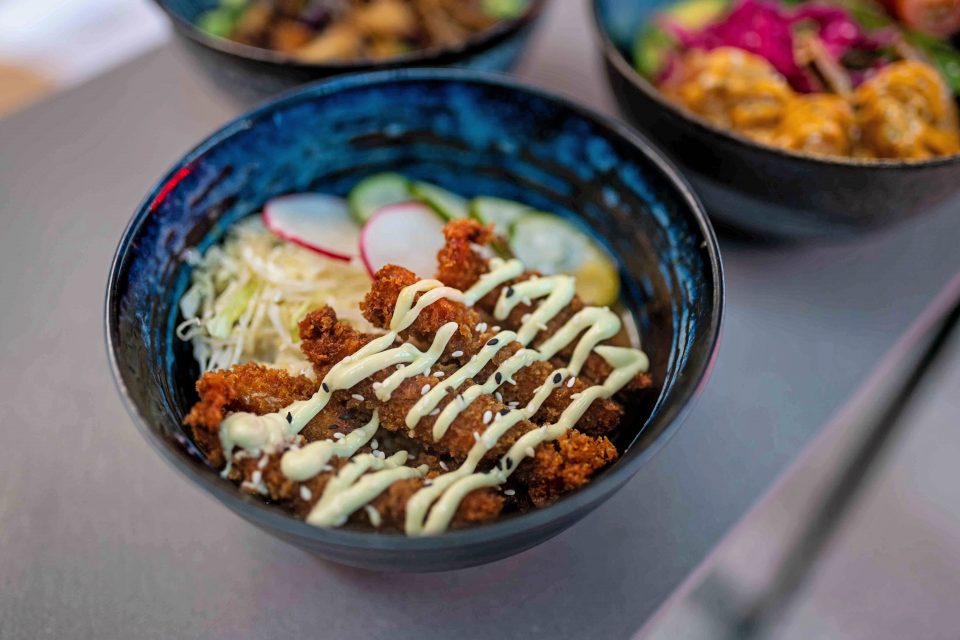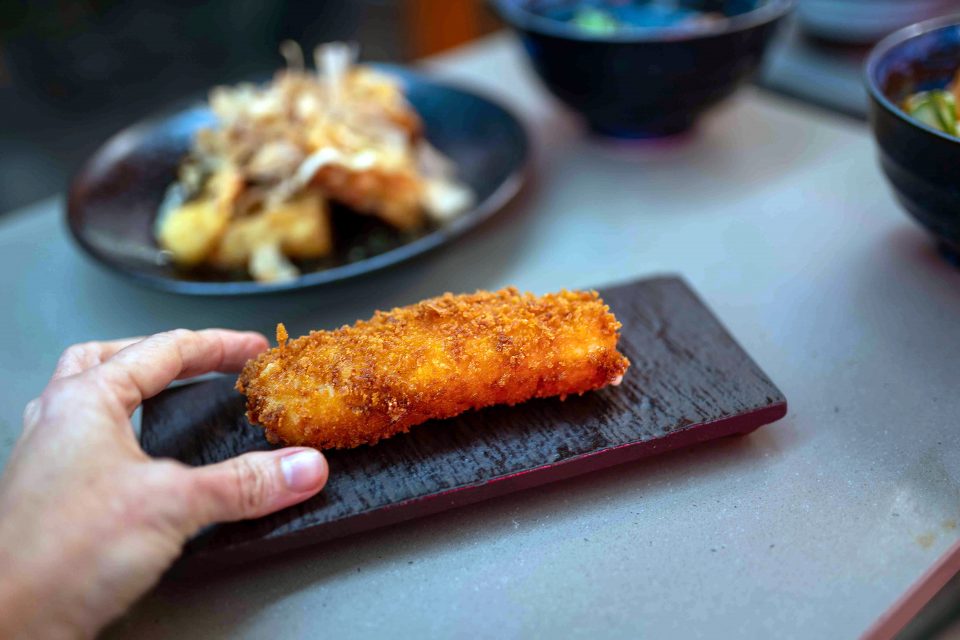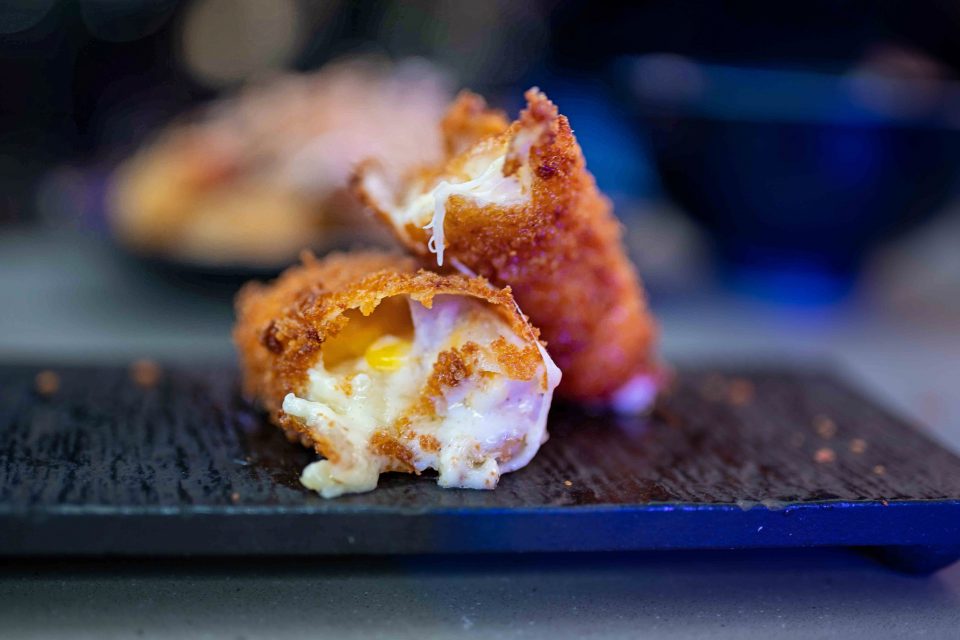 #3 Sweet & Spicy Tofu is golden fried cubes of tofu with a fabulous crunchy exterior and creamy middle. I love the texture of the accompanying edamame. It goes so well with crisp tofu and the silken egg.
#4 Signature Poke is a pretty and delicious bowl. Marinated tapioca, delicate strips of salmon with smooth avocado, bitey kimchi and a seaweed salad I cannot stop picking at.
#5 Terriyaki Yakiniku Beef with Chimichurri Dressing, Silky Egg, and Roasted Asparagus. Strips of the tenderest beef wagyu in a fragrant chimichurri dressing. Wow! The asparagus and silky egg and the sweet, sour undertones of the rice are all perfect.
This has to be the dish of the night for me. The fusion of Japanese beef with an Argentinian sauce is fun and cohesive.
#8 Chickpea Falafels drizzled with tarrator & sriracha sauce. The best falafel I have had in Canberra! Golden, scrumptiously fried outer, with a mild but delicious chickpea filling. The tarrator, comprised of tahini, lemon and garlic, brings a tangy, nutty edge to the bowl and that sauce is scrumptious.
Not official, but about to hit the menu, and a must-try is the Cheese Bomb, oozing cheese and corn.
"Corn and cheese is a popular side dish for Korean BBQ," Jayden says. "We thought, how can we make this dish an easy takeaway? So, we wrapped it in rice paper and deep-fried it."
We break our cheese bomb open and molten cheese stretches out in satisfying strings.
My second favourite dish was probably the Okonomyaki waffle. This incredible waffle is crunchy bites of deep-fried indulgence with sweet and savoury elements, including a Japanese onsen egg, cooked at a very low temperature until it is delicate and custardy. The dish is topped with umami wisps of bonito flakes. So good!
If you visit, you will experience the friendliness that just exudes from Jayden and Derek. They love to chat with customers. Another real strength in the Yori team is that they implement suggestions from their customers. Yori is a pork-free dining venue, which means many of its customers who avoid pork for cultural reasons can dine here without any concerns. Vegan and vegetarian options are available and delicious
It is a fun place to eat and well-priced for a student budget.
Yori Fusion Bento is located at 55-12 Kambri, 155 University Ave, Acton. They are open each day for lunch from 11 am to 3 pm, and for dinner from 5 pm to 8 pm Monday to Friday. Follow Yori Bento Fusion on Instagram or visit their website to see what new fusions are being created and learn more about their planned 'hot wing challenge.
Original Article published by Michelle Taylor on Riotact.