I have a confession to make; Milan is the fashion week I connect with the least. I am not sure why exactly, I love my Gucci, Pucci and Prada as much as the next person with an interest in fashion, but for some reason I just seem to have an ever so small block when it comes to Milan. Writing this article has however revealed to me just how wrong I have been.
Milan Fashion week is the oldest fashion week after New York and is home to many heritage and family run houses. Fendi (inventor of the famous Baguette bag) is now run by second and third generation members of the Fendi family. Karl Lagerfeld, who has been working with the house since 1965 revealed a collection of tailored pieces in block colours with weaved detailing, high necks, full sleeves and sensual cut outs at the side of the torso. Fashion veteran Armani showed long silk jackets, flat shoes, relaxed shapes with silk scarves tied at the neck while at Emporio Armani, a more youthful take on the Armani codes were realised in pale pinks.
New Creative Director for Pucci, Massimo Giorgetti made his debut for the house changing up the mood with a more youthful collection featuring feathered sandals and nautical references. Giamba, a still quite new sister line to Giambatista Valli, showed playful designs in sheer fabrics with hearts, flowers and lip motifs. A sweet reference to the 'Free the Nipple' campaign saw little stars appliqued to the dresses covering models nipples. At Bluemarine we saw sweeping dresses and lightweight jackets in pretty pastels and florals while at Brunello Cucinelli, loose masculine separates in a colour palate of navy and cream were favoured.
Stella Jean took inspiration from all over the world producing full skirts, shirts and coats made up in riot of colour and print. Her designs have been recently been picked up by Myer so if you are in Sydney definitely pop in and take a look. Etro showed a collection of romantic dresses in paisleys and florals on models styled with chokers, Marco de Vincenzo explored fringing and chinoiserie in primary colours while Versace unleashed a collection of masculine tailored pieces with a fierce, sexy feminine edge.
For Tods, a luxury leather goods house specialising in the driving shoe, ready to wear is still a fairly new phenomenon. Creative Director Alessandra Facchinetti built on the casual yet polished aesthetic she has established with striped pants, off the shoulder blouses, undone shirts, bomber jackets and, of course, the driving shoe which this season was reincarnated with jewels and embellishments. Ultra cool online vintage and style destination, La DoubleJ, launched one dress in a choice of 8 amazing vintage prints which is sure to become a cult street style favourite.
So in what was once again a huge week of fashion I have narrowed down some key collections which are sure to influence the way we dress here in Canberra in the coming months accompanied by illustrations by the very talented Johanna Dziadkiewicz, whose work you may have seen around the time of FASHFEST.
Gucci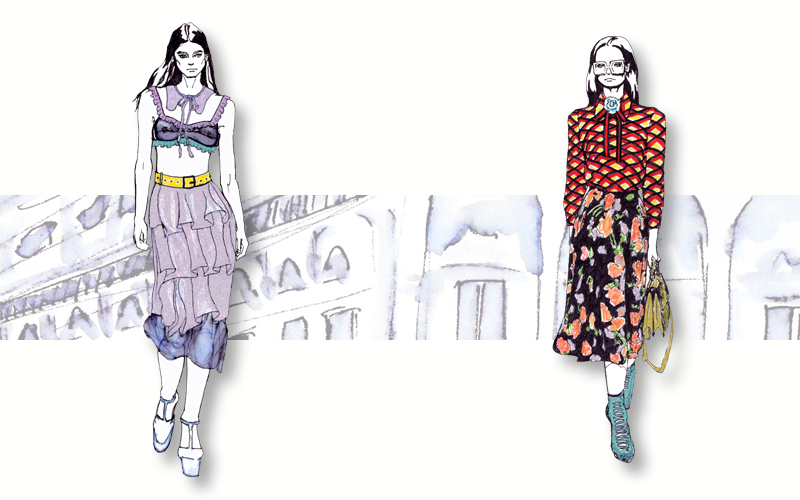 This would have to be my second favourite show of Fashion Week so far (after Simone Rocha of course). Still quite new at Gucci, Allesandro Michele has pressed reset on the house codes, moving in a completely different direction to that which came before him. His collections have met with critical and commercial success and his embrace of colour, texture and print have seen Gucci become more of a street style favourite. The S/S '16 collection was a riot of colour and print. Shirt dresses, lady like skirts paired with blouses, sequined blouses and bralets strolled down the runway on models with relaxed hair and barely-there makeup. Neck ties, oversize eyewear, adorable shoulder bags and jewellery that looked like it came out of Grandma's jewellery box all featured. Now that Gucci has come to Net-a-porter it is that little bit easier to get your hands on a piece of this sartorial magic.
Max Mara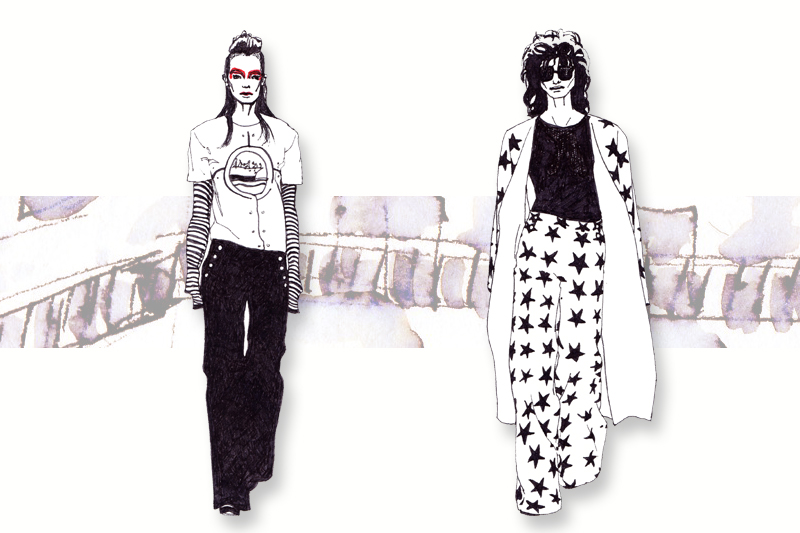 The Spring/Summer collection from Max Mara, a house known best for its luxurious outerwear, took a very different direction to their previous Autumn/Winter collection where Marilyn Monroe references abounded. This season saw the house look to all things nautical. Bretton striped knits with over long sleeves, tailored separates, brass buttons, stars, port holes and rope detailing featured over a colour palette of navy, white, black, taupe, red and yellow. Our very own Canberra boutique Pink Ink carries Max Mara so if you like what you see here you may very well be able to scoop up a piece without going far from home.
Moschino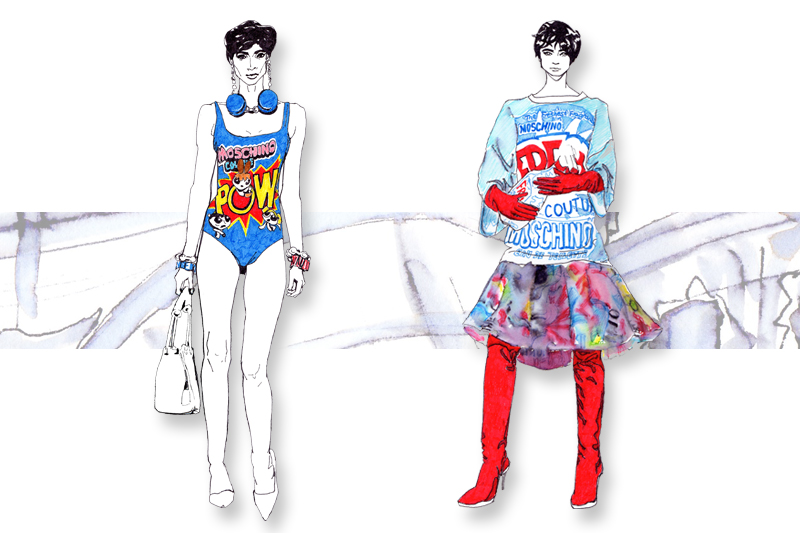 Jeremy Scott really knows how to work a theme. This season the Creative Director of Moschino took road traffic to another level referencing anything and everything from tire marks, traffic cones, stop signs and car cleaning products, adapting them into clothes and accessories mostly in a very literal manner. The set took the form of a giant car wash complete with blowing bubbles. Bella Hadid (sister of Gigi) was the star of the show sporting a 90s supermodel wig. Models in fringed dressed looked like swirling roller washers, 50's prom dresses got an update and the Powerpuff girls even got a feature. This collection is set to create a wealth of social media fodder. You can shop certain pieces including a top illustrated right here direct from the runway on Net a Porter right now.
Prada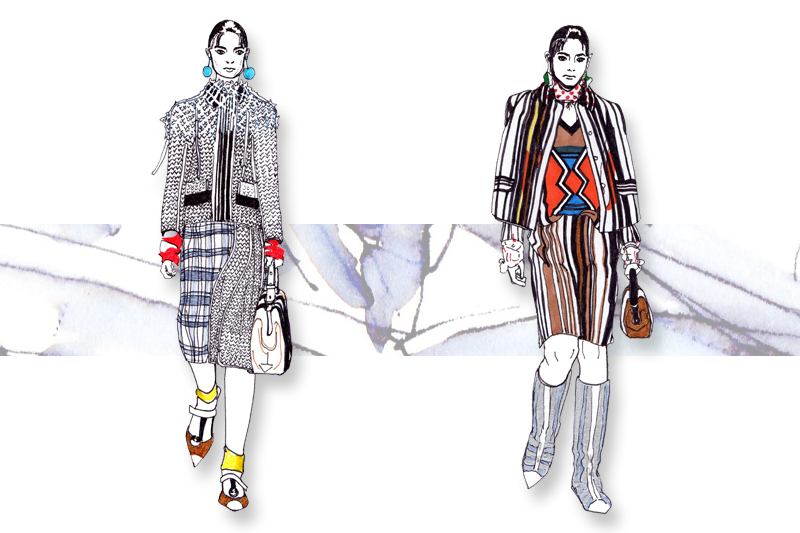 The legendary Miuccia Prada is known for being an intellectual designer who doesn't give much away in terms of her inspiration each season. For that reason fashion writers love to dissect her work in an event to tease out her references. This collection offered up a Prada signature; 'right' mixed with just enough 'wrong'. The humble skirt suit was reworked in a variety of lengths, fabrics, and prints while the drop-waisted dress (another Prada signature) emerged made up in bold stripes. The clothes were styled with attention grabbing disco ball earrings, gold lips, and wet slick hair framing the face. As always the shoes were divine and will be the perfect investment into the world of Prada.
Roberto Cavalli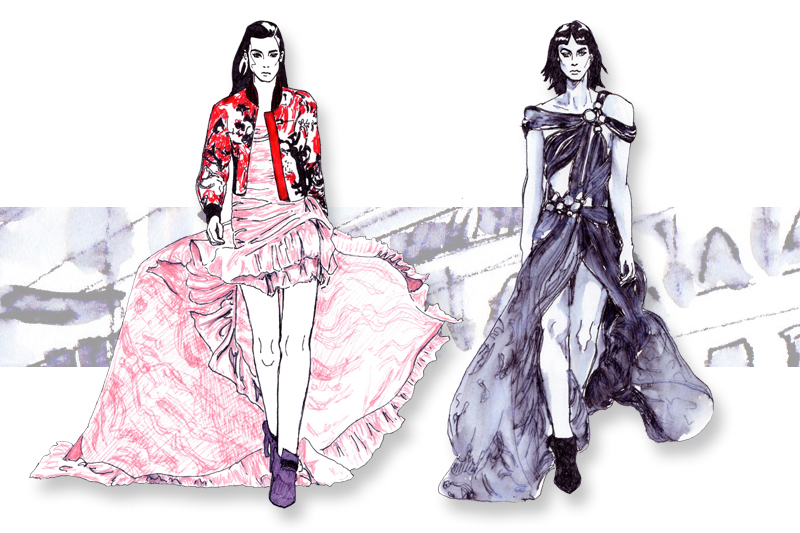 This show marked the debut of new Creative Director Peter Dundas who left Pucci to take up the helm at Roberto Cavalli. Unlike the major changes happening at Gucci under Allesandro Michele, the transition at Roberto Cavalli was more an evolution of the houses signatures rather than a complete reset. Animal prints, studs, short skirt lengths, and figure hugging cuts were all there but updated with denim, stone washing and tie-dye. The collection had a youthful almost sporty vibe and is sure to keep the Roberto Cavalli customer happy.
Our featured artist: Johanna Dziadkiewicz
Johanna Dziadkiewicz is a Melbourne based artist with a focus on fashion drawing & printmaking. Getting back into the art scene to illustrate for the Science-Fashion blog Entropy of Style, over the past year Johanna has been burning through fineliners like there is no tomorrow. Johanna loved having the opportunity to work with Emma & This is Canberra, particularly covering the colour and flair in Milan this week.