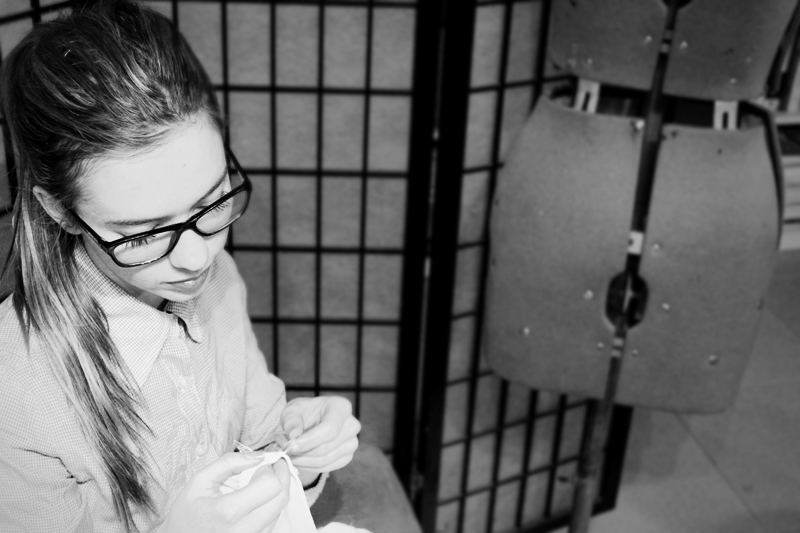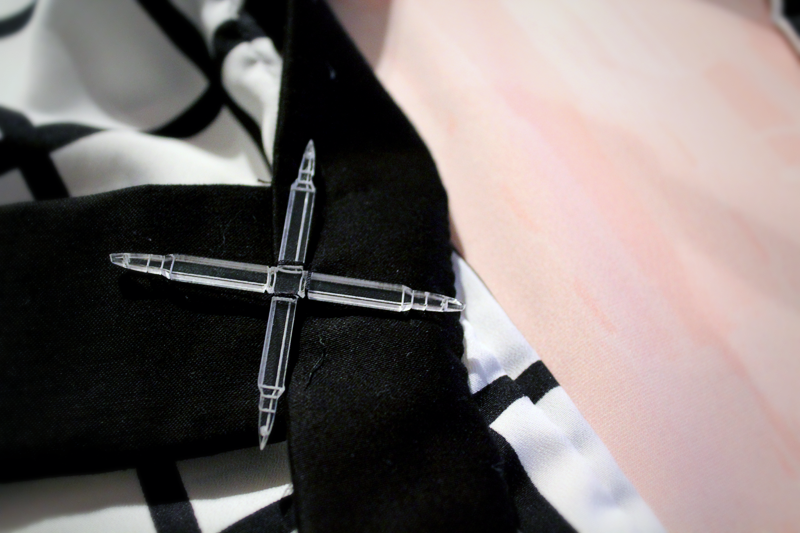 The collection shown by Canberra designer Emma O'Rourke under 'The Label' was one of the standouts at this year's FASHFEST. The pieces were sophisticated, featuring clean lines, wearable cuts, a muted colour palette and subtle prints.
I first met Emma O'Rourke at the FASHFEST buying day. I was instantly drawn to her warm, open personality. I was instantly impressed with her obvious passion for her craft. Up close, the detail and work in the collection was evident and the clothes were just as desirable off the runway as they appeared on it.
O'Rourke grew up in Canberra, completing her Bachelor of Design (Fashion Design) at the Canberra Institute of Technology. She graduated in 2014 finding the experience of studying fashion design intense yet rewarding. Her first collection for FASHFEST was nearly a year in the making and was inspired by AK-47 guns and bullets. In a subversive twist, she took the raw, almost violent images of these guns and ammunition, turning them on their heads by printing them on pale, feminine coloured fabrics.
"They [the guns and bullets] have beautiful design elements to them, so complex and rigid. I took this nature of guns and moulded it into a stripped back, simplified and reserved core," she says. "Almost all of my work incorporates the look and feel of opposing design elements–I always aim for The Label to represent clothing that is refined and wearable yet with a hidden edge, and I think I achieved that."
Like so many designers, she was always creative as a child. "As a kid I used to love watching Fantasia and drawing all of the characters. This creative side of me slowly developed into a love of fashion and all things design." Now, at 24 years of age her design process has definitely evolved. "My creative process is anything but linear; there is always a great deal of trial and error. I often have spur of the moment ideas that let me find a better way to minimise fabric waste or make a garment more functional."
For O'Rourke, the design process usually starts with collecting inspiration for which she looks to multiple sources. "Even the smallest detail in this process can form the basis for an entire collection." She describes The Label's 'woman' as someone who loves clothing that is wearable with an edge, is innovative yet refined. "I also think she is someone who understands the value of buying clothing that do their part to help the environment and appreciate the importance of ethically made clothing."
When asked about other designers she admires, she says "I always find this a very hard question to answer because the fashion world is filled with so much unbelievable talent. I really appreciate the effortless simplicity of Phoebe Philo's (currently Creative Director of French house, Céline) design aesthetic and Stella McCartney's (Creative Director of her namesake label) commitment to sustainable clothing across a high-fashion platform is something I always look up to. The talent from Australian designers is revolutionary, labels like Dion Lee and Ellery embody perfection in every way."
Like many Canberrans, the young designer currently works full time in the Public Service. "I know how hard the fashion industry can be to break into, especially when fast-fashion is so prominent," she says. "But I think as people come to realise how damaging fast-fashion can be, they will look more and more to Australian designed and made clothing. I would love for my business to keep growing, my goal is to be working on The Label full time."
She is keen to take her time to grow her business the right way, to keep learning, innovating and being inspired to create something that she and her customers can really be proud of. And while taking orders for her current collection, she is already looking ahead and gathering inspiration for her next one. Given the strength of her latest offering, I believe we can predict great things ahead for this very talented local designer.
SHOP THE LABEL
The Label Online
The Label on Instagram
The Label on Facebook