If you've been to Belconnen lately, you may have noticed a quirky new establishment set up right in front of the Woolworths, called Tamago Co. This bubble waffle and tea house is already serving up excitement across Canberra's north.
Having only been opened for a couple of weeks, Tamago offers a mixture of sweet and savoury Asian-inspired street food. Victor is the creative behind the establishment and says that its menu brings together popular Asian flavours.
Victor was born and raised in Canberra, and was looking for a way to share flavours that were inspired by his heritage as well as his travels. Tamago, therefore, offers flavours 'from all around Asia' including Hong Kong, Japan, and Taiwan.
While bubble waffles and tea are not a new invention, the combinations that the Tamago team have put together are indeed innovative. The tea menu houses stand-out tea flavours including the roasted rice Japanese green tea, which leaves a tingle on the tongue; the super creamy and widely popular Matcha tea; and the very taro milk tea, which is one of Tamago's top picks.
Tamago's tea selection is best paired with one of their famous waffles. The menu includes ice-cream waffles, whipped cream waffles, Hong Kong-style grid waffles, or the plain bubble waffles.
If you're feeling adventurous, opt for the Black SesaMe ice-cream waffle. It is an epic compilation that comes highly recommended by Victor himself. The waffle is light and fluffy topped with a pungent Japanese black sesame ice-cream, fresh berries, almost candy-like red beans, and some delightful pocky sticks.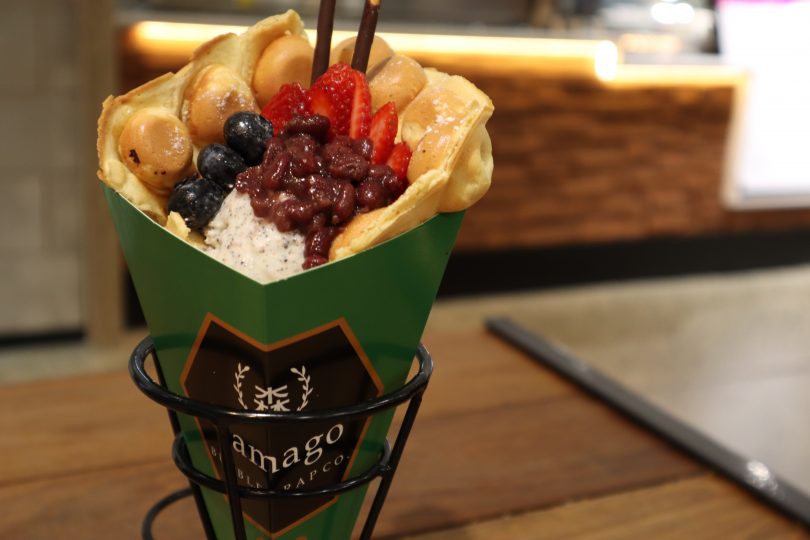 The pocky sticks are particularly interesting as they add a dense chocolate overtone which is broken up by the saltiness of the stick itself. The inclusion of the pocky sticks, therefore, balances out the sweetness of the waffle, leaving a delightful and satisfying taste in the mouth.
For those who are seeking to tame their hunger, Tamago also offers savoury items. The menu starts with a simple 'Good ole' hotdog and becomes more complex, offering items such as the layered 'Hawaii' hotdog (topped with cheddar cheese, ham, and pineapple).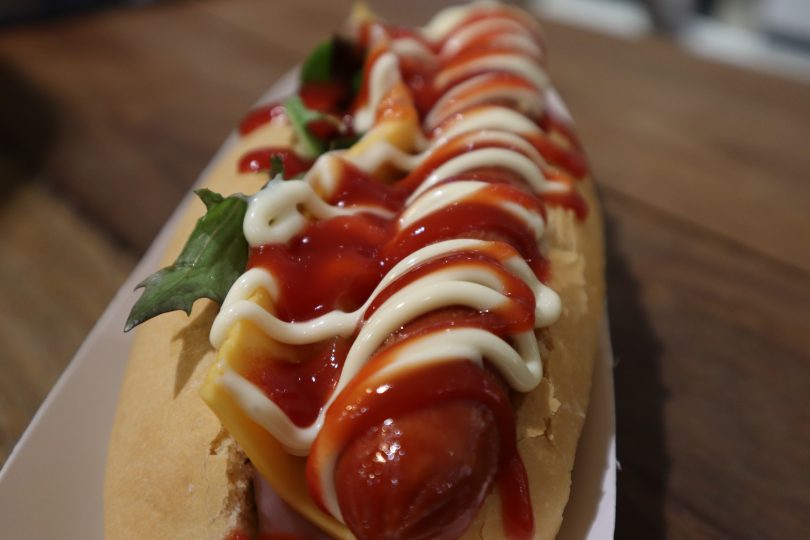 Thrill-seekers may want to try the Double Titan sub which comes packed with a double juicy grilled dog, cheddar cheese, salami, ham, pineapple, salad, and a choice of sauce.
While an excellent spot for those looking for a sweet and savoury fix, Tamago is still ever-expanding. Victor says that the menu is constantly changing as the team trials new items and flavours. A future goal is to potentially include a greater variety of vegetarian, gluten-free, and even vegan options.
The popular waffle spot has also recently started serving coffee. Caffeine enthusiasts can even enjoy their coffee with a 'lolly waffle' as part of Tamago's new special. It's a triangular waffle (on a stick) covered in Nutella and hundreds & thousands.
What more could coffee lovers ask for?
Tamago is located on level 2 of the Westfield in Belconnen. It's open for a sugar fix Monday –Thursday 10 am-6 pm, Friday 10 am- 9 pm, Saturday and Sunday 9:30 am-5 pm.
You can find out more by following Tamago on Facebook and Instagram, or by visiting the website.
Original Article published by Branka Prodanovic on the RiotACT.