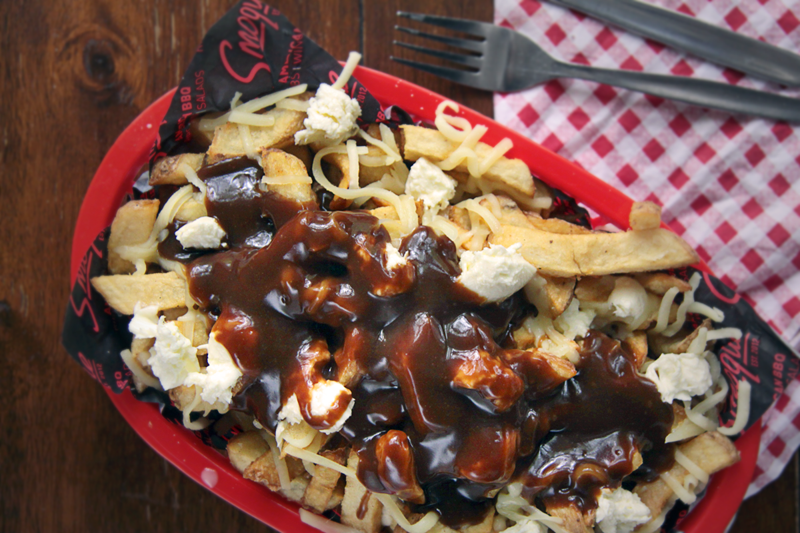 American food from both north and south of that particular continent has been all the rage over the last few years. Barbecued meats from Argentina and Brazil, tacos from Mexico, or ribs, burgers and po' boys from the States have all grabbed our attention in a big way. One of the nations that we haven't heard much about though, has been Canada.
It's probably fair to say Canada does not really have a cuisine that clearly sets it apart from the United States. Probably its most celebrated culinary contribution is maple syrup, made from the sap of the tree whose leaf sits proudly on its flag, but again it shares this particular honour with its southern neighbour.
The province of Quebec does have a number of dishes that hint at its French heritage, but certainly not in an all-encompassing fashion. Quebec is most famous for one particular dish however, and it has very little to do with the delicate art of French cuisine. That dish is Poutine.
Poutine may sound a little exotic, but in actual fact, it is basically French fries and cheese curds smothered with hot gravy. While this may not immediately evoke feelings of gastronomic ecstasy, it is a dish that holds a type of devotion that borders on cultish adoration.
The trick to a good Poutine I'm told, is the quality of the gravy, and to ensure it is hot enough that it melts the cheese curds, resulting in a deliciously hot mess. As far as provenance is concerned, the word is said to have actually originated from a Québécois slang word for mess. One often cited account of its origin has a restaurateur exclaiming "ça va faire une maudite poutine" when asked by a regular for fries and cheese curds, which apparently translates as "it will make a damn mess."
If this sounds like the kind of mess you'd like to get into, Smoque, that bastion of all things American, is currently serving Poutine as a special for a limited time.