The Edit is a series produced by Jade Hansen that features the people behind some of Canberra's most note-worthy fashion, beauty and lifestyle offerings.
There's a revolution taking place in the fashion industry. It has been for a while, but lately, awareness about ethical fashion has increased significantly, putting the onus on the garment and textile industry to prioritise fair trade and consider the environmental impact of fast fashion.
But while businesses change their operations, we as consumers must also comprehend the consequences of our decision to take part in the fast fashion industry. It might come to mind whenever we look at a readily-available fashion label, or when we look at our wardrobe and the little voice inside our head says 'this is too much'.
This week I had the pleasure of demolishing chocolate brownies and drinking endless cups of tea at Morning Glory with the gorgeous Michelle Jasper. Michelle is the perfect model of an ethical fashion consumer. She was not born an ethical consumer; her consciousness was raised as she observed the world's immoralities. We covered a range of topics from babies, to living consciously, mentoring programmes and the concept of the Circular Economy. There truly is no better way to spend a Canberra sunny autumn afternoon.
-Michelle's story-
Michelle moved to Canberra from Western Australia in early 2017 with her husband and son, then aged 11 months. "We decided to leave family and friends in WA when my husband was offered a role within the Public Service. I was still on maternity leave and couldn't think of a better time to start a new adventure! I can't believe it has been two years already, where does the time go?"
-Living with less-
Michelle began to think about buying habits after having her son; she explains that she "became much more conscious about purchasing decisions and started researching more ethical/sustainable brands and more broadly, the circular economy". Her move to Canberra caused her to further examine what she valued and what was purely thoughtless consumption.
"Before moving to Canberra, I donated bags of designer clothing as I was completely moved by the documentary Minimalism: A Documentary About the Important Things which shifted my mindset," Michelle explains. "It is incredibly inspiring that our small country can be a leader in the sustainable fashion industry."
-Quality over quantity-
A full-time Research BDM at ANU, Michelle is a firm believer in collaboration between Industry, Government and Research institutions. "It creates a greater path to impact, and this needs to happen if we are to make this world a better place for future generations." Living a conscious lifestyle means that Michelle is constantly deciding to "purchase quality (both brand-wise but also ethical, sustainable and eco) over quantity – enter my Parisian inspired capsule wardrobe – no more impulse purchases!"
"Canberra is home to some beautifully crafted, ethical brands," she notes. "It has its own entrepreneurial ecosystem, and I love that about Canberra."
-An inspiring capital-
"Canberra is resource rich when it comes to entrepreneurialism," Michelle says. We have Canberra Innovation Network and The Mill House that can accelerate your entrepreneurial vision." Having connected with several local entrepreneurs/small business owners since she arrived, Michelle has found many like-minded individuals.
And now that Michelle is expecting her second child she plans to use her maternity leave to make a difference and thinks Canberra is the perfect place to do just that.
"Canberrans are so open, and everyone is so willing to share their experiences and support one another, this is incredibly inspirational for the girl boss within! Imagine a mentoring platform that could help channel all the great talent we have here in CBR – maybe that's what I'll create!"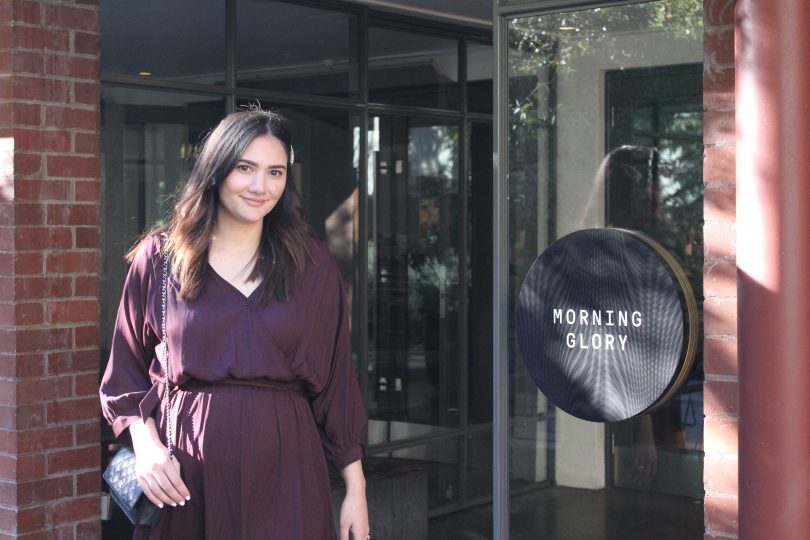 Original Article published by Jade Hansen on The RiotACT.