After seven years, the Centenarian Portrait Project by Teenagers is coming to an end with a final exhibition in Canberra after a national tour.
The epic project saw teenage artists from across Australia recruited to paint portraits of people aged 100 or older.
Rose Connors Dance, creative director of not-for-profit art organisation Embraced Inc, was inspired to create the project through her experience living overseas in her 20s.
"One day, I looked around and realised that I'd been spending all my time with people under the age of 35," she said.
"I wondered, 'How can I get an understanding of a new place if I'm only spending time with the one age demographic?'"
It started with a pilot project in Melbourne before expanding nationwide, eventually involving more than 400 teenagers and centenarians.
Nineteen-year-old Tess Chung, one of the participants from the ACT, was paired with Margaret Forsythe.
"I remember walking in and she had this vibrant pink lipstick on," Ms Chung said.
"I got this sense of a lot of vibrance and life still in her."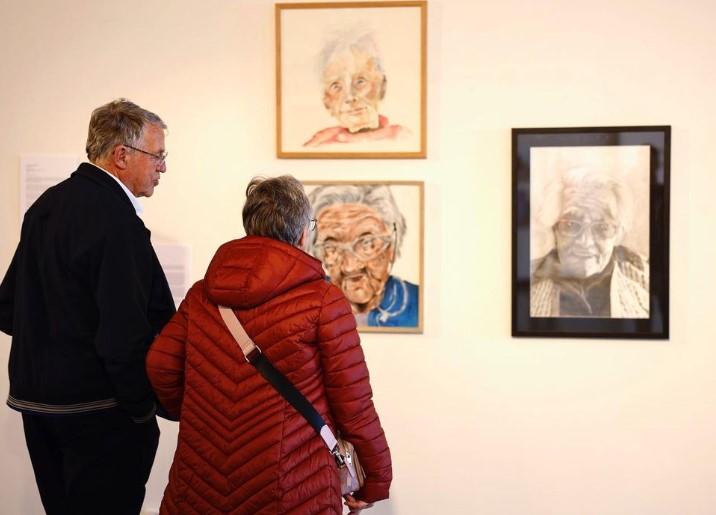 It was an easy decision to get involved, Ms Chung said, after she saw a call for participants online.
"At the time I applied, I was about to start university for animation, so I wanted to be involved in some more local art-related projects.
"This one stood out to me because it was a really sweet idea – a lot of art projects are competition-based, and I wanted to apply to something more community-focused, and I thought this fit the bill."
She spent the past few months balancing her studies in Sydney with regular visits to Canberra to visit family and work on the portrait.
"When I met her, I didn't know what to expect at first," said Ms Chung.
"I was greeted by someone who was very articulate, very interesting.
"She had a fascinating life story about emigrating from New Zealand and living all over the world with her late husband.
"It was really interesting to see someone so humble with such a big life story."
She said the portrait took several sessions totalling about six hours, with the painting done in materials that included gouache paint and markers.
"I could do long, dedicated sessions and get sections of it done.
"A lot of it was trying to figure out and capture your centenarian's essence and energy and bring that to life visually, which is quite difficult.
"It was really important to me to be able to bring forward something that she felt was accurate to her, but also something that her family would feel captured her."
After a tour through every Australian state, 100 Canberra will finish with a six-week exhibition in Belconnen, with one hundred artworks.
"This is our national finale, which is very special because we've got a collection of works from every state and territory," Ms Connors Dance said.
"We've tried to choose works that vary in mediums, style, approach and symbolic elements.
"It's very difficult to narrow it down to only 100 because every work embodies the connection and the time that the young artist has spent with their centenarian subject, and there are layers upon layers of different stories that have come out of these interactions," she said.
Ms Connors Dance said that while they are important, connections across generations can be neglected.
"We tend to split ourselves up in Western communities by age, and we have a lot of loneliness across the generations at the same time – and we've seen that particularly during COVID.
"Learning history, learning about personal experiences first-hand, when it's connected to someone, is a much more engaging, exciting and memorable way to learn about the past," Ms Connors Dance said.
Ms Chung said her involvement in the Centenarian Portrait Project by Teenagers had seen the importance of inter-generational connections emphasised.
"There was also a secondary fact that people, particularly in old people's homes, might be very isolated or not always in ideal circumstances.
"We really wanted to treat the project with dignity and try to get to know the person as they are."
100 Canberra is being hosted at the Belconnen Arts Centre until 2 July.
Original Article published by Claire Sams on Riotact.