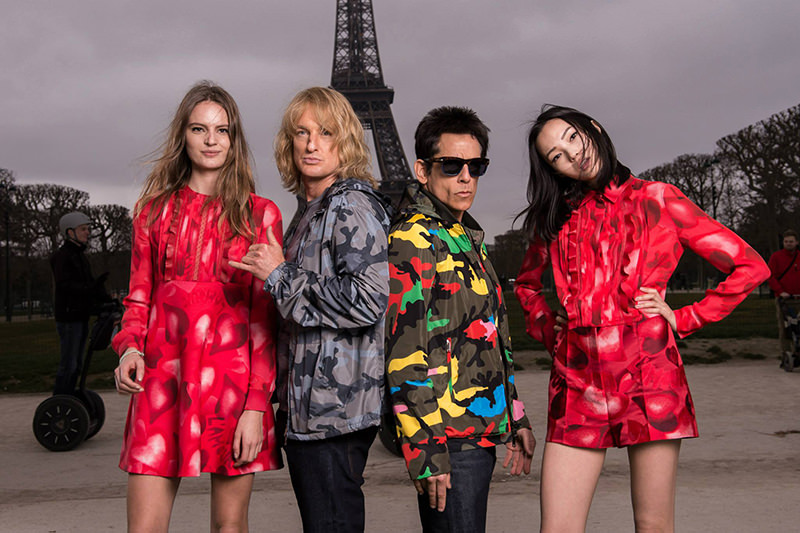 One of the most quotable movies of all time, the original Zoolander explored (and lovingly mocked) the world of high fashion in a way not seen before. Even the films fictitious 'looks' have penetrated our social consciousness, with Derek Zoolander's famous 'Blue Steel' now a ubiquitous selfie expression. With a huge legacy behind it, this sequel has been one of the more hotly anticipated films of the year.
The sequel finds our favourite male models Derek (Ben Stiller) and Hansel (Owen Wilson) navigating a very different fashion landscape to the one they thrived in during the early noughties. Having both disappeared from the spotlight after the unfortunate collapse of 'The Derek Zoolander Center For Kids Who Can't Read Good And Wanna Learn To Do Other Stuff Good Too,' the pair are called back to the world of high fashion by an invitation from new mogul Alexanya Atoz (Kristen Wiig). With someone killing off the world's pop stars and threatening the wellbeing of Derek's estranged son, Derek and Hansel are on hand to help Interpol Fashion Division officer Valentina (Penelope Cruz) save the day.
With what seems like at least one celebrity cameo per minute, Zoolander 2 certainly ups the star power stakes. Pop stars including Sting, Justin Beiber and Katy Perry; actors such as John Malcovitch, Kiefer Sutherland and Billy Zane; supermodels Kate Moss, Karlie Kloss and Jourdan Dunn; Designers Marc Jacobs, Alexander Wang and Tommy Hilfiger, and even legendary Vogue editors Anna Wintour and Franca Sozzani are just some of the many celebs who make an appearance. Perhaps the most memorable cameo is that made by Benedict Cumberbatch who plays the newest 'so hot right now' model, All. While still amusing to the fashion lay person, the inclusion of a character like All is spot on satirically as gender fluidity and androgynous dressing increasingly permeate the runway.
A film of this nature is nothing without the clothes and costume designer Leesa Evans doesn't disappoint on that score. Having set out to deliver costumes that were part couture, part comedy, Evans collaborated with a number of houses including Valentino, Saint Laurent and Balmain; as well as Kenzo, Dries Van Noten and Opening Ceremony. She worked directly with Zac Posen to create some of the more extreme and memorable couture pieces worn by Alexanya Atoz and dressed Valentina in a custom red leather moto-suit from Costume National, so tight and so alluring it won't be forgotten any time soon.
The timing of a Zoolander sequel is opportune, given that the rise of social media has opened the world of luxury fashion up to a whole new audience. The intimate glimpses into the lives of models, designers and fashion influencers only make luxury fashion labels more desirable. Ben Stiller and Owen Wilson are also the perfect age to represent their now faded alter egos. Any older and they would not have been able to make a comeback into an industry obsessed with youth.
Zoolander 2 stays true to its heritage, bringing together all of the things that nostalgic fans of the original film will expect. Where the film truly excels is in providing a relevant, tongue-in-cheek look into the fashion industry today. Writer Justin Theroux has done an admirable job straddling the line between mass appeal and doing the fashion world proud. You don't need an interest in fashion to enjoy this film; however, some of the subtle jokes, stories, and even costume choices are just for the fashionista.
Zoolander 2 premieres February 11
Session times:
Palace Electric
Dendy
Limelight Tuggeranong
Event Cinema Manuka
Hoyts