Whether you're chewing over an idea with colleagues or enjoying a wine with friends before a show, As You Like It Cafe and Bar has a fabulous all-day menu to fuel your food for thought.
As You Like It operates within The Street Theatre at ANU, hence its name. Light-filled and spacious, with views out across busy Childers St, owner Joe Campagna is understandably proud of how his cafe has grown over the years.
"We offer a relaxed atmosphere where people can catch up for a casual coffee," he says.
"Our venue is perfect for a work lunch/meeting, spacious enough for parties or business functions. We are a fully licensed bar, but our family-friendly vibe means you can bring the kids in for a milkshake and treat."
Like a lot of Canberrans, Joe spent years working in the public service, "but my background was hospitality", he says.
"In 2004, I decided I needed to get back into the hospitality industry. I bought As You Like It with a business partner and we had many successful years together before he sold me his half of the business in 2012. Our cuisine is modern Australian. We tailor our menus to suit the seasons and also run fortnightly breakfast and lunch specials to keep things interesting."
The all-day menu looks fun and there's something there for everyone.
Joe says they took time to build their menu. Rather than simply trying to please the diverse crowd that comes through the café's doors, the team has created a menu full of the food they love to eat.
While Joe is not a chef, he loves good food that hearkens back to childhood memories of being in the kitchen, watching his mum cook scrumptious Italian dishes from scratch.
Brekky classics are laid out cleverly, with all the unique ways you can tweak them just 'as you like it', clearly listed. Several burgers populate the menu: classic beef, a veggie version and a crispy chicken burger that Joes says is his favourite.
Joe recommends his own creation, the Japanese style hotcakes, for breakfast.
"We have classic buttermilk hotcakes but also offer a vegan Biscoff version. If savoury is more your speed, our zucchini fritters (his wife Candice's go-to dish) are a staple of our breakfast menu."
Time to eat! The Green Goodness Bowl sounds like it will taste amazing while not breaking my '12-steps-to-bounce-back-from-lock-down-poundage goals'.
My hotcakes, on the other hand, will.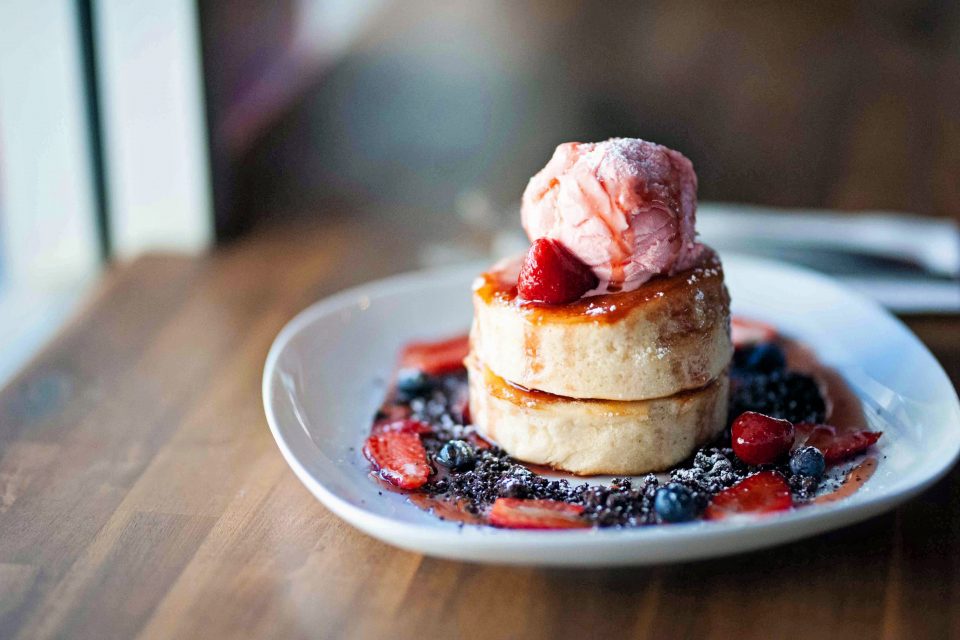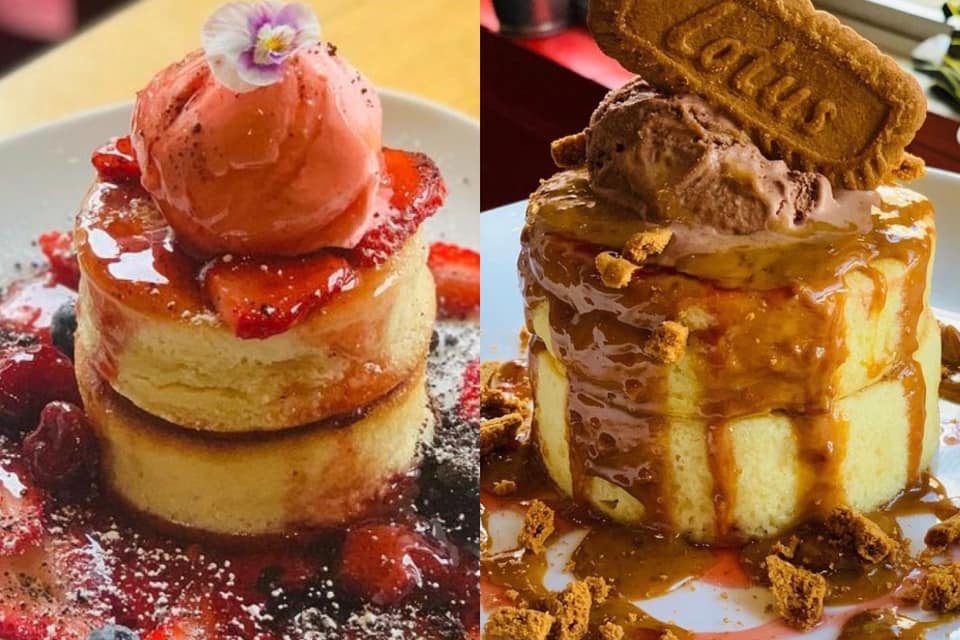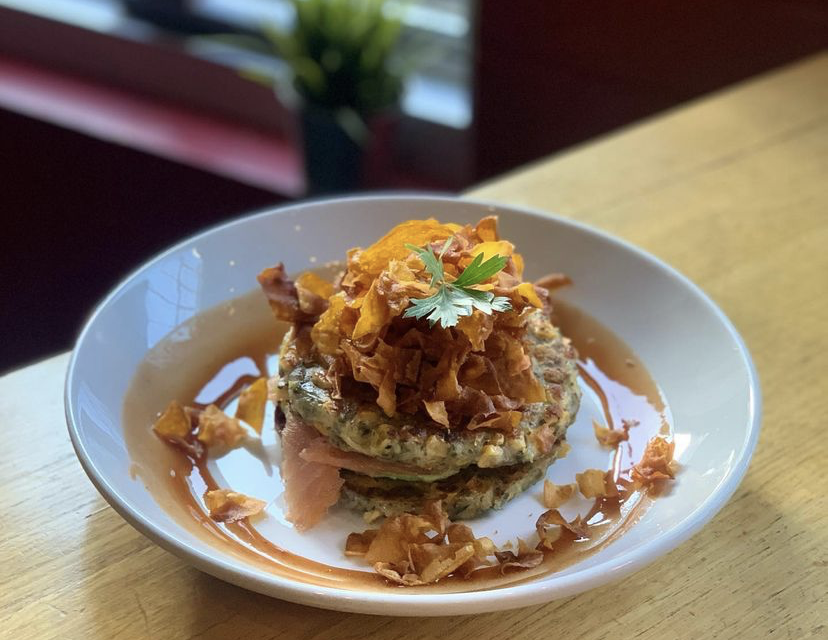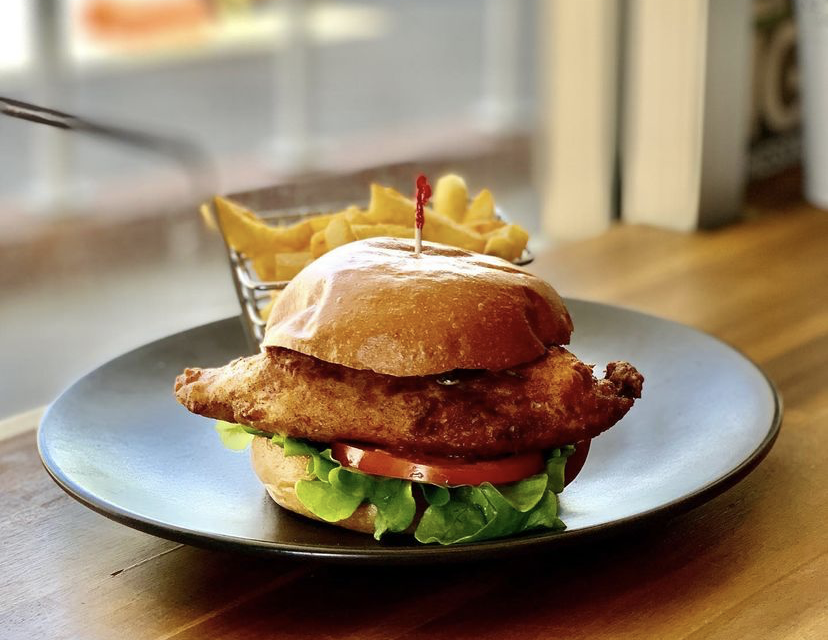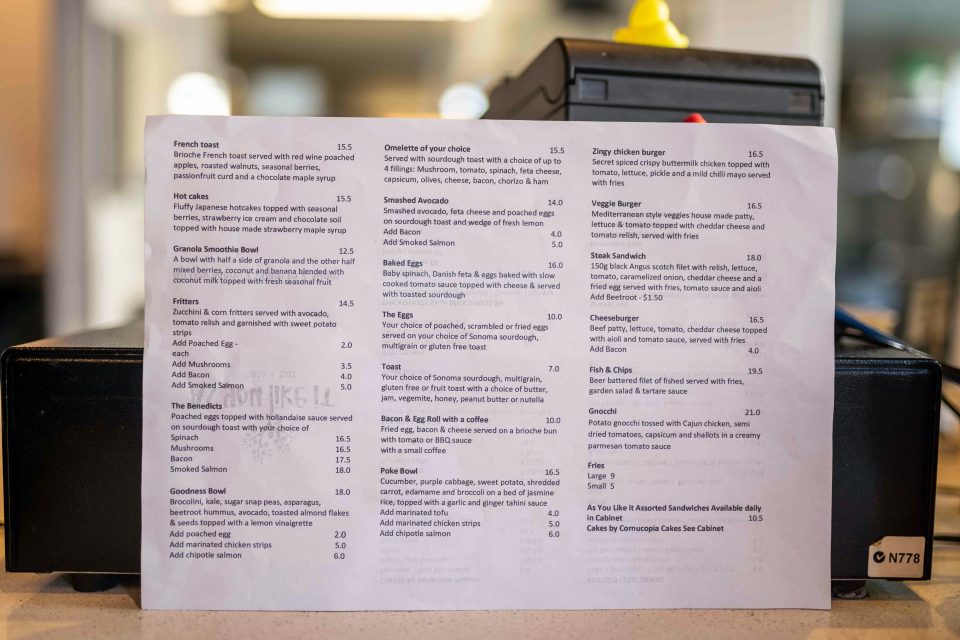 Plump hotcakes – you would be hard-pressed to find taller hotcakes anywhere, topped with house-made strawberry-infused maple syrup and strawberry ice cream.
The hotcakes sit on a plate surrounded by berries, crunchy chocolate soil and more of that coral-tinged syrup. Maple syrup would have to be one of my top three flavours. Although I am a maple syrup purist, perfuming rich maple sweetness with notes of real strawberries is a genius move.
The hero of my Green Goodness Bowl is a surprise. It is deliciously crispy fried kale! The accompanying tender broccolini, fresh sugar snap snow peas with mixed toasted almond flakes, avocado and zingy beetroot hummus all go so well together. You can add chicken, a poached egg or chipotle salmon, but the dish is a filling and tasty meal on its own.
Joe says the cafe has been especially impacted during this latest lockdown, and with the ANU keeping their studies online for the remainder of the year, times are still tough. So, let's get behind this hard-working team who love to support local by using Sonoma bread and stocking Cornucopia Cakes!
Pop by on Tuesdays between 7 am and 11:30 when the most items on the special breakfast menu are $10! Some dishes even include a delicious Veneziano coffee.
As You Like It Cafe and Bar is located at 15 Childers St. It is open from 7 am to 4:30 pm from Monday to Friday. Follow them on Facebook and Instagram to find out about their first weekend breakfast pop-up.
Original Article published by Michelle Taylor on Riotact.