If you haven't already heard, Altina's Zero Proof Craft Cocktails are sophisticated, zero-proof palate-perfect cocktails that activate your tastebuds like a fine wine.
When Altina co-founders Alan Tse and Dr Christina DeLay started the brand, their research showed that Australians drink alcohol to have a good time, but alcohol-related injury, drink-driving convictions and accidents, alcohol-related violence and the next day hangover seem to make drinking alcohol to excess less worth it.
That's why Altina is the host of a fun new event launching this month: the Zero Proof Festival.
Sponsored by Rolfe Classic Mini Garage, Rubik3, Pialligo Estate and Yellow Edge Performance Architects, the Zero Proof Festival is a showcase of taste and information. Spanning three events, the Festival will explore how to socialise, entertain and have a great time without alcohol.
Normalising the idea of alcohol-free drinking is an uphill battle, particularly as the alternatives are often sugar-laden, unsophisticated soft drinks that aren't particularly inspired or inspiring.
But the reality is that not everyone can consume alcohol or even soft drinks. Diabetics, people on medications that interact with alcohol, designated drivers and people who choose not to drink. So what drink will make them feel as though they're catered for on a special occasion, without the danger of alcohol or the amount of sugar contained in a soft drink?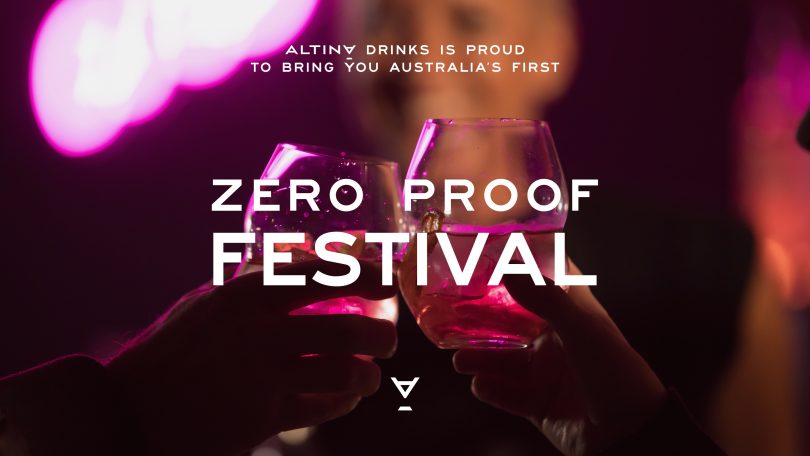 The Zero Proof Festival will address these questions in its first event on 1 July – a live chat with Shanna Whan, Founder and CEO of Sober in the Country (SITC).
Shanna will share her candid truth about sobriety, from rock-bottom to national alcohol awareness ambassador and speaker. Understanding alcohol addiction is extremely important in battling the culture of alcohol consumption we have in Australia. This event will be streamed live on Instagram.
The second event on 15 July will be hosted by Kristen Davidson, mum-to-be and ambassador of Pregnant Pause. Join her as she teams up with Pialligo Estate to give you a cooking masterclass. They'll be taking you on a Central Coast Seafood Journey, while you watch your meal be cooked, sip on Altina zero-proof cocktails and graze on smoked charcuterie. Attend in person or watch from the comfort of your own home.
Rounding off the Festival, Healthy Eating Hub Founder Kate Freeman will talk through the topic of 'Alcohol, Sugar and Weight', hosted by the Rolfe Classic Mini Garage Showroom on 29 July.
Hear the truth about those beer bellies, sip on an Altina and nibble on smoked charcuterie and other fresh delights.
Altina co-founder Alan Tse is keen to promote acceptance of people not consuming alcohol to celebrate special occasions.
"What's interesting for our brand is that it is a very sophisticated drink. Our brand is about a memorable moment, we want our products to be associated with a special occasion," he said.
"We set out to make a healthy, tasty product which is sugar and alcohol-free but special enough for special occasions."
He and his co-founder Christina wanted to make a drink with a palate of complex flavours.
"Why do we like wine, why do we like beer, why do we like spirits?" Alan asks. "It's the complexity of flavours.
"We wanted to develop a zero-alcohol drink, without sugar, that had the same complexity of taste as an alcoholic drink. We didn't want to use sugar or juice, we wanted to rely on the taste of the ingredients themselves. We see our product as unique," he said.
"We wanted to make it with Australian-based ingredients and showcase them. So Light Me Up has a lovely strawberry top note, a sweet aroma and we added some green tea to give you the stringency. It activates the tastebuds throughout your mouth and your palate."
Altina's Zero Proof Festival begins on 1 July and concludes on 29 July. Tickets and venues which stock their product are available on their website.
Original Article published by Sharon Kelley on The RiotACT.