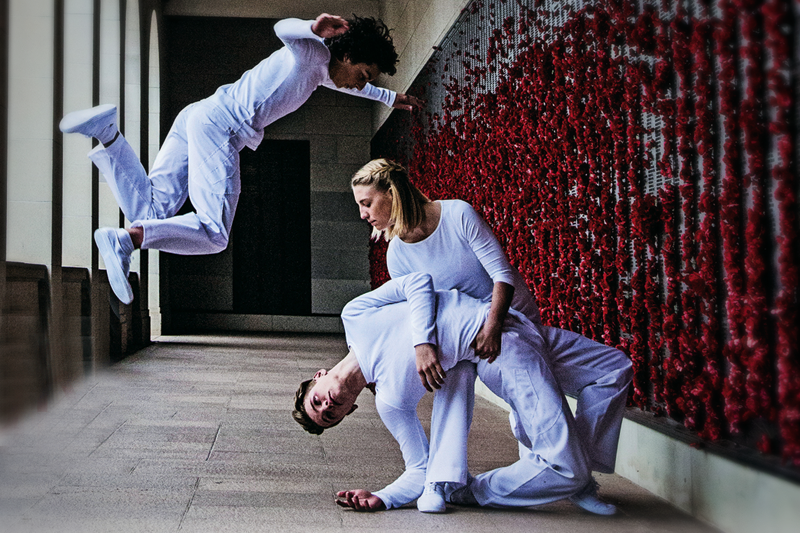 This year, in conjunction with the Centenary of ANZAC, Quantum Leap, Canberra's own youth dance ensemble, is remounting their award winning work Reckless Valour. Originally made ten years ago in collaboration with The Australian War Memorial, this moving tribute to young Australians in war is re-imagined in 2015 with an all new cast and a new section choreographed by original 2005 cast member and now choreographer, James Batchelor.
Now in its 16th year, Quantum Leap has produced more than its fair share of successful, award-winning dancers; Sam Young-Wright who Canberrans have recently seen performing in Sydney Dance Company's Frame of Mind, Daniel Riley-McKinely who has performed and choreographed for Bangarra Dance Theatre, Jack Ziesing who dances for Expressions Dance Company in Queensland, and Sarah Black who has danced for Chunky Move and Lucy Guerin Inc. And this is just the tip of the iceberg, with many more Quantum Leapers performing as part of companies in Australia and overseas, working as independent artists or as part of a collective, and are dance teachers or dance school owners.
James Batchelor explains the importance and impact of a program such as Quantum Leap on shaping young dancers, particularly young male ones. "Quantum Leap offered me an environment free from gender stereotypes, one that made being a young male dancer something to be celebrated, not condemned. I can confidently say that without Quantum Leap, it is unlikely that I would have continued dancing into my teenage years." With Batchelor owing much of his current success to Quantum Leap he was honoured to be asked back to choreograph a new section for the remount of Reckless Valour. "It has given us a chance to reflect on how the world has changed in the past ten years and particularly the resonance of war in its modern context."
In many ways the value of the Quantum Leap program goes far beyond just creating exceptional dancers. It is really about guiding the next generation of intelligent, creative and active young people. Michelle Norris, another former Quantum Leaper and now QL2 Board Member, agrees that over a decade of participation with the youth dance ensemble taught her about teamwork, leadership, and mentorship. "It allowed me to stand up from a young age and take ownership of my ideas, of projects and of the creative process of dance. I am now a manager in the public service and I still apply these lessons in my work and feel I have become a more rounded person and someone who is better able to articulate their ideas."
The Quantum Leap program has been integral in shaping the careers of so many Canberra dancers working in Australia and overseas. In booking a ticket to see Reckless Valour at the Playhouse not only will you experience an evening of thought provoking, affecting dance theatre, you will be watching the next generation of Australian innovators taking their first leap across our Canberra stage.
-Photographs: Lorna Sim
Reckless Valour is showing at The Playhouse
Canberra Theatre Centre
29 July – 1 August