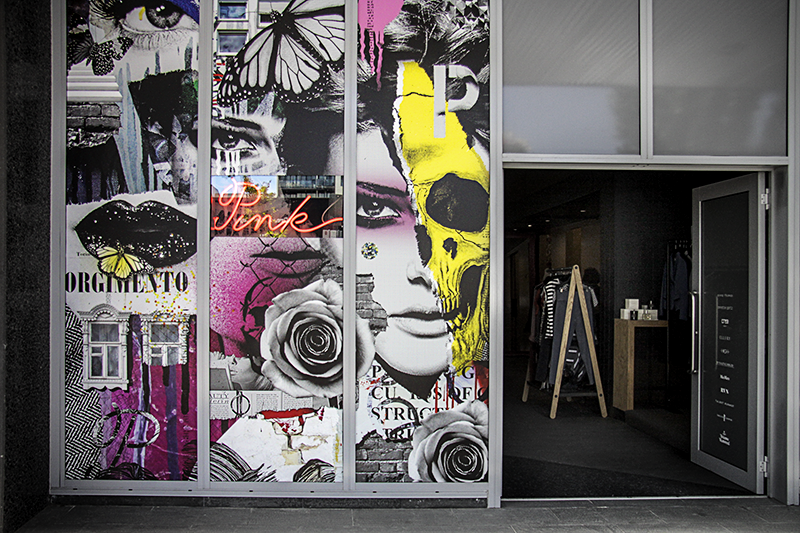 Something has changed in Lonsdale Street. Has a new coffee place opened? I hear you ask. Or maybe another shop from which to buy achingly cool home wares? No, it is a small change brought about by a stalwart resident, premium fashion boutique Pink Ink.
At an exclusive in store event late last month, Pink Ink revealed a new look exterior featuring digital artwork by local artist Scott Ketley. This striking façade will serve a dual purpose; as well as reflecting upon the history of the boutique thematically, the artwork also creates a sense of privacy and intimacy for the customer by blocking the fashion treasure trove within from the view of the street.
The guest of honour was certainly one qualified to comment on the calibre of luxury labels ­­­­— Pink Ink stocks Ellery and Max Mara among its stable — housed within the new-look premises. Editor of Harpers Bazaar Australia and proud Canberra girl Kellie Hush charmed guests during a Q&A session hosted by Catherine Friday. As well as reflecting on her career path, wardrobe and the strengths of Australian designers, Hush praised the Canberra boutique, reflecting that "Pink Ink delivers an international standard of service in Canberra." Coming from someone who regularly travels the world for her job, this is indeed a winning endorsement.
With more and more international chain stores entering the Canberra retail space (H&M is rumoured to follow Zara into the Canberra Centre, not to mention Ikea taking over the home sector) independently owned boutiques such as Pink Ink will need to fight harder than ever to win our hard earned cash. "Fast fashion and the fact that we can shop any time of day is the reason boutiques are so important," explained Hush at Pink Ink's special event. "Jane [Petterson, director of Pink Ink] knows you, she knows your lifestyle. It is this bespoke service that is so important today."
The change that has taken place at Pink Ink is designed to enhance the individually tailored shopping and styling service Jane Pettersen, Pip Thompson and Katrina Kelly have built their customer base upon. This type of shopping, the type that doesn't even feel like shopping, that feels more like spending time with a friend who happens to show you beautiful pieces that have the power to transform your wardrobe, can't happen online. It doesn't happen in a chain store. It can only happen in a unique space such as Pink Ink where a specialist team have carefully curated the perfect mix of special occasion pieces and everyday essentials for you.
"Pink Ink is the destination for fashion and style in this city. It belongs to those in the know," says Pettersen. So now that you are in the know, rather than heading to your local shopping mall, stroll down Lonsdale street, let your eye be drawn by a striking new shopfront, go inside and discover for yourself what makes this Canberra boutique a most enjoyable place to shop.
Check out Pink Ink's website
Article: Emma Batchelor
Photo: Hannah Kolve