Summer is usually peak business time for the South Coast of NSW, but the bushfire emergency has turned the region into a virtual war zone. One man has stepped into the fray and was quick to turn his hand to help out Moruya residents and emergency personnel.
Shawn Gehrig moved from North Queensland arriving in Moruya on 20th December, having purchased The Parlour at Moruya. He opened for business on Boxing Day.
Throughout the chaos of last week, Shawn has kept the business open from early to late, using generators to keep the stock cold.
With the help of his parents Les and Lorraine Gehrig, they have been one of the few eateries to keep trading with meals, hot and cold food, as well as ice creams.
Situated just beside the Moruya Bridge they have been at the forefront of the evacuations throughout town and road closures.
With the water-bombing aircraft roaring in low over the bridge and refilling in the river, the family say they will stay at the shop and be available for any firies who need a feed.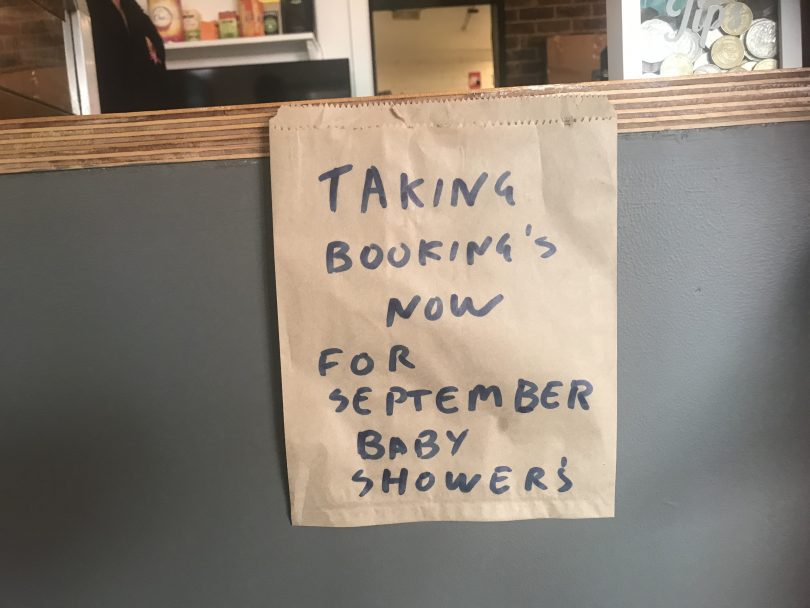 A sense of humour remains for the predicted baby boom. The centre of town is filled with caravans and campers and goodwill is evident between the residents. While the town was in black out earlier last week and services could well be cut, Shawn has kept his sense of humour with a sign welcoming September baby shower, nine months hence.
Original Article published by Alex Rea on The RiotACT.