Local Press, on Kingston's Foreshore, is known for its bright, airy interior, its Instagrammable brunches and range of vibrant cold press juices. But have you met Local Press's little sister, just one street away?
Inside Local Press Wholefoods, painted veggies dance across its expanse of polished concrete floor. A large fridge stocks fresh takeaway meals. Beneath a canopy of greenery, rows of unprocessed bulk foods sit in pristine tubs. The bulk foods, takeaway meals, fresh produce, and sustainable dog treats can all be ordered from their online store.
Jonathon and partner Olivia launched the new Local Press location in April 2017. "We did a soft opening and didn't advertise at the beginning. We wanted time to figure out what this business would be about," Olivia explains. "The space is so big, and there was so much potential for it. It's only in the last couple of months we have started figuring out what our local Kingston customers wanted. Local Press Wholefoods has found its niche, I think."
The dynamic team at Local Press Wholefoods deliver the original cafe's trademark deliciousness. They source seasonal produce, using ingredients that do not compromise the planet's wellbeing.
"The big idea for us, the main purpose of the entire business is sustainability and real food," says Olivia. "Part of my role is setting up all the bulk foods and selecting the products we sell in store. I also ensure that our menu is as sustainable and ethical as possible in respect to animal proteins and local sourcing, etc. We want to take the guesswork out of it for our customers. They can be assured that whatever they purchase in our store, it's an environmentally friendly option. Guilt free! It adds to the experience in the café; it adds to the community vibe."
Olivia says that even the dog treats are sustainable. "They are made from maggot proteins from black soldier flies. Flies in their larvae form eat through so much waste and they themselves are a great source of protein, plus dogs love the taste of it."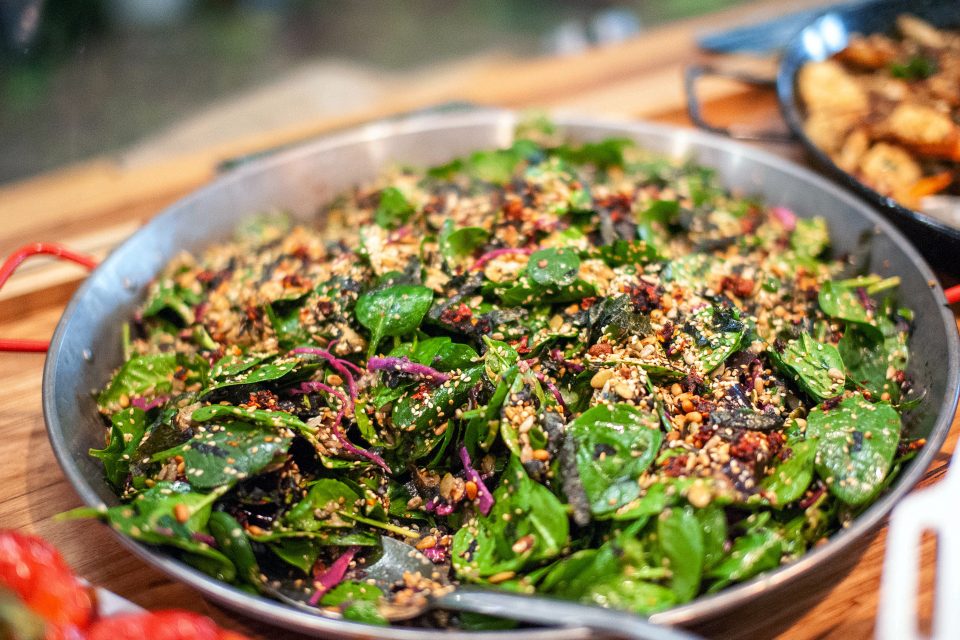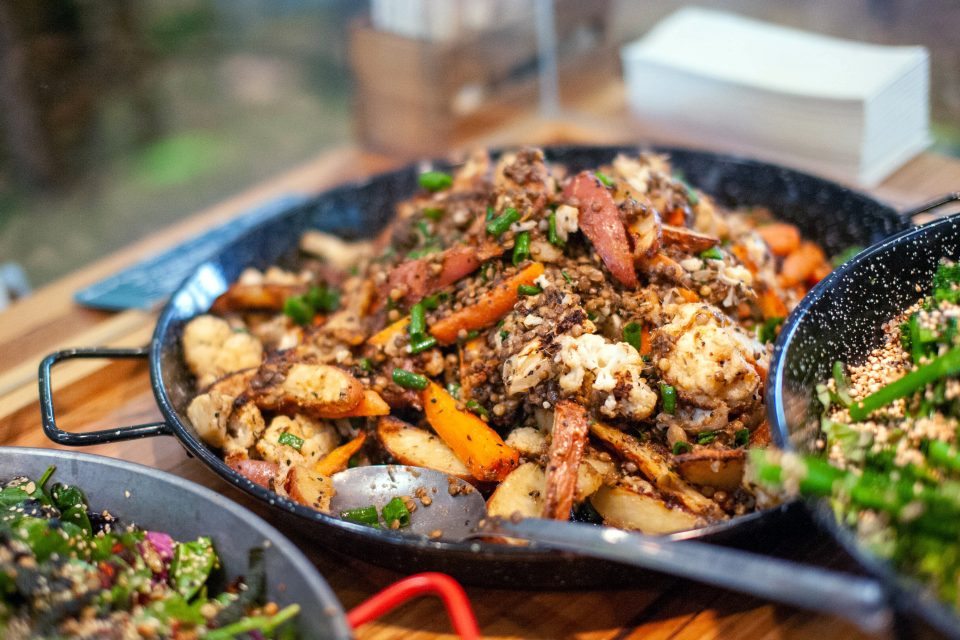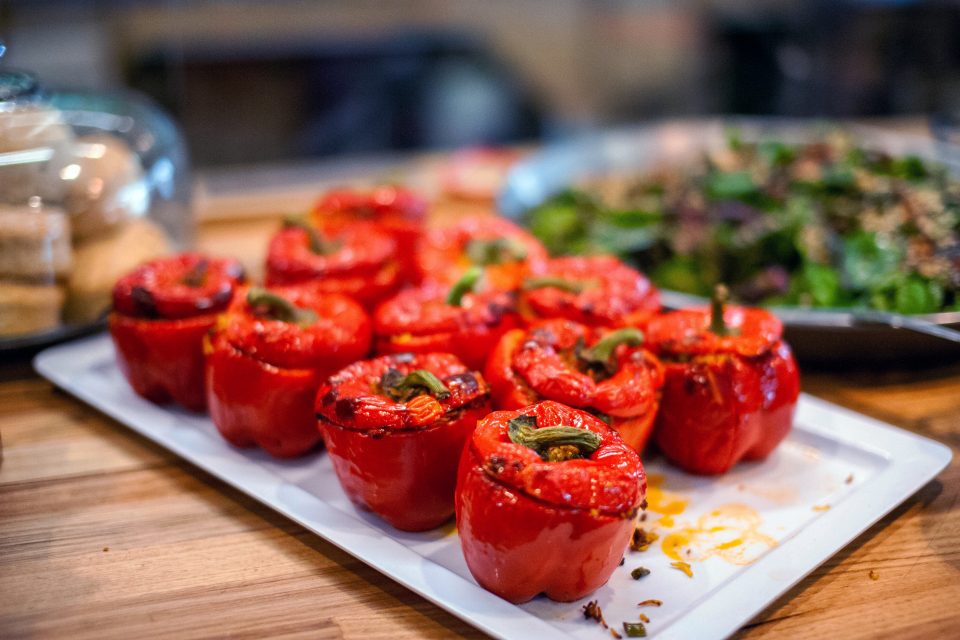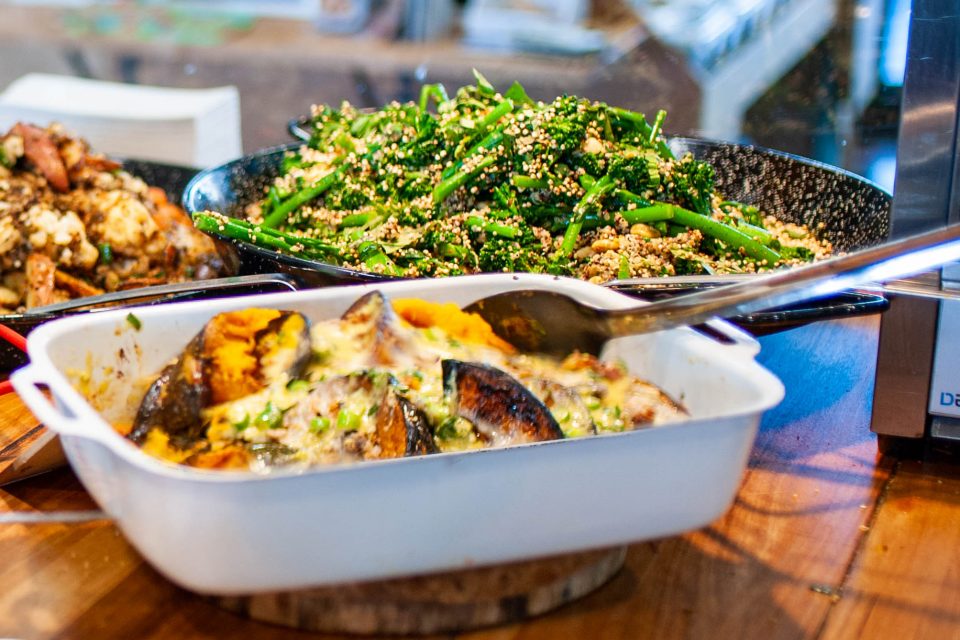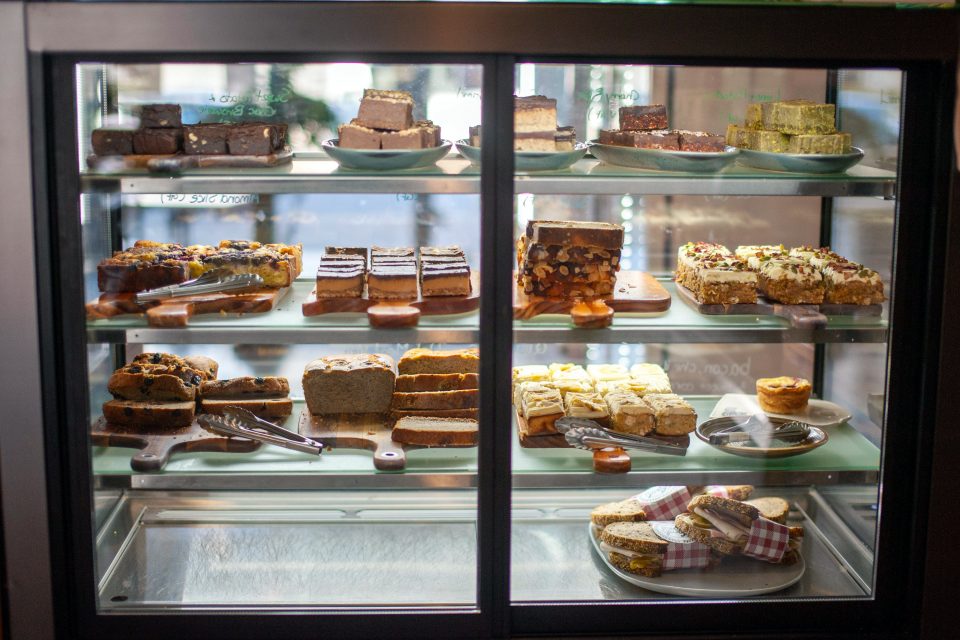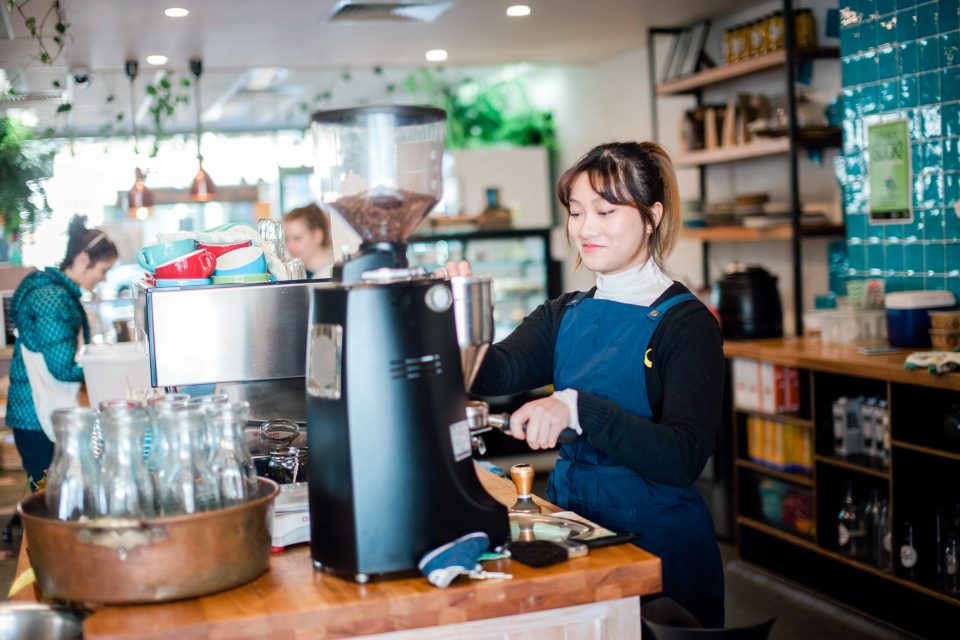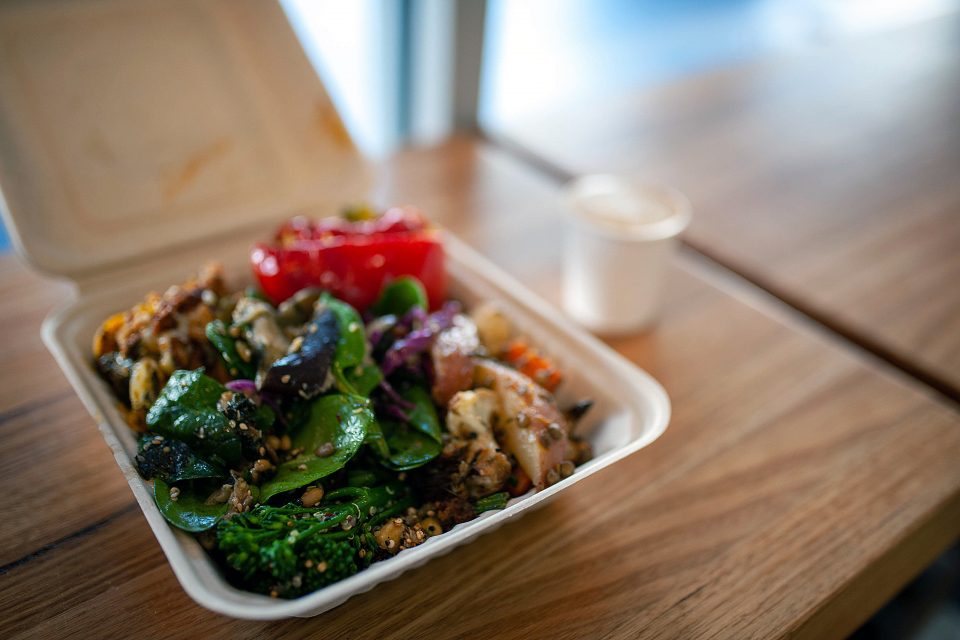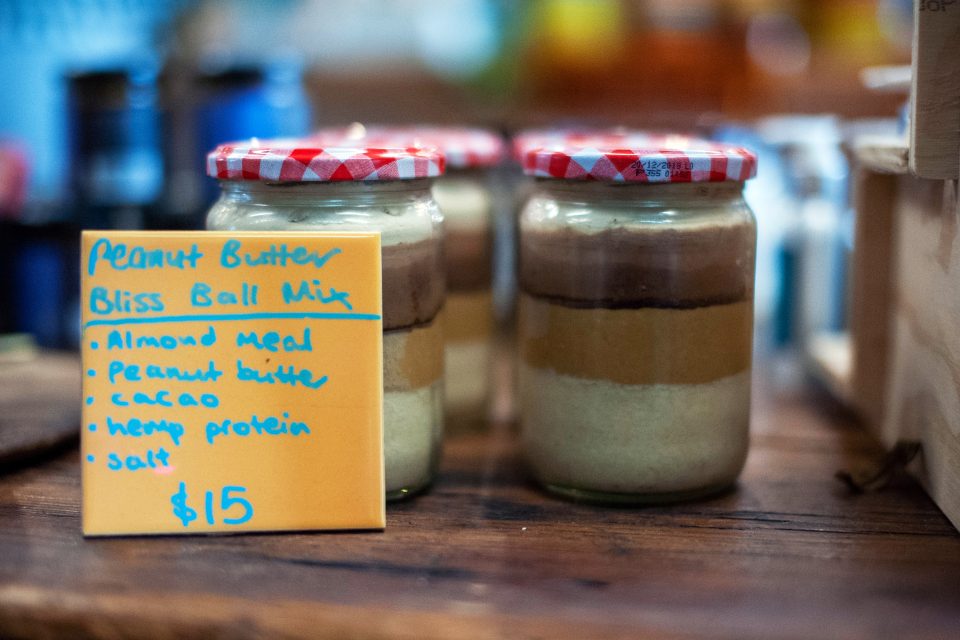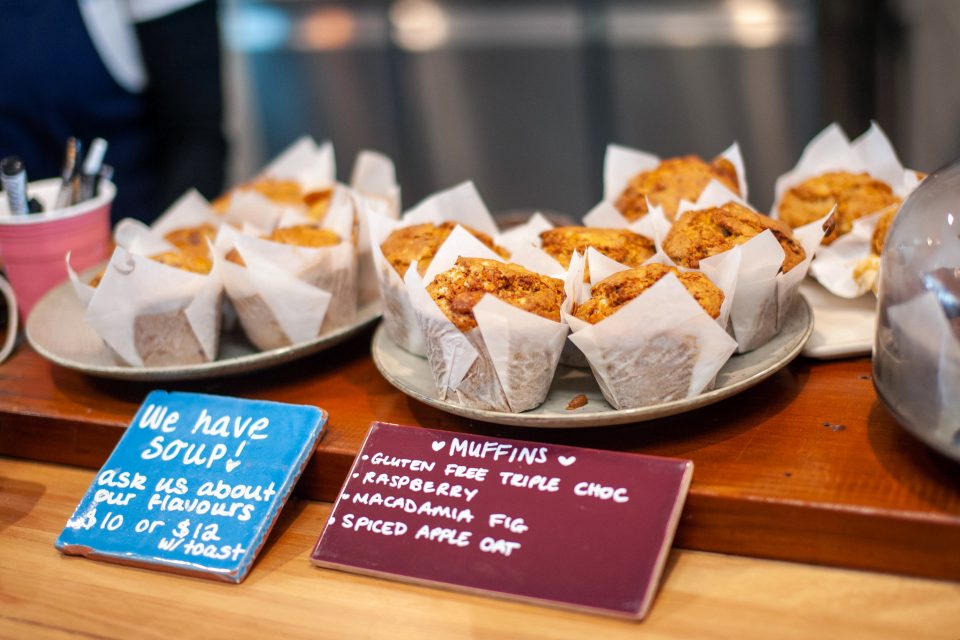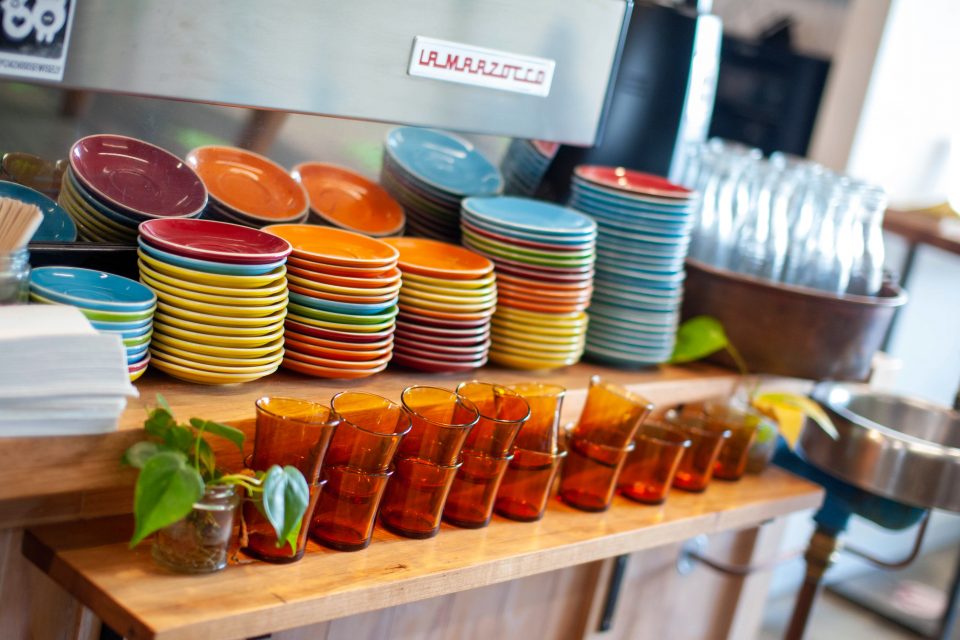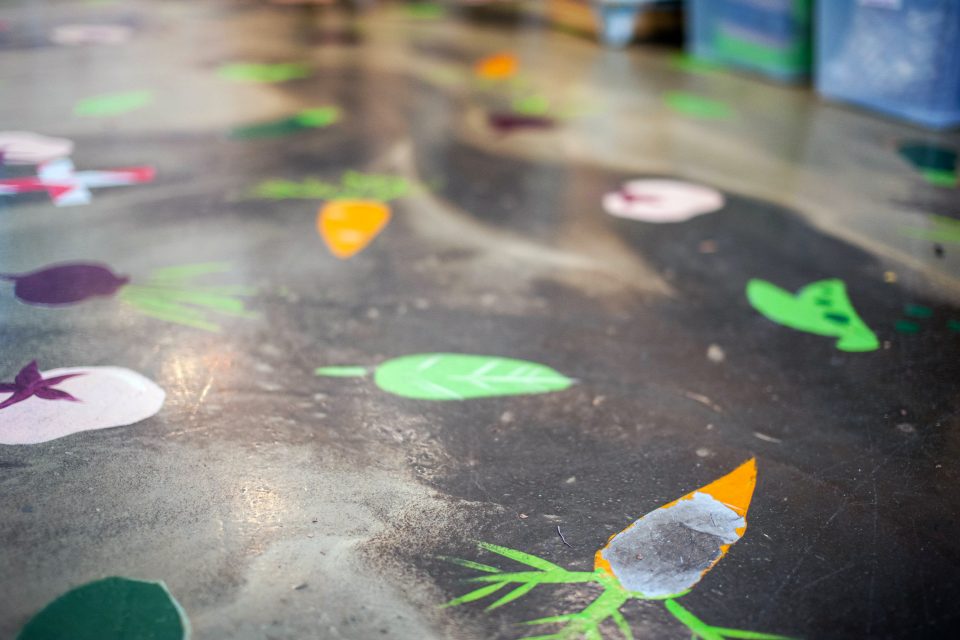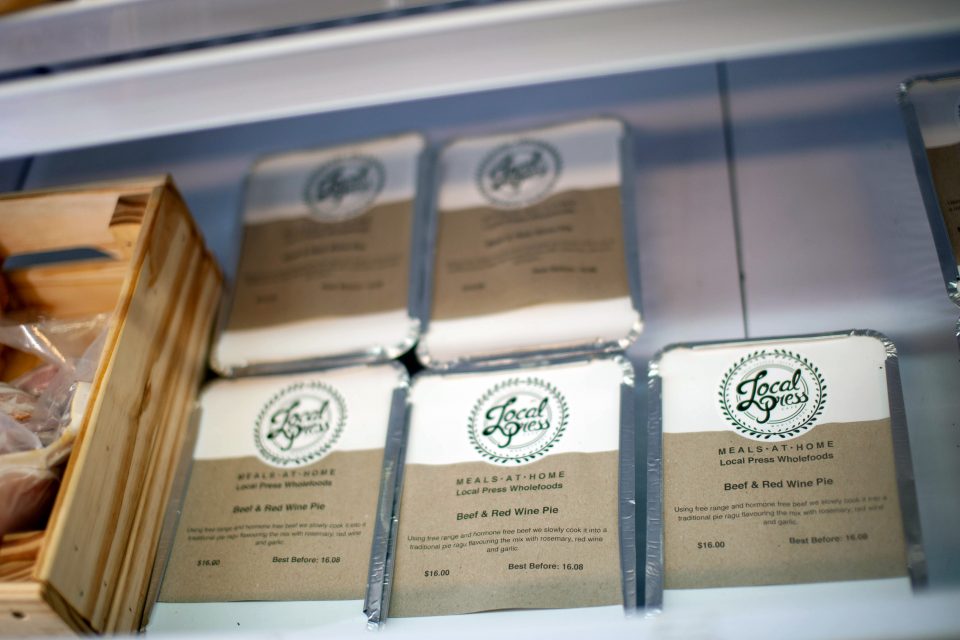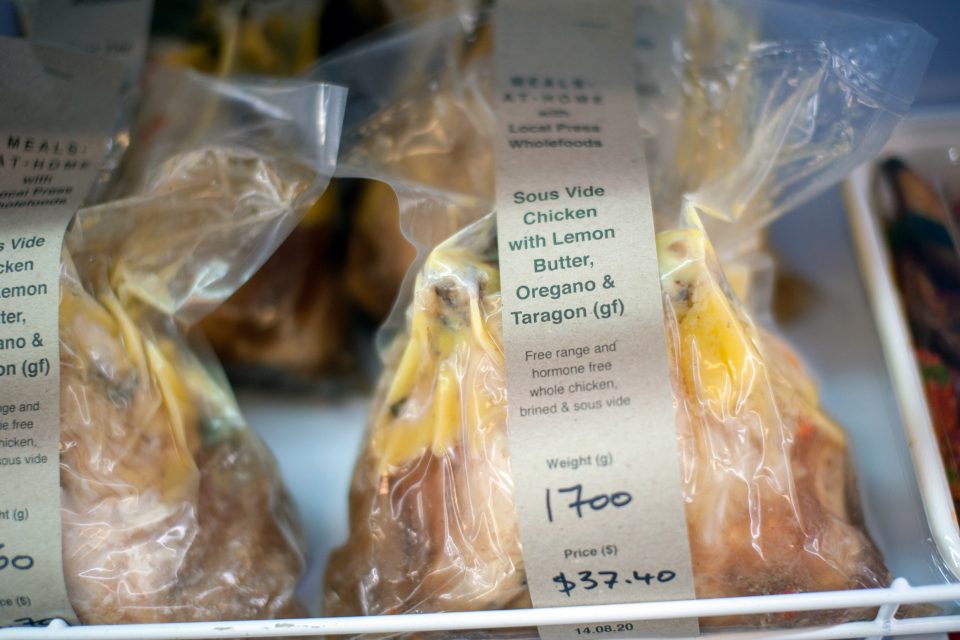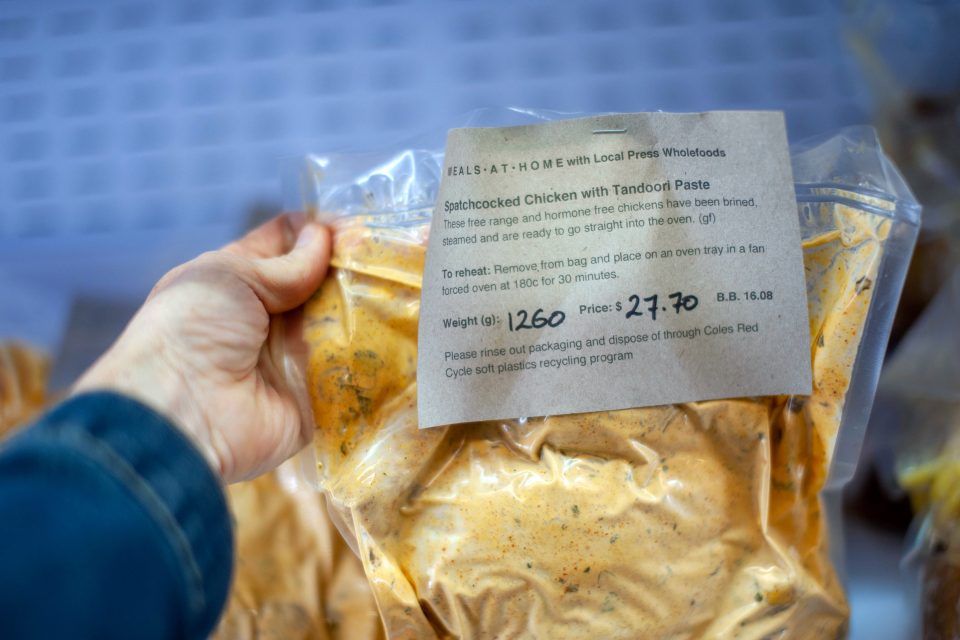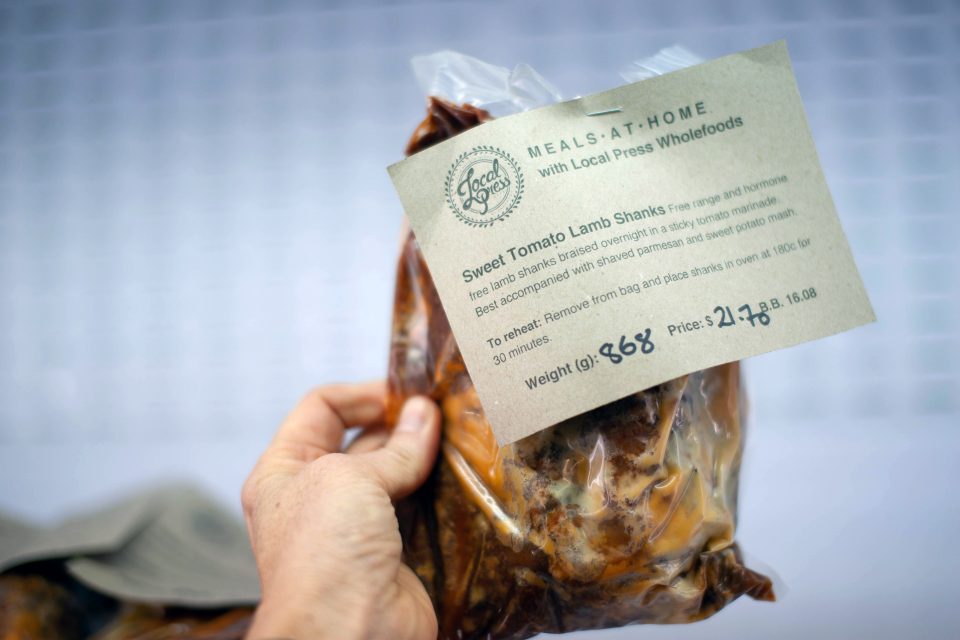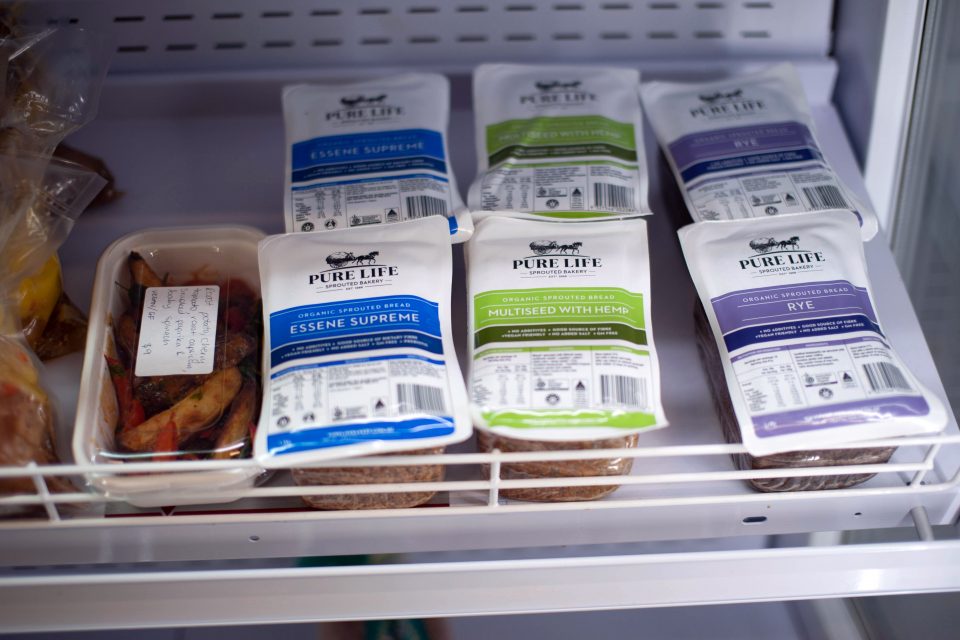 What about treats for the humans?
An all-day menu features plenty of vegan and omnivorous offerings. Hot and hearty sausage rolls and pies fill the hot display, and there is a delectable range of sweet baked goods in a gleaming display. But I only have eyes for the fabulous lunch bar spread, where the team unleash their individual creativity and flair.
"Every morning, we go into the kitchen and see what seasonal produce is available to us," says Olivia. "Then we whip up big, hearty salads, bakes, tarts and fresh pasta dishes, a range of hot and cold, light and heavier dishes. We are inspired by various ethnicities and by flavours that cater to a range of dietary requirements and preferences. At lunchtime, we put them out on the café bench and customers fill up their plates with what they want at a set price of $3 for 100 grams. No two days have the same offering. I think our customers like the variety."
Today's spread at the lunch bar is spectacular.
Ruby red rows of roasted whole capsicum gleam, their tops sitting askew on top the Indian-spiced rice they are stuffed with.
Roasted potato, carrots, cauliflower and fresh shallots are tossed with toasted seeds and lentils in a light tangy dressing. Every mouthful is bursting with flavours you just want more of.
A large dish of fresh baby spinach hides creamy portions of eggplant, a generous dusting of seeds and pine nuts with tangy strands of red cabbage throughout.
The bake is pumpkin sections, roasted skin and all, dressed with a dreamy Dijon dressing. The crunchy baked pumpkin skin is nearly the most delicious part. Grilled gruyere and pangritata (toasted breadcrumbs in garlic oil) top the bake. It is the best pumpkin dish ever. I ate my order in the car with my fingers on the way home. So very scrumptious.
The fridge with takeaway meals began during COVID and now the team works hard to keep up with customer demand. There are meals to suit vegans and other dietary requirements.
Local Press Wholefoods opened my eyes to the taste sensations that can be achieved when vegetables, grains, and seeds are cooked simply, yet spectacularly. I regularly incorporate the tasty tricks gleaned from that visit into my own cooking.
Local Press Wholefoods is located at 74/71 Giles St in Kingston.
It is open 7 am – 5:30 pm on weekdays, and 8 am – 5:30 pm on weekends.
Follow Local Press Wholefoods on Facebook and on Instagram and check out their website.
Original Article published by Michelle Taylor on The RiotACT.