RiotACT heard on the Canberra foodie grapevine that iconic Canberra Bakery Dobinsons was about to open a third outlet in Belconnen (another kiosk, in addition to its main Civic cafe/restaurant on Bunda Street and the Kiosk in the Canberra Centre next to Coles).
We caught up with owner Sue Dobinson during a busy lunchtime at her main civic store, to find out when the new Belconnen Kiosk was due and what Dobinsons fans could expect.
RA: Hi Sue, thanks for taking a few minutes out of your hectic schedule to talk to RiotACT. First things first, when is your new store at Belconnen due to open?
Sue: Our new Belconnen Kiosk is due to open in December and will be located in the fresh food precinct on the second floor at Westfields Belconnen.
RA: What sort of hours can your Belconnen-based fans expect to be able to visit the new Kiosk?
Sue: We will definitely be open seven days a week. At this stage, we're not sure of the exact hours but they will probably be 8 am to 5:30 pm.
RA: What can we expect in terms of the menu and breakfast or lunch options?
Sue: Unfortunately we won't have space for a full kitchen and lunch menu like we do in the main Civic store, but customers can expect the same range as we now have in the Dobinsons Kiosk that we have next to the Coles (the old FoodBarn inside the Canberra Centre). There'll be plenty of freshly made sandwiches, pies, pastries and a good selection of cakes and coffee of course!
RA: For RiotACT readers who may be unaware of the history of Dobinsons, can you please tell us how it came about and what makes it tick?
Sue: We opened our doors to the community in 1994 to offer Canberrans a generous selection of quality Australian bakery items in a relaxed and vibrant atmosphere. Our success at Dobinsons Canberra is due to the culmination of five generations of hard-working and dedicated pastry chefs. This tradition began in Northern New South Wales where the first Dobinsons bakery opened in the town of Kyogle over 125 years ago. We are a proudly Australian owned and operated bakery and will strive to continue our family tradition of producing the highest standard of quality that we are so renowned for.
[RA: Sue is a fourth-generation baker and it shows! She loves baking and, like all good bosses, leads her team from the front lines. In retrospect, we caught up with her at a not-so-convenient time (during a busy weekday lunch. She was flat out on the cappuccino machine but still happily spoke with us and answered our questions. Her enthusiasm for good food and good service is shared by all her staff and despite their busy lunchtime trade we have always experienced quick and polite service.]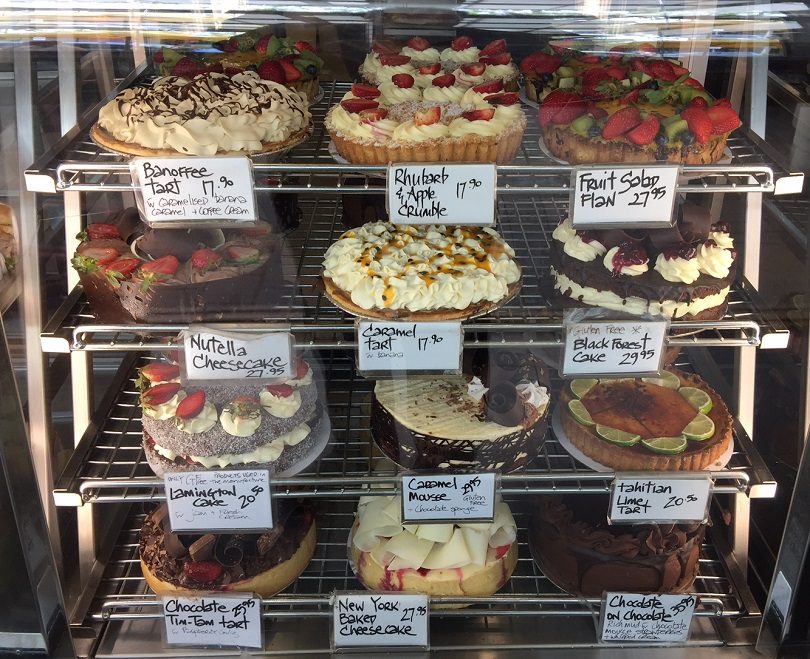 RA: What's the future of Dobinsons in Canberra?
Sue: We would love to open more stores across the ACT but don't want to expand too quickly. let's see how the new store in Belconnen pans out first!
After talking to Sue I couldn't resist trying one of Dobinson's regular lunch specials – a spicy Calamari served with delicious chips and salad. It is one of many dishes they have on their daily menu boards, including a few ten dollar lunch specials for those hungry city workers trying to save some money but still wanting to enjoy a restaurant quality lunchtime meal.
Enjoyed a spicy #calamari lunch for $16 @DobinsonsBakery #Canberra yesterday #CBR #lunch pic.twitter.com/JAgTIaiBqe

— CBR foodie (@CBRFoodie) October 20, 2017
Dobinsons deserves its reputation as a famous Canberra food institution. With their expansion to Belconnen, even more Canberrans will be able to enjoy their famous big breakfasts, pies and delicious cakes which already appear regularly at city office lunches and celebrations.
More information about Dobinsons can be found on their website, Facebook page, and Twitter.
Original Article published on the RiotACT.
Elias Hallaj (aka CBRfoodie) is a part-time food blogger and full-time political staffer who has joined RiotACT as a regular contributor. All his opinions about big breakfasts and pastry are his own, except where he has borrowed them from facebook, google, and twitter. If you have any tips or feedback or advice about lunchtime specials, or other exciting things to eat around Canberra you can add a comment below or find him most nights on Twitter @CBRfoodie.