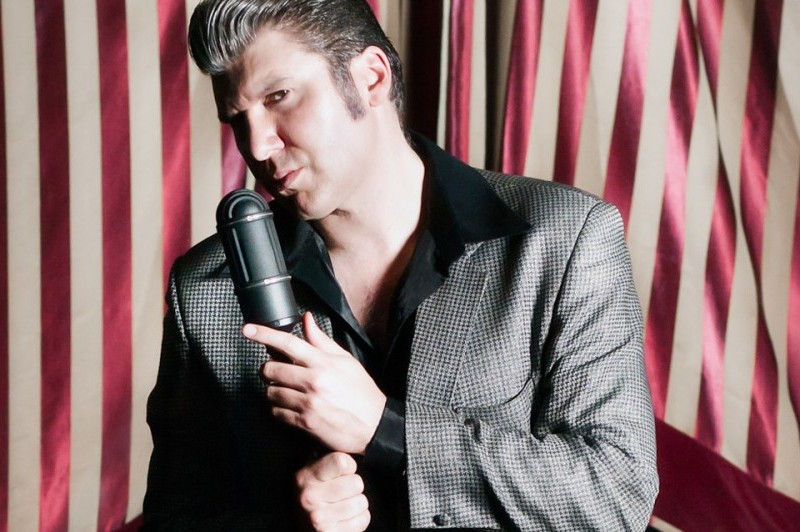 The White Eagle Club in Turner was transformed into a Balkan Vegas last night when Mikelangelo, The Balkan Elvis performed a repertoire of The King's greatest hits with a distinct Balkan rhythm to an appreciative room. 'Lady' Penelope Coulter was on hand to enjoy the party. Here's her take on the evening…
Elvis was great and all, but I have always felt that perhaps he lacked a little pizazz. The same can't be said about his brother from another mother, Balkan Elvis, who with quiff, accordion and guitar at the ready, flew into town this week to get up close and personal, serenading Canberrans with iconic Elvis Presley tunes.
On Saturday night, whilst his minions mingled under the cover of darkness, Mikelangelo waited in the wings. He looked suave and focussed, channelling his Eastern Bloc alter-ego Johnny Presley.
After taking the stage, Johnny disclosed that ever since he was knee-high to a Balkan grasshopper–he had always held his aspirations high "like building blocks up to the sky". Recently playing to sold out crowds at the Sydney Opera House, Balkan Elvis has finally made the big time, now that he has played to a full room at 'The Polo' in Canberra.
Johnny likes to keep things private. His jet is private, his island in the Adriatic is private. But on stage, he is an emotional man, wearing his heart on the sleeve of a particularly well-cut suit. As his psychotherapist has always said, "it is better out than in", and after witnessing such a heartfelt musical catharsis, I couldn't help but conclude that no man is in need of a Freudian couch when he can have a stage.
When people come to see Balkan Elvis, they expect "blood and guts", but Johnny Presley is a "lover not a fighter" now that his cage-fighting days are over. With the sweat that dripped from his well sculpted brow, came self-deprecating ruminations of unrequited, and lost love. Back in his formative Balkan years, when Johnny loved a woman, he followed her everywhere… in the shadows. "Some would call it stalking", he conceded–when two people take a romantic walk along an Eastern Bloc cobblestoned laneway, and only one of them knows about it.
On stage, with the friction of carpet inhibiting the natural mojo of his red suede shoes, Johnny–ever the professional–proved that his Pelvis still rivalled Elvis's, even under sub-optimal conditions. Not to mention the temperamental guitar chord that resembled something from the deep and dark depths of an Amazonian river.
Balkan Elvis has come a long way since his "two fingered accordion playing" days. He now comes with reverb, and a backing band. Brought to us by the Canberra Musicians Club (CMC), the roof of the Polish Club was suitably raised by members of the Brass Knuckle Band and Moochers Inc. With a Balkan twist, Johnny's renditions of Trouble, King Creole, Viva Las Vegas, Burning Love and Hound Dog had the room rocking around the Eastern Bloc.
Images of crochet bikini clad ladies still linger in my mind, long after the man himself has left the building.
If you missed this show, Mikelangelo and the Black Sea Gentleman will be returning to Canberra to perform 'Ghosts in the Scheme' as part of the Collected Works 2015 at Canberra Theatre Centre in September.