If you want to extend your Turkish culinary exploration past the doner kebab, past the Turkish banquet skewers, bread, dips and baklava, Zeytin on the Kingston Foreshore is the place for that adventure.
While most Canberrans haven't yet discovered the uniquely Turkish flavours in Zeytin's menu, word has already reached Sydney's Turkish community. Many have already travelled down to Zeytin, keen to savour much-beloved traditional dishes and a true taste of home.
Head chef and new owner Metin agreed to come to Zeytin on the condition that he could highlight authentic Turkish cuisine. The doner kebab holds a special place in food culture, but Metin wants to break the perception people may have that it is Turkey's only cuisine. His focus is on creating personal favourites, traditional Turkish dishes.
However, he says owning a restaurant was never part of his plan.
"Running this restaurant wasn't my idea, to be honest. I was working here as the chef. When my friend, the owner, decided to sell the business, he asked me to buy it. It felt like destiny, so I did. That was three months ago and I still run the kitchen also."
The walls of Zeytin embody the range and contrast of flavours you will experience between them when you dine here. Fanning out across the back wall is a simple olive branch, whereas the wall opposite is rich with the opulence of the Ottoman empire. There are plates hand-painted with vibrant splashes of red, purples, yellows and greens, while soft light glows through the coloured glass of several mosaic lamps.
Metin, who has been a chef at both Marble and Grain and the Boathouse, says that Zeytin is all about producing a genuine Turkish dining experience, down to the drinks they have on offer.
"Our food is made as authentically as possible with techniques as true as can be achieved outside of Turkey. As Turkish as we can but twisted the Australian way."
Several dishes on the menu are especially close to Metin's heart.
First is the Tepsi kebab.
"Tepsi means tray," Metin explains, "which is what this dish is traditionally served on."
To make the Tepsi kebab, Metin bakes lamb mince and mixed vegetables in a casserole dish, then serves it with bulgur.
Bulgur, whole wheat kernels, are a hearty alternative to rice or couscous. Zeytin's bulgur is special. After first frying pepper paste, capsicum and onion together, Metin adds tomato, and then the bulgur. He cooks it, pilaf-style, in a pot.
Metin prepares vegetarian Çig kofte the traditional way, kneading the bulgur with ice. He incorporates uniquely Turkish ingredients into the dish: pomegranate molasses and isot, an earthy pepper from the Urfa region.
The Beyti kebab is one dish, in particular, that is enticing Sydney's Turkish community to visit Zeytin. My mouth waters as Metin describes it.
"We grill kofte on skewers, wrap it in lavash bread and then slice it. We serve it with our special bulgur in the centre, arrange the slices of wrapped kebab around it, and then top it with special house-made tomato sauce and a drizzle of garlic yoghurt."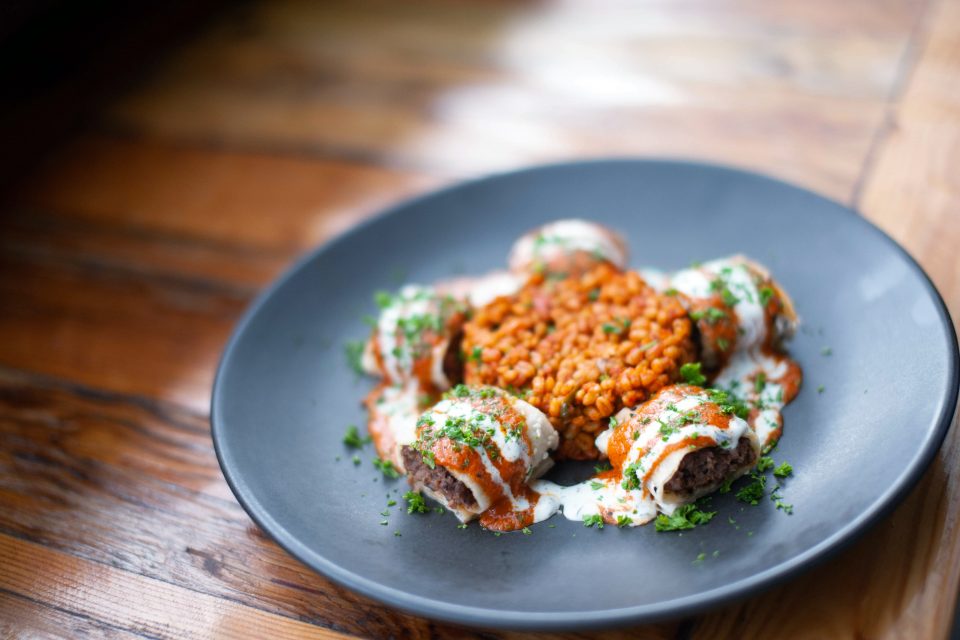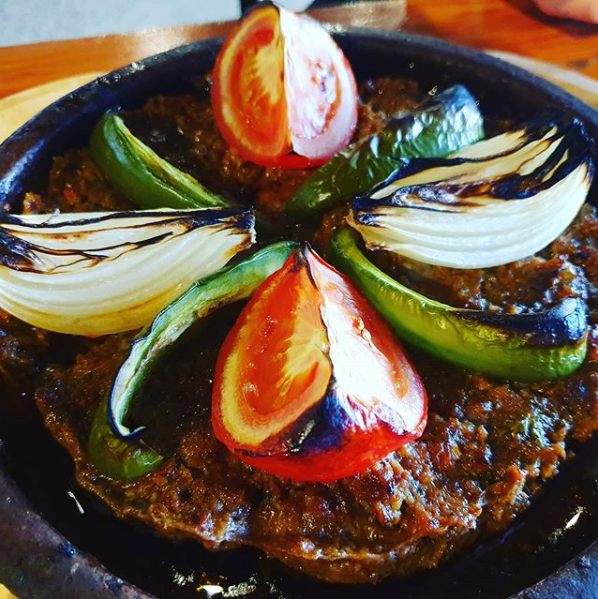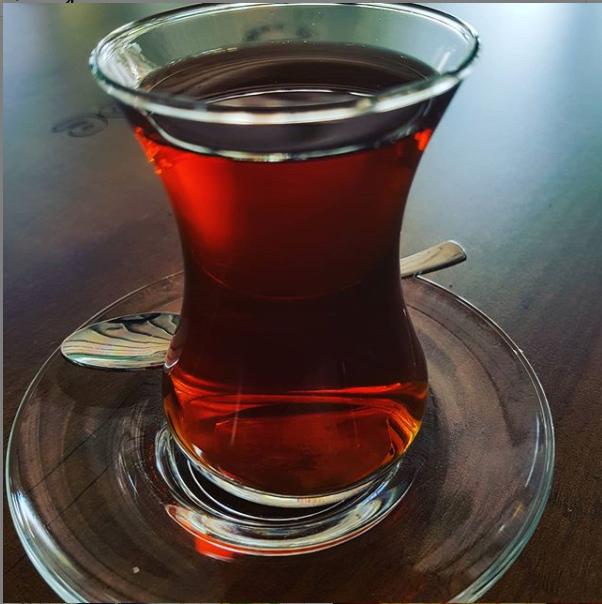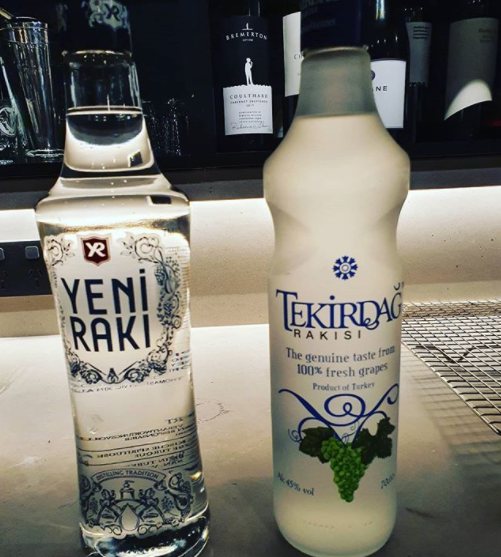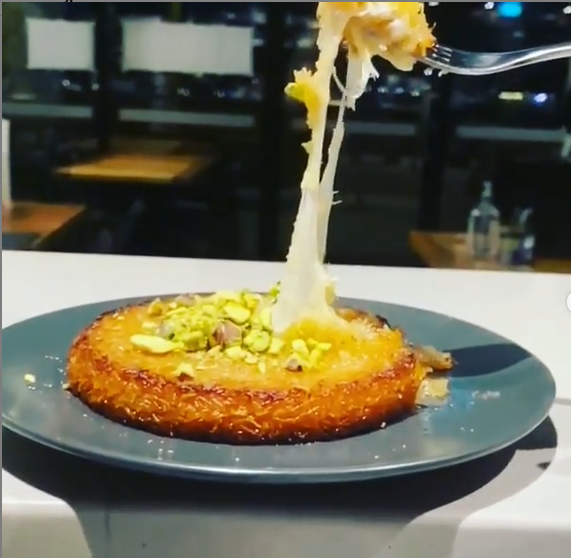 Of course, I order a Beyti kebab! The lavash bread wrapped around the kofta is delicate, whisper-thin. It melts in your mouth. The well-seasoned kofta and aromatic bulgur, infused with the spices and flavours it has absorbed, go perfectly together. The rich sauce and garlic yoghurt complete this delightful dish.
Baklava is always a delectable end to a Turkish meal, but have you tried knafeh?
Zeytin makes fresh knafeh, a pastry dessert with cheese. I love the fusion of sweet and savoury, so I order one to go. Mozzarella cheese sandwiched between two layers of shredded phyllo dough, sweet and buttery and baked until golden, then topped it with lemon syrup. Eat it hot and fresh! Bite through the crunch and sticky sweetness into the salty goo of molten cheese inside that saves this dessert from being too sweet. Yum!
Turkish wines populate the drinks menu, along with Turkish apple tea, Turkish coffee and Turkish lemonade and orange drinks. You will even find ayran, a refreshing Turkish yoghurt drink.
Zeytin is located at 28/6 Trevillian Quay on the Kingston foreshore, close to the GoBoat rentals.
It is open from 12:30 pm to 9:00 pm Tuesday to Thursday; and from 11:30 am to 3:00 pm and 5:00 pm to 9:30 pm on Friday and Saturday. On Sunday it's open from 5:00 pm to 9:00 pm.
Follow Zeytin on Facebook or Instagram and check out its menu here. Zeytin is also open for takeaway.
Original Article published by Michelle Taylor on The RiotACT.