The shores of Lake Burley Griffin have become a new hot spot for wine-ing and dining.
First, The Jetty brought us beer hall-style dining with fried chicken and cocktails, and now Margot is bringing a touch of Paris to the west kiosk.
James Souter is the owner of The Boat House on the northern shore of the lake, which also hosts the pop-up Armada Bar. James says that while running the outdoor bar, he realised that people were looking to enjoy the green spaces around the lake with a drink in hand.
"There's just not a lot of opportunities [for alfresco drinking] like that in Canberra," he told Region.
"When we did Armada Bar, it just proved that there's a lot of demand for that market."
Teaming up with GoBoat owner Nick Tyrell, they've taken some inspiration from the French and created Margot Espresso Vin & Fromage (or just Margot to her friends). The name pays homage to the famous Parisian cafe Les Deux Magots, and with blue and white striped outdoor chairs, a glass of wine in hand and the sun shining, you can almost imagine yourself in a cafe on the continent.
Which was exactly their aim.
"I think in Europe, the drinking culture is a bit different. It's a bit more relaxed and it's a little bit more about having a glass in a more opportunistic way rather than a decision to go out and drink," James explains.
"This is about trying to capture that more European way of having a bite and a drink and catching up in a social way."
They're hoping to attract the fitness crowd in the morning with top-notch espresso and pastries from Fyshwick bakery Wildflour. There's no need to feel guilty if you forget your keep cup as Margot has teamed up with Good Edi who are supplying edible (yes, edible!) coffee cups!
In the afternoons, attention is turned to the wine and cheese section of the menu.
Manager Yann Mengneau is an honest-to-goodness French sommelier and has curated a small but comprehensive wine list that takes in local wines and some top-notch French vino.
The list of wines will change regularly, as will the different types of cheese on offer. The current cheese board features a bon selection of cloth-bound cheddar, soft-washed rind, and mild and creamy blue cheeses. The cheeses are served with fresh baguette, lavosh, dried fruit and quince paste. Other snacks like tinned sardines and local olives are also available.
The cheese boards are served on biodegradable containers that you can take away for an impromptu picnic elsewhere around the lake or relax under the umbrellas.
James says he's pleased to see the spaces around the lake being used by more people in different ways.
"The area is so much more activated now, which I love. If you think back a few years, there was nothing down here.
"We've got an offering that gives people more reason to come down to this section of the lake."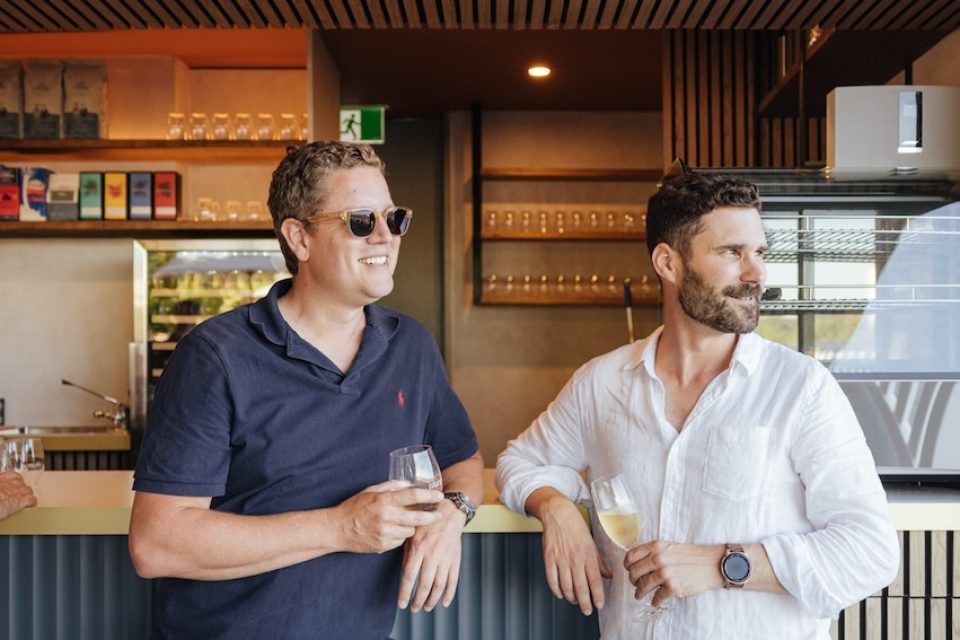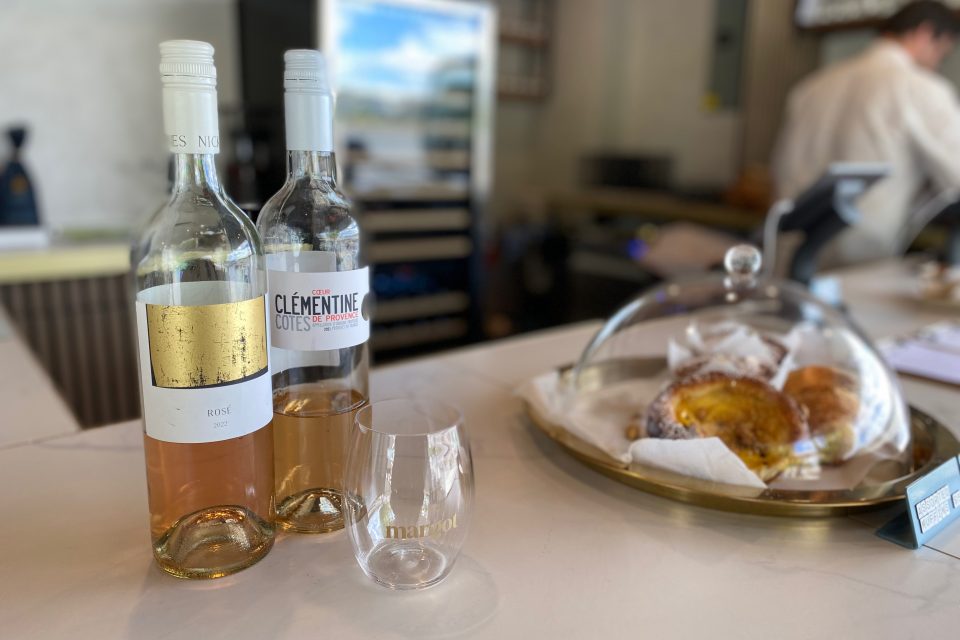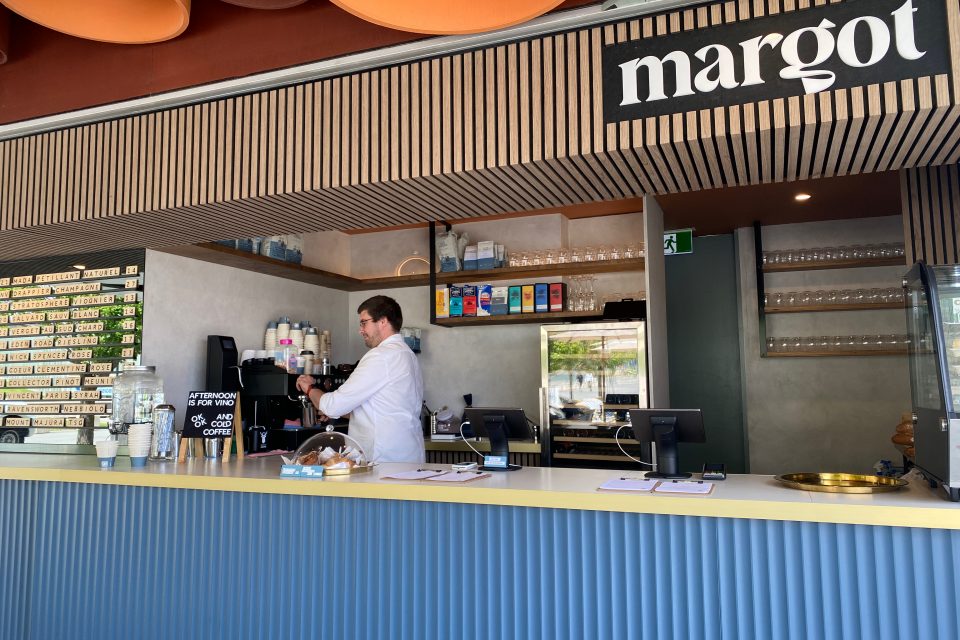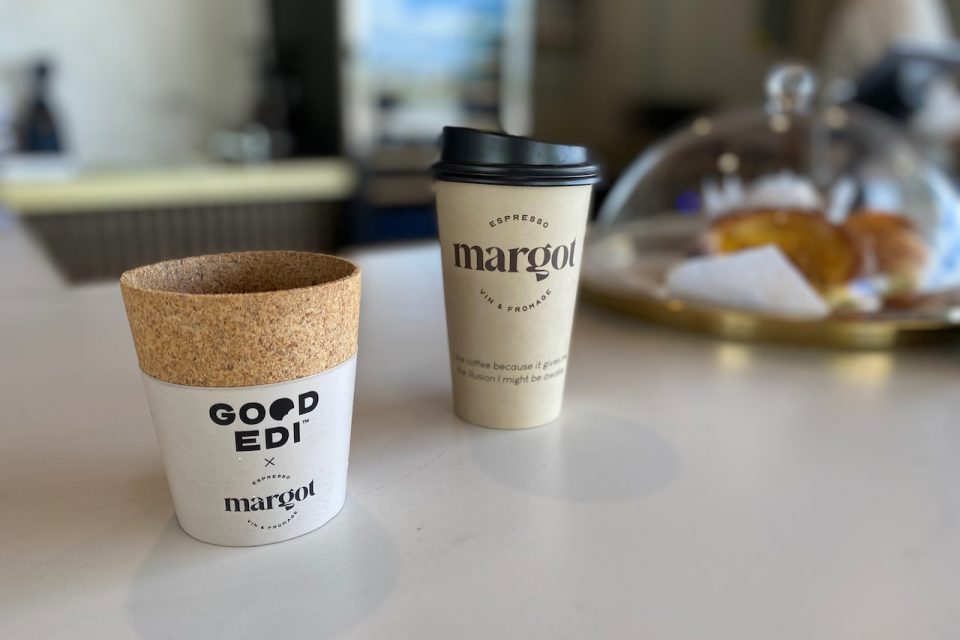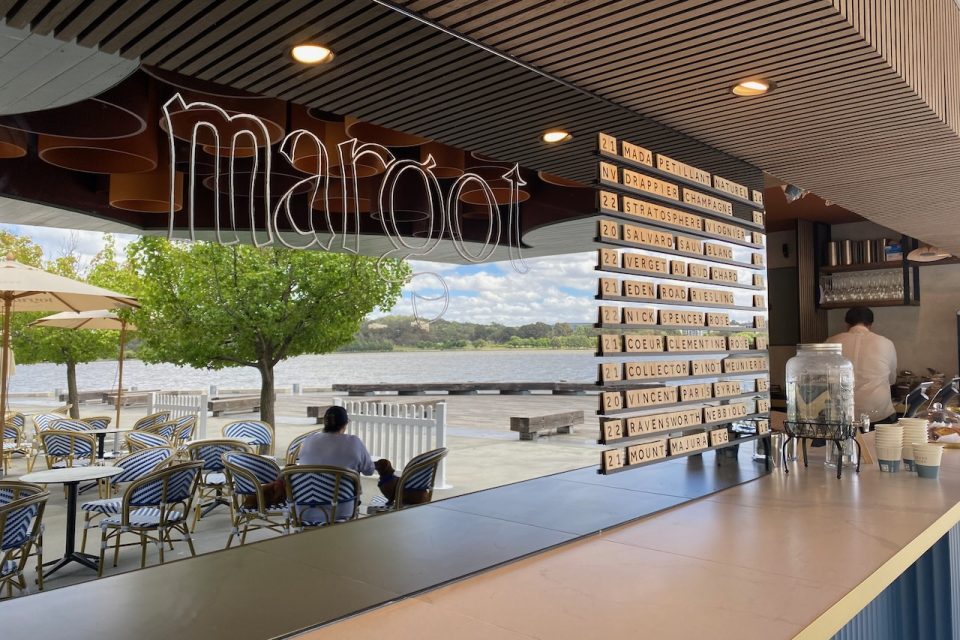 The team likes to consider themselves a complement to The Jetty with an offering that will appeal to a different demographic, and unlike the pop-up beer hall, Margot is here to stay, come rain or shine, with plans to 'weather-proof' the space. Stay tuned!
Margot is located at West Kiosk, Queen Elizabeth Terrace, Parkes. Margot is open from 7 am every day of the week for coffee and stays open late from Wednesday to Sunday. Follow Margot on Instagram.
Original Article published by Lucy Ridge on Riotact.