I am sitting at Let's Chaat Food's brand new location in Braddon, surrounded by vibrant plates of Indian food – many are dishes I have never tried before and they would probably be a revelation to most diners.
Restaurant owner Rashmi's zeal to provide a real Indian street food experience has resulted in this beautiful restaurant, which she says has been a real journey.
"It came to me when I took a break from corporate life. I wanted to give my daughter more time. I cook a lot at home and both my husband and I are foodies," she explains.
"Being a pure vegetarian, I couldn't see anything I wanted in Canberra. I wanted to go back to my Indian roots and the authentic taste I had been missing. I realised I needed to do some thorough research. Which dish comes from which part of India. What ingredients make each dish authentic to that particular state? I decided to go to India as part of the research and did lots of video calls with different street vendors."
Rashmi has family from Gujaraty and Rajasthan states as well as from the southern part of India. Her drive to maintain their food's authenticity, quality and consistency is key to Let's Chaat.
"There is no restaurant I know of in Canberra that does street-based food like we serve. We cook everything fresh, on the spot."
What are we eating? Buckle in!
A Mumbai specialty, the Vada Pav is crunchy chickpea-battered crust, encasing a tender fragrant potato interior. Atop the soft bun are charred green chilies and grated cheese. Every mouthful is spicy but just bursting with the most amazing flavours.
The next dish is Raj Kachori, a blend of Delhi and Rajasthan, arguably the quintessential and most complex of India's street food. Within the crispy fragile semolina shell are seven layers, a delicate balance of textures and flavours. This is a cold dish, tangy and sweet and refreshing. The layers comprise mashed potato, black chickpea, tomato, onion and layers of chutney. This is the pièce de résistance – discoveries like this are why I love to expand my food horizons.
Thali, while not street food, is integral to Indian food culture. Served with buttery chapatis, pickles and dahl, each of the accompanying curries is so rich and flavourful that you don't miss the meat not being there.
The plump gulab jamum is the dessert. It has to be the best one I've ever had. So tender, still warm. The syrup was buttery and syrupy and had soaked into the dumpling. It is absolutely amazing!
We try a couple of the dosas. Crisp on the outside, yet tender and slightly sour, the dosas are perfection. I could eat plain, unfilled dosa all day long. I love their texture and sourness. Today, my favourite dosa is the masala, stuffed with a piquant potato mixture. My tastebuds are on fire, but I cannot stop eating. The dosas come with lentil curry and a coconut chutney that is spicy yet refreshing at the same time.
Make sure you order an exotic beverage to wash the spice down. Our first drink is the masala chaas, an ice-cold savoury buttermilk with notes of pepper and spices along with the freshness of mint. The first taste is a bit of a surprise because you're not expecting the sourness and the saltiness, but this drink grows on you with every sip.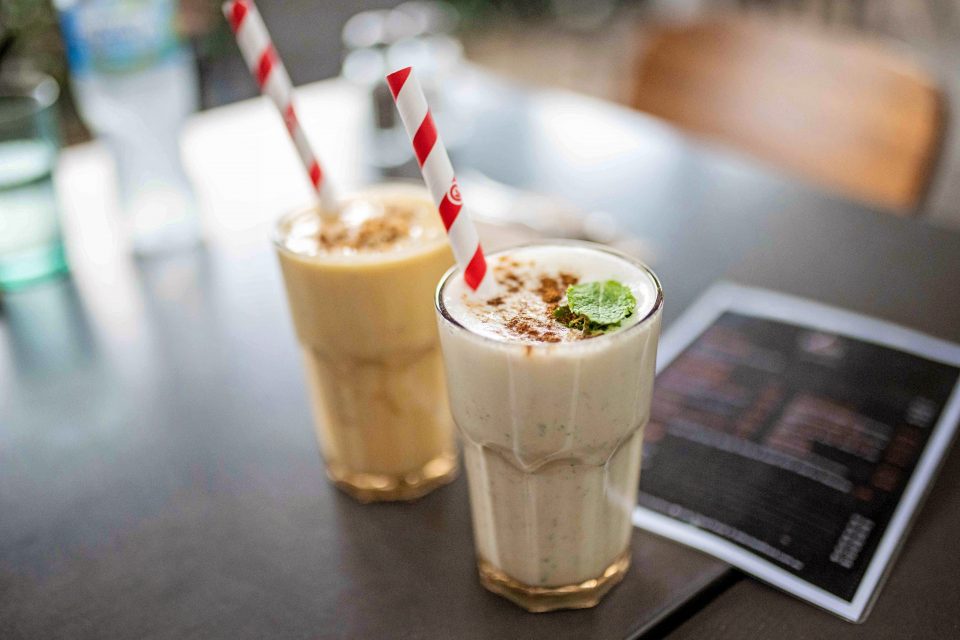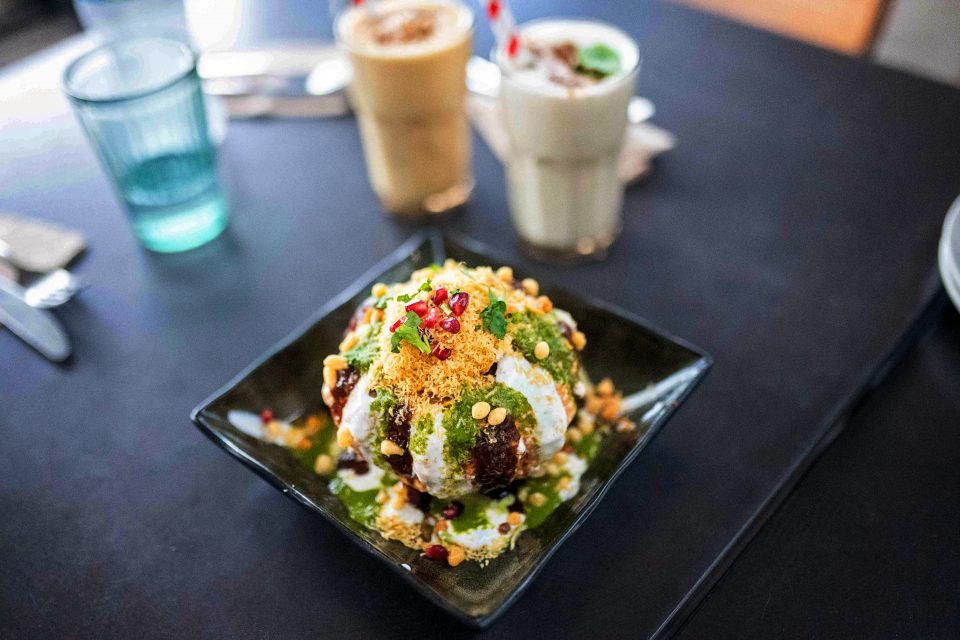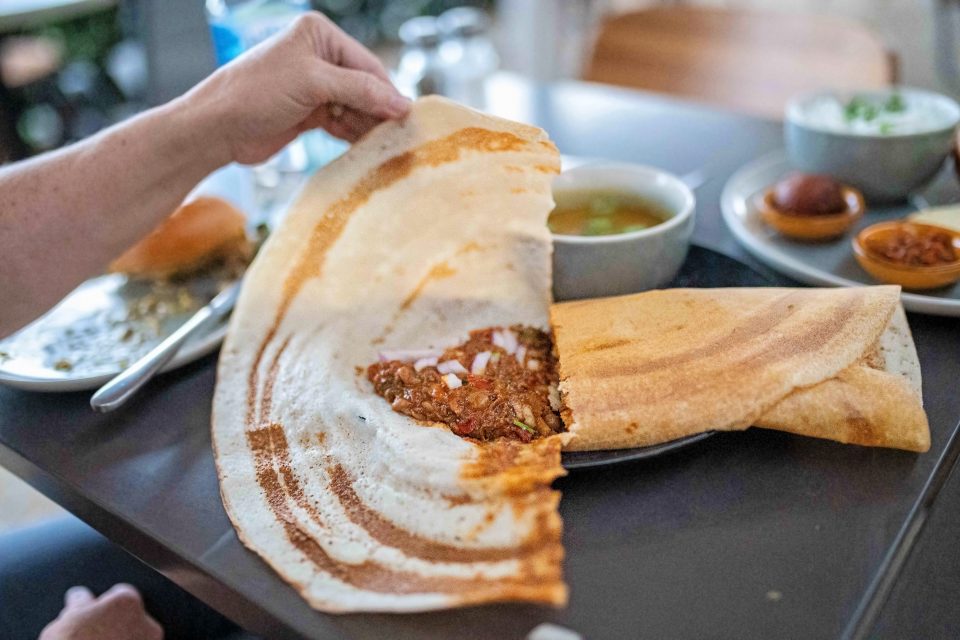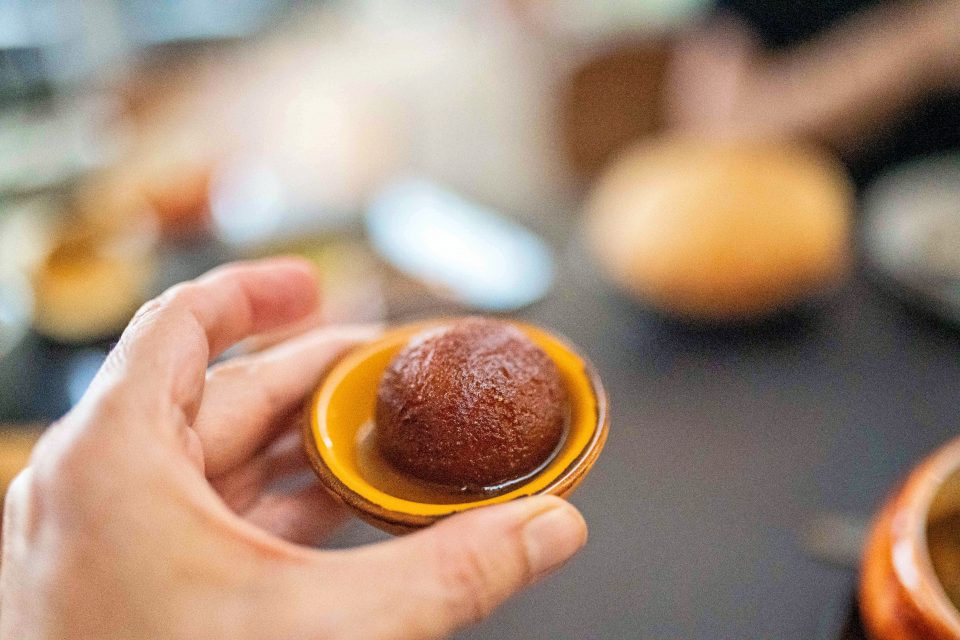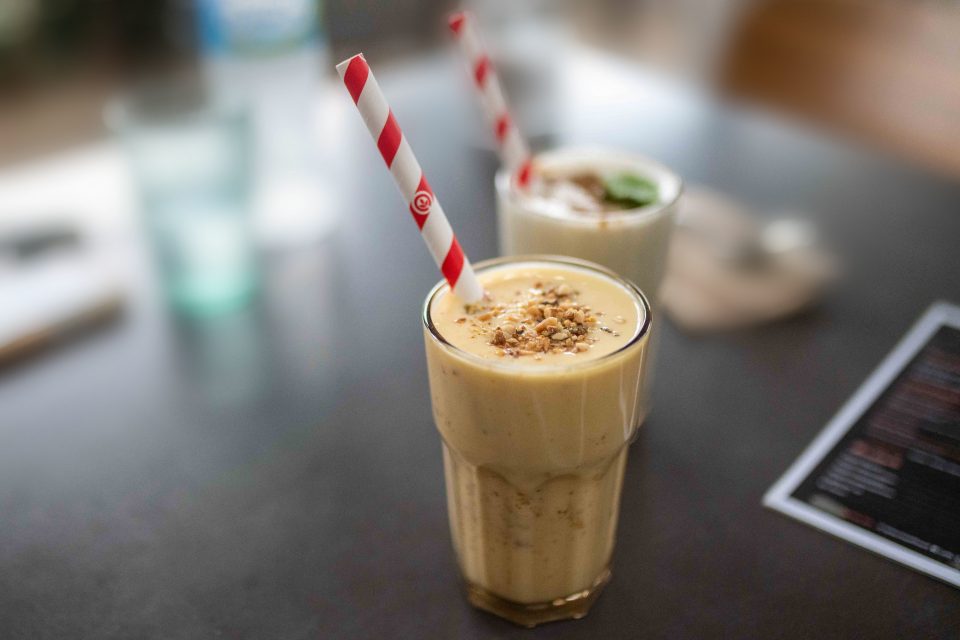 Now to a classic: mango Lassi. The bright orange version of a mango Lassi that I am used to seeing, Rashmi tells me, means that it has probably had food colouring and artificial flavours added. This pastel mango lassi in front of me has no additives and no fake colours or flavours. It's sweet and subtle. A crush of toasted pistachios, almonds and cashews tops the drink and adds a delicious nutty hit.
Our final drink is masala tea. Chai! Every milky mouthful begins with a blend of aromatic cardamon, musky cloves, a hit of cinnamon and then brings a spicy aftertaste of pepper and fresh ginger. It is spicy and delicious.
We've eaten a lot of food, so I am glad when Rashmi tells us that this chai helps with digestion. I sure hope so.
Rashmi highly recommends that first-timers try a delicate raj kachori and an Indian pizza – or ask for help as the menu is extensive. Every dish has been researched and is authentic to the street food. They have not held back on spices for timid palates.
Let's Chaat Food is 100 per cent vegetarian and has lots of vegan options available. It is located at 24 Lonsdale Street in Braddon. It's open Friday to Monday 10 am to 9 pm, and Tuesday to Thursday from 5 pm to 9 pm. Follow them on Facebook and Instagram, and check out their menu here.
Original Article published by Michelle Taylor on Riotact.