Many cafes and restaurants want to distance themselves from the lows and challenges COVID-19 presented, but it is so entwined with the story of Herbert's at Evatt, owners Dino and Kristin have embraced it as an integral part of their journey.
"When everyone else was shutting down, we decided to open our doors and dive in," Dino says. "We'd spent too much time, energy and money in creating our little venue to remain closed."
Owning a venue has been a long-time dream for the pair. Proud locals, they were looking to operate in Belconnen. One evening in late 2018, after dropping a friend off in Evatt, Dino noticed some lights and activity at the local shops. He drove past for a sticky beak and noticed the vacant building next to where all the activity was taking place. This place somehow felt right.
"Literally the next week," Dino says, "we contacted the real estate agent and had a look inside, and the Herbert's journey began."
Lockdown thwarted Herbert's official launch. Instead, with the support of local MLA Tara Cheyne, it opened on 2 April as a takeaway.
"Tara gave us some great ideas and links to help us get started. We have felt the love from the beginning." Kristin says. "On our first day, we were inundated with orders for takeaways. People were queuing up outside and most of them had to wait for over an hour for their orders. The phone didn't stop ringing. We posted on Facebook that we weren't taking any more orders that night. It felt like everything that could go wrong in the kitchen, did. Dino resorted to handing out free beers while my Mum and I tried to keep up with orders in the kitchen."
After their opening night, Kristin and Dino didn't think people would come back, but they have. In fact, over 60 per cent of their clientele are return customers.
With restrictions easing, they now delightedly welcome diners into their boutique pub and eatery. Kristin, who has 26 years of experience in hospitality, says, "We want this place to feel like an extension of our home. When we say, 'You're welcome' it is a genuine greeting."
The name of this local watering hole pays homage to Herbert Evatt, the politician and passionate humanitarian. Herbert played a key role in the founding of the United Nations. His story captured Kristin and Dino's imagination and they connected with Herbert's niece, Elizabeth Evatt. Herbert is now an intrinsic part of the theme. In fact, his likeness, re-created by local artist Faith Kerehona, is probably the first thing you will notice as you walk inside.
The feel of a genuine local rings true here. Sit outside, grab a seat at the bar, or slide into a cosy nook alongside a gallery showcasing local talent; images of familiar Belconnen landmarks and scenery taken by their friend Troy Hambly and prints of works by local artist Mick Ashley, famed for his 'Tribute to the Frontline Worker'. Of course, there are pictures of Herbert.
Herbert's bar stocks Canberra region wine and beers from independent craft breweries. Kristin recommends the tap beer from Tumut River Brewing Co.
"We support local in our kitchen too," she says. "Where we can, we use meats from the Evatt butcher and our breads are from the Evatt Bakery, fruit and veg from Belconnen markets."
After the kitchen disasters of that first day, chef Kiri Zagorowsk joined the team immediately. Under her guidance, the kitchen produces tasty seasonal dishes.
"It is elevated pub food! Kiri has been such an important piece of the puzzle for us," Dino says.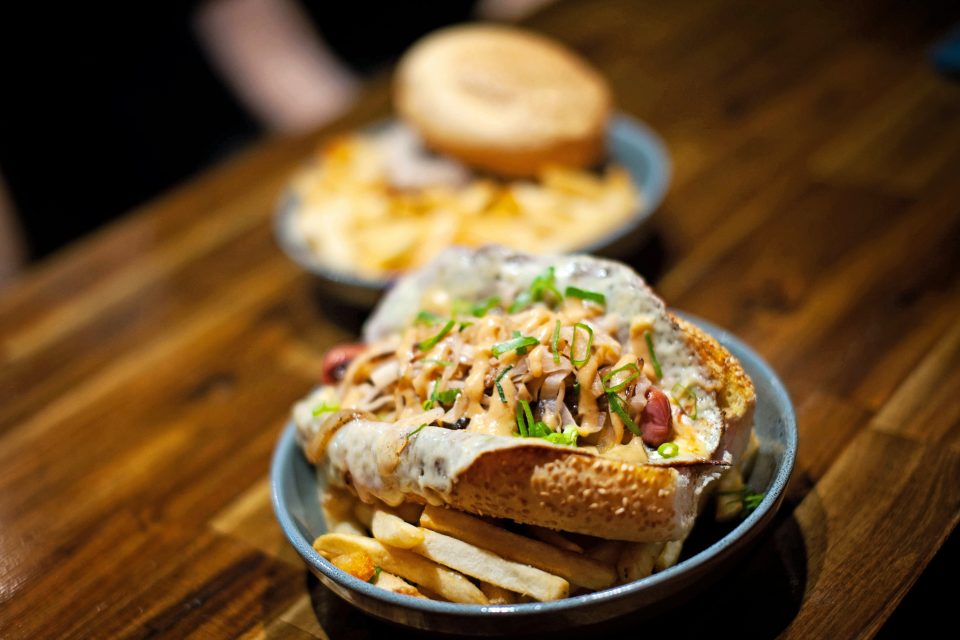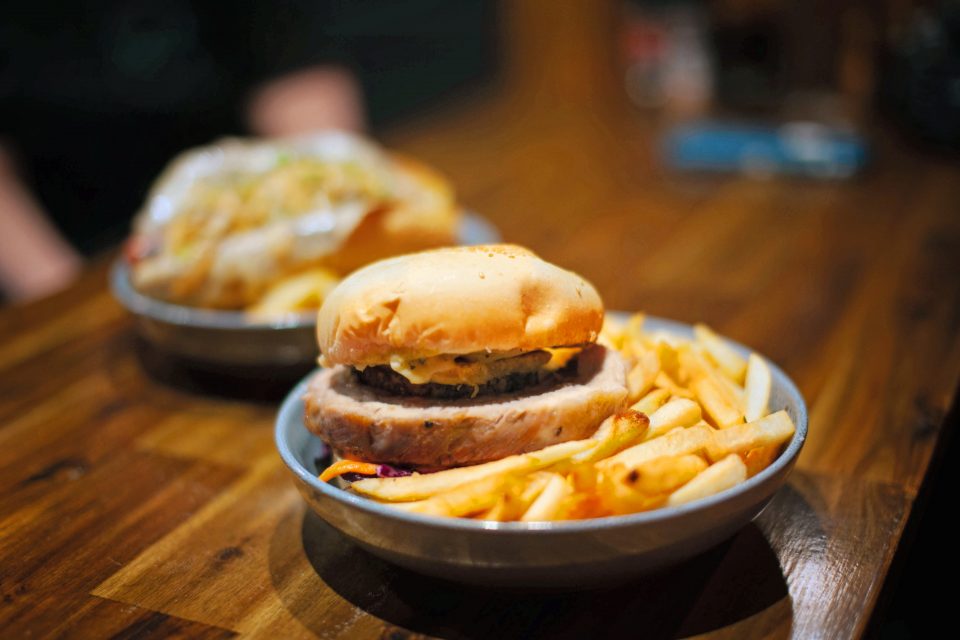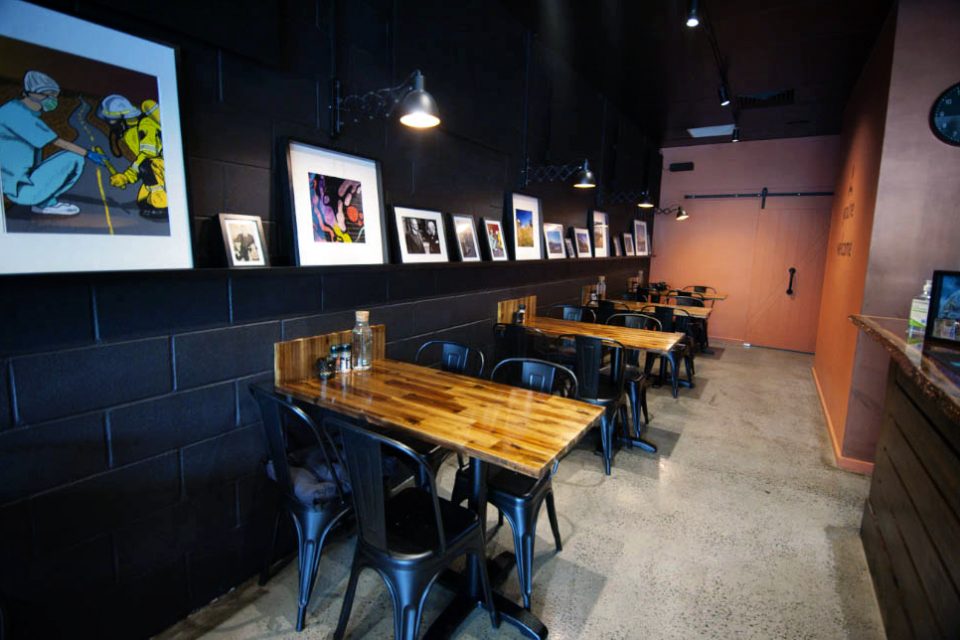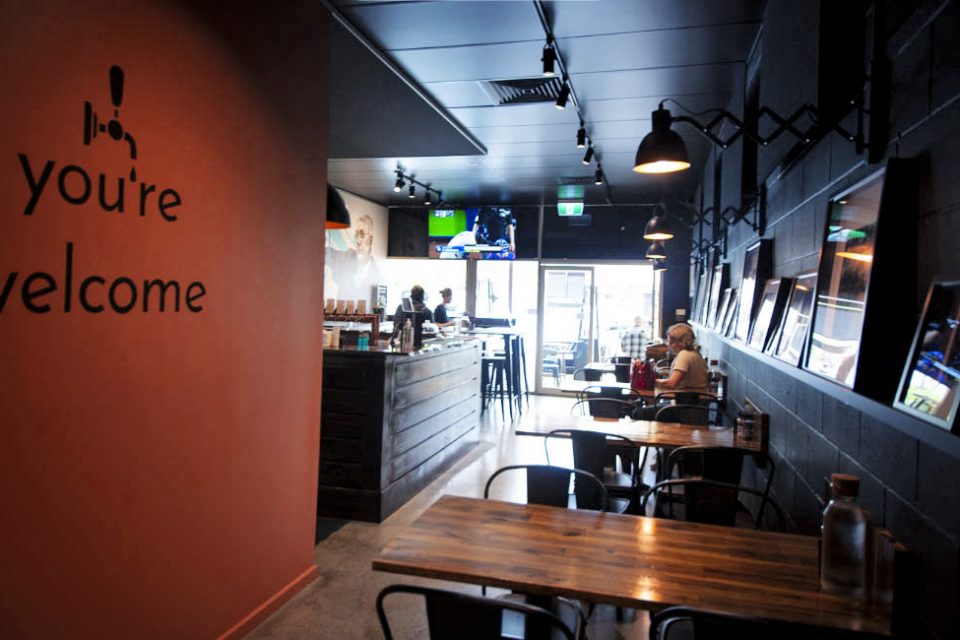 I order the Herbert's Hot Dog, an impressive-looking dish. Sitting on a bed of crunchy fries, a large smoked frankfurt basks in a thin disc of grilled cheese draped over the toasted hot dog roll. Lashings of Pale Ale Sauerkraut, roasted onions and a tangy chilli-pickle mustard complete this fabulous dish.
If you're feeling hungry, order the Porchetta Burger. The burger is filled with an oversized slice of tender porchetta, crackling, crunchy coleslaw and tangy apple cider mustard. One bite into that crackling, and of that meat, rich with the flavours of chilli, fennel and sage, and you can understand why this has become Herbert's signature dish.
Expect large portions here. "It's the Italian in me that insists that nobody leaves Herbert's hungry," Dino says.
Whether you want a casual meal and pint with your friends or a good value dinner with the family, check out Herbert's. Like me, you'll be back for more.
Herbert's at Evatt is located at 2/21 Heydon Pl in Evatt.
It's open from 3:30 pm to 10:00 pm on Wednesday, 11:00 am to 10:00 pm Thursday through Saturday, and 11:00 am to 3:30 pm on Sunday.
Check out Herbert's website to learn more about Herbert Evatt and check out the menus. Follow them on Facebook and Instagram.
Original Article published by Michelle Taylor on The RiotACT.