Walk along the Haig Park end of Lonsdale Street in Braddon and you might spot a few interesting A-frame signs for Yaki Boi, but blink and you'll miss them.
Opening in late-December 2020, the restaurant serving Japanese-inspired fusion food is hidden from street view, located upstairs in the ORI building. If you look up you might see a glimpse of the neon sign at night or the hidden rooftop balcony.
It's not clearly visible from the street so you'll be forgiven if you've walked by without noticing but now you know and, if you like Japanese flavours, pizza, burgers and cocktails, you should add it to your "to eat" list.
Walk up the stairs on Lonsdale Street and you'll find the restaurant with generous seating inside featuring Japanese décor and a large outdoor balcony with a view of the street.
At first glance, the menu is a little confusing. Pizza, burgers and Japanese food? I won't hold it against you for thinking this is going to be a disaster. I'm the first to admit it's always my initial thought when I see a menu with lots going on. But I'm pleased to say it was a really enjoyable experience.
If I'm craving a traditional pizza, I'll go to a restaurant that specialises in pizza. If I'm craving a burger, I visit a burger joint. But what you won't find on the menu at a pizza or burger restaurant is a Takoyaki Party pizza or an Eel House burger, so of course I'm going to order those dishes.
I start with a cocktail from the cocktail specials menu and I order a Moscow Mule ($14). They have a selection of other $14 cocktails including a salted caramel espresso martini, unique cocktails, standard cocktails and a small wine and beer menu. My partner in food and in life (Mr Eat Canberra) chooses an Asahi Black. The drinks arrive quickly and we're hungry, so we place our food order.
We start with the wagyu cheeseburger spring rolls, seaweed salad and the veggie korokke (Japanese potato croquettes). The spring rolls are crispy, generously filled with a beef and cheese filling and topped with a peri peri mayonnaise. We quickly devour them and move onto the croquettes after a few bites of the seaweed salad to cut through the fried food. The veggie korokke are so crispy and they're filled with mashed potato, mixed vegetables and topped with an okonomi sauce.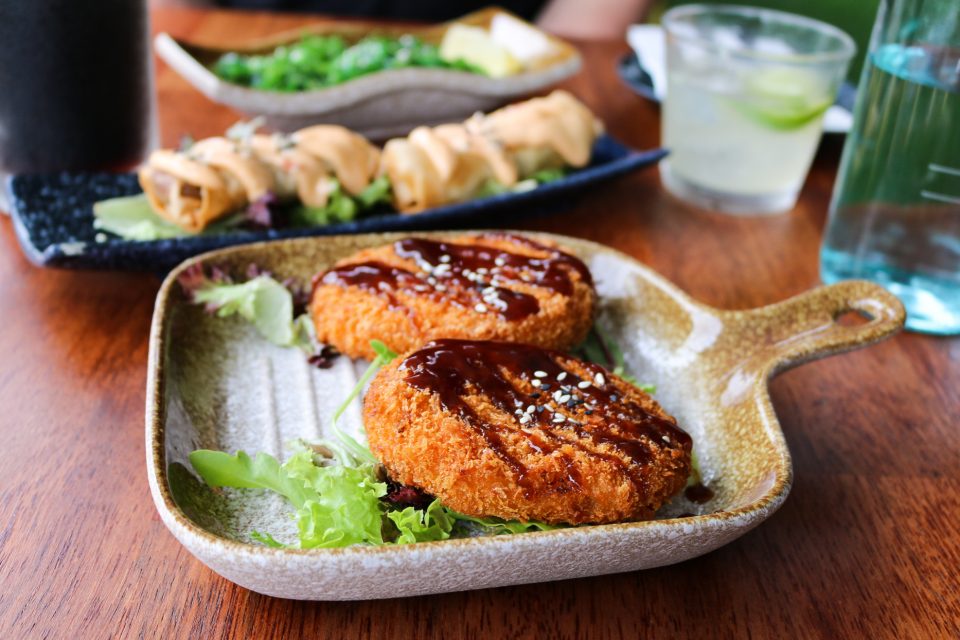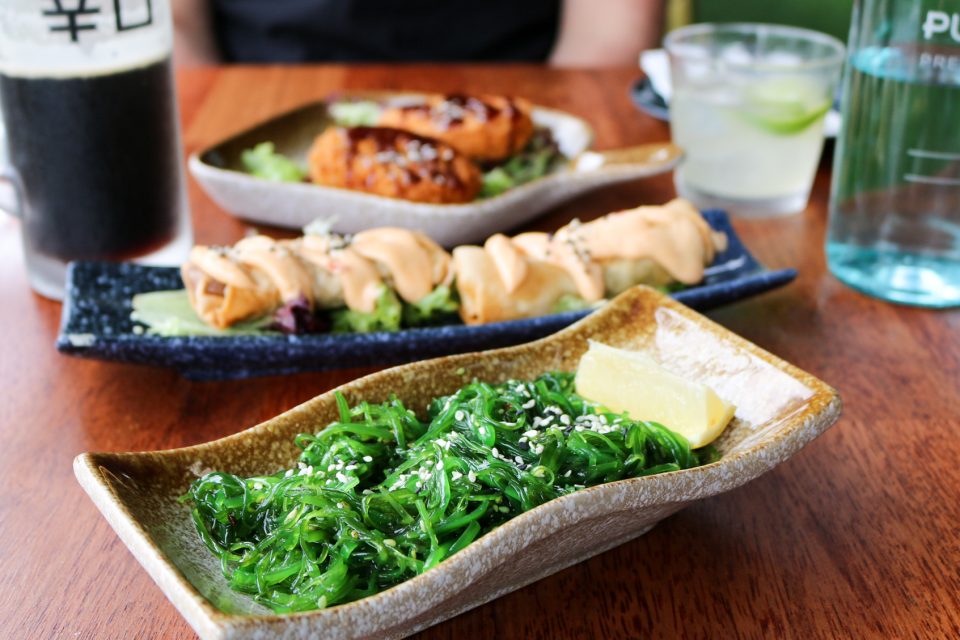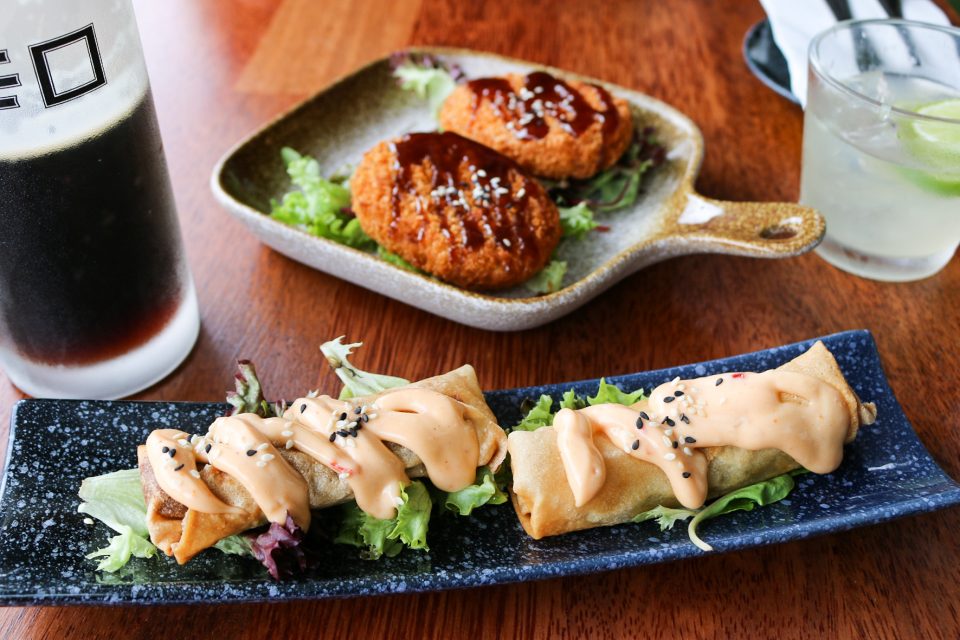 Next up is the Takoyaki Party pizza and the Eel House burger. If you don't want takoyaki on your pizza you can order them on their own and they're really reasonably priced at $8 for a serve of 8. I have fond memories of consuming many serves of fresh takoyaki on the streets of Kyoto, Tokyo and especially Osaka (where they were invented) in Japan. The way they make fresh takoyaki and turn them in Japan is mesmerising. Search for "takoyaki in Japan" on YouTube and you'll know what I mean.
The Takoyaki Party features some of my favourite Japanese ingredients and is topped with Japanese mayo (Kewpie), takoyaki, prawns, octopus, caramelised onion, bacon, okonomi sauce and bonito flakes. It's exactly as I thought it would be, delicious. If you like the ingredients on this pizza, you will love it.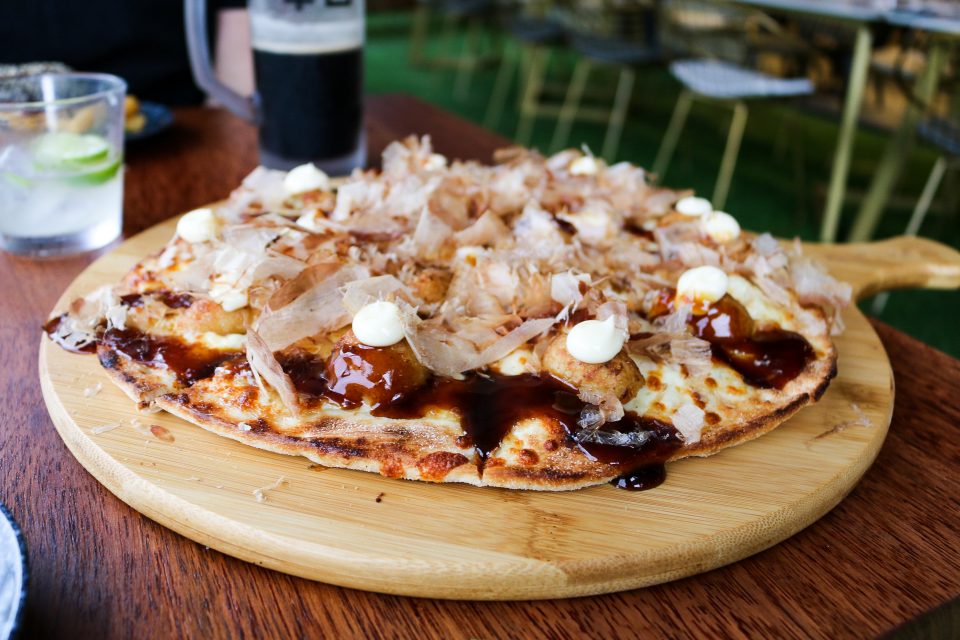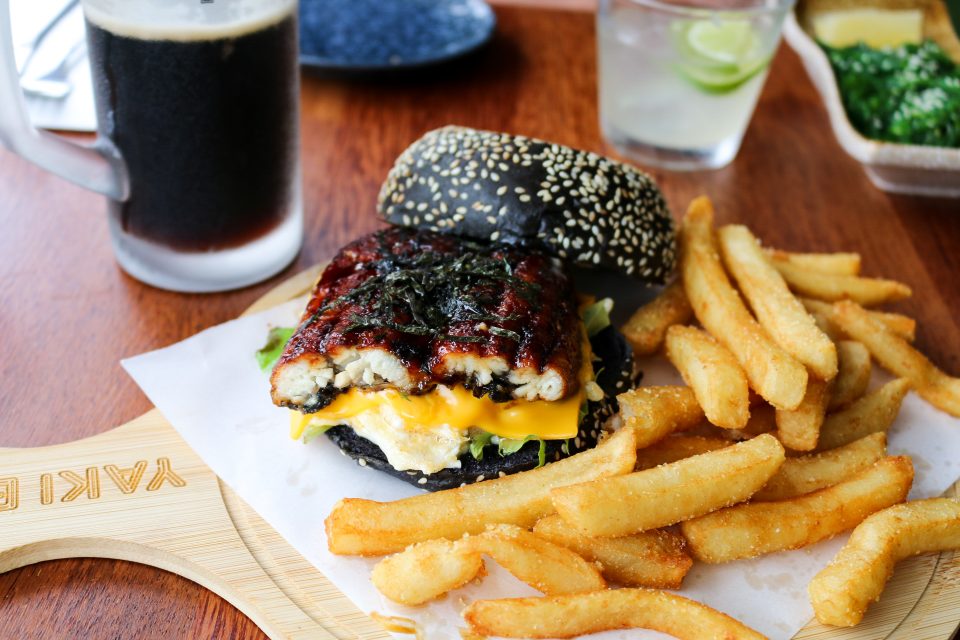 It's not often you see an Unagi (eel) burger on a menu, and Mr Eat Canberra loves Unagi, so we were excited to try it. The Eel House burger is filled with a generous piece of Unagi, free-range scrambled egg, fresh salad, American cheese, dried seaweed, Kewpie and kabayaki sauce. It's served with perfectly cooked and seasoned crispy chips and it didn't disappoint.
Most of the food at Yaki Boi can be ordered all day from 12pm and happy hour is from 3pm to 5pm, Tuesday to Sunday, with $6 beer and wine, $12 cocktails, $10 burgers and more. Head in for lunch between 12pm and 2pm, Tuesday to Friday, and you can make the most of their lunch specials including $15 poke bowls, $14 burgers and $13 don (rice bowl dishes).
Can't finish your food? Don't stress, Yaki Boi is also available for takeaway so you can get a pizza box and take your leftovers home like we did.
Yaki Boi is located upstairs in the ORI Building, 72/30 Lonsdale St, Braddon and is open Tuesday to Sunday from midday until 11 pm.
Original Article published by Amelia Bidgood on The RiotACT.