Beirut Bunker Bar's debut in 2019 was bold and sassy, and its underground nightclub vibe became a magnet for patrons keen to kick on into the wee small hours.
Two years on, having endured bleak stretches of lockdown, you would forgive Soumi and Chantelle Tannous for wanting to throw in the towel.
But like the city it is named for, the cocktail bar has rallied and evolved, starting with a name reboot: Bar Beirut! The team used the lockdown months to dream big and create hard. As 2021 comes to an end, Bar Beirut is all grown up. She still parties, but her cheeky flair has a sophisticated edge to it. And now, as our city opens up and restrictions continue to ease, she is on the cusp of a new debut.
How do you make the perfect bar even better?
You add food to the heady mix. Not just any food – a taste of Beirut where the Mediterranean meets the Middle East.
The new flavours debut tomorrow (16 November).
Bar Beirut's space has been reimagined by interior designer Kelly Ross.
"When you look to a place as vibrant as Beirut, you can see the scars in a society determined to smile," Kelly explains.
"It's layered, complex and exciting. Much like Soumi's cocktails. The colour palette is playful, drawn from both the mountainous surrounds and the faded bright buildings that line the streets of Beirut."
The dining area's powder-white walls echo the snow-covered mountains of Lebanon. Jutting out of these walls are the contours of arched windows that look almost real when the lights go down. Glowing overhead, Moroccan crocheted pendant lights evoke the shape of traditional tagine pots.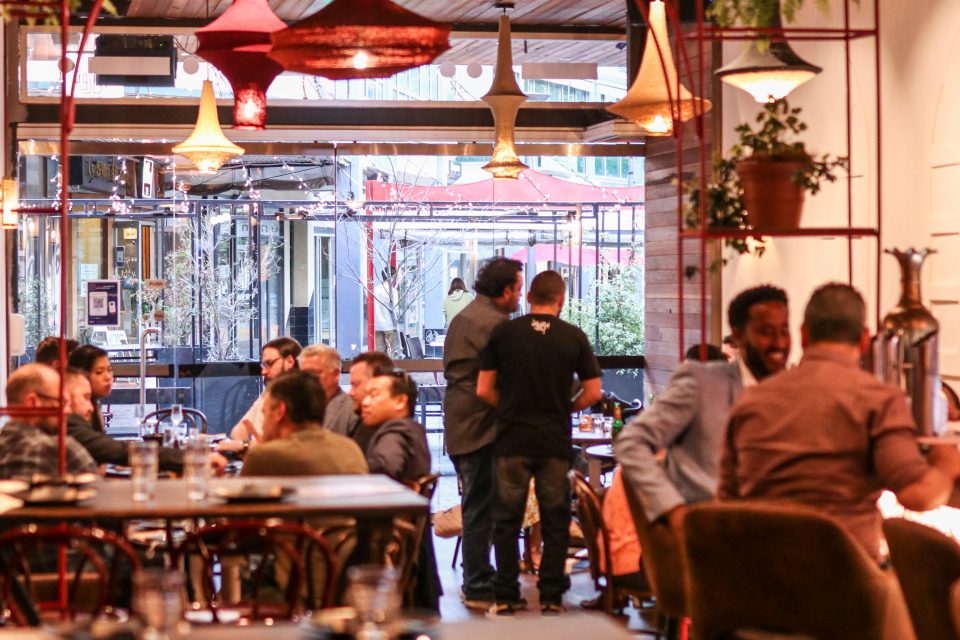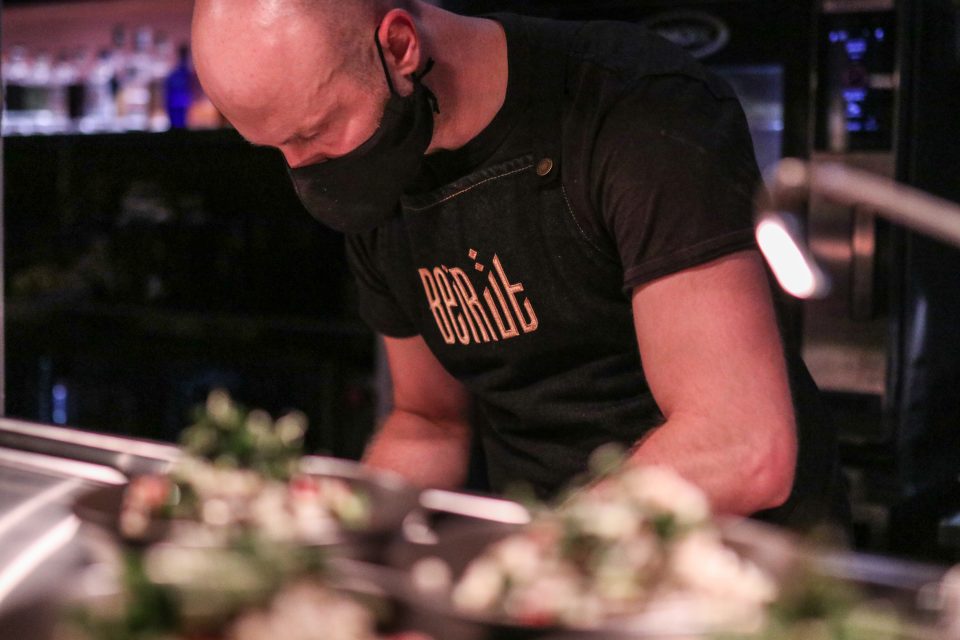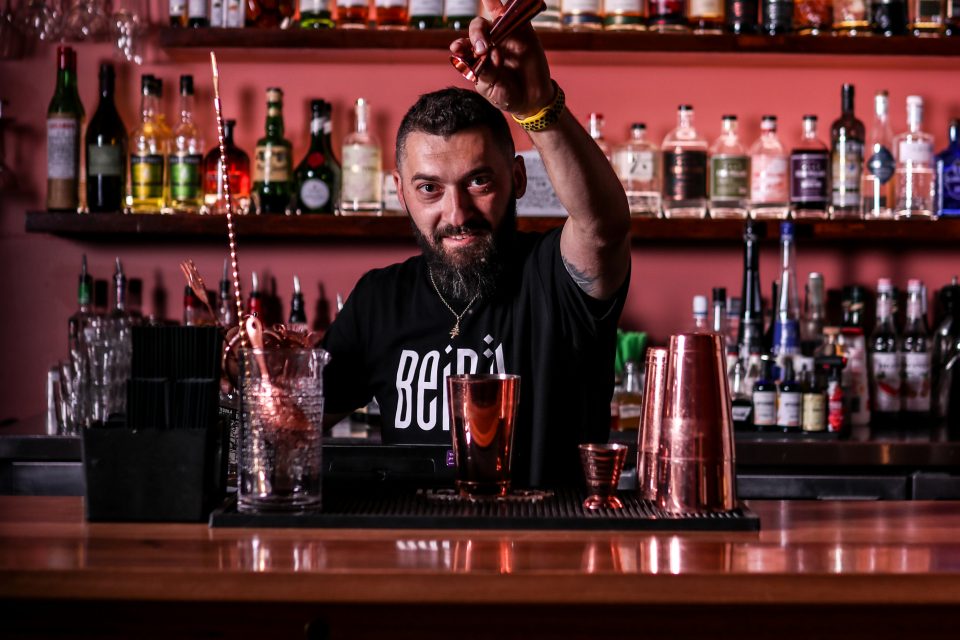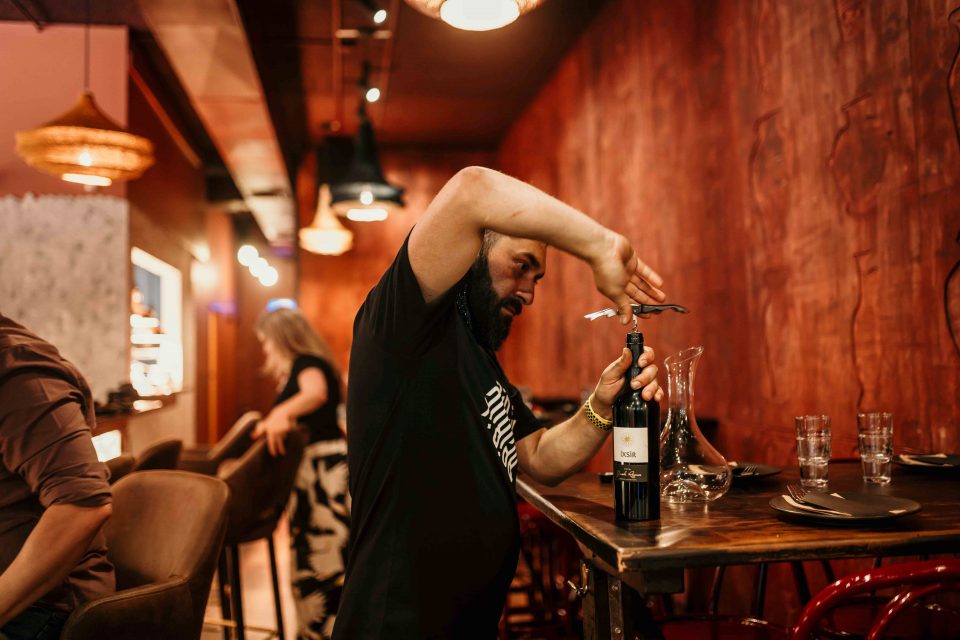 Step under a traditional archway into the bar lounge and the vibe shifts, transforming into Beirut's nightlife scene.
The back wall of the bar glows like a jewel-studded Cave of Wonders. Each bottle gleams on illuminated shelving. Plush bar stools invite you to settle in for a couple of drinks. Soumi must seriously have the longest Champagne menu in town. Every time he discovers another rare, quality champagne, he adds it to his menu!
The layered wooden panels on the wall showcase ancient Phoenician pottery. If you sit at one of the bar tables here, take time to admire the craftsmanship. They are fashioned out of recycled wood gleaned from a burnt-out Boorowa shearing shed.
I am sitting up at the bar, perched on one of the comfy stools. Chantelle Tannous and I have ordered dinner from the new menu that chef Struan Preston is serving patrons for the first time tonight.
Struan's journey to Bar Beirut began in a family-run hotel back home in Edinburgh, Scotland, where he cut his teeth as a kitchen hand on a path to an apprenticeship. He's become a global student of his craft, with work and taste-inspired travel across the Middle East, Thailand, Indonesia and New Zealand before finding his home in Australia.
Struan is a familiar face on the Canberra culinary scene, working most recently under the leadership and guidance of chef Johnon MacDonald.
Struan's menu takes inspiration from the Mediterranean and the Middle East. While he and his team create magic in the newly outfitted kitchen, I get acquainted with my favourite cocktail ever, the Beirut Express. Fragrant, refreshing and served in a glass encrusted with an exotic salt mix, every sip is sweet and pungent with bursts of spice and salt that enhances each mouthful.
All our starters are meant to be scooped up with toasty triangles of Lebanese bread.
The smoked baba ghanoush is light yet complex and threaded through with wispy strands of eggplant. Always my favourite dip, this version is stellar.
There's creamy labneh and warm olives sprinkled with the Middle Eastern spice mix za'atar.
Then comes garlicky hummus topped with crisp curls of fried sweet potato that I cannot stop eating. The hummus is perfection. And delicately seasoned kibbeh nayyeh – lamb tartare drizzled in olive oil.
We get a serve of cheese rakakat. Deep-fried cigars with three-cheese filling served with urfa chilli mayo and lime, the crunch factor is high, and the scrumptiousness factor is 10/10.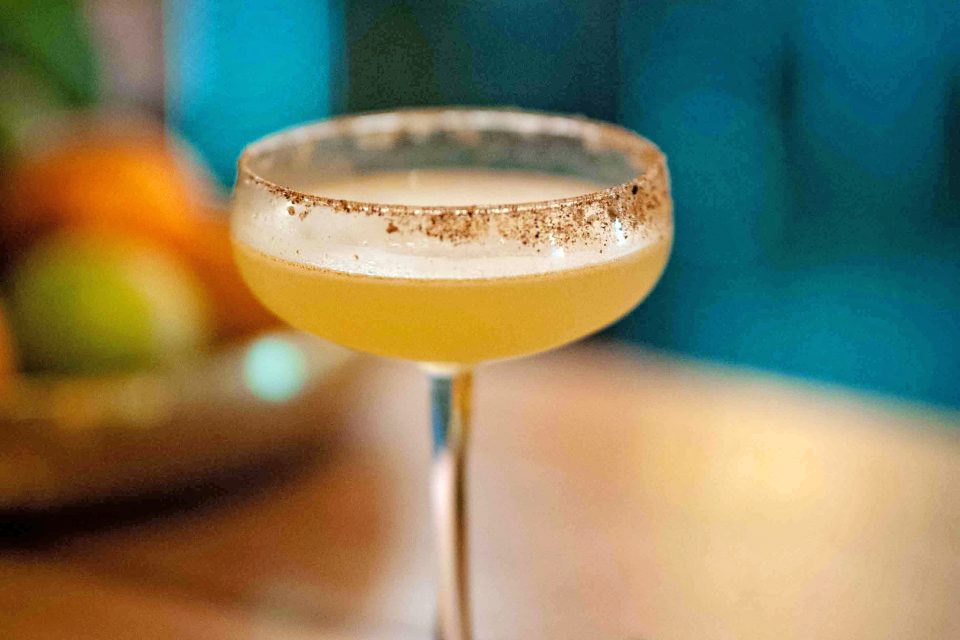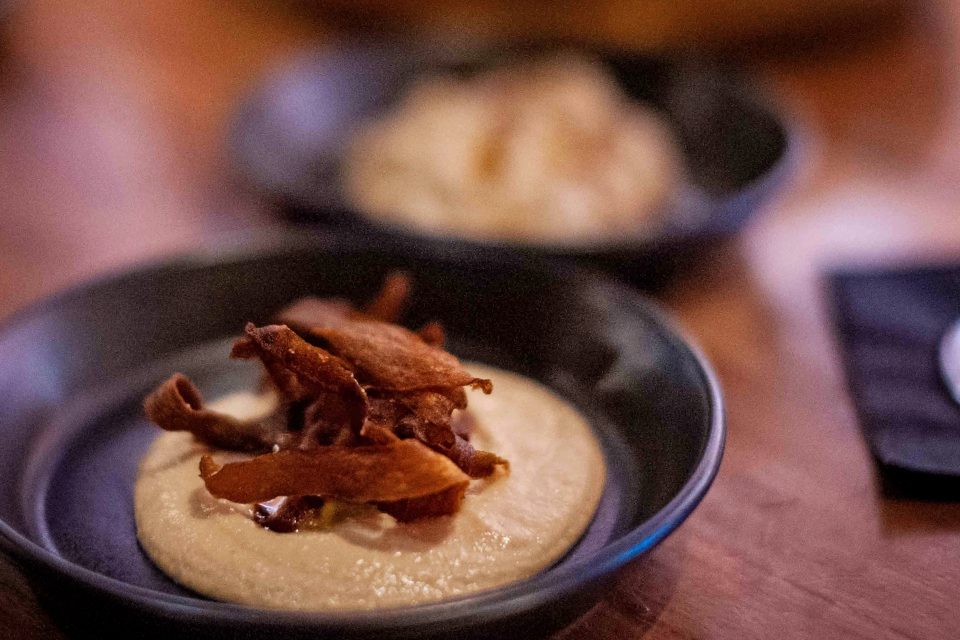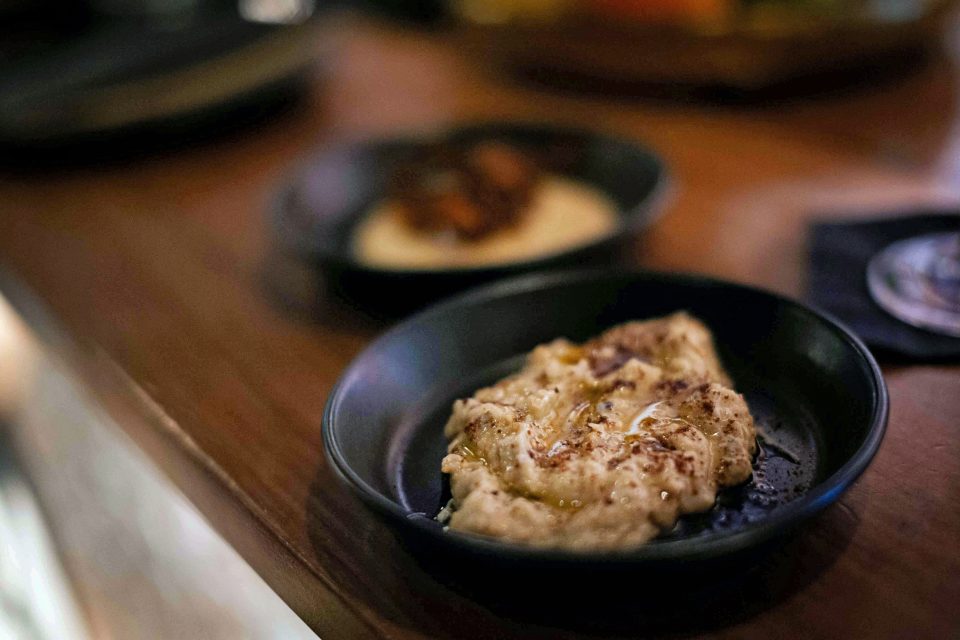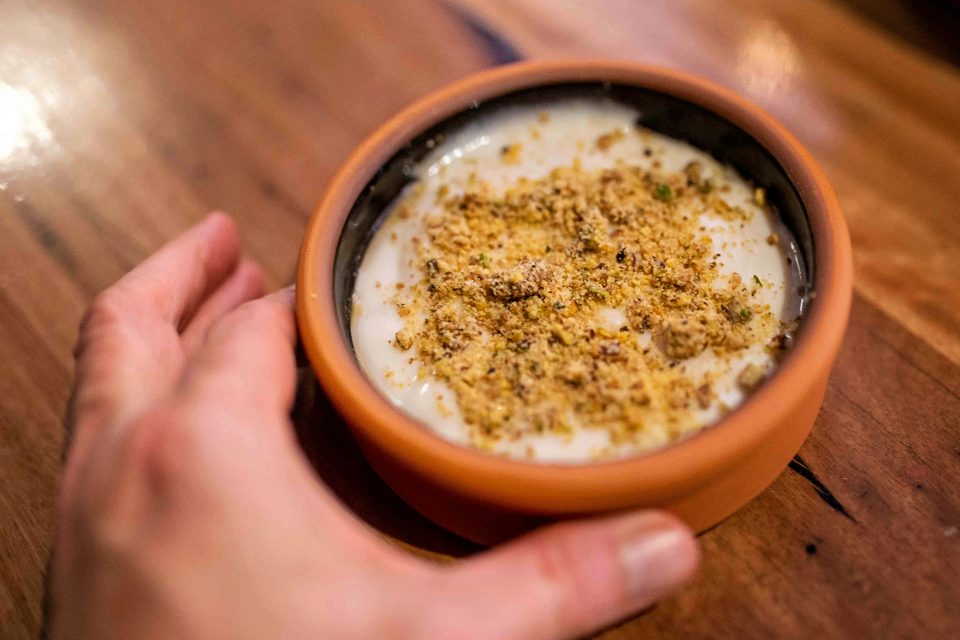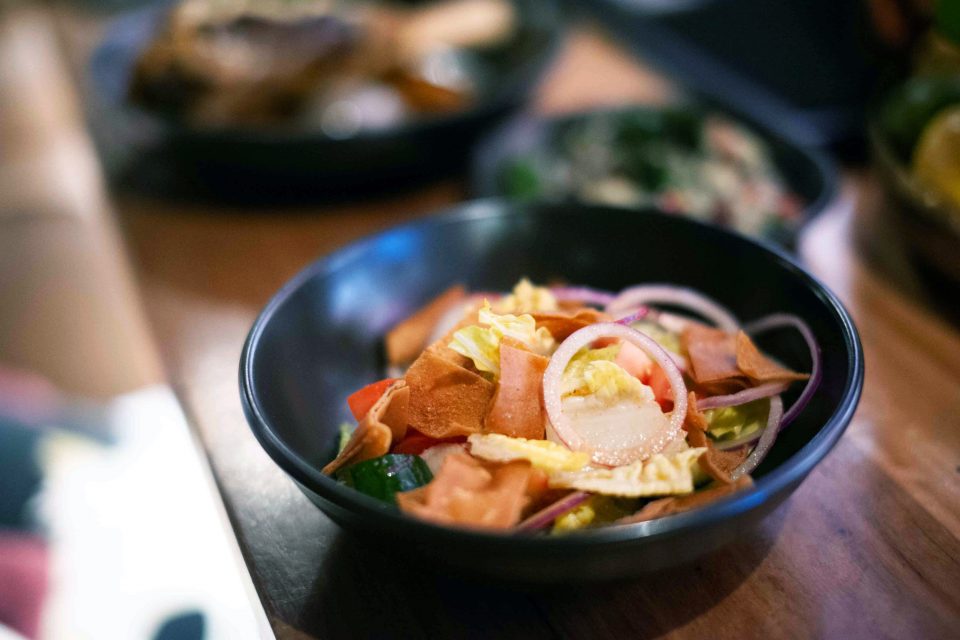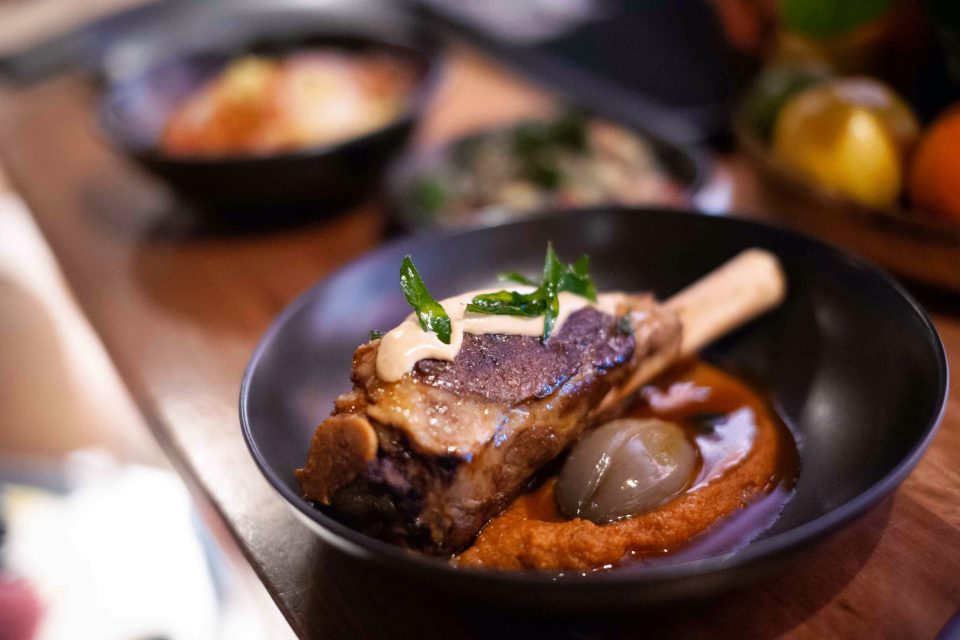 The main course is braised lamb shank served on sweet potato mash and topped with cashew tarator. The meat is so tender, it comes away from the bone without a knife. I don't have a clue what cashew tarator is, but it is magic on that lamb.
Our side dish of dirty rice has an al dente bite. It tastes both far-flung yet familiar. I keep piling more on my plate, trying to identify what is in it, so I can try to recreate it at home. The fattoush salad comes with a satisfyingly crunchy smattering of deep-fried Lebanese bread wedges. So good!
We finish with nectarine caramel muhallabia, delicate milk pudding with crisp pistachio crumb. Smooth and luscious, scented with nectarine, this dessert is the perfect ending to a wonderful meal that Chef Struan can be extremely proud of.
Bar Beirut is located at 25 Garema Place in Civic and is open from 5 pm until late from Tuesday to Saturday. Follow Bar Beirut on Facebook and Instagram to see all their latest news. Keep an ear out for special event nights involving belly dancers and fire twirlers!
Original Article published by Michelle Taylor on Riotact.