A few minutes outside Canberra, amidst the hills of Murrumbateman, an oasis for chocolate lovers awaits.
White café tables spill out onto the extensive lawns. The air is chilly, but the views out onto the reed-encircled dam, the darkening hills beyond and the chirping of cicadas are too ambient to ignore. An outdoor heater and a large basket full of downy rugs offer warmth. Kids have space to run around and there are outdoor games available.
Robyn Rowe grew this idyll with love for two decades.
In the past year, Yasmin Coe, longtime chocolatier at Sweet Pea and Poppy Chocolates, has taken on the mantle of Robyn Rowe Chocolates. It has been a busy season, bringing two teams together. It requires someone remarkable to keep the integrity of a brand that is so well-loved while continuing to flourish as an individual artist in her own right.
Yasmin, with her passion for chocolate and the Murrumbateman region and her calm, contagiously can-do personality, is perfect for the job.
"Our team is very creative. We have artists; really extraordinary women," Yasmin says.
"They're great at their craft, creating chocolate and a wonderful experience for our customers. They also bring their unique skills to what we do here."
Yasmin has just launched her team's newest range, Murrumbateman Chocolate Co. Incorporating local and Indigenous ingredients into chocolate goodness, Murrumbateman Chocolate Co is now also the home for both the Sweet Pea and Poppy and Robyn Rowe Chocolate brands.
"We had some wish list products and flavour development that we really wanted to push. We like to experiment, to push boundaries with interesting flavours. Murrumbateman Chocolate Co is an opportunity for us to play with flavours that we hadn't put together in certain ways before," Yasmin says.
"We have added lots of new local ingredients to this region. Some truffles in our cabinet now include five local wines, two regional gins, a whiskey from Yass and Clonakilla olive oil. We incorporate figs from 100 Acres Produce down the road. We also make a beautiful ice cream from their figs."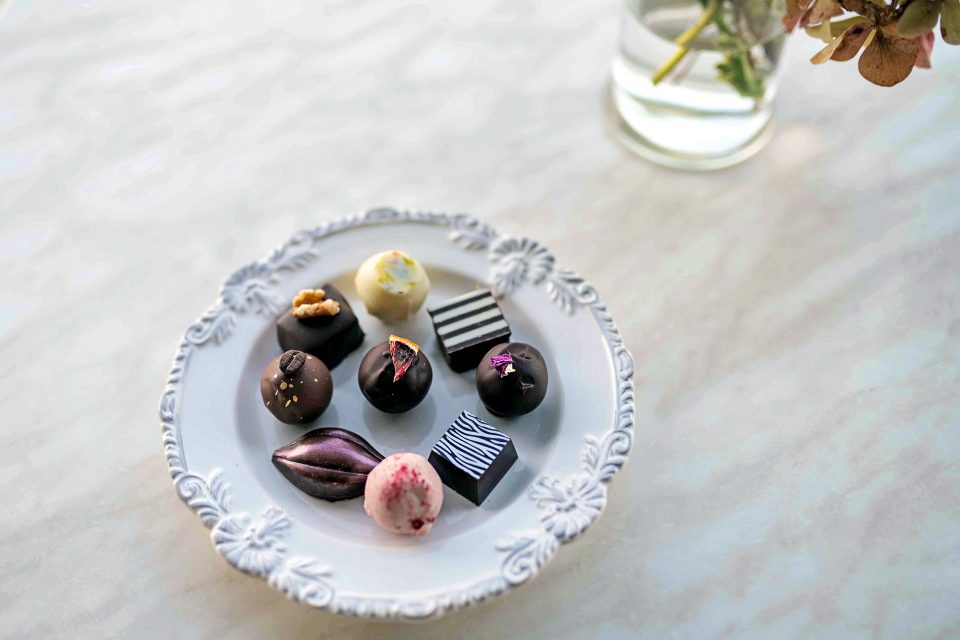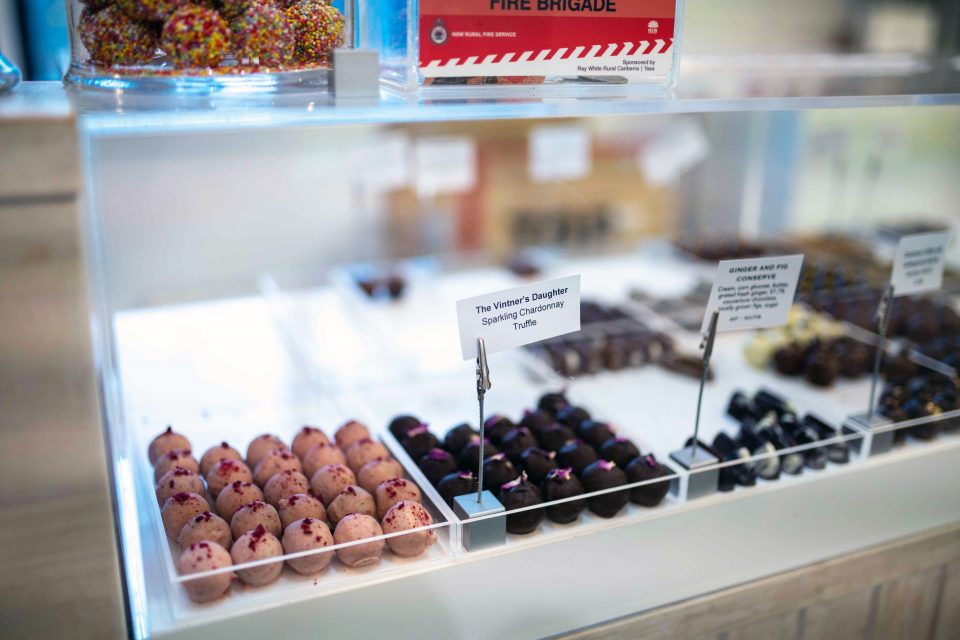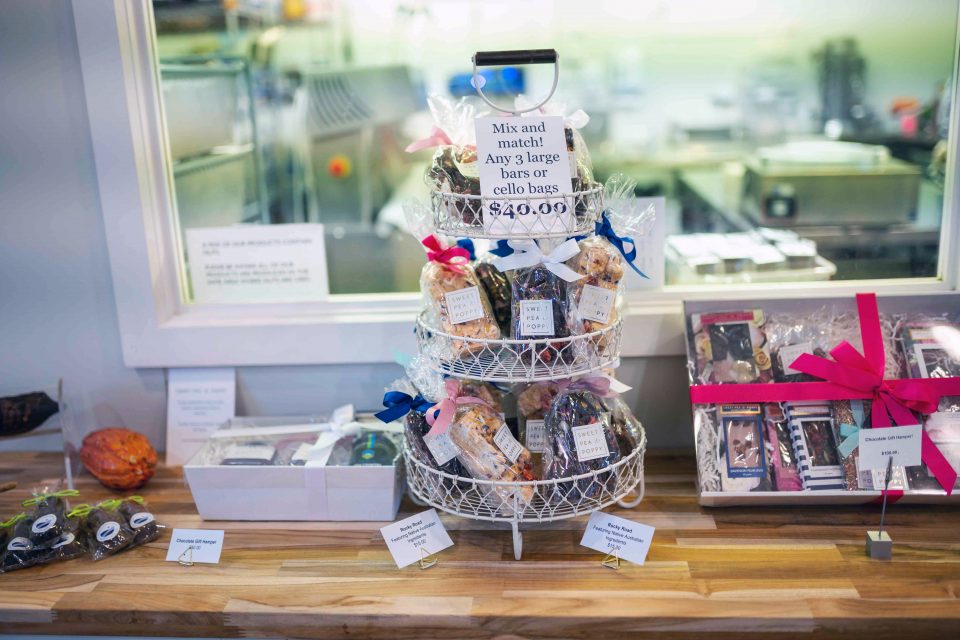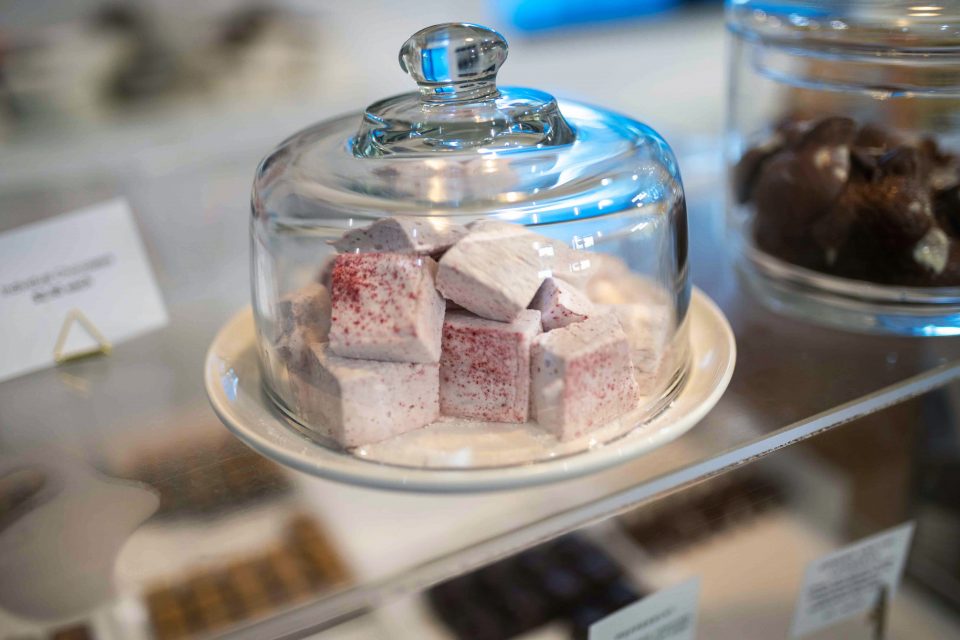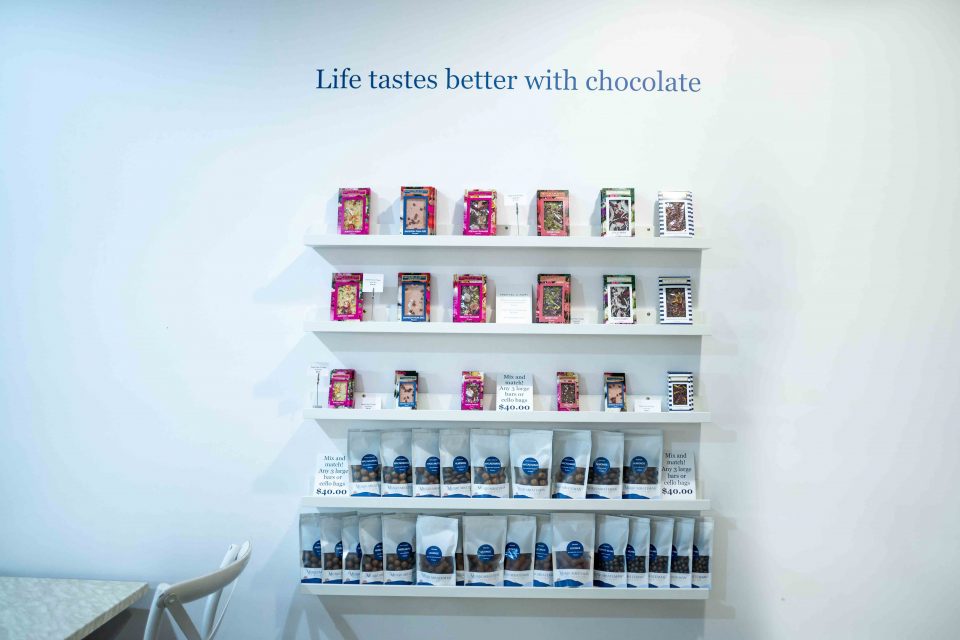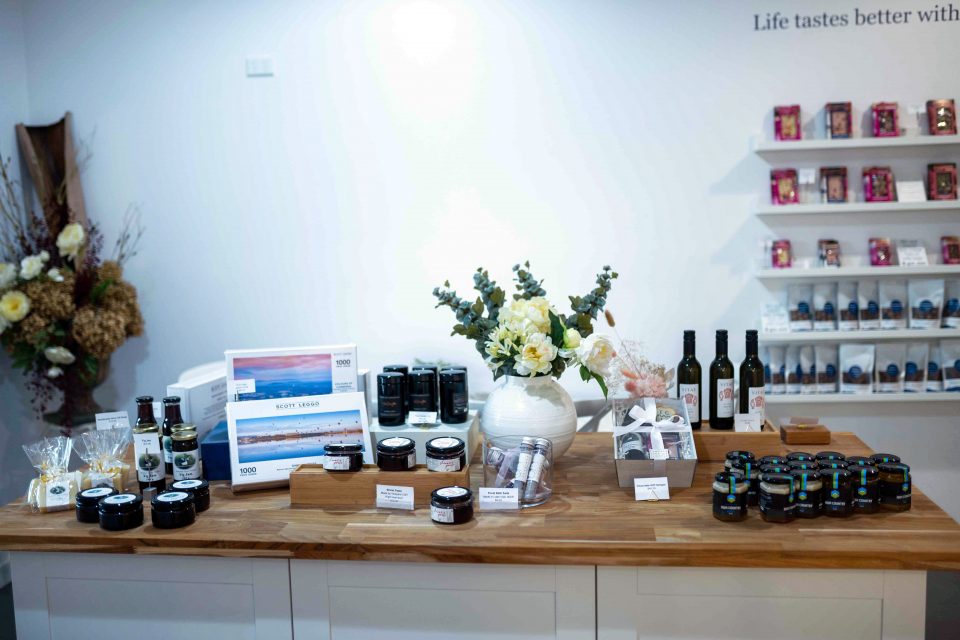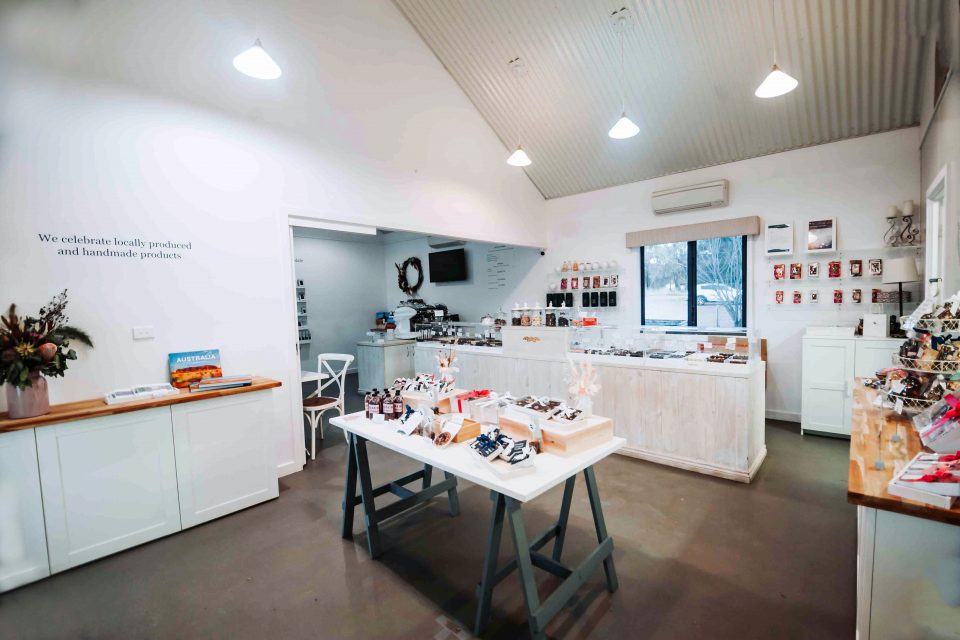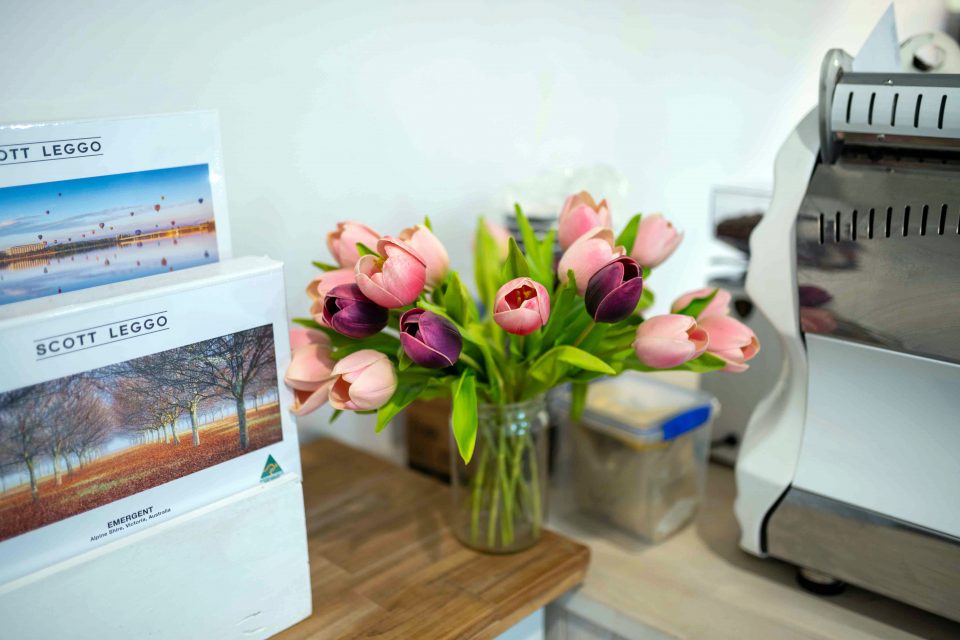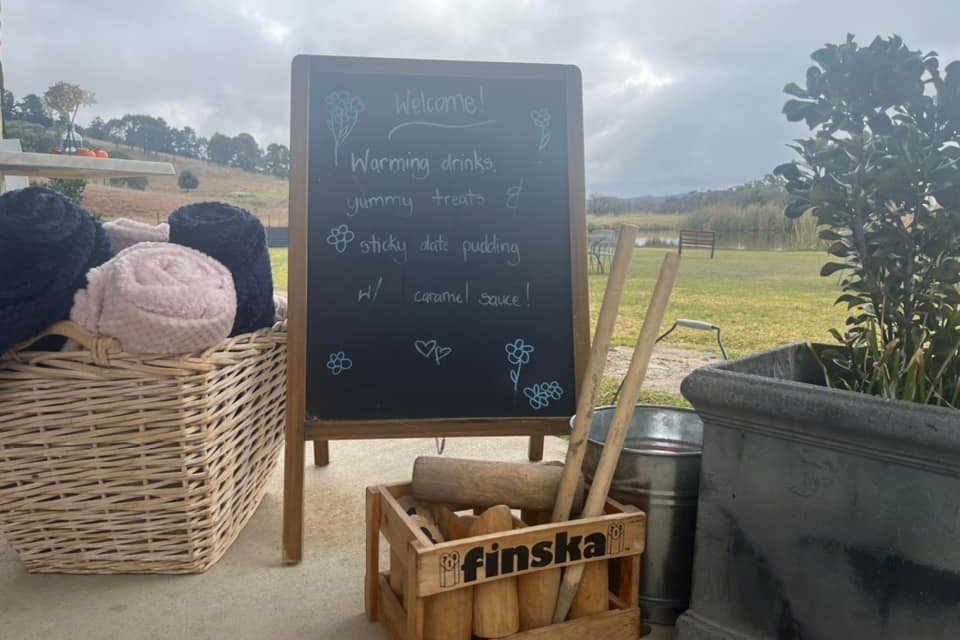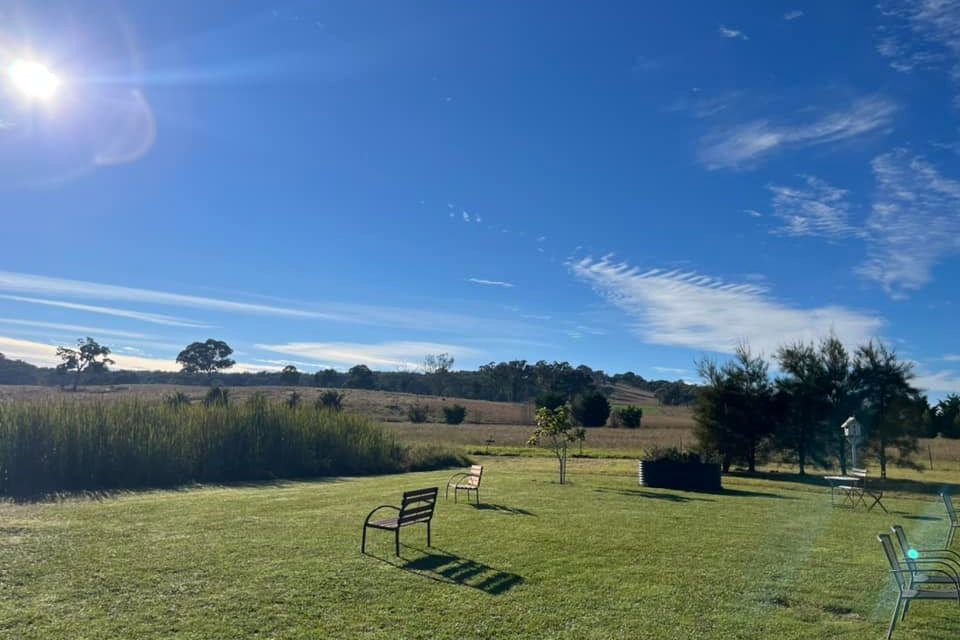 The team rotates four small-batch ice cream flavours in the cafe, flavours they change weekly. The lemon myrtle is always popular, as is the Davidson plum and raspberry.
Yasmin has dabbled in chocolate since she was 18. She went down the business and marketing route professionally, but always had chocolate creations in the works. Then, when her youngest was born five years ago, she transformed that passion into a business, launching Sweet Poppy and Pea.
A visit to Murrumbateman Chocolate Co must start with a slow perusal of the glass truffle cabinet – there are over 20 flavours to choose from. Then enjoy something from the hot chocolate range with a slice of house-made cake. If there is one thing I love, it is interactive eating. Like hot chocolate on a stick, watching swirls of melted chocolate goodness become one with the hot milk as you stir. There are a variety of hot chocolates on a stick here, and house-made marshmallows!
Since moving out to their new Murrumbateman home, Yasmin says she is blown away by the region's collaborative approach to small business.
"The sum of all the parts as a collective is something quite extraordinary. All the local businesses here are largely independent family-operated businesses, and everybody drives traffic to each other's venues. We have some terrific collectives: Canberra District Wine Industry Association, Makers of Murrumbateman and the team at Yass Valley Tourist Information Centre. Each of these bodies does an extraordinary job promoting the region and driving visitors to venues like ours. The Makers of Murrumbateman have put together a great map. It shows you what's located where, what days they are open and how to contact them."
Murrumbateman Chocolate Co will be participating in two upcoming winter events.
"We are thrilled to be part of the truffle festival this year, with Wayne from Blue Frog Truffles," Yasmin says.
"We will be showcasing the truffles in our products. Not just in our truffles but in a couple of desserts too. We are also part of the Fireside Festival in mid-July. We will offer a festival of hot chocolates paired with hand-cut house-made marshmallows, focusing on Indigenous Australian flavours."
Murrumbateman Chocolate Co is located at 1153 Nanima Road in Murrumbateman. It is open Thursday to Monday from 11 am to 4 pm.
Follow Murrumbateman Chocolate Co on Instagram and Facebook. Go to their website to continue to order chocolate goodness from both Sweet Pea and Poppy and Robyn Rowe.
Original Article published by Michelle Taylor on Riotact.