If you delight in desserts that play tricks on your eyes and tastebuds simultaneously, Du Sel cafe is where you need to be. Given that it rubs shoulders with XO, D'Browes and Kita café at the Narrabundah shops, it should be no surprise that Du Sel is a cafe/patisserie par excellence.
Du Sel's shop front is tiny, but there is ample seating outside – grab your spot under a tree and people-watch. Although it is early on a Saturday morning, the glass cabinet is already fully stocked with delectable sweet and savoury treats. Glossy apples, bright red and shiny green, gleam like forbidden fruit. Alongside them sit sunshine yellow lemons and plump cherries. Exquisitely crafted, these beautiful desserts look too pretty to bite into, except that is exactly what owners Aria and Michael hope you do.
"We want you to pick up an apple dessert and bite into it – just like you would a real apple, and then be delighted by what is inside," Michael insists with a big smile.
And it is what is inside that sets Du Sel apart. It is where the creative magic from head baker Ariel lies. Within those layers of flavours and textures are flavour profiles that you might not expect go well together.
I delve into several of the desserts on offer this morning.
Cut into the Cherry Morello to reveal vanilla cream mousse cake, a pistachio puree and a tart sour cherry centre. A layer of almond feuilletine (crisped crepes) and caramelised almonds add a brittle crunch. The combination of luxurious softness mixed with crunch is tastebud heaven. It is my favourite.
Michael tells me that the snow tropica dessert, which looks like an oversized white droplet, comprises five tropical fruits. The first mouthful tastes like lush, silken pavlova with a centre scented with tangy passion fruit. The second bite brings pineapple to the fore.
The green apple is vanilla cream mousse around a heart of granny smith apple cubes, fresh and sour and flavoured with dill. Glorious!
I slice into a red royal gala apple. The delicate vanilla mousse encases sweet apple cubes imbued with imported French candied rose petals.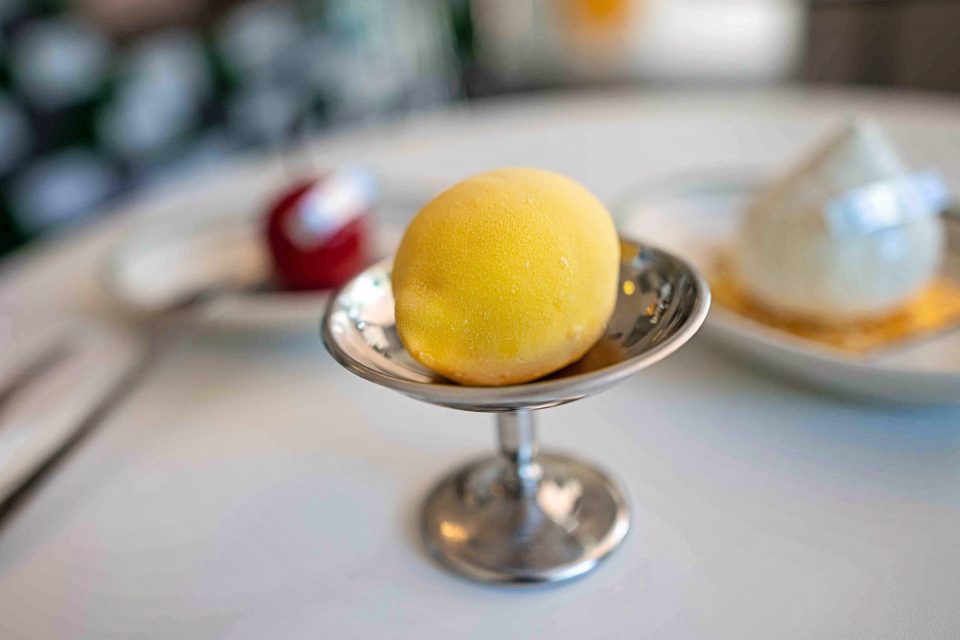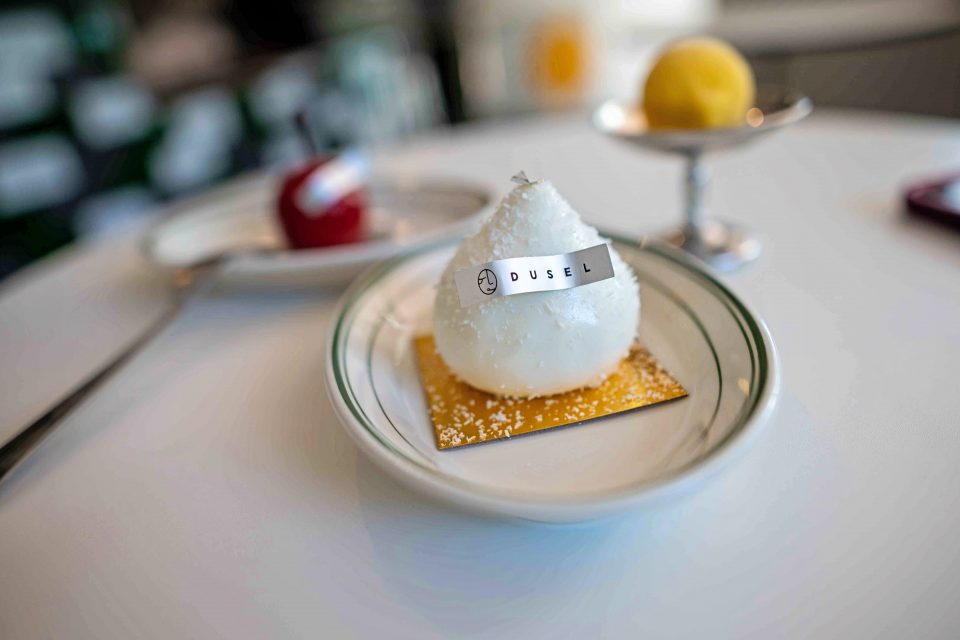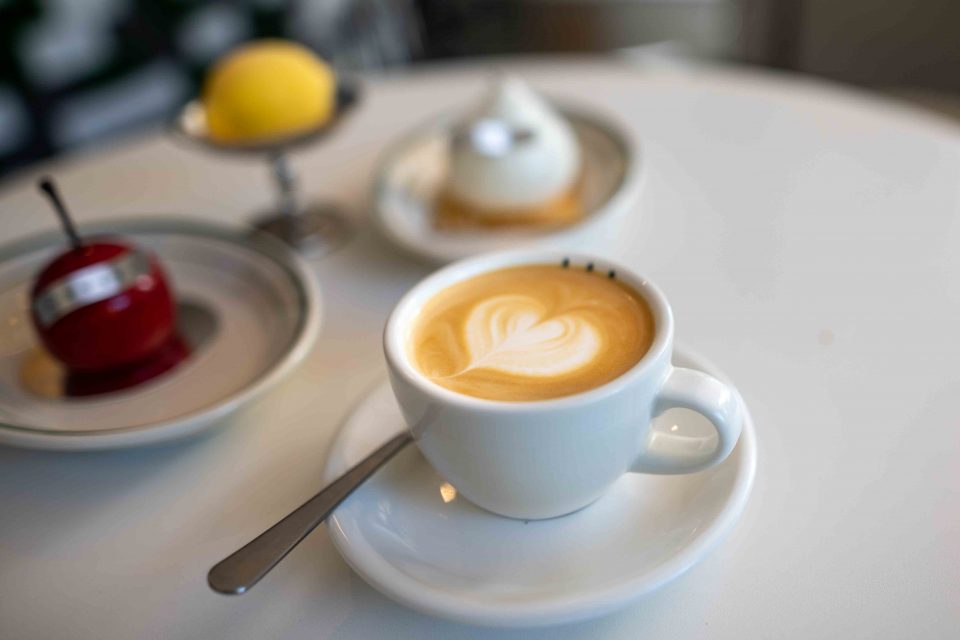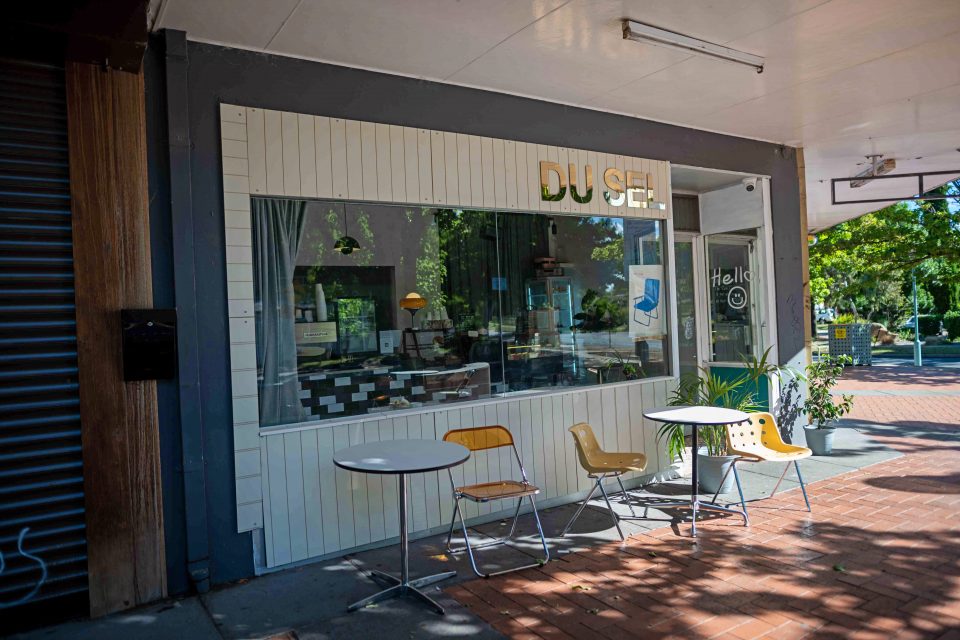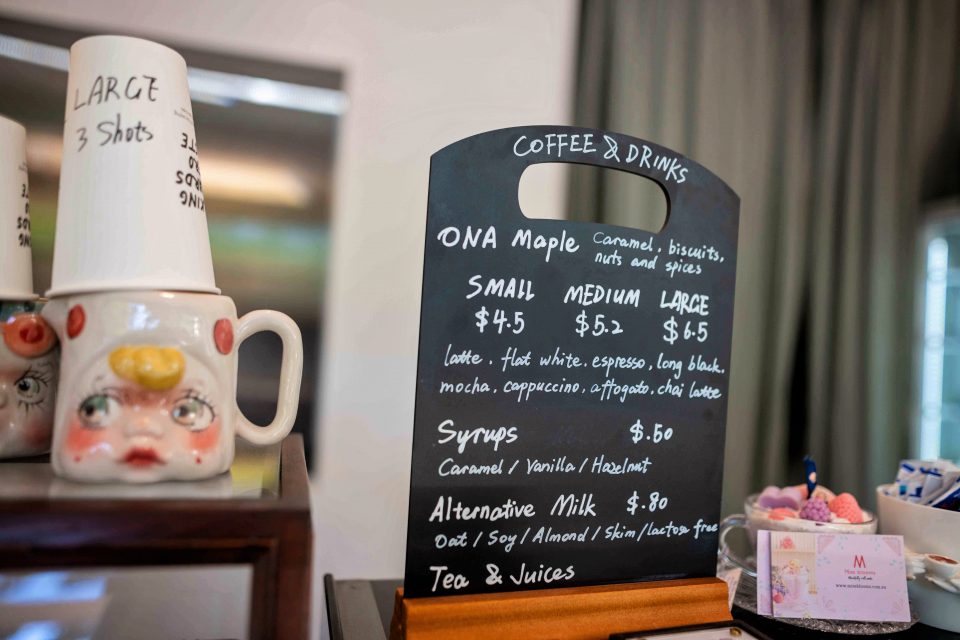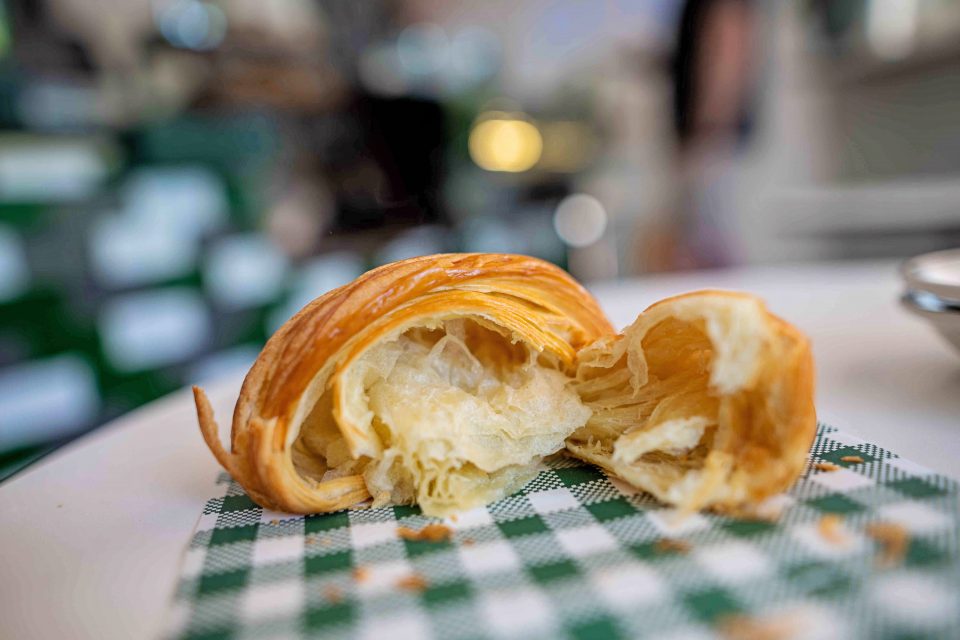 My realistically pocked lemon is a surprise. I expect to cut through its centre easily like the other 'fruits', but its yellow rind is a shell that cracks apart. The creamy mousse is tart, lemony, and flavoured with pineapple and mint.
"We work hard to make authentic, creative, delicious desserts," Michael explains.
"Everything is prepared, baked, assembled and cooked here to the highest standards, using quality ingredients and careful practices."
Michael's wife Aria brings the flair for flavour pairings with her curiosity and passion for creating new desserts. Her journey began with some baking courses in China. Aria then taught herself new techniques, exploring, experimenting and now excelling at French patisserie.
Du Sel's baked goods are not all sweet. They also make croissants and bagels in-house. In fact, tendrils of steam still curl from my croissant as it has just come out of the oven. Beautifully laminated, the croissant has tender layers of pastry inside and buttery crisp layers on the outside.
When you visit Du Sel, there may be other desserts on offer as the menu changes seasonally. There is a beautiful range of Basque cheesecakes that I did not get to try. Hot food options will increase as the temperature drops.
If you're just after coffee, the good news is that they serve ONA. But it will be hard to resist 'fruit' with breakfast.
Du Sel Canberra is located at Shop 1/2 Iluka St, Narrabundah. They're open from 7 am to 4 pm Tuesday to Friday, and from 8:30 am to 3:30 pm on Saturday and Sunday. Follow Du Sel on Instagram and be inspired by Aria's beautiful creations. Contact her about custom cakes which she specialises in.
Original Article published by Michelle Taylor on Riotact.