Canberra is a city of brilliant breakfasts, and the southside serves many of them! Cafes around Woden and Tuggeranong are plating up some of the most creative, comforting and delicious brunches in town. Check out a few of our favourites. A Bite to Eat in Chifley feels like a home away from home. It's no wonder. After being open for 16 years they really know what they're doing! Sink into a retro leather lounge and enjoy one of their fresh juices like carrot, apple and celery, or watermelon and mint. The menu feels fresh and light with lots of tasty-looking salad options and the hearty – but healthy – Harvest Bowl with charred pumpkin, kale, quinoa, pumpkin hummus, avocado and pickled zucchini. Classics like smashed avocado are zhuzhed up with a fresh herb salad and nut-free dukkah. Breakfast at A Bite to Eat will leave you feeling energised and ready to take on your day.
A Bite to Eat is at Chifley Place, Chifley.
Open 7 am to 3 pm on weekdays, and 7:30 am to 3 pm on weekends.
Follow them on Facebook or Instagram.
Did you know that Lonsdale Street darlings Rye have opened up in Tuggeranong? Perched on the edge of South.Point shopping centre, Rye Greenway is a dose of Braddon on the Southside. And their protected outdoor dining area catches the winter morning sun perfectly. Their menu is creative and thoughtful, with dishes like the Scandi-chic Breakfast Board: a sophisticated breakfast of gravlax cured salmon, grilled pear, scrambled egg, rye toast, pickles and red currant jam.
Get your savoury fix with poached eggs on fried Kipfler potatoes with avocado and a pumpkin spread. Or grab a traditional bullar bun and participate in the Scandinavian practice of fika: catching up with family and friends over coffee and sweets.
Find Rye Greenway at South.Point shopping centre, 210 Anketell Street, Greenway.
Open 7 am to 3 pm seven days a week.
Follow them on Instagram.
The Alby is branching out to include weekend breakfast. Snuggle into the comfy banquettes and try The Alby: a generous serve of smoked salmon and avocado with capers and crumbled feta. Or indulge in a stack of picture-perfect buttermilk pancakes with berries, mascarpone and warm maple syrup.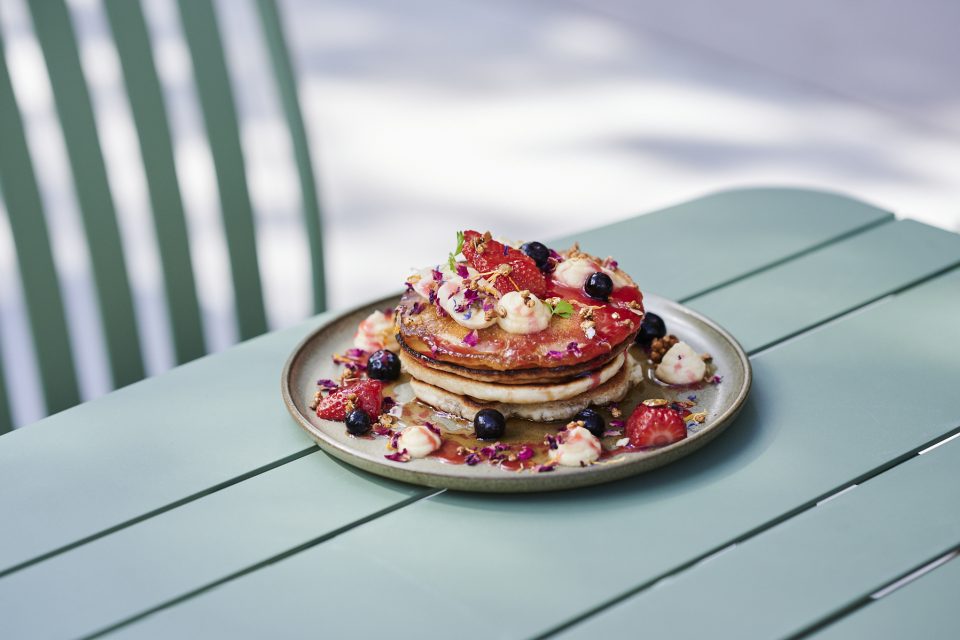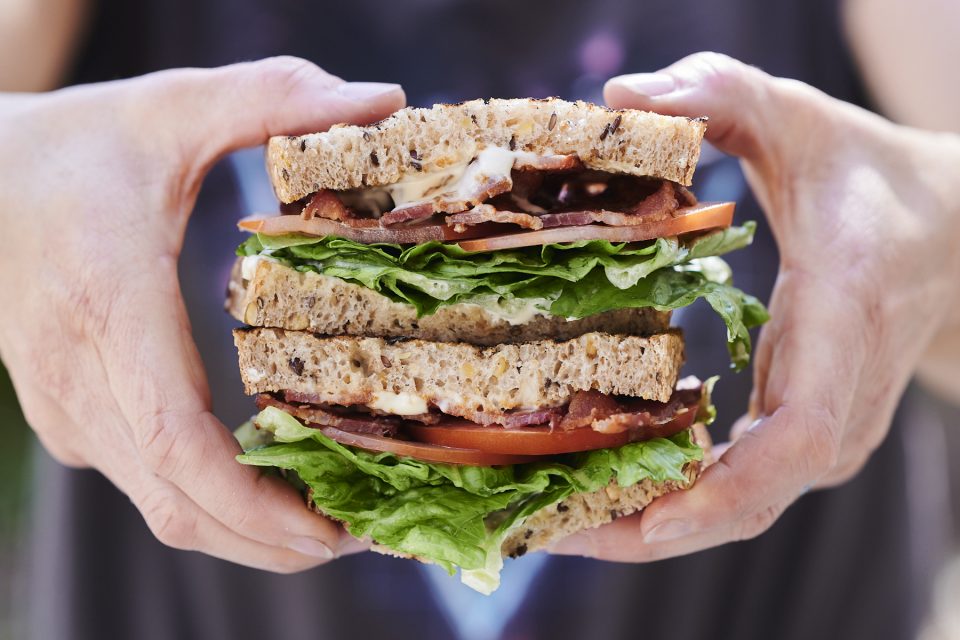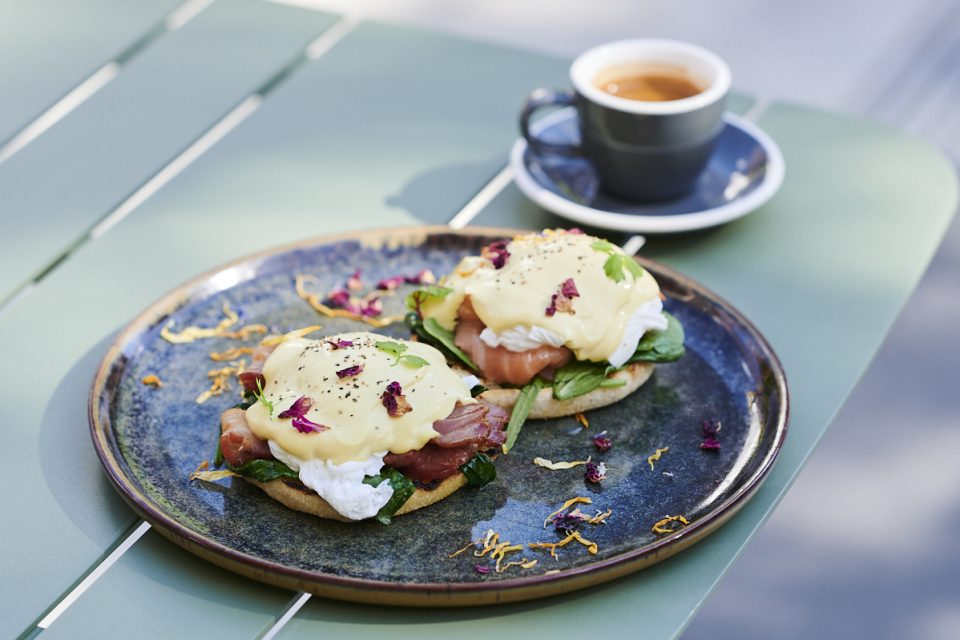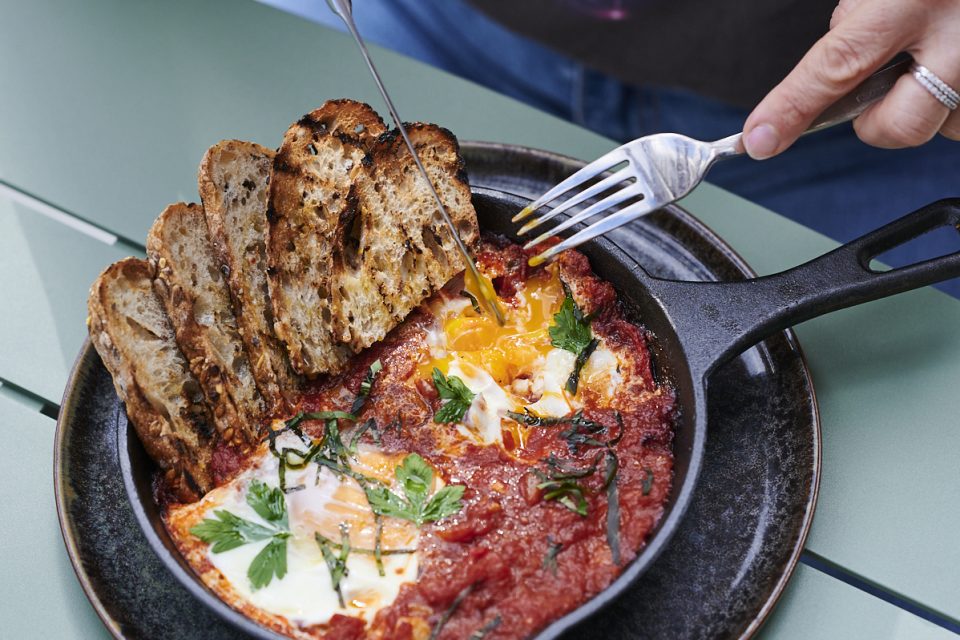 The spacious restaurant makes it perfect for an indulgent weekend brunch, with the option to kick on into the afternoon. And if you got a little too enthusiastic watching the footy on The Alby's big screens the night before, return and recover with a Red Brick coffee and a breakfast burger.
The Alby is at 45 Furzer Street, Phillip.
Breakfast is served Saturday and Sunday from 8:30 am to 11:30 am.
Follow them on Facebook or Instagram.
Fox and Bow in Farrer have been the buzzing heart of Farrer shops since they opened in 2014. They've established themselves as 'the local' for Farrer residents, but also a cafe worth a trip for people in surrounding suburbs and further afield.
Order a classic like the Eggs Benny (served with proper hollandaise) or try the Spanish-inspired Huevos Ortiz with chilli fried eggs, ortiz anchovies and manchego cheese. Wash it down with an old-school milkshake or homemade brewed chai for a very special brekky in a very special cafe.
Fox and Bow is at the Farrer shops, 4B Farrer Place.
Open 7 days a week from 7:30 am to 3 pm. Follow them on Facebook or Instagram to stay up to date for when their legendary Friday and Saturday night dinners return.
With high ceilings and big windows facing over the water, Two Before Ten at Greenway is a light and airy space with a humming energy. The team has continued their focus on local produce with coffee from their own roastery and fresh produce from the urban farm at their Aranda location which surely gives them the shortest food miles in Canberra. Try the Shrooms on Toast with Aranda-grown mushrooms and charred leeks, or the house-made Urban Farm Granola. True to their seasonal focus the menu changes according to what's available, so your loaded toast will always reflect what's growing at the time.
Two Before Ten Greenway is on Cynthia Teague Crescent, Greenway.
Open 7 am to 2 pm Monday to Friday and 8 am to 2 pm on weekends.
Follow Two Before Ten on Facebook.
Did we miss your favourite southside breakfast? Let us know in the comments!
Original Article published by Lucy Ridge on Riotact.