Resistance has proved futile.
I worked out beforehand and arrived at Cartel Taqueria in my gym clothes to remind myself of my lifestyle goals for this year. Yet, here I sit, having consumed a small burro's weight in tacos, tortilla chips and queso, and tres leches cake, washed down with frozen margaritas, and I'm still picking at the trays of food.
The food coma is so worth it, though. Owners, Anna and Gina Petridis, have delighted and amazed Canberrans for years with their unique signature deliciousness at Patissez Café and, more recently, at Crack Bakery.
Gathered around our feast, looking out across the Queanbeyan River on this scorching summer afternoon, it feels like we have been transported to Tulum or, at the very least, El Paso.
It begins with all the little details, a woven rope ceiling, Mexican artwork on the jugs and crockery, and the incredible tiled feature wall – a piece created by ceramic artist Elisa Krey.
It continues with a relaxed, fun vibe. The taqueria's interior flows seamlessly to its outdoor area where patrons feast under the trees. No table available? No problem. Grab one of their picnic rugs.
It all culminates with that double-sided menu that contains so much goodness.
"Our taco fillings, particularly the meat recipes, are pretty authentic in terms of the regions they came from," Anna says. "We've actually had legit Mexican visitors tell us, 'This is spot on!'"
The food menu offers side dishes and a varied range of tacos. I would be disappointed if there wasn't at least one Breaking Bad reference, and there is! The drinks menu heroes five frozen margaritas plus a virgin margarita. Buy sangria by the jug or glass, tap beer, Mexican lager and sodas.
Our margaritas arrive. Made from scratch, using only natural ingredients, these frozen margaritas are ultimate thirst quenchers. We have strawberry-lime, watermelon-mint and passionfruit-coconut. Each is scrumptious, but my favourite is watermelon-mint. The spice and tang of the salty rim of the glass enhances its refreshing summery pop.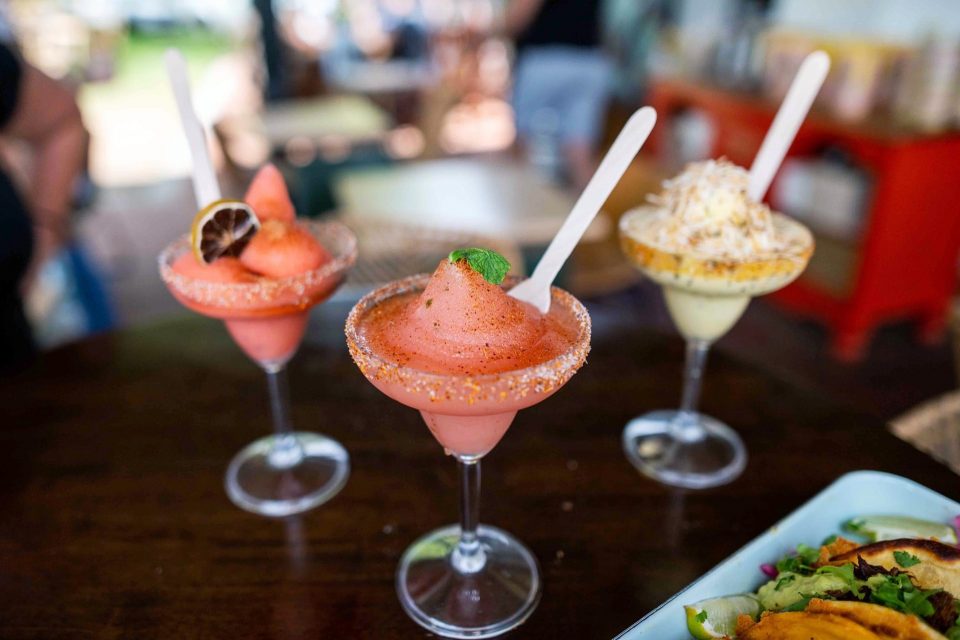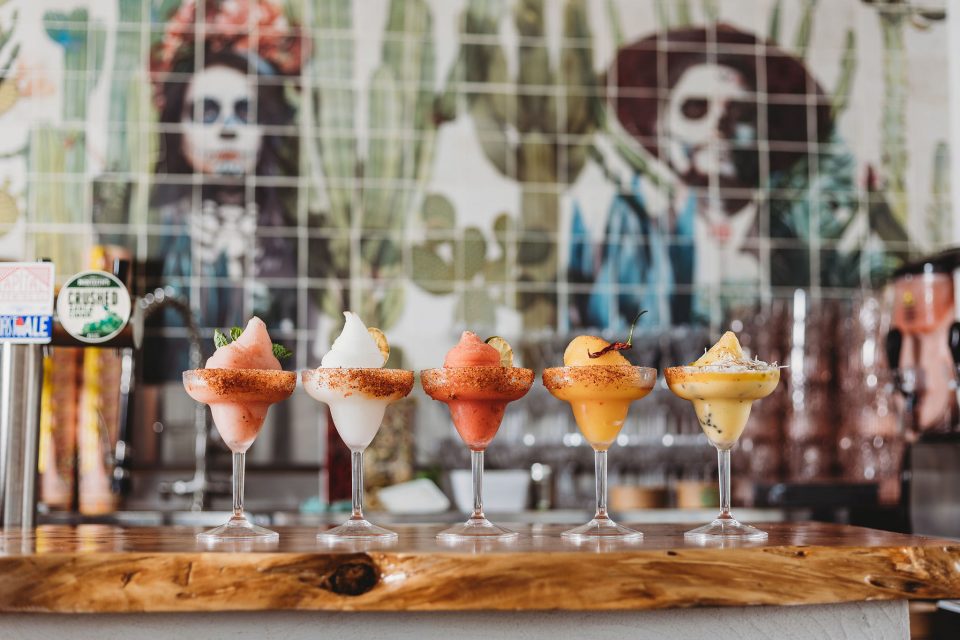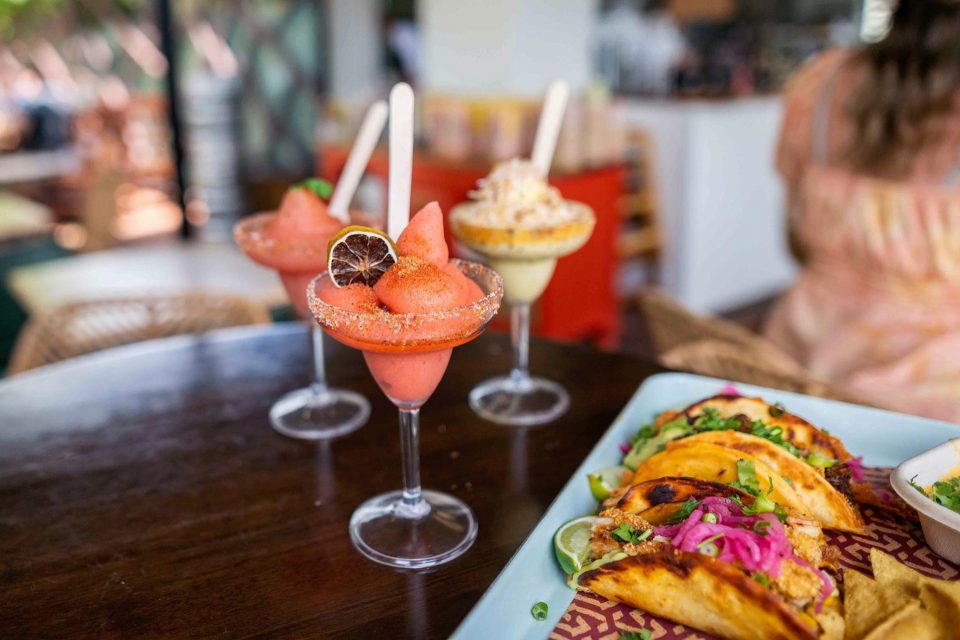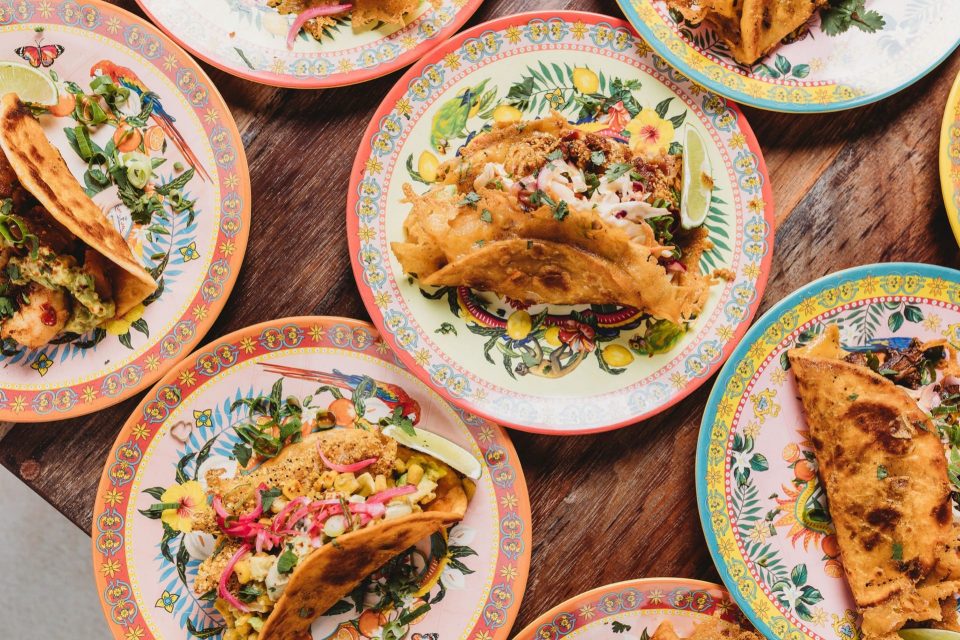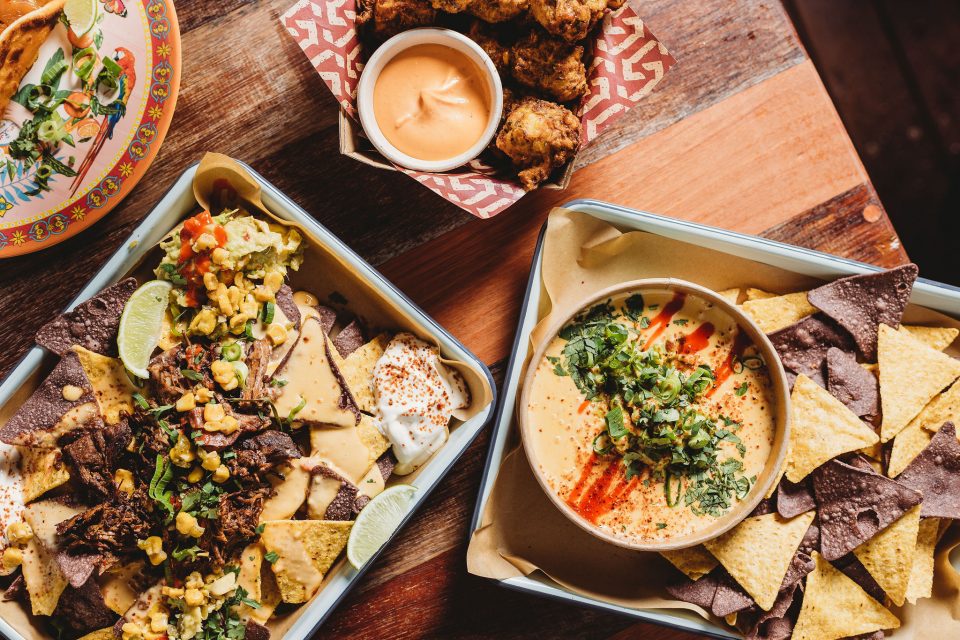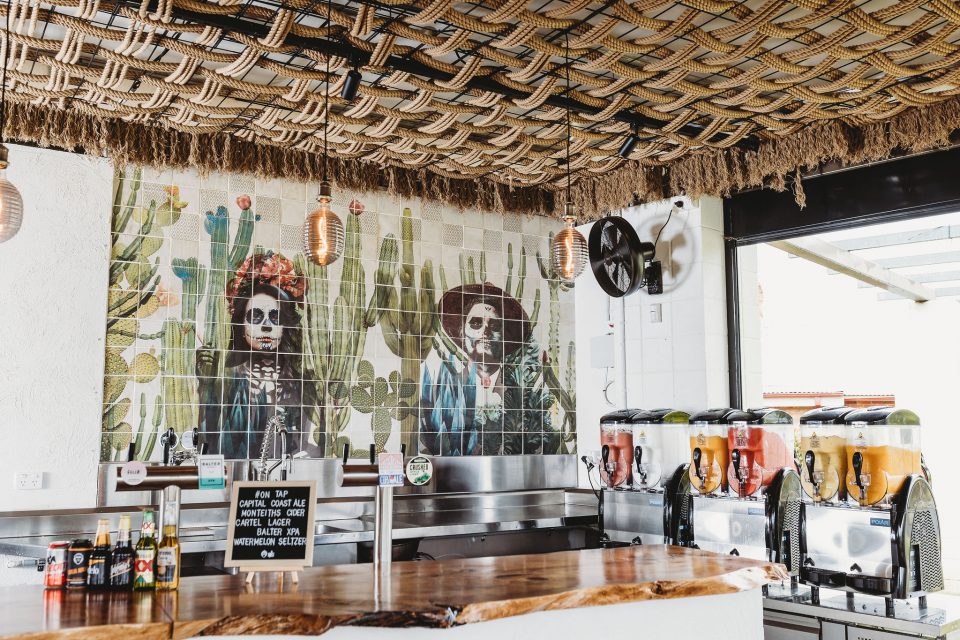 An impressive tray of food follows. Queso with tortilla chips and four tacos: carnitas pork with caramelised pineapple and pickled red onion, grilled chilli and butter king prawns with caramelised pineapple and guacamole, carne beef and guacamole, and a Baja fish taco with tortilla-chip-crumbed fish pieces with avocado crema and corn/avocado salsa.
The three-cheese queso hits the spot. Warm, luxuriously melty, tangy with some sweetness from roasted tomatoes, capsicum, and heat from the siracha sauce. Dig down into it with a tortilla chip and unearth a goldmine of guacamole.
Cartel's taco shells are unmatched. Soft, supple and toasted-cheesy on one side, they are the perfect vehicle for the delicious fillings: succulent prawns, tender braised beef, umami pulled pork, gorgeous guac, tangy pickled onions. Once you have experienced caramelised pineapple in a taco, there is no going back. Soft and intensely flavoured, the jubes of pineapple are caramelised to the point of nearly being candied. Impeccable!
We are done, our tummies and tastebuds sated. Then head chef Chad Griffin comes over with a taco he has been working on. Let's call it The Gamechanger. Slices of the best melt-in-your-mouth beef brisket you have ever had in your life in a taco: smokey, salty and lush – topped with pico de gallo and guacamole. Best. Taco. Ever.
The food coma has set in, but we've come this far, so we go all in and finish with a slice of Tres Leche cake. This slice could feed tres people. It is massive. Delicate in texture, topped with swirls of cream and dusted with cinnamon, we pour the accompanying pot of warm, caramel-y tres leche sauce over it all. The cake soaks up all that luscious salty sauce without getting soggy. It is so good.
Our lunch has been perfect from start to glorious finish.
Anna and Gina have truly got the Midas touch – and they're not done yet.
"We've got some big plans," Anna says.
"We want to open two locations across Canberra. I think our next move will be a food van."
I cannot wait until they are closer to me. Literally, cannot wait. So, until then, I will be heading south of the border on a regular basis.
Cartel Taqueria is located at Ray Morton Park, 6 Trinculo Pl, Queanbeyan East. It is open Thursday to Sunday from 12 pm to late. Follow Cartel Taqueria on Instagram.
Original Article published by Michelle Taylor on Riotact.